Erik Diaz - Rookie for ever.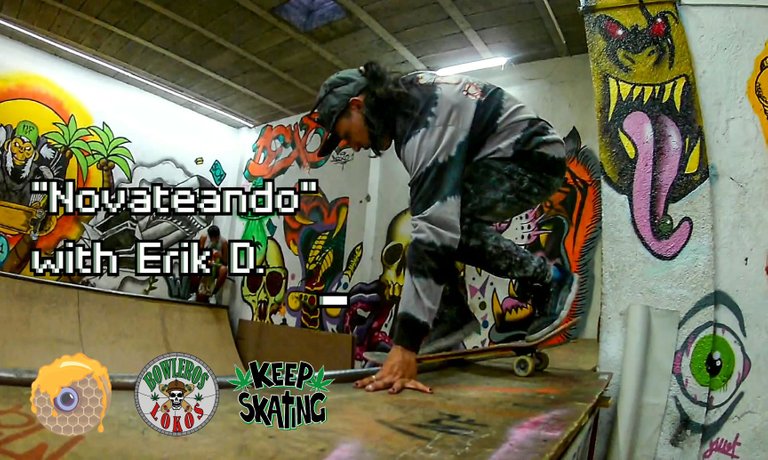 [EN]
Novato for ever is a local brand here in our city, Novato in English means beginner, so the full translation is beginner for ever. Novato has its own skate shop in down town called "Spot shop", in the shop you can find anything you need for your skateboard, as well as clothing and many other accessories. Behind the premises they made this mini wooden ramp with the perfect measurements to learn new tricks and practice. As Novato is the first brand to be 100% focused on transition skateboarding, we often go to this place to have fun and learn more moves on the ramps. Now they even have a skate school for young children who are very enthusiastic about skateboarding. Bowleros lokos is proudly good friends with the Novato team, so we hope we can design something to bring them to web 3.0. and the #SkateHive tribe can see more of what these skaters are up to, but until then, here's a little bit of what this amazing mini-ramp all over covered in graffiti is. Erik is a guy who came from another city called Puebla to study digital design and got a job there in the spot shop, so he is feeling very comfortable on the ramp since he skates it almost daily. #BowlerosLokosForLife #Novato4ever
[ESP]
Novato for ever es una marca local aquí en nuestra ciudad, novato en inglés significa bigener, por lo que la traducción completa es bigener for ever. Novato tiene su propia tienda de skate en el centro de la ciudad llamada "Spot shop", en la tienda puedes encontrar cualquier cosa que necesites para tu tabla, así como ropa y muchos otros accesorios. Detrás del local hicieron esta mini rampa de madera con las medidas perfectas para aprender nuevos trucos y practicar. Como Novato es la primera marca 100% enfocada en el skate de transición, a menudo vamos a este lugar para divertirnos y aprender más movimientos en las rampas. Ahora incluso tienen una escuela de skate para niños pequeños que están muy entusiasmados con el skate. Bowleros lokos es orgullosamente buenos amigos del equipo Novato, por lo que esperamos poder diseñar algo para traerlos a la web 3.0. y la tribu #SkateHive pueda ver más de lo que están haciendo estos patinadores, pero hasta entonces, aquí hay un poco de lo que es esta increíble mini rampa cubierta con graffitis por todas partes. Erik es un chico que vino de otra ciudad llamada Puebla para estudiar diseño digital y consiguió un trabajo allí en la tienda del spot shop, por lo que se está sintiendo muy cómodo en la rampa ya que la patina casi diario. #BowlerosLokosForLife #Novato4ever
(Unsupported https://lbry.tv/$/embed/Novateando-ErikD/32ff1faa5cb56f4136c5e2f61624aa343b54abac?)
Rider: Erik D.
Filmer: Jorge Alcalá / @homelesscrewmx
Spot: El spot shop
Song: I don´t know the name of the song, sorry jeje.
#SkateHive
#SkateHiveForLife
#HomelessKrew
#KeepSkating420
#MX
Social media


---
Join the Stoken/Skatehive Discord

---
What STOKEN plans to bring to Hive 🍯

Unique name, and meme-ified branding that will stand out above the hard to find Hive brand.

Real world events tied to web3 content creation.

Attracting non crypto content creators, into web 3.0

Exciting content to bring in non crypto audience.

Focus on onboarding large, existing communities i.e: Reddit skateboarding: 385k members, and Redbull: 10 million YouTube subscribers.

NFTs. Plans include real world utility, fund raising, and future gamification.
DTF ( Decentralized Token Fund )

Stoken DAO: Decentralized voting system to allow the community to sponsor athletes, content creators, influencers, and real world events.

A new token for you to earn for doing Hive stuff!

Possibility of future airdrop of governance tokens. 

---
---
---