Rocky drops - Community edit #4 B sides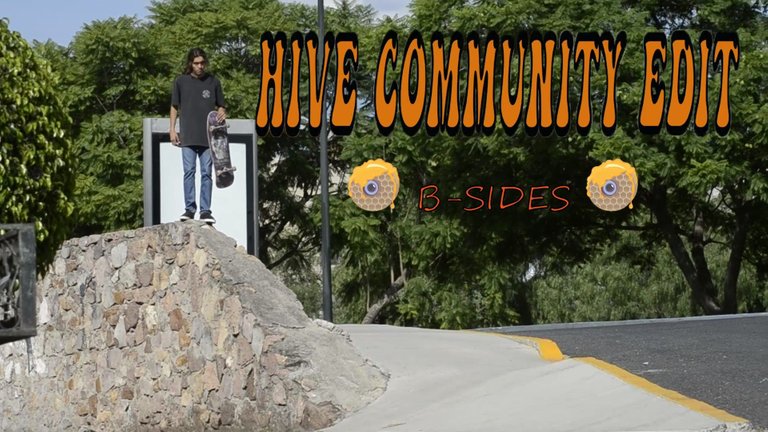 [EN]
About the day we filmed for the community edit #4
Summer comes along with rainy days here in Mexico, so as soon as I saw it was a sunny day, I had to call the homie @kike.adventure to go shooting. The intentions weren't shooting for the community edition because as you know the team is now filming our biggest project ever called Salado skateboards. It was possible for us to film something for the skate hive community as this was one of those days where everything goes right. We went with Jorge Alcalá to 2 different spots before filming these gnarl clips for the community and he landed the tricks rather quickly, giving us time to film something else during that day. You'll be able to see those tricks from the first 2 spots in the final edit of salado's video, but for now let's talk about these rocky drops located in a hot ghetto of our city, where the condos seem to be falling apart, and it seems like the only thing keeping them standing up is the smile of the children playing in the streets and lawn. Seeing the children smile despite the difficulties of everyday life is so inspiring and melancholic and I feel that Jorge skated this place vibrating in this way, I even watch these clips and I get a little feeling of crying hehe. The second drop is just ahead of the first and you can tell by looking at the type of ground. Blessings to all the children of the ghetto and to Jorge who is living up to his nickname "Dropsero" (Boy who makes drops).
[ESP]
Sobre el día que filmamos para la edición comunitaria #4
El verano llega junto con días lluviosos aquí en México, así que tan pronto como vi que era un día soleado, tuve que llamar al homie @kike.adventure para ir a filmar. Las intenciones no eran filmar para la edición de la comunidad porque, como saben, el equipo ahora está filmando nuestro proyecto más grande hasta ahora, llamado Salado skateboards. Fue posible para nosotros filmar algo para la comunidad de skate hive ya que este fue uno de esos días en los que todo sale bien. fuimos con Jorge Alcalá a 2 spots diferentes antes de filmar estos agradables clips para la comunidad y cayó los trucos algo rápido, por lo que nos dio tiempo de filmar algo más durante ese día. Podrás ver esos trucos de los primeros 2 spots en la edición final del video de salado, pero por ahora hablemos de estas bajadas rocosas ubicadas en un gueto caliente de nuestra ciudad, donde los condominios parecen estar desmoronándose, y parece que lo único que los mantiene de pie es la sonrisa de los niños que jugando en las calles y el césped. Ver a los niños sonreír a pesar de las dificultades de la vida cotidiana es tan inspirador y melancólico y siento que Jorge patinó este lugar vibrando de esta manera, incluso veo estos clips y me entra algo de melancolía hehe. La segunda caída está justo delante de la primera y puedes deducirlo observando el tipo de suelo. Bendiciones para todos los niños del gueto y para Jorge que está haciendo honor a su apodo "Dropsero" (Chico que hace gotas).
(Unsupported https://lbry.tv/$/embed/Community-edit4-Bsides/992cb0e2b2c406d855d7534b99db0e414015012a?)
Rider: Jorge Alcalá
Filmer: @kike.adventure / Bowleros lokos
Place: León Gto. Mx.
Full Skate hive community edit: Community edit #4
#SkateHive
#SkateHiveForLife
#HomelessKrew
#KeepSkating420
#MX
Social media:


---
Join the Stoken/Skatehive Discord

---
What STOKEN plans to bring to Hive 🍯

Unique name, and meme-ified branding that will stand out above the hard to find Hive brand.

Real world events tied to web3 content creation.

Attracting non crypto content creators, into web 3.0

Exciting content to bring in non crypto audience.

Focus on onboarding large, existing communities i.e: Reddit skateboarding: 385k members, and Redbull: 10 million YouTube subscribers.

NFTs. Plans include real world utility, fund raising, and future gamification.
DTF ( Decentralized Token Fund )

Stoken DAO: Decentralized voting system to allow the community to sponsor athletes, content creators, influencers, and real world events.

A new token for you to earn for doing Hive stuff!

Possibility of future airdrop of governance tokens. 

---
---
---