Thrasher ride at the neighborhood || Equinox video B-Sides

Thrasher ride at the neighborhood's concrete river
Equinox video B-Sides
(Unsupported https://www.skatehype.com/ifplay.php?v=13946)
Rider: Donaldo Trevedhan
Filmer: Jorge Alcalá
Spot: Bodega aurrerá, Blvd Cervantes Savedra. (León Gto. Mexico)
Music: Freestyle de Rock · ALOUXI
---
[EN]
Good evening, crypto riders, HIVE bloggers, and the entire cryptoverse! tonight we are very excited to share another crew mission for what was the equinox video. Rough spots with potholes and cracks are very common around here, but this concrete river is super rough in a way we never expected it to be. The moment you skate it you lose a lot of speed because of this floor, even though it's steep down, this creates a very strange feeling because we have to put twice as much energy into each attempt. This and more, made it a real challenge for Donaldo, who got some cool clips for the video after cleaning up the trash from the spot. To conclude our blog for today I must say that this spot is not a joke at all, and that you can see the successful attempts in the full video of Equinox⬅️.
[ESP]
¡Buenas noches, criptojinetes, blogueros de HIVE y todo el criptoverso! esta noche estamos muy emocionados de compartir otra misión del crew para lo que fué el video de equinoccio. Los lugares ásperos llenos de baches y grietas son muy comunes por aquí, pero este río de concreto está super rudo de una manera que nunca lo esperamos. En el momento en que lo patinas pierdes mucha velocidad a causa de este piso, en eso que está empinado hacia abajo, esto genera una sensación muy extraña porque tenemos que poner el doble de energía en cada intento. Esto y más lo convirtieron en un verdadero desafío para Donaldo, quien logró algunos clips increíbles para el video después de limpiar la basura del lugar. Para concluir nuestro bloggin del día de hoy debo decir que este spot no es para nada una broma, y ​que ​puedes ver los intentos exitosos en el video completo de Equinoccio⬅️
[PT]
Boa noite, pilotos de criptografia, blogueiros de HIVE e todo o criptoverso! esta noite estamos muito animados para compartilhar outra missão da tripulação para o que foi o vídeo do equinócio. Manchas ásperas com buracos e rachaduras são muito comuns por aqui, mas esse rio de concreto é super áspero de uma forma que nunca esperávamos que fosse. No momento em que você patina perde muita velocidade por causa desse piso, que é íngreme, isso cria uma sensação muito estranha porque temos que colocar o dobro de energia em cada tentativa. Isso e muito mais tornou um verdadeiro desafio para Donaldo, que fez alguns clipes incríveis para o vídeo depois de limpar o lixo do local. Para concluir nosso blog de hoje, devo dizer que este spot não é uma piada, e que você pode ver as tentativas bem-sucedidas no vídeo completo de
equinócio⬅️
---
Enjoy watching on Skate Hype and #KeepSkating420.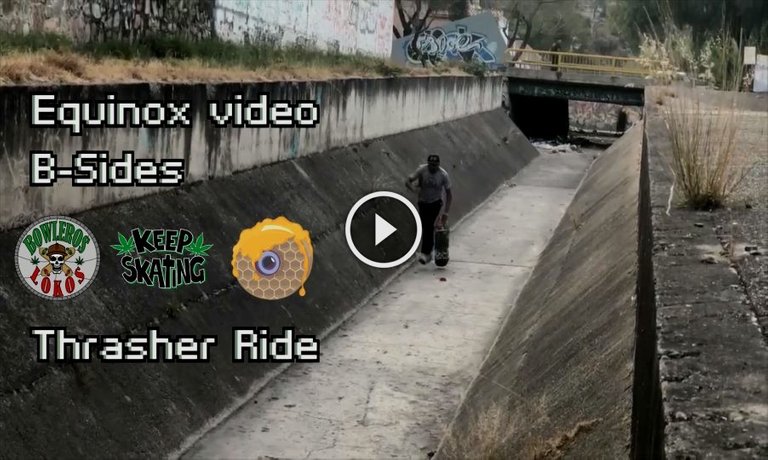 Find us here:
🐝Hive: https://peakd.com/@homelesscrewmx
🛹 Skate hype: https://www.skatehype.com/homelesscrewmx
⛵️ Odysee: https://odysee.com/@homelesskatecrew:e
📷Instagram: https://www.instagram.com/bowleros_lokos/
🔴YouTube: https://www.youtube.com/channel/UCI4LvEtVdEOduwGnzzgwzyg
Published by Bowleros Lokos via Skatehype.com
---
---