Con Nuevo Parche de Campeones Del Mundo, El Madrid Golea Al Colista De La Liga / With New World Champions' Patch, Madrid Beats La Liga's Bottom Team [ESP-ENG]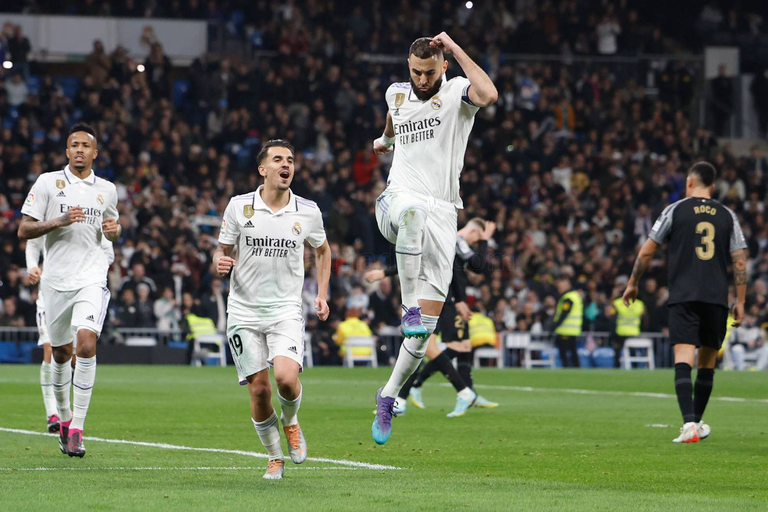 Fuente
¡Buenas Noches Hivers!
Hoy el Real Madrid CF se puso al día por la Liga Santander al recibir al último de la tabla de posiciones, el Elche de Pablo Machín. Recordemos que esta jornada se aplazó para el día de hoy debido a que el Merengue tuvo que disputar el Mundial De Clubes, donde dicho sea de paso los de Carletto quedaron campeones y podrán llevar ese emblemático parche de campeón del mundo que pocos pueden presumir. El Madrid en este encuentro no tuvo problemas y lo jugó prácticamente a media máquina, el Elche demostró por qué está donde está sin siquiera disparar al arco defendido por Andriy Lunin. Los de Chamartín podían meter, sin exagerar, unos 6-7 goles en el día de hoy, pero el Arquero Badía sacó varias ocasiones que podían significar un marcador mucho más amplio.
Para el partido de hoy, ni Kroos (por Gastroenteritis) ni Vinicius (Sanción) pudieron ser de la partida. El técnico italiano decidió dar descanso de entrada a Modric y a Tchouameni para los próximos partidos que se vienen que serán demasiado exigentes. Con ésto, los titulares para encarar este encuentro fueron los siguientes:
Good evening Hivers!
Today Real Madrid CF got back on track in La Liga Santander by hosting Pablo Machín's Elche, who are at the bottom of the standings. Let's remember that this matchday was postponed for today because the Merengue had to play the Club World Cup, where Carletto's team became champions and will be able to wear that emblematic world champion's patch that few can boast. Madrid in this match had no problems and played practically at half speed, Elche showed why they are where they are without even shooting at the goal defended by Andriy Lunin. Chamartin could have scored, without exaggeration, about 6-7 goals today, but the goalkeeper Badia saved several chances that could have meant a much bigger score.
For today's match, neither Kroos (Gastroenteritis) nor Vinicius (suspension) were able to start. The Italian coach decided to rest Modric and Tchouameni for the upcoming matches that will be too demanding. With this, the starting line-up for this match was as follows: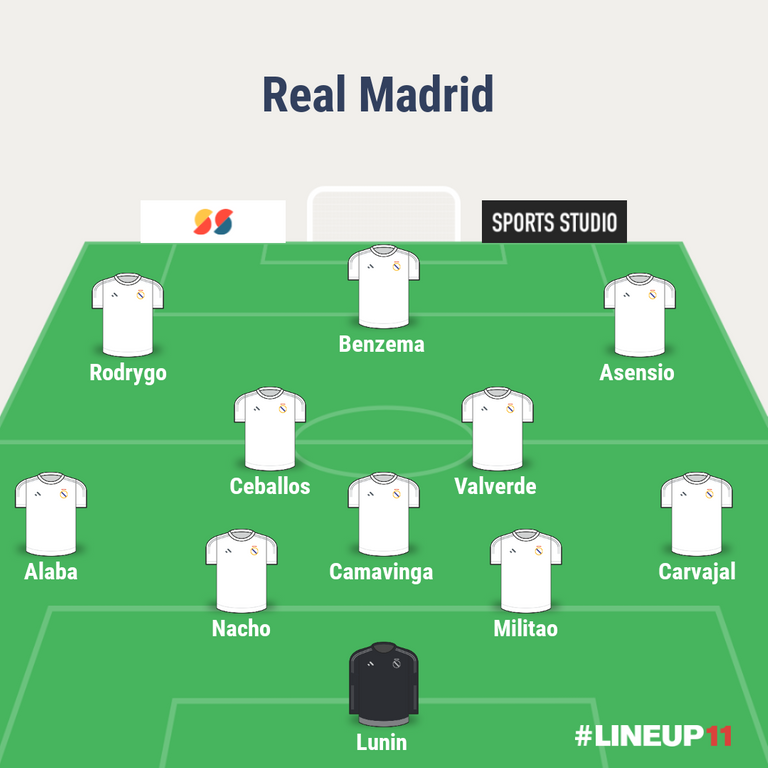 Fuente
El partido estaba demasiado claro desde el principio, el Elche esperando atrás con dos líneas de 4 y el Madrid con todo lo suyo en ataque para recortar distancias con el FC Barcelona.
Los visitantes no estaban para nada firmes a la hora de cortar juego en la mitad de la cancha. Los mediocampistas madridistas recibían muy fácilmente entre líneas para hacer mucho daño a los de Pablo Machín, que mucha dureza y pierna dura no pusieron, las coberturas eran displicentes y hasta lucía como un equipo entregado apenas iniciar el partido. Fede Valverde abandonaba en muchas ocasiones su posición centralizada para ir a la banda y darle amplitud al equipo por el costado derecho, para que Marco Asensio aprovechara para cerrarse por el medio y jugar con más comodidad por los carriles interiores. Así fue como llegó el primer gol del Madrid, Valverde condució varios metros y se la dejó a Dani Carvajal que inteligentemente detecta al Balear libre por el medio para que éste se vaya en conducción, sacándose a un defensor con un buen regate y enganchando para poner un muy lindo gol a la derecha del arquero Badía.
A la media hora del partido, con un Madrid jugando tranquilamente y sin preocupaciones, llegaría al segundo gol mediante la vía de los once pasos. El gato puso esta vez su sello en el marcador poniendo el Balón en la escuadra. Seguido de esto, llegaría otro penal, esta vez generado por Rodrygo que fue derribado en el área, de nuevo Karim cambiaría de lado para poner el 3-0 en el marcador justo antes del cierre de la primera parte.
El complemento fue más de lo mismo. El Madrid pudo seguir alargando el marcador pero no estuvo muy fino a la hora de definir y el arquero Badía no quería irse con una bolsa aún más grande de goles. A falta de 10' minutos, Luka Modric marcaría el 4-0 definitivo, en un exquisito remate desde fuera del área,
mandándola directa al ángulo.
The game was too clear from the start, Elche waiting in the back with two lines of 4 and Madrid with everything they had in attack to close the gap on FC Barcelona.
The visitors were not at all firm when it came to cutting off play in the middle of the pitch. The Madrid midfielders received very easily between the lines to do much damage to Pablo Machin's team, which did not put much hardness and hard leg, the coverages were lackadaisical and even looked like a team surrendered just starting the game. Fede Valverde often abandoned his centralized position to go to the wing and give the team width on the right flank, so that Marco Asensio could take advantage to close down the middle and play more comfortably on the inside lanes. That's how Madrid's first goal arrived, Valverde drove several meters and left it to Dani Carvajal who cleverly detected the free Balear in the middle so that he could go on a driving run, taking out a defender with a good dribble and hooking a very nice goal to the right of goalkeeper Badia.
Half an hour into the match, with Madrid playing calmly and without worries, the second goal came from the penalty spot. This time, El gato put his stamp on the scoreboard by putting the ball in the corner of the net. Following this, another penalty would come, this time generated by Rodrygo who was brought down in the area, again Karim would change sides to put the 3-0 on the scoreboard just before the end of the first half.
The second half was more of the same. Madrid could have continued to extend the score but they were not very good at finishing and goalkeeper Badía did not want to leave with an even bigger bag of goals. With 10 minutes to go, Luka Modric would score the definitive 4-0, with an exquisite shot from outside the area,
sending it straight into the corner.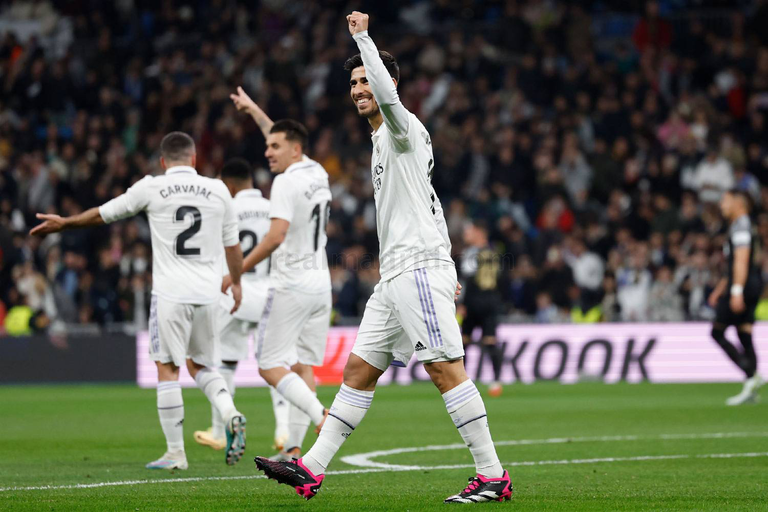 Fuente
Conclusiones Finales - Final Conclusions
Eduardo Camavinga fue para mí el Mejor de la cancha, esta vez le tocó jugar de mediocentro y lo hizo de muy buena manera. Es cierto que el rival es el más débil de la Liga, pero veo al jóven francés cada día mejor ya sea como lateral izquierdo, como mediocentro el día de hoy o jugando de interior donde lo usan mucho más. Esa polivalencia es lo que lo está volviendo un jugador muy importante y tan valorado por Carlo Ancelotti.
Se nota la mejoría de Fede Valverde en esta parte de la temporada. Yo creo que el uruguayo juega mucho mejor cuando asume ese papel de extremo/ cuarto mediocampista por derecha, en esa función se le ve mucho más libre y con más llegada al área para poder desatar su máxima fortaleza ofensiva que es obviamente, la pegada magistral que posee. Yo creo que Ancelotti lo usará para los partidos importantes ante el Liverpool y Barcelona en esa posición que menciono, le da otra chispa al equipo.
Con esta victoria, el Madrid achica un poco la diferencia y la pone a 8 puntos en relación con el FC Barcelona, que marcha muy sólido y derecho de cara al título. Sinceramente pienso que la Liga está muy difícil para el Madrid, yo usaría esta competición como un preparativo para que el equipo se ponga a tono de cara a la Champions y a la Copa del Rey donde evidentemente, el equipo tiene más opciones en esos duelos mano a mano donde se ven más cómodos. El próximo partido del Real Madrid será ante el Osasuna en Pamplona, previo al dueño de la siguiente semana ante el Liverpool en Champions.
Con ésto hemos llegado al final de este Post. Muchas Gracias por acompañarme. ¡Nos vemos en la próxima!
Eduardo Camavinga was for me the best player on the field, this time he played as a midfielder and he did it very well. It is true that the opponent is the weakest in the league, but I see the young Frenchman getting better every day either as a left back, as a midfielder today or playing inside where he is used much more. This versatility is what is making him a very important player and so valued by Carlo Ancelotti.
Fede Valverde's improvement is noticeable in this part of the season. I think the Uruguayan plays much better when he assumes the role of winger / fourth midfielder on the right, in that role he is much freer and with more arrival to the area to be able to unleash his maximum offensive strength which is obviously, the masterful punch he has. I think Ancelotti will use him for the important games against Liverpool and Barcelona in that position I mentioned, he gives another spark to the team.
With this victory, Madrid has narrowed the gap to 8 points in relation to FC Barcelona, which is going very solid and straight ahead of the title. I sincerely think that La Liga is very difficult for Madrid, I would use this competition as a preparation for the team to get ready for the Champions League and the Copa del Rey where obviously, the team has more options in those head to head duels where they look more comfortable. Real Madrid's next match will be against Osasuna in Pamplona, prior to next week's game against Liverpool in the Champions League.
With this we have come to the end of this Post. Thank you very much for joining me, see you next time!
El texto fue traducido con Deepl
Fuente
---
---