Dropping Hive knowledge in huge Twitter spaces!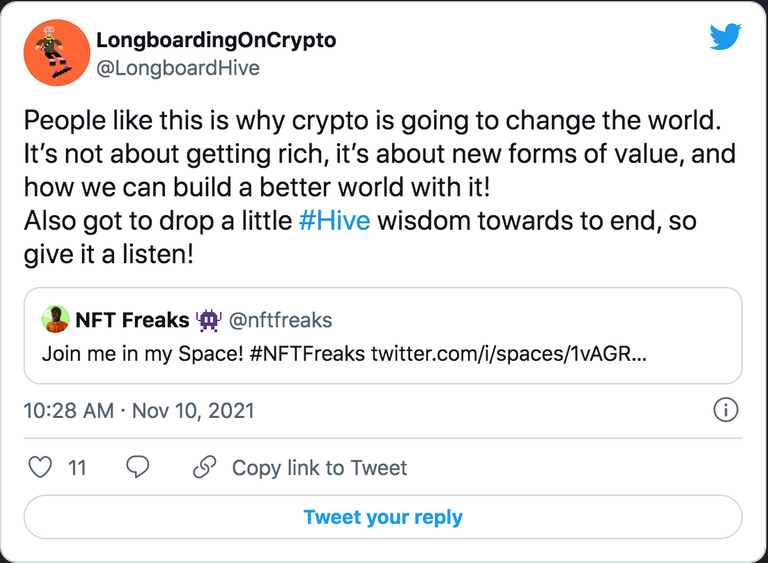 Hey everyone, it's me @howeweroll, aka The Longboard Hive. Planning to rebrand, but I'll be making the big announcement at Hive Fest 2021 in just a few days!
So anyway, I've been spending some time on Twitter, and only now signed up for POSH, I know! Well on twitter I've been follow the guy NFT Freaks, who seems to be fairly influential in the NFT community, and I managed to get a chance to talk on his Twitter Spaces he was hosting! He happened to be talking about decentralization, vs centralization, and I knew i had to tell him about Hive, and how it's already resisted lawsuits and take overs!
I highly suggest you all give it a listen!
Don't Miss Hive Fest!
I'll create a separate post to invite you all to my talk, but incase I run out of time, I'm also putting it here!
Join the SkateHive Discord
How To Find Me On All The Other Platforms
LeoFinance: https://leofinance.io/@howweroll
Odysee: https://odysee.com/@TheLongboardHive:d
BitChute: https://www.bitchute.com/channel/WUDSVUSj0Pz0/
Facebook: https://www.facebook.com/groups/1708054422579869
Instagram: https://www.instagram.com/howweroll_wpg/?hl=en &
https://www.instagram.com/thelongboardhive/?hl=en
Youtube: https://www.youtube.com/user/sexinapanman
---
---