International Collaboration To Help Expose The Fraudboarder Jezus Cinco !

Video Desscription
Fraudboarder Jezus Cinco is a super serious, nooot at all sarcastic, video that exposes the longboarding fraud who was infiltrating the longboard scene, and I am proud to be a part of this great documentary! Never did you think that the longboarding could become so dark, or attract such evil people, but prepared to be disappointed!
In Reality
This is actually a hilarious project thought up by Jezus Cinco himself, and he contacted me to be one of the "disappointed" skaters in the video. I was immediately down with the idea! We then spread it as if we were actually seriously exposing Jezus, and shared it in all the longboard groups.
This was definitely met with a fair bit of confusion, as many people reacted seriously before watching the video, but I honestly think this made it all that much more funny! Jezus on top of it all, is still playing it all like it's real, and has been releasing regular posts claiming this video ruined his life, and ended his relationship! Talk about dedication!
What Now?
I think Jezus is a comedy genius, even though not everyone gets his humor, but it's often a slow start when ppl are just finding their audience. I expect, or at least hope that this will turn into a whole series of videos, and I'm looking forward to any other ideas he has!
Disclaimer
Jezus Cinco, and the video creator Matt, gave me permission to share this video. The declined rewards however.
Jezus Cinco's YouTube: https://www.youtube.com/@JezusCinco

Join the Skatehive Discord 👇

---

🛹 SkateHive 🛹 is the house of Web 3.0 skateboarders and our goal is to onboard skaters in web3.

We have developed dApps, NFT projects, our own token and more. 

**Our mission is to fill the new internet with smart contracts that benefit our culture**.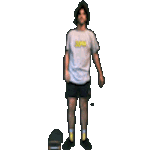 ---
---