Skate Night At Scam Skate - My First Post On SkateHype!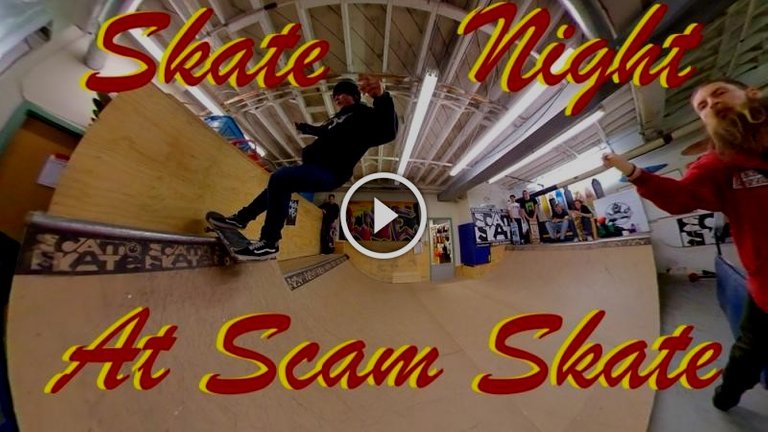 Youtube version
Local board manufacturer, Scam Skate, put on regular indoor skate nights during the winter. I decided to come out with my 360 camera, and film some skating by some of our local skaters.
First Post On SkateHype
For those who have been following what the SkateHive community is doing, you might have noticed a new site we're using called SkateHype. This is a skateboarding video hosting site, made by the likes of @miguelurbina, and we have teamed up with him to integrate Hive into his site. So I decided since his site is dedicated to just skateboarding, that I would edit this footage I had been sitting on from a Skate Night at Scam Skate last year.
For a more in depth look at SkateHype, check out it's intro post:
https://peakd.com/hive-173115/@skatehive/introducing-skatehypecom-a-skateboarding-only-social-media-platform-powered-by-skatehive
Check Out The Upcoming SkateHive Tribe: Stoken
https://peakd.com/hive-173115/@stoken/introducing-stoken
Join the SkateHive / Stoken Discord
How To Find Me On All The Other Platforms
LeoFinance: https://leofinance.io/@howweroll
Odysee: https://odysee.com/@TheLongboardHive:d
BitChute: https://www.bitchute.com/channel/WUDSVUSj0Pz0/
Facebook: https://www.facebook.com/groups/1708054422579869
Instagram: https://www.instagram.com/howdarylrolls/
Youtube: https://www.youtube.com/user/sexinapanman
Published by Daryl Boehlig via Skatehype.com
---
---