Ligue 1 - Playday 34 - Latest results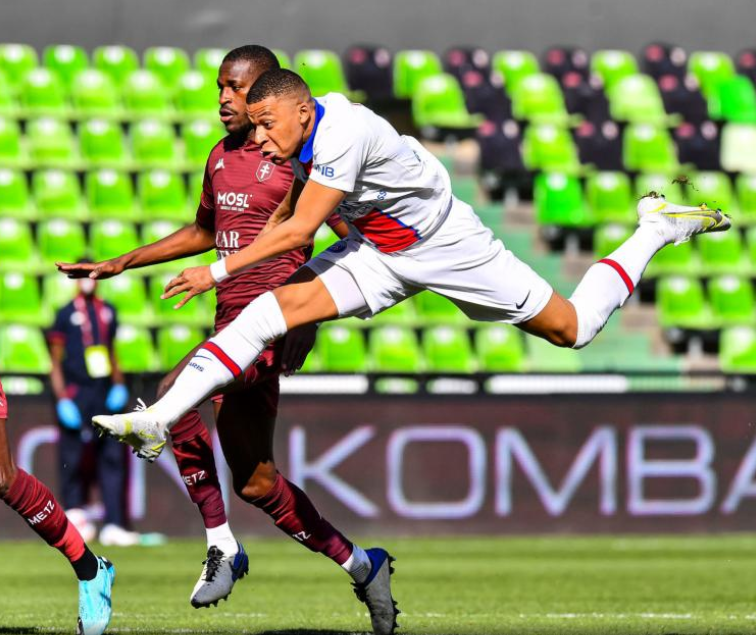 Results:
Ligue 1 - Playday 34
Lyon 2 - 3 Lille
Lyon was 2 goals ahead but couldn't resist Ligue 1 leader come back !
Lille is keeping their top spot pushing Lyon 6 points away.
The real issue for Lyon is not saying goodbye to the title, but being 4 points behind the first UCL qualification spot.
Metz 1 - 3 Paris-SG
Another double from Mbappé (4', 59') consolidating league top scorer spot with 25 goals (average 0.86 goal per game).
And giving PSG the 3 points, very important in title race, Lille is not giving up.
Angers 0 - 1 Monaco
Just a single goal for a victory, we've been used to many more from Monaco haha.
But this allows them to trail only 2 points behind the leader and keep dreaming of the title.
5 wins in a row, best form amongst all Ligue 1 clubs.
Lens 2 - 1 Nîmes
6 games in a row without defeat for Lens and this one was tough !
They played 10 against 11 for 70 minutes but could snatch the win anyway, well done guys.
Nîmes is close to Ligue 2 now.
Reims 1 - 3 Marseille
3 win in 4 games for Marseille, they know it's money time in Ligue 1.
Payet is shining again with a double (41', 76') thanks to a very sweet connection with Lirola.
European qualification spots are still very disputed.
Rennes 5 - 1 Dijon
5 wins during last 6 games, and this one with fireworks ! Rennes is still fighting for Europe qualification.
On the other end Dijon is officially in Ligue 2.
Nice 3 - 1 Montpellier
Well to be honest those 2 are not playing anything this year, but we can thank them for the entertainment !
And you know I have a sweet spot for Nice ;)
Saint-Étienne 1 - 2 Brest
Brest is climbing ahead of Saint-Étienne thanks to a double of Charbonnier (66', 79') after "Les Verts" scored first.
Both teams should be safe from a league relegation in my opinion.
Strasbourg 1 - 2 Nantes
Nantes totally changed the expected outcome of this game and can dream for saving themselves from relegation !
Such an important win to get the 3 points and reach the 18th rank.
Lorient 4 - 1 Bordeaux
"Rien ne va plus" for Bordeaux, 11 defeats in 13 games, they are in full crisis mode (on all fronts) and they are now looking clearly at what Ligue looks like.
Lorient on the other side is in a better form and are escaping from relegation slowly.
Next games on Wednesday 28th April:
Champions League - Semi final - First Leg
Paris-SG - Manchester City
Next Ligue 1 playday 35 on Friday 30th April:
Ligue 1 - Playday 34
Lille - Nice
Paris-SG - Lens
Monaco - Lyon
Marseille - Strasbourg
Bordeaux - Rennes
Montpellier - Saint-Étienne
Dijon - Metz
Nîmes - Reims
Lorient - Angers
Brest - Nantes
---
---