Barcelona Vs Manchester United Match Highlight In The Europa League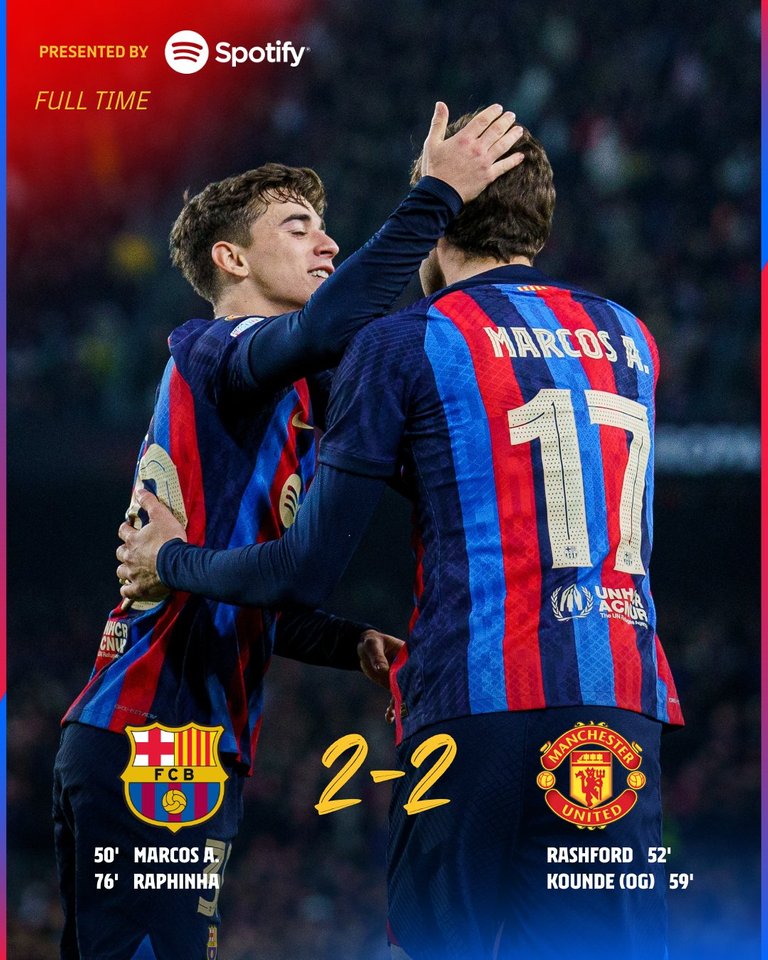 Source
Last night in the Spotify Camp, FC Barcelona hosted Manchester United for the first leg of the round of 32 in the Uefa Europa League. Both teams have a long history when they face head-to-head and Barcelona has been the dominant side in the head-to-head stats.
Both teams have something in common, they have both struggled in their domestic league and failed to win a trophy last season but both teams seem to be improving as both sides are having a great season. Barcelona are league leaders and have the potential to be crowned La Liga Champions, while Manchester United are third on the table and are a contender for the EPL title race this season.
The match between FC Barcelona and Manchester United has been the most talked about fixture in the Europa League and fans have been patiently waiting for the fixture to take place. The first 45 minutes of the first half were goalless but intense, both sides made countless counterattacks at each other and FC Barcelona's keeper was solid at the goalposts and stopped a few goals threat for his side.
The first goal of the match was scored in the 52nd minute of the second half from a corner kick, Raphinha swung the ball into the box and Marcos Alonso headed the ball into the goalpost. Marcus Alonso's celebration was special as he dedicated the goal to his late father who passed away recently.
Manchester United equalized two minutes from a counter-attack, Fred played a through ball to Rashford and the Englishman played the ball between Barcelona goalkeeper's legs into the goalpost. Rashford can't just stop scoring, what a player he is and the best is still to come if he keeps up this form.
Manchester United took the lead in the 59th minute, Luke Shaw took a short corner and passed the ball to Rashford, the Englishman cut his way past a defender and played cross into the box, and the ball deflected off Jules Kounde (Barcelona's defender) and went into the goalpost.
The Catalan giant did not back down as they pushed to level the scoreline and in the 76th minute, they found the net. Raphinha fired a long shot outside the box, and the ball went past Manchester United's goalkeeper and went straight into the goal post, it was a stunning goal scored by the Brazilian.
Both teams failed to score the winning goal and the match came to an end. I was disappointed with the team because I expected Barcelona to win the match. Barcelona will head to Old Trafford next Thursday for the second and final leg of the fixture, it will be decided in Old Trafford and I hope the Catalan giant comes out with a positive result.
So guys that will be all for now, thanks for stopping by, and have a great weekend.
---
---