EPL OUTSTANDING GAME ANALYSIS: Chelsea vs Arsenal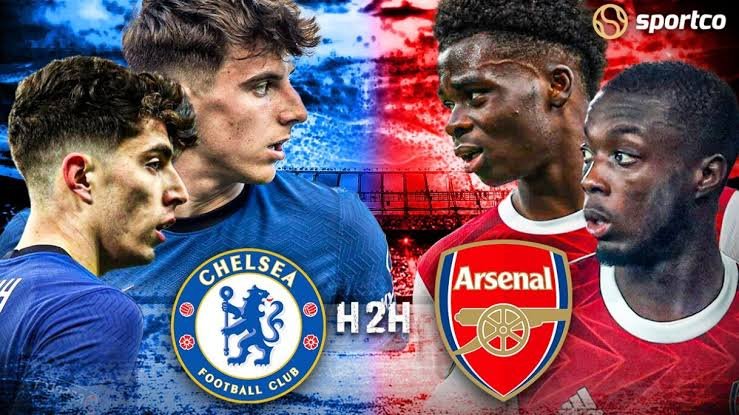 Source
Seems the EPL just can't stop delivering.
We've got 4 more mouthwatering games today as we proceed in the conclusion of our outstanding games:
London derby between Chelsea and Arsenal,

Relegation-threatened Everton hosting Leicester City,

Impressive Newcastle United facing off against redemption seeking Crystal Palace and,

High-flying Brighton paying visit to Manchester City who are currently downcasted with their Semifinal FA Cup loss to Liverpool.
Yes, I understand the confusion and greed on your face pertaining to which of these games you should go for.
Unfortunately, we can only settle for one being the game between the Blues and the Gunners.
This game will most likely be the number 1 pick of loads of football lovers all over the globe, so let's do you the honour of previewing this game.
Starting off with the home team,
EPL (CHELSEA)
Current Form: You aren't ignoring this, are you?
The Blues have amassed 3 wins, scored 11 goals, conceded just 2, and kept 2 clean sheets in their last 3 games.
An emphatic response after they were only able to score 2 goals and concede 7 in their previous 2 games.
You can bet Thomas Tuchel and his men will be looking to keep this beautiful run intact, if not build on it.
Top 4 Finish: A fact that shouldn't be overlooked.
It pretty much looks like Chelsea have secured 3rd spot considering they are 5 points above 4th placed Tottenham with 2 games to spare.
However, you can bet Thomas Tuchel won't be letting the above dissuade him from getting a win today.
This is because the Blues still have some huge fixtures ahead, Manchester United, West Ham, and Wolves inclusive (All 3 still fighting for an Intercontinental competition spot).
You would want to get a win if you were Tuchel, won't you?
Head To Head: Our last point in favor of the home team.
The last 2 games between both sides have all ended in victories for them.
Extending this run to 3 games won't be bad, will it?
Shifting our focus from the Blues, let's now take a look at facts favoring the Mikel Arteta's men
EPL (ARSENAL)
Head To Head: Born from the last fact mentioned above.
Although the Blues have won the last 2 games between these sides, it's the Gunners who have the advantage in their last 5 meetings.
They've managed 3 wins out of these 5.
Not bad, is it?
Current Form: A negative fact that could be used as a weapon.
In all honesty, Mikel Arteta's men have been woeful since the beginning of April.
Within this period, they've lost 3 consecutive games which has seen them move down from 4th to 6th position.
Heartbreaking, isn't it?
Mikel Arteta and his men know how important a win today would be, and you can bet they will be going all out for it.
I bet if you were in the Gaffer's shoe, you will be going all out for a win as well, won't you?
CONCLUSION
If we are to consider the facts before us, giving Chelsea the upper hand would be a very reasonable action.
However, we all know how Chelsea are fond of helping out of form teams get back on track. In order words,, don't be too carried away.
Feel free to share your opinions, thought and predictions as well guys, we will love to have them.
---
---