Splinterlands added value to my growth in Hive as I reach $948 GLX Stake Token
What value do you add on Splinterlands? Money is the reward for a problem solve, Hive is an innovative and forward-looking decentralized blockchain and ecosystem, designed to scale with widespread adoption of the currency and platforms in mind. By combining the lightning-fast processing times and fee-less transactions, Hive is positioned to become one of the leading Web3 blockchains used by people around the world, that only favor those who have value to add to its world through Hive platform.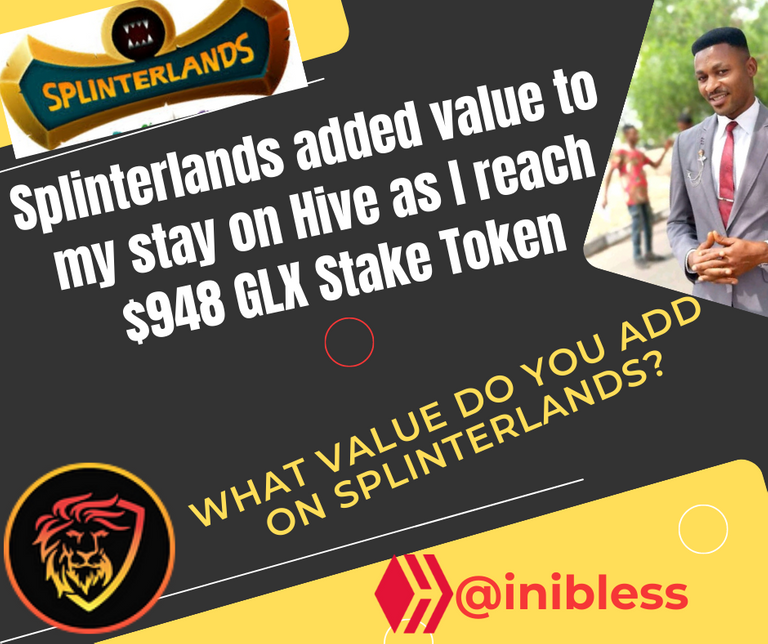 Meanwhile, the Splinterlands is a play-to-earn blockchain card game where players can collect NFT cards on the Binance Smart Chain network. The game puts emphasis on the collectible nature of card games while retaining the resale value of a physical card game and combining it with the convenience and speed of a digital one. It uses Splintershards as in-game currency, players can buy and trade cards with it, which by participating in these activities, values are added.
Initially, I find it difficult to understand #Splinterlands which I assumed to be more complicated. What drive any vision is the passion and intentions, my consistency has given me an aide over the difficulty, my interest was first captured when I read post about $GLX token stake, the innovation in splinterlands gives people a platform to earn on its stake which I started with just $500 GLX token. My consistency in it exposed me to Splinterlands community which add much value to my life. The community has one of the most interesting investment platform known as $GLX Token and the one of ways of benefiting from this outstanding community is staking on #GLX tokens which gives an opportunity of claiming rewards on returns for the investment made. Money response to value and value is the problem solved. Hive Blockchain technology only favor those who added value to the community. Splinterlands came out came beith different tokens to help Hivers and anyone who add value to his life and future by restricting today's consumption to maximizing GLX token stake.
The innovation of splinterlands which gives people platform play2earn, participate in $SPS token and ultimately have good earnings in GLX Stake. Today, anyone to explore and grow on Splinterlands community, the innovation of Splinterlands has boosted my investment, my HP and HBD through upvotes from posts. Thank you very much for being a part of my progress on Hive Blockchain technology by visiting my blog to read my posts. I really appreciate your effort of love. your comment is a way of motivation together with your upvotes. Thanks for being there for me. I'm @inibless.
---
---