Super Falcons of Nigeria are being defeated by Lionesses of Morocco in penalty at 2022 WAFCON final
It is an amazing match so far, with an indepth study, Nigerian women known as Super Falcons of Nigeria played a very outstanding matches right from the beginning of the games, meanwhile, it really impressive to have them even to the semifinals 2022 Women's Africa Cup of Nations hosted in Morocco. The Super Falcons of Nigeria met ever strong team of Morocco in 2022 WAFCON at semifinal at Prince Moulay Abdallah Stadium in Rabat on Monday 18th July 2022. It was an explosive clash between the impressive hosts and the Super Falcons of Nigeria, defending champions.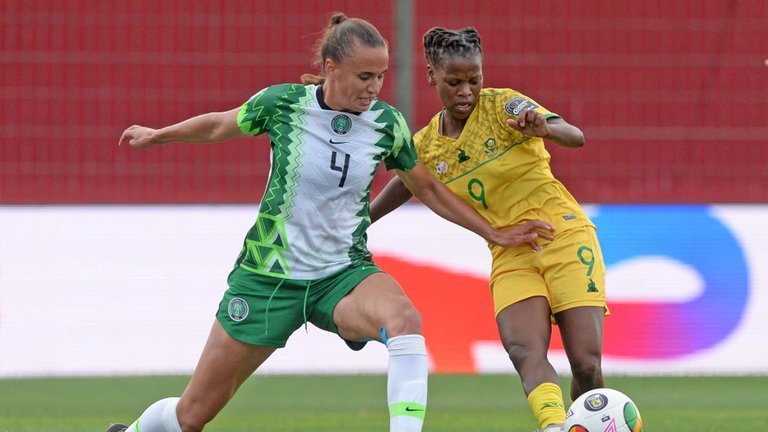 Link
The Lionesses fought tooth and nail to make it to final stage with South Africa after falling play at the Women AFCON for more than 22 years now. This was an explosive clash as the both played tirelessly though they are qualified for 2023 FIFA Women's World Cup as the both make it to the stage of semifinal in 2022 Women Africa Cup of Nations (WAFCON). Morocco has suffered in the hand of Super Falcons of Nigeria though defeated the defending champion at penalty kick, the defeat takes Morocco to the final of the 2022 Women's Africa Cup of Nations, where they will face South Africa at the final.
The Super Falcons of Nigeria played an experience football match, the team earn a 10th final match appearance after falling 4-5 on penalty kicks to Morocco. The tiger match ended in 1-1 at the first 120 minutes before heading to penalty kick. It was a tight match until two Nigerian players were down which began an advantage to Morocco team but they failed to utilize the opportunity at the first 120 minutes.
I love the spirit and the experience put to work by the both teams but it would have look somehow and none interesting for the host country to be knocked out by the defending champion and this stands as a challenge and motivation for Morocco team to put all their energy in playing the defending the dignity against Super Falcons of Nigeria.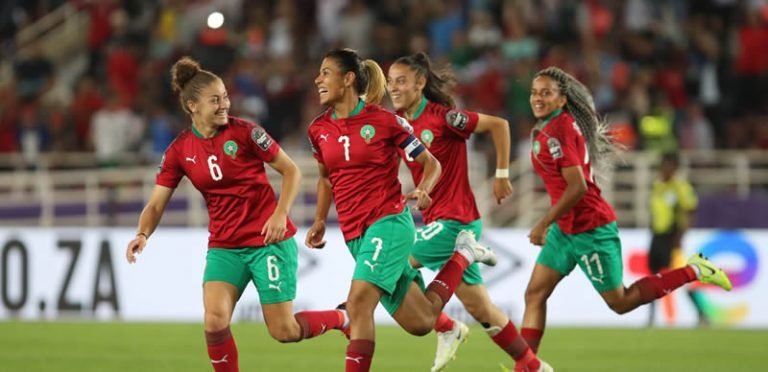 Link
Already, about total of numbers 45,562 spectators were set to watch the explosive clash at Complexe Prince Moulay Abdellah, a the lionesses of Morocco were already boiled up to swallow Super Falcons of Nigeria take over the championship while also preparing to defeat South Africa team in final. This is an opportunity for the lionesses of Morocco to at women AFCON. It was an interesting moment as Ifeoma Onumonu if Super Falcons gave Nigeria overwhelming in the first 13th minute as she was brilliantly set up by Ngozi Okobi-Okeoghene. Though Okobi came back three minutes later and showed a good anticipation to truncate the Moroccan surge, and set up Onumonu, but sadly the forward again failed to make hay. Yet Okobi spirit was still yielding for goals only to be intercepted at another good position at the edge of the box, but her effort screamed away from goal in 34 minutes of the game.
But Lionesses of Morocco took over the ball through an excellent control of captain Ghizlane Chebbak to Sanaa Mssoudy and then to precocious Fatima Tagnaout scored Super Falcons of Nigeria a fantastic goal. Sad news to Super Falcons of Nigeria in second half when Mauritian referee Maria Rivet stopped play for a VAR check and to return to hand over a red card to midfielder Halimat Ayinde after three minutes of second half. The decision seems to weakening Nigeria team. Yet another weakening moment came at 71st minute, when Rivet again stopped play for a VAR check, and this time handed Rasheedat Ajibade a red card, reducing the Falcons to nine women.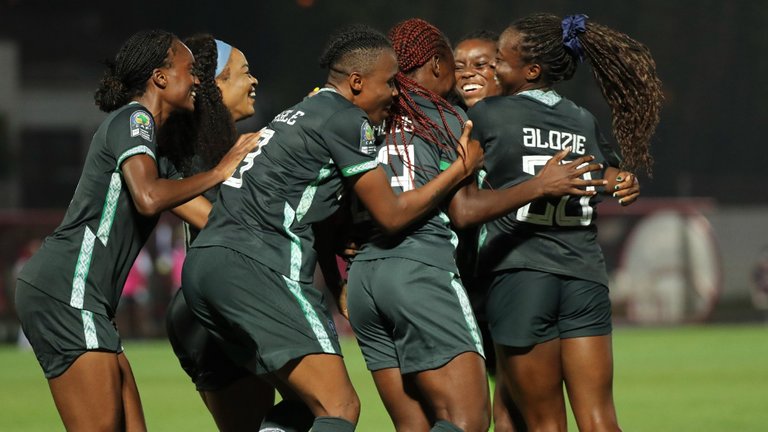 Link
The Super Falcons lost out in penalty kick when forward Ifeoma Onumonu missed for Nigeria as Rita Chikwelu, Regina Otu, Ashleigh Plumptre and Gift Monday scored. Morocco scored all their kicks, through Yasmin Mrabet, Ghizlane Chebbak, Zineb Redouane, Nesryne El Chad and Rosella Ayane, it ended in 5-4. Meanwhile, lionesses of Morocco will play South Africa who won 1-0 winners over Zambia in the first semi final on Saturday at Rabat, while the Super Falcons tango with the Copper Queens of Zambia for the bronze medals in Casablanca on Friday. I love this ladies playing, they are so amazing and fantastic.
Source
Thank you very much for being a part for visiting my blog to read my posts. I really appreciate your effort of love. your comment is a way of motivation together with your upvotes. Thanks for being there for me. I'm @inibless.
---
---