Mis pequeños primos por primera vez en un estadio de futbol para ver al Deportivo Táchira (ES/EN)

Musica de fondo utilizada en el video
Composición : Chris Fernández
Producción Musical: Chris Fernández
Título: POTENTE
Tomada desde el siguiente enlace
---
Español
Hola amigos de Hive hoy quiero compartir con ustedes una experiencia que considero muy importante para mi familia. Para nadie es un secreto que la situación en Venezuela no es nada fácil desde hace varios años, y que como habitantes nos hemos visto limitados en muchos sentidos, para colmo la pandemia hizo que todas las carencias se intensificaran y que nuestra calidad de vida se viese más reducida aun, sin poder realizar cosas cotidianas como reunirnos con nuestra familia o eventos extraordinarios como conciertos o encuentros futbolísticos.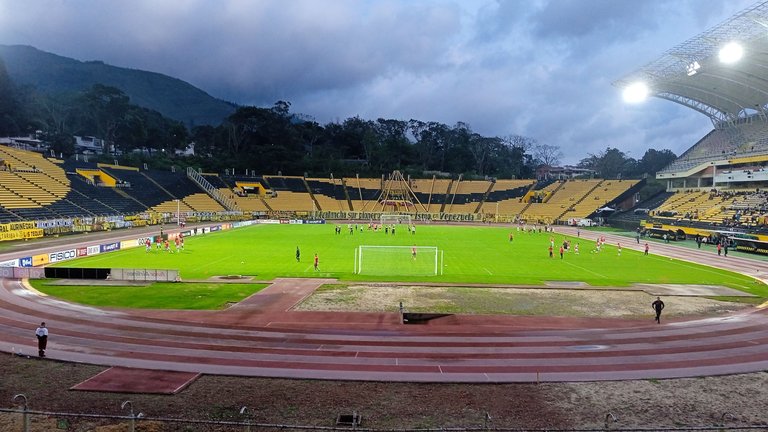 En esta ocasión mi hermano y yo decidimos invitar a los hijos de mi prima de 11 y 13 años para asistir al estadio Polideportivo de Pueblo Nuevo en Venezuela, estado Táchira y presenciar su primer encuentro futbolístico. En esta oportunidad para ser testigos de la disputa entre el Deportivo Táchira y Portuguesa del campeonato nacional en eliminatorias para el octogonal.
Este encuentro daba inicio a las 7:30 Pm. Llegamos al Polideportivo a eso de 6 Pm, estacionamos el vehículo y nos dirigimos hacia la taquilla de venta para comprar entradas para la tribuna popular norte, con un valor de 3 USD, compramos solos 2 entradas pues nuestro primo quien es el médico traumatólogo del Deportivo Táchira nos proporcionó 2 pases VIP. Mis primos más que emocionados tenían cierta expectativa y curiosidad acerca de lo que estaban a punto de presenciar.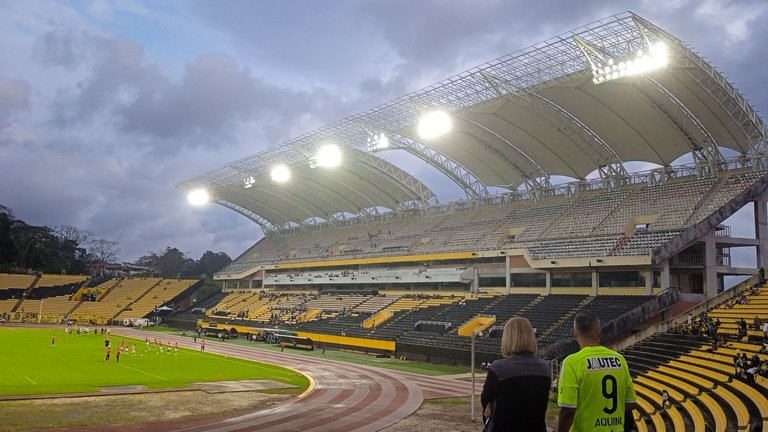 Nos ubicamos en la parte alta al centro de la tribuna norte, y esperamos a que diese inicio el encuentro, mientras tanto comimos platanitos y aproveché para hacer imágenes del momento. Los equipos salieron a la cancha para dar paso al himno nacional y empezó el encuentro, y en el primero minuto de juego ocurrió el primer gol a favor de Portuguesa, en un descuido del portero al perder la posesión del balón entre sus pies dentro del área de la arquería, un gol injustificable que tiró los ánimos por suelo en los primeros minutos de juego, mis primos estaban completamente decepcionados al presenciar tal error de parte del arquero.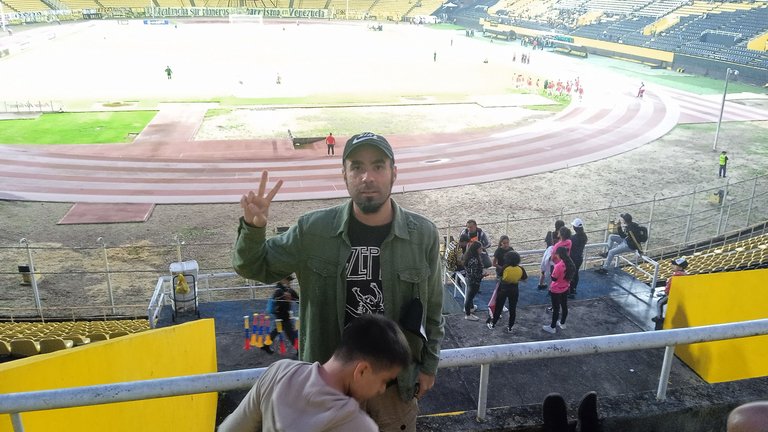 La posesión del balón la tuvo en su mayor parte el equipo Portuguesa en el trascurso del primer tiempo, para así meter su segundo gol en el minuto 5. Mientras yo pensaba que era una lástima que la primera experiencia futbolística de mis primos implicara dos goles en contra en tan poco tiempo y lo que parecía que se iba a convertir en una derrota si el equipo no tomaba ritmo de juego y empezaba a poseer el balón para atacar. Afortunadamente el equipo empezaba a hacer llegadas a la arquería del equipo contrario y en el minuto 25 vino el primero gol, algo que daba esperanzas para una recuperación empatando el juego.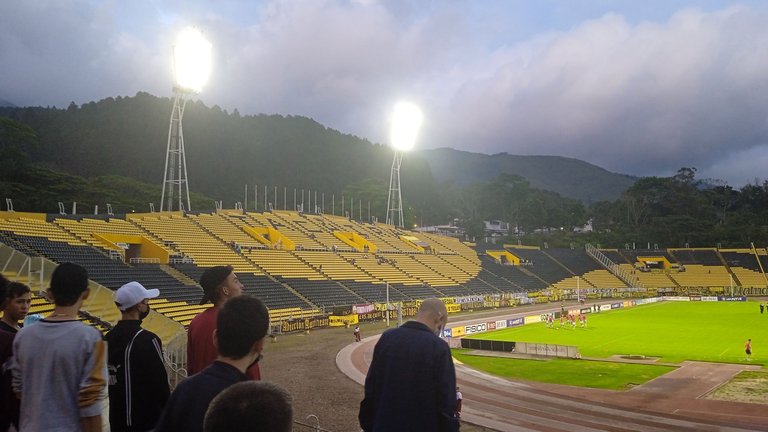 Acabado el primer tiempo compramos tequeños y churros para comer, con seguridad esto subiría los ánimos de mis primos, pues estaban bastante hambrientos y como resistirse a estos deliciosos bocados.
En el segundo tiempo vimos a un Deportivo Táchira más estratégico, que empezaba a atacar y llegar al área con mayor frecuencia para disparar a la arquería del equipo contrario cuyo arquero atajaba con seguridad cada uno de estos disparos, parecía una arquería imbatible. Pero Deportivo Táchira empezaba a apretar y no daba tregua al equipo de portuguesa gracias a la entrada de Marlon Fernández, Jeizón Ramírez y Edson Tortolero . El equipo de Protguesa se veía acorralado y el portero al atajar el balón recurría a la técnica de hacer tiempo, lanzándose al suelo simulando una "lesión", lo que provocó enojo entre la fanaticada y los mismos jugadores. Pero este viejo truco nos les serviría pues en el minuto 4 de sobre tiempo, el Deportivo Táchira sorprendería con un gol de Gabriel Benitez. Este fue el momento más emocionante, pues había suma tensión por el claro dominio del juego del Deportivo Táchira pero que no conseguía cuadrangular el balón dentro de la arquería. Un par de minutos después culminó el encuentro.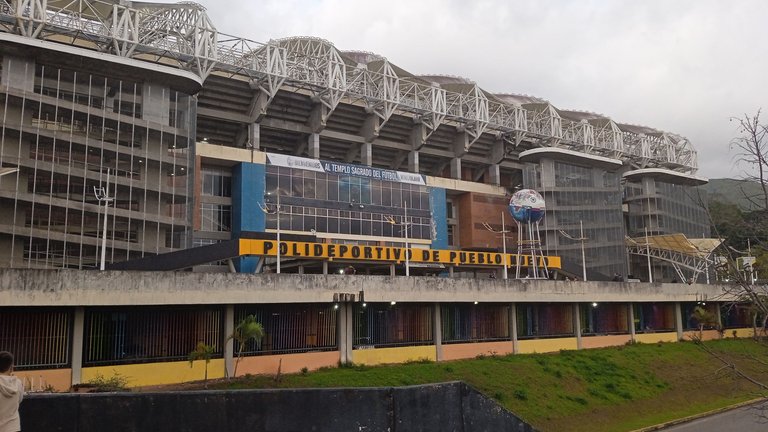 De manera que, resultó todo un éxito la iniciativa de invitar a nuestros primos a presenciar este encuentro, pues experimentaron todo tipo de sentimientos, y nos fuimos con la satisfacción de haber conseguido el empate.
Gracias por leerme, espero sea de su agrado mi publicación.
English
Hello friends of Hive, today I want to share with you an experience that I consider very important for my family. It is no secret that the situation in Venezuela has not been easy for several years, and that as inhabitants we have been limited in many ways, to top it off the pandemic made all the shortages intensify and our quality of life was even more reduced, unable to do everyday things like meeting with our family or extraordinary events such as concerts or soccer games.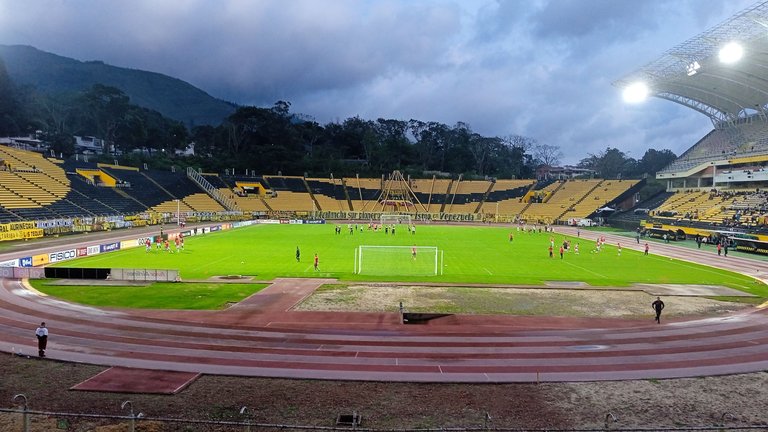 On this occasion my brother and I decided to invite my cousin's children, 11 and 13 years old, to attend the Polideportivo de Pueblo Nuevo stadium in Venezuela, Táchira state, and witness their first soccer game. This time to witness the match between Deportivo Táchira and Portuguesa of the national championship in qualifying for the octogonal.
This match started at 7:30 Pm. We arrived at the Polideportivo at about 6 Pm, parked the car and went to the ticket office to buy tickets for the popular north stand, with a value of 3 USD, we bought only 2 tickets because our cousin who is the traumatologist doctor of Deportivo Tachira provided us with 2 VIP passes. My cousins, more than excited, had some expectation and curiosity about what they were about to witness.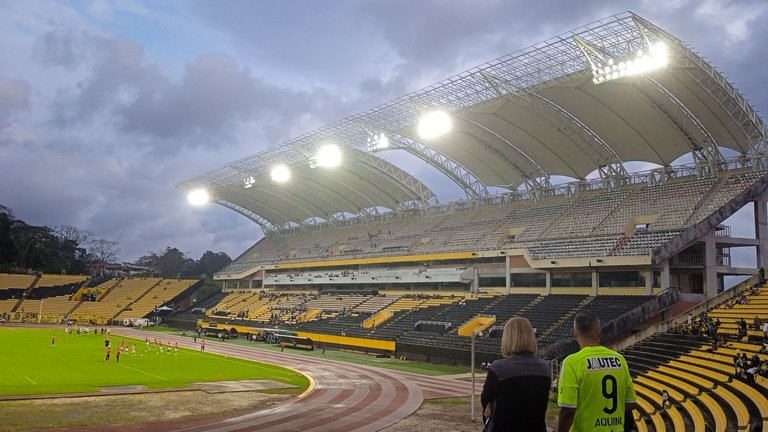 We sat in the high part in the center of the north stand, and waited for the game to start, meanwhile we ate platanitos and I took the opportunity to take pictures of the moment. The teams came out onto the field to give way to the national anthem and the game began, and in the first minute of play occurred the first goal in favor of Portuguesa, in an oversight of the goalkeeper to lose possession of the ball between his feet inside the goal area, an unjustifiable goal that threw the spirits on the floor in the first minutes of play, my cousins were completely disappointed to witness such an error on the part of the goalkeeper.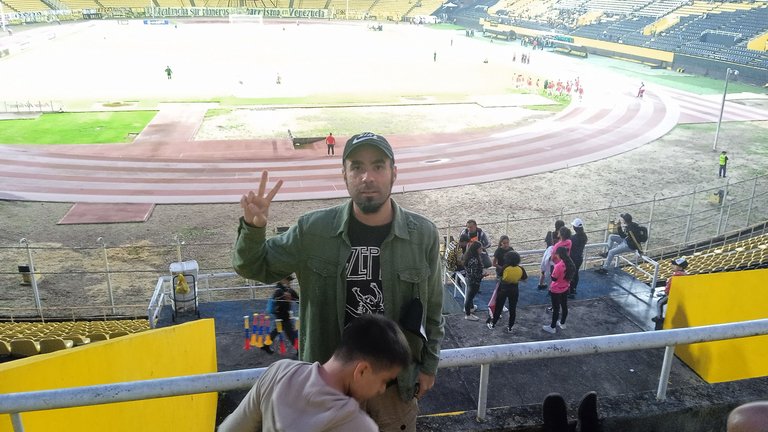 The Portuguesa team had most of the possession of the ball in the course of the first half, to score their second goal in the 5th minute. While I thought it was a shame that my cousins' first soccer experience meant two goals against in such a short time and what looked like it was going to turn into a defeat if the team did not get into a rhythm and start possessing the ball to attack. Fortunately, the team began to make some chances to the opposing team's goal and in the 25th minute came the first goal, something that gave hope for a recovery by tying the game.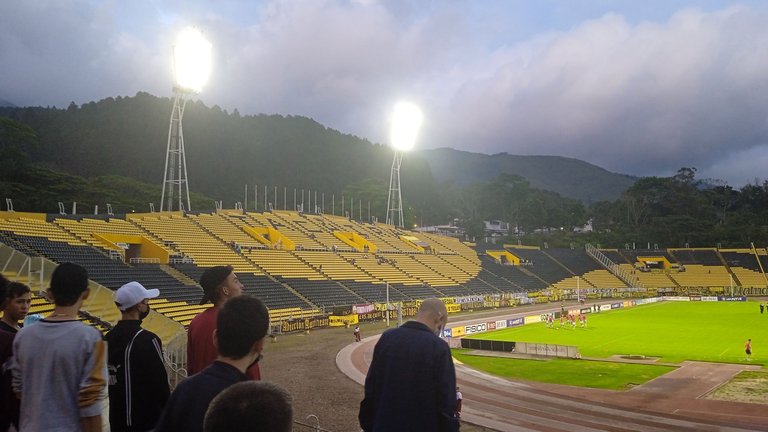 At the end of the first half we bought tequeños and churros to eat, surely this would raise the spirits of my cousins, as they were quite hungry and how to resist these delicious morsels.
In the second half we saw a more strategic Deportivo Táchira, which began to attack and reach the area more frequently to shoot at the goal of the opposing team whose goalkeeper safely saved each of these shots, it seemed an unbeatable goal. But Deportivo Táchira began to press and gave no truce to the Portuguese team thanks to the entry of Marlon Fernández, Jeizón Ramírez and Edson Tortolero. The Protguesa team was cornered and the goalkeeper resorted to the technique of playing for time, throwing himself to the ground simulating an "injury", which caused anger among the fans and the players themselves. But this old trick would not help them because in the 4th minute of overtime, Deportivo Táchira would surprise with a goal by Gabriel Benitez. This was the most exciting moment, as there was a lot of tension due to the clear dominance of Deportivo Táchira, but they could not manage to square the ball inside the goal. A couple of minutes later, the match ended.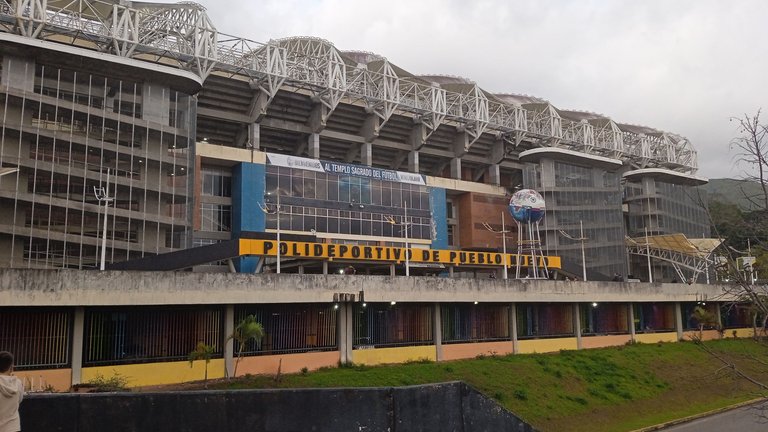 So, the initiative of inviting our cousins to watch this match was a success, as they experienced all kinds of feelings, and we left with the satisfaction of having achieved a draw.
Thank you for reading, I hope you like my publication.
---
▶️ 3Speak
---
---