Usain Bolt, My Favorite Sports Athlete - Sports Talk Social TWC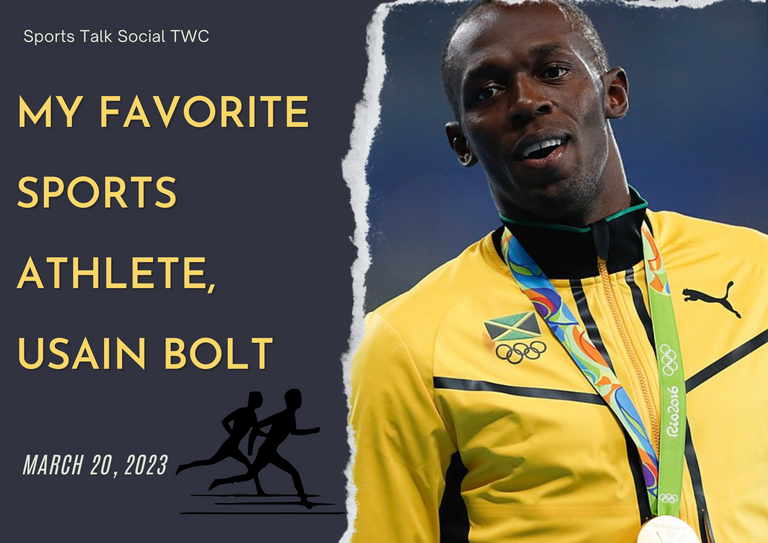 Made With Canva | Image Source
---
Greetings everyone,
I'm delighted to take part in yet another exciting contest in the @sportstalksocial community. I find the topic quite fascinating as it stretches its wing across multiple sports around the world, giving contestants a wide range of options to choose from.
Anyone who knows me really knows that football is dear to my heart. Nevertheless, I tend to watch others from time to time especially during events like the Olympics where we see many athletes participating in all kinds of winter and summer games. It comprises of athletics, swimming, gymnastics, cycling, skiing, and many others. The summer Olympics gave birth to the greatest sprinter of all time who made me fell in love with the 100m and 200m dash, and goes by the name Usain Bolt.
---
Bolt's History
---
The Great Usain Bolt was born on August 21, 1986, in Sherwood Conten. This is a small town in the parish of Trelawny, located in Jamaica. Bolt was raised in a nuclear family, and consistently gives credits his parents, Wellesley and Jennifer Bolt, for instilling in him the values of hard work, dedication, and perseverance. This helped to nurture him into the man he is today.
Bolt had an eye for the track from a very young age. He even started competing in track and field events as a child and showed early promise, especially in the 200-meter dash. And as time went by he seemed to be more attached to the 200m race.
He even once said The 100m dash is for my coach but for the 200m dash, that's for me.
Watch Usain Bolt at a tender age
As a teenager, he began training under coach Pablo McNeil, who helped him hone his skills and focus on the 100-meter race.
He finaily had his breakthrough moment when he captured the stage for the first time in the 2002 World Junior Championships in Kingston, Jamaica, where he won the 200-meter race in a time of 19.19 seconds, breaking the previous world junior record. From that point forward, his career took off, creating a clear pathway for him to become one of the greatest.
When Did He Became The Greatest?
---
When you think about great athletes, you would want to simply look at the number of trophies they have accumulated in their career to see if they are worthy of the title. However, Usain Bolt is simply more than just medals and trophies.
I have never seen an athlete capture the stage the way Usain Bolt has. If you watched the summer Olympics during his era, it just seemed like the entire world was rooting for him. His energy was so contagious that you just want to see him smash records upon records.
Bolt got injured in the 2014 Commonweath Games and had to miss several weeks of training in order to recover from his hamstring injury. During this time, his fierce rival, Justin Gatlin was commanding the track winning race upon race. Despite Bolt's poor form that year, he would set the 100 indoor world record in Warsaw 2014. He then went to win the 200m world final in the 2015 Beijing World Championships, securing his spot from Gatlin who had won the semi-final.
This was still not enough for him. That is the kind of person I am talking about. The priced moment for me was the 2016 Rio Olympics. And for someone who had fully returned from injury, this was the time to make a statement. You could tell he was going to win this race comfortably as was always the case when he felt very good with himself. The crowd was with him as the great showman showed his enthusiasm and cheered them no before the race began.
Bolt wins the 2016 Rio Olympics (His last Olympics)
---
It was similar to his return in the 2012 Bolt vs Blake challenge in the 2012 London Olympics. This was also a tough season for him as he returned from a tough injury. His teammate and world champion at the time, Yohan Blake had beat Bolt twice in the 2012 trials. He beat him on both the 100m and 200m dash.
Blake admitted that Bolt wasn't at his best even in training, but for the great Usain Bolt it was not enough as he simply wanted to win. It was quite astonishing to see him win the London final showdown on both the 100m and 200m dash, with an extraordinary time of 9.64s and 19.32s respectively.
Blake vs Bolt in the 2012 London Olympics
---
But I believe the 2016 Rio Olympics was a defining moment for him since it was his final Olympics appearance. The way he silenced every single person that ever had a shadow of doubt about his abilities, was surely put to shame.
---
Usain Bolt As A Person
---
Despite his success on the track, Usain Bolt has remained grounded and deeply connected to his Jamaican origin. He hoists his country's flag up high as he is a proud ambassador for his country and has used his platform to promote their culture and tourism. Bolt is also known for many of his philanthropic work, supporting various charitable organizations and initiatives which are aimed at improving the lives of children in Jamaica and around the world.
This man is more than just a sports icon. He is a source of inspiration and admiration for millions of people around the globe. With his incredible talent, and infectious charisma, he has left an indelible mark on the world of athletics and beyond.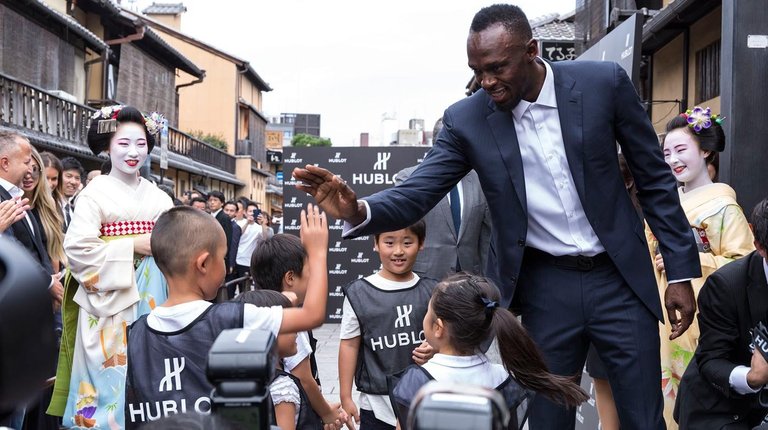 Usain Bolt at charity event in Kyoto image source
---
Watching him race down the track with effortless grace and lightning speed is a sight to behold. His long, lean frame propels him to glide across the ground as he effortlessly breaks records and wins medals. But it's not just his physical prowess that sets him apart from others, it is his unwavering determination and positive attitude that truly make him a champion.
His infectious smile and playful nature have won over millions of fans worldwide. He exudes confidence and joy, and his celebration dances are just as iconic as his races.
---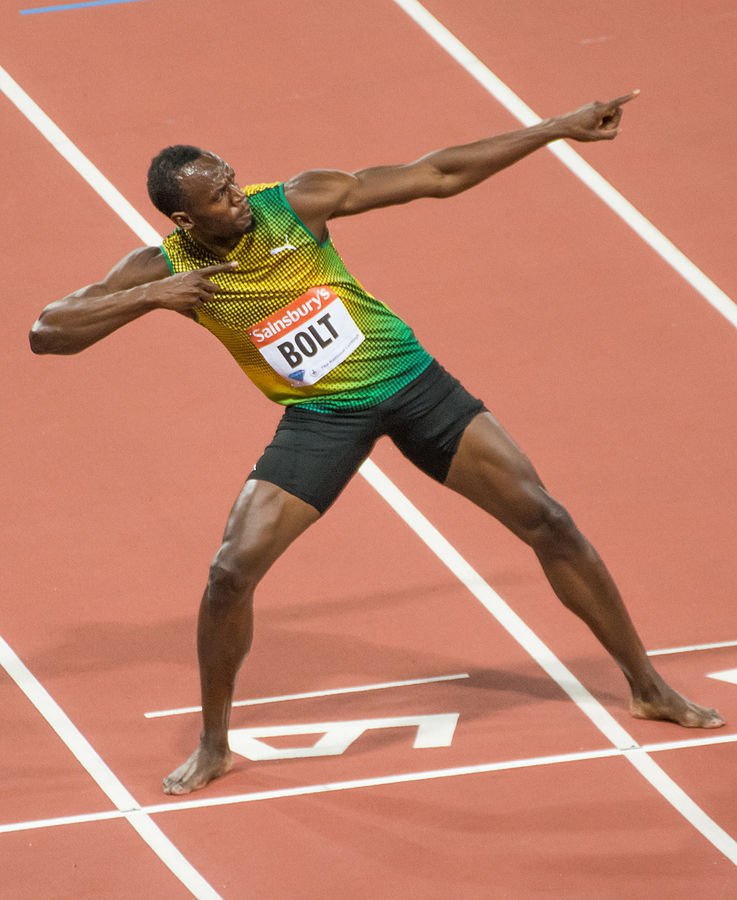 Usain Bolt Signature celebration
image source
---
Bolt has a way of making everyone around him feel uplifted and energized, as if anything is possible with a little bit of hard work and determination.
Even in retirement, Bolt continues to inspire and motivate others. He has used his platform to advocate for various causes, including education and children's health. He is a shining example of what it means to use one's talents and success for the greater good.
He has surely made his mark in the sports world as you see young sprinters idolizing him and everyone yearning to do his signature competition after a good run.
This concludes my entry in this contest. Thank you for your attention.
---
reference 1 | reference 2 | reference 3
---
---