Rabona: Soccer Manager Giveaway #14
I am introducing Rabona to everyone who has not heard about the game yet, it is I think a very underrated game in the Hive Blockchain that doesn't get enough recognition, whilst the dev is working really hard to make the game better and it is getting better and better every day.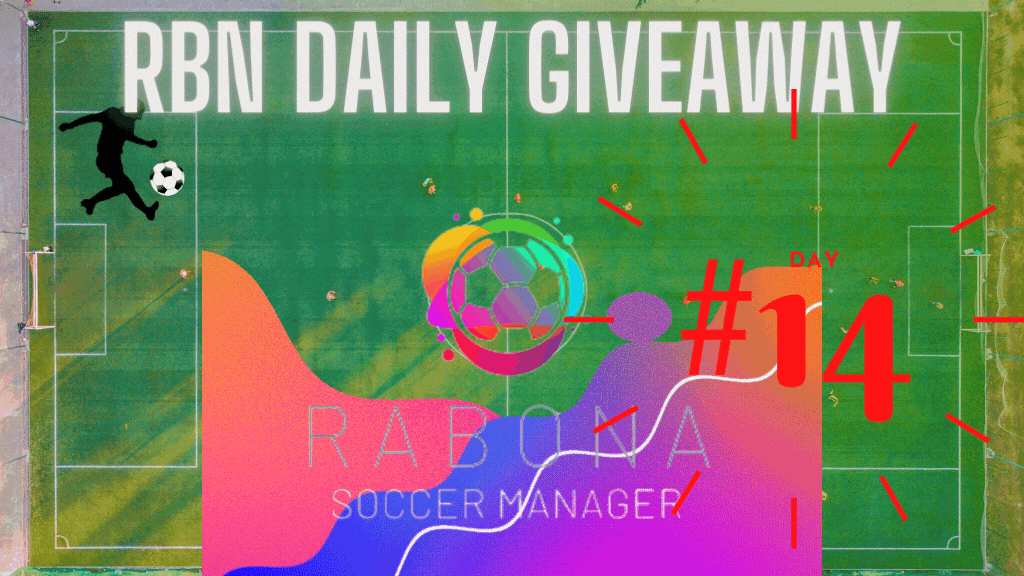 Edited in www.canva.com by ivarbjorn
Whenever an issue arises, the developer do their best to resolve the issue in the least possible time, and I am talking about minutes! Yes, that's how hard-working the developer is, so this is just my initiative to help the developer of the game to add a little exposure to people who might not have heard the game before.
The game is also getting better on a daily basis, and I am really excited to see the future of this game!
Did you know?
This game will give you Hive Rewards. You can see more information here:
Rabona Reward System
What is Rabona?
@Rabona is a massively multiplayer online soccer management blockchain game built on the Hive blockchain.
You will have the experience to manage your professional football team and lead your club to be on top and become the champion!
How to start playing Rabona?
To play Rabona you'll need an account on Hive Blockchain and 10 USD worth of HIVE cryptocurrency on your wallet, and use your Hive Keychain to log in to the game.
Creating the game for the first time will give you 5,000,000 RBN to help you get started with the game if you use my referral link.
Once you are in you can then start to do the following below:
Manage your club

Scout, train, and trade players

Build and expand your stadium

Trade RBN and digital collectibles
You can also join the community in DISCORD

What is RBN?
• RBN is the in-game token that you can earn while playing
• Profitable clubs can earn RBN each season
• You can trade RBN on the in-game exchange with other clubs
• You can Withdraw and deposit RBN anytime
Speaking of the in-game token, I have thought to make a daily giveaway for this token, to introduce the game to people that are not yet playing this game although anyone is welcome to join the giveaway.
I will be doing a daily giveaway of 500,000 token. Yes, you heard that right, I will be giving away half a million RBN daily to one lucky winner.
Probably at the end of every month we will make a special giveaway for a Rabona Account which costs $10.
Giveaway Criteria:
You just have to comment to participate and tag "1" friend but you are free to tag as many as you want. Participants are highly encouraged to tag an ACTIVE PERSON in Hive 👀
No upvote or tips needed.
Include your in-game name if it is different from the one you are using.
Only 1 entry per person, and bots are not counted. Multi-accounting will get you disqualified
Please make sure you follow the above criteria to be eligible, failing to do so will forfeit your winnings if ever you are picked and we will need to reroll.
If you are using or under my Referrals you will get a bonus of 500,000 if you win for the first time, that makes it a total of 1,000,000 RBN!
Previous Winner:
Congratulations to @asrullpare for winning the previous giveaway!



I have already sent him his winnings and since he used my referral he got another 500,000 RBN, now he has a total 1,500,000 RBN from the giveaway!
Right now I am holding RBN for people on the list below:
@amaillo = 1,000,000 RBN
@ramadhanight = 500,000 RBN
If anyone wishes to get notified whenever I do the giveaway just let me know in the comment section. Thanks!

Authors' note
If you feel that this post is violating any rules and guidelines in Hive regarding giveaways please let me know so I can change anything if there is something wrong with it.
To those people participating please only tag people that you have personal connections with for you to avoid getting reported for spam tagging.
Any upvotes, tips or anything on this post will be added to the giveaway and will be bought RBN in the game market.
I will not tag previous participants aside from the winners so watch out for the giveaway 🤣 unless you request yourself to be tagged whenever I do one, if only one person joins the giveaway I will be happy to give it to him as long as he did all the rules. You can Follow me so you can see whenever I post the giveaway.
If you wish to join the game feel free to use my referral link which will give benefits to us both.
I will be using this website from @snackaholic to pick a winner and the winner is 100% random, if you have any other suggestions please let me know:
https://snackaholic.github.io/hivefortune/en/#
I can only transfer the token in-game so a Rabona account is a must. If you don't have it yet, you can let me hold it off until you have the account created. (Using my link is highly appreciated, of course)
Daily Tips:
Make sure you have a backup player for each position incase of injury or penalties.
If you have questions, you can ask it here or tag @rabona, I am pretty sure they will be happy to answer your question.
People who requested to be tagged. (Just say in the comment if you wanted to be tagged in every giveaway)
@successchar @asrullpare @ramadhanight @davideownzall
Let the game begin!
"If you can't outplay them, outwork them."



If you are not playing splinterlands yet, you can join us here: https://bit.ly/2ZcvADg (Let me know if you have used my link, so I could help you get started)
Start your Risingstar journey here: https://bit.ly/3ctsg9V
Start your Rabona Football Club here: https://bit.ly/3onU7z1
Start your Listnerds/Affiliate Marketing here: Listnerds
You can also DM me in discord if you have questions: ivarbjorn#9345



Follow me on Twitch, Click Here
Follow me on Twitter, Click Here
Check out all the #nosleepgang Streamers here, Click Here
(You can also see all the posts the streamers make. Huge shoutout to @nevermeltice for making the website possible)


---
---