[ Esp - Eng ] 2 Nuevos récords se implantan en la NFL en la Semana 3 | 2 New records set in the NFL in Week 3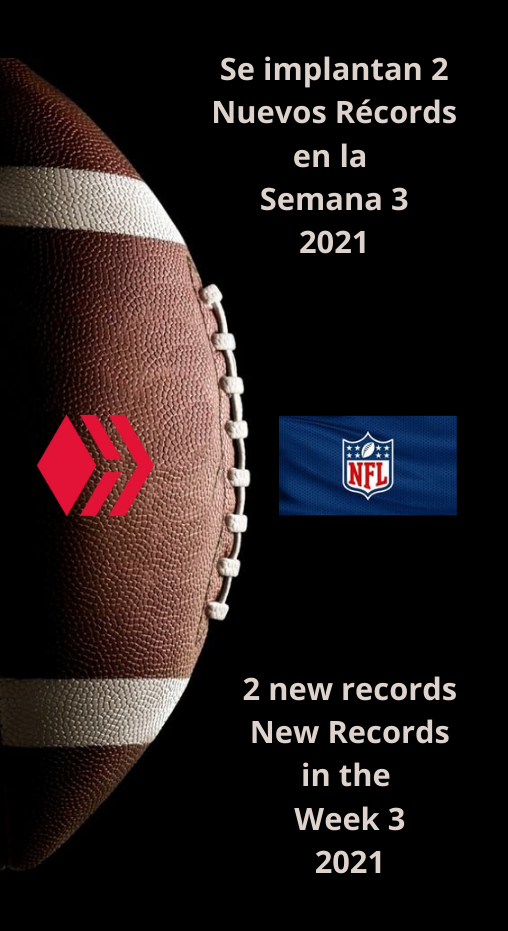 Fuente | Source | Imagen editada con App Canva.com
---
Un viejo dicho nos recuerda que los récords están para ser alcanzados y batidos, pues esta frase cobra vigencia cada vez que en algún deporte un atleta o un equipo impone una nueva marca, lo acabamos de ver en los recién finalizados juegos olímpicos de Tokio 2020, donde fueron batidos récords olímpicos y mundiales, en los deportes de conjunto también sucede lo mismo, sean estos el beisbol, el futbol soccer o el fútbol americano, en lo que respecta a la 3ra semana de la temporada regular de la NFL fueron implantados 2 nuevos récords, los mismos tiene la particularidad de que ambos terminaron en anotación, los invito a seguir leyendo este post para que descubran como se lograron estas 2 nuevas marcas, las cuales en mi opinión personal probablemente permanecerán vigentes algún tiempo.
An old saying reminds us that records are to be reached and beaten, because this phrase comes into force every time in any sport an athlete or a team imposes a new mark, we just saw it in the recently completed Olympic Games in Tokyo 2020, where Olympic and world records were beaten, in team sports also happens the same thing, be these baseball, soccer or football, in what concerns the 3rd week of the NFL regular season, 2 new records were set, the same has the particularity that both ended in touchdown, I invite you to continue reading this post to discover how these 2 new records were achieved, which in my personal opinion will probably remain in force for some time.
---
Gol de Campo más largo en la historia de la NFL Longest Field Goal in NFL History

Para hablar del nuevo récord hay que remitirse a los anteriores, el primero desde el 25 de agosto de 2002, en un juego de pretemporada de 65 yardas en un partido entre los Denver Broncos vs. Seattle Seahawks,, el pateador que logró esta marca fue Ola Kimrin perteneciente al equipo de los Denver Broncos, quienes ganaron el juego a los Seattle Seahawks 31 - 0 , la segunda marca la hizo Matt Prater de 64 yardas, también de los Broncos de Denver en un juego de temporada regular entre los Broncos de Denver quienes ganaron 51 a 28 a los Titanes de Tennessee, el 8 de diciembre de 2013. El nuevo récord aún está fresco, ya que fue realizado por el pateador de los Baltimore Ravens Justin Tucker la noche del Domingo 26 de septiembre de 2021 contra los Detroit Lions que fueron locales en el Ford Field Stadium de Detroit, este histórico gol de campo fue de 66 yardas, el mismo se concretó en el 4º cuarto del partido en el que los Baltimore Ravens estaban abajo en el marcador por una diferencia de 1 punto de 16 a 17 , el gol de campo se produce en el minuto 1: 04 del último cuarto después de 7 jugadas y avance de 27 yardas, en 4ta oportunidad y 19 yardas para avanzar, como todos sabemos cuando una ofensiva llega al 4to down debe despejar el balón o intentar un gol de campo si está a una distancia cercana, pero intentar un gol de campo de 66 yardas de distancia parecía imposible pero Justin Tucker, un veterano de 10 temporadas hizo historia de la NFL convirtiendo el gol de campo más largo para lograr que su equipo los Baltimore Ravens ganaran el partido 19 a 17.
To talk about the new record we must refer to the previous records, which were in force, the first since August 25, 2002, in a preseason game of 65 yards in a game between the Denver Broncos vs. Seattle Seahawks, the kicker who achieved this mark was Ola Kimrin belonging to the Denver Broncos team, who won the game to the Seattle Seahawks 31 - 0 , the 2nd mark was made by Matt Prater of 64 yards also of the Denver Broncos in a regular season game between Denver Broncos who won 51 to 28 to the Tennessee Titans, on December 8, 2013. The new record is still fresh, as it was made by Baltimore Ravens kicker Justin Tucker on sunday, September 26 against the Detroit Lions who were home at Ford Field Stadium in Detroit, this historical field goal was of 66 yards, the same was concreted in the 4th quarter of the game in which the Baltimore Ravens were down on the scoreboard by a difference of 1 point from 16 to 17 , the field goal occurs in the 1 minute: 04 of the last quarter after 7 plays and advance of 27 yards, in 4th chance and 19 yards to go, as we all know when an offense reaches the 4th down must clear the ball or attempt a field goal if it is at a close distance, but attempting a field goal of 66 yards away seemed impossible but in the Justin Tucker, a veteran of 10 seasons made history NFL converting the longest field goal in history to ensure that his team the Baltimore Ravens won the game 19 to 17 ..
A NEW NFL RECORD.

66 YARDS. OFF THE CROSSBAR. @JTUCK9. pic.twitter.com/x8DXOoCuFH

— NFL (@NFL) September 26, 2021
Fuente | Source
---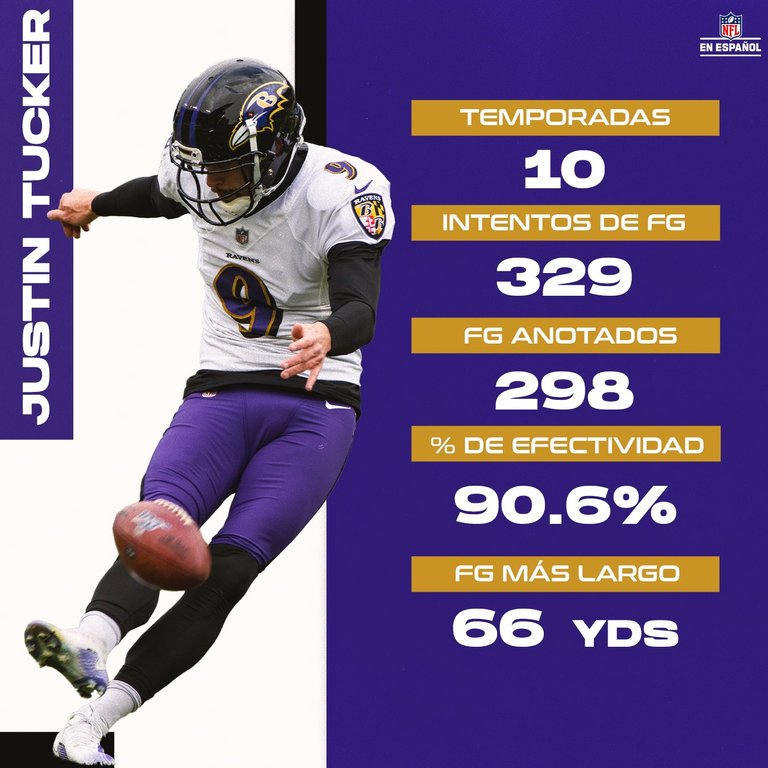 Fuente | Source
---
Touchdown más largo en la historia de la NFL | Longest Field Goal in NFL History

Otro récord implantado en la 3era semana, fue el touchdown de 109 yardas anotado este domingo 26 de septiembre de 2021 por el receptor abierto de los Jacksonville Jaguars, Jamal Agnew, en el partido contra los Arizona Cardinals, el touchdown se produce debido a un cobro de gol de campo errado, ejecutado al final del 2do cuarto por el pateador Matt Prater desde una distancia de 68 yardas, es de hacer notar que el gol de campo no fue ejecutado a la perfección y al pateador le salió una patada corta que aprovechó para interceptarla el receptor de los Jacksonville Jaguars, y correr con el ovoide 109 yardas para anotar un touchdown, pese al touchdown anotado los Jaguars no pudieron romper el invicto que mantienen los Arizona Cardinals, quienes ganaron el encuentro 31 a 19, estos ahora tienen record de 4 juegos ganados y 0 perdidos, es de mencionar que este récord de touchdown de 109 yardas es compartido según determinación de la liga con otros 2 jugadores a saber: Antonio Cromartie, de los San Diego Chargers en el año 2007 y del jugador Cordarrelle Patterson, con los Minnesota Vikings en el 2013 .
Another record set in Week 3 was the 109-yard touchdown scored this Sunday, September 26, 2021 by Jacksonville Jaguars wide receiver Jamal Agnew, in the game against the Arizona Cardinals, the touchdown was produced due to a missed field goal kicked at the end of the 2nd quarter by kicker Matt Prater from a distance of 68 yards, it should be noted that the field goal was not executed perfectly and the kicker missed a short kick that the Jacksonville Jaguars receiver took advantage of to intercept it and run with the ball 109 yards to score a touchdown, despite the touchdown scored the Jaguars could not break the undefeated record held by the Arizona Cardinals, who won the game 31 to 19, they now have a record of 4 wins and 0 losses, it is worth mentioning that this record of 109 yards touchdown is shared as determined by the league with 2 other players namely: Antonio Cromartie, of the San Diego Chargers in 2007 and the player Cordarrelle Patterson, with the Minnesota Vikings in 2013 .
A 68-YARD FG ATTEMPT TURNS INTO A 109-YARD RETURN TD.

MAYHEM IN JACKSONVILLE.

📺: #AZvsJAX on FOX
📱: NFL app pic.twitter.com/XrYPXpMiF1

— NFL (@NFL) September 26, 2021
Fuente | Source
---
Translated with
www.DeepL.com/Translator
(free version)✔️
---
---
Descargo de responsabilidad | Disclaimer
✔️

2021 NFL Enterprises LLC. NFL y el diseño del escudo de la NFL son marcas registradas de la National Football League.Los nombres de los equipos, los logotipos y los diseños de los uniformes son marcas registradas de los equipos indicados. Todas las demás marcas comerciales relacionadas con la NFL son marcas comerciales de la National Football League. Imágenes de la NFL © NFL Productions LLC.
2021 NFL Enterprises LLC. NFL and the NFL shield design are registered trademarks of the National Football League.The team names, logos and uniform designs are registered trademarks of the teams indicated. All other NFL-related trademarks are trademarks of the National Football League. NFL footage © NFL Productions LLC.
---

---
---