[ Esp - Eng ] 2do Partido Internacional de la temporada desde Londres | Semana 6 | Jacksonville Jaguars Vs Miami Dolphins🏈 2nd International Game of the season from London | Week 6 | Jacksonville Jaguars Vs Miami Dolphins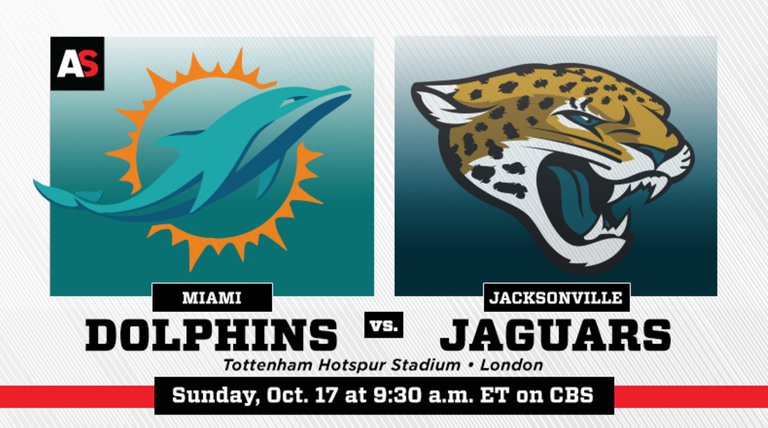 Fuente | Source
---
Feliz día estimados lectores, hoy traemos al feed de
@fulldeportes
los pormenores del
2do partido internacional de la NF
L entre los
Jaguares de Jacksonville y Delfines de Miami
correspondiente a la semana 6 de la temporada regular, el
domingo 17 de Octubre a las 09:30 am
hora de Londres, el encuentro se llevó a cabo por 2da ocasion en el imponente
Tottenham Hotspur Stadium
, sede del equipo de fútbol inglés
Tottenham
de la Liga Premier , no pudimos ver el juego a través de la señal de ESPN para latinoamérica, desconocemos el motivo, ya que el
anterior partido que reseñamos
si lo pudimos ver por esta misma cadena de deportes, debido a este contratiempo tuvimos que optar por el plan B y verlo a través de la aplicación para móviles
The Yahoo! Sports App
, acotamos que fue una buena alternativa y lo mejor de todo es que resultó siendo gratis, la transmisión de todo lo juegos por esta vía son en resolución HD y se tiene la posibilidad de seleccionar el audio en español ai como en otros 10 idiomas, la descarga de la aplicación la hice a través de la tienda en linea Google Play hacia mi movil, Samsung Galaxy S5 , el cual posee el sistema operativo Android.
Recomendamos ampliamente esta App deportiva
, hacemos la salvedad que la velocidad de internet en Colombia es 10 veces más rápida que en Venezuela, debido a este factor pude disfrutar del juego sin contratiempo alguno en vivo y en directo.
Happy day dear readers, today we bring to the feed of

@fulldeportes

the details of the

2nd international match of the NF

L between the

Jacksonville Jaguars and Miami Dolphins

corresponding to week 6 of the regular season, on

Sunday, October 17 at 09: 30 am

London time, the match took place for the 2nd time at the imposing

Tottenham Hotspur Stadium

, home of the English soccer team

Tottenham

of the Premier League, we could not watch the game through the ESPN signal for Latin America, we do not know the reason, since the

previous match we reviewed

if we could see it through this same sports network, due to this setback we had to opt for plan B and watch it through the mobile app

The Yahoo! Sports App

, we note that it was a good alternative and best of all is that it was free, the transmission of all the games by this way are in HD resolution and has the ability to select the audio in Spanish ai as in 10 other languages, the download of the application I did it through the online store Google through the online store Google Play to my mobile, Samsung Galaxy S5, which has the Android operating system.

We highly recommend this sports App

, we make the caveat that the internet speed in Colombia is 10 times faster than in Venezuela, due to this factor I could enjoy the game without any setback live and direct.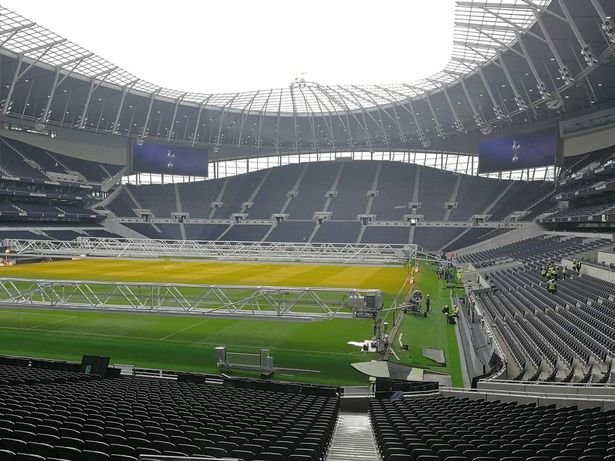 Fuente | Source | Tottenham Hotspur Stadium
---
Este encuentro tuvo las siguientes particularidades, este partido es la revancha entre estos 2 mariscales que se enfrentaron la última vez en el campeonato nacional College Football Playoff de la temporada 2018 , y donde la universidad de Clemson liderada por Trevor Lawrence, se impuso a la universidad de Alabama y a su mariscal Tua Tagovailoa 44 a 16 , tanto los Jaguares de Jacksonville como los Delfines de Miami llegan a Londres en 2021 con récord de 0 - 5 para Jaguares, y 1 ganado 4 perdidos para los Delfines, también es la 1era vez que se enfrentan fuera de EEUU dos mariscales de campo que fueron el centro del draft en sus respectivos drafts y puestos de escogencias, el mariscal de campo de los Jaguares, Trevor Lawrence de 22 años, viene de la universidad ubicada en el top 5 como productora de prospectos en la NFL, Clemson, este joven fue distinguido con la 1era escogencia en el 1er puesto del draft 2021, por su parte el mariscal de los Delfines el también joven de 23 años, Tua Tagovailoa , de ascendencia Samoa - Americana, nacido en Hawai, EE UU, proveniente de otra cantera de prospectos, la universidad de Alabama, fue escogido en la 1era ronda en el puesto 5 del draft del 2020 por los delfines. Cabe hacer mención que los felinos de Jacksonville son la 3ra franquicia en la historia de la liga con mayor cantidad de juego perdidos en forma consecutiva, desde la temporada 2020 a la actual 20 derrotas al hilo, les preceden en esta estadística negativa los Bucaneros de Tampa Bay , quienes perdieron 26 juegos de forma consecutiva desde el 12 de septiembre de 1976 hasta el 4 de diciembre de 1977 .
This matchup had the following particularities, this game is the revenge between these 2 quarterbacks who faced each other the last time in the national championship College Football Playoff of the 2018 season , and where Clemson University led by Trevor Lawrence, beat the University of Alabama and its quarterback Tua Tagovailoa 44 to 16 , both the Jacksonville Jaguars and the Miami Dolphins arrive in London in 2021 with a record of 0 - 5 for the Jaguars, and 1 won 4 lost for the Dolphins, it is also the first time that two quarterbacks who were the center of the draft in their respective drafts and picks will face each other outside the USA, Jaguars quarterback Trevor Lawrence, 22 years old, comes from Clemson, the top 5 prospect-producing university in the NFL, and was selected with the 1st pick in the 1st spot of the 2021 draft, for his part the quarterback of the Dolphins the also young of 23 years, Tua Tagovailoa , of American Samoan descent, born in Hawaii, USA, coming from another quarry of prospects, the University of Alabama, was chosen in the first round in the 5th position of the draft of 2020 by the Dolphins. It is worth mentioning that the Jacksonville Dolphins are the 3rd franchise in league history with most consecutive losses, from the 2020 season to the current 20 consecutive losses, preceded in this negative statistic by the Tampa Bay Buccaneers , who losed 26 games in a row from September 12, 1976 to December 4, 1977.
Serie histórica entre Delfines Vs Jaguares | Historic series between Dolphins and Jaguars
| Franquicia | Serie Particular últimos 9 juegos | Racha |
| --- | --- | --- |
| Miami | Lidera 5 a 4 | Jacksonville gana 2 de los 3 últimos partidos |
| Jacksonville | 4 Ganados - 5 Perdidos | Perdidos últimos 3 |
| Último encuentro | 24 - 09 - 2020 | Miami 31 - Jacksonville 13 |
Fuente | Source | Estadísticas | NFL.COM
---

Mis apreciaciones del partido | My assessment of the match
En nuestra manera de apreciar el desarrollo del partido, vimos un duelo de jóvenes mariscales que nos gustó mucho, ya que ambos estuvieron bien planteados en el terreno de juego en cuanto a sus sistemas ofensivos, por su parte
Trevor Lawrence
lanzó 25 pases en 41 intentos para 319 yardas, concretó 1 touchdown y no tuvo intercepciones en intercepciones en sus pases pero sí perdió en una oportunidad el balón, la defensiva de Miami le propinó 3
sacks o captura,
por su parte el mariscal de Miami,
Tua Tagovailoa
, tuvo actuación similar superando ligeramente a su rival en touchdowns con 2, lanzó para 329 yardas en 47 intentos, uno de sus pases fue interceptado en el 3er cuarto, en cuanto a las capturas de mariscal la defensiva de los Jaguares lo capturo en 7 oportunidades, por lo que a nuestro parecer la defensiva de Jacksonville fue superior a la de Miami.
In our way of appreciating the development of the game, we saw a duel of young quarterbacks that we liked a lot, as both were well raised on the field in terms of their offensive systems, for his part

Trevor Lawrence

threw 25 passes in 41 attempts for 319 yards, he completed 1 touchdown and had no interceptions in interceptions on his passes but did lose the ball once, the Miami defense gave him 3

sacks or catches,

for his part the Miami quarterback,

Tua Tagovailoa

, had similar performance slightly surpassing his rival in touchdowns with 2, he threw for 329 yards in 47 attempts, one of his passes was intercepted in the 3rd quarter, as for quarterback catches the Jaguars defense caught him in 7 opportunities, so in our opinion the Jacksonville defense was superior to Miami's.
La patada inicial del partido la ejecutaron los Jaguares de Jacksonville, por cuanto la 1era serie ofensiva fue para los Delfines de Miami, quienes logran en el 1er cuarto su 1er touchdown vía pase del mariscal Tagovailoa a su receptor Jaylen Waddle, la respuesta de los Jaguares llegó a través de un gol de campo de 3 puntos y una distancia de 40 yardas, con esta anotación el 1er cuarto quedaba con marcador de 7 a 3 a favor de Miami. En el 2do cuarto los Delfines lograron 2 goles de campo para 6 puntos, por su parte los Jaguares pudieron anotar un touchdown faltando 0:40 mediante pase de Trevor Lawrence a su receptor Marvin Jones Jr., luego Miami intentaría un gol de campo de 58 yardas que falla el pateador Jason Sanders, con este accionar la 1era mitad del partido quedaba 13 a 10 a favor de los Delfines de Miami.
The Jacksonville Jaguars kicked the first kickoff of the game, because the first offensive series was for the Miami Dolphins, who scored their first touchdown in the 1st quarter through a pass from quarterback Tagovailoa to his receiver Jaylen Waddle, the Jaguars' answer came through a 3-point field goal and a distance of 40 yards, with this touchdown the 1st quarter ended with a score of 7 to 3 in favor of Miami. In the 2nd quarter the Dolphins made 2 field goals for 6 points, on the other hand the Jaguars were able to score a touchdown with 0:40 to go through a pass from Trevor Lawrence to his receiver Marvin Jones Jr. then Miami would try a field goal of 58 yards that the kicker missed Jason Sanders, with this action the first half of the game was 13-10 in favor of the Miami Dolphins.
Para el 3er cuarto los Jaguares anotan un touchdown por la vía terrestre con pase en posición escopeta de Trevor Lawrence a su guardia derecho Robinson quien anota después de avanzar 24 yardas, con esta anotación Jacksonville se pone arriba por 1era vez en el marcador 13 a 17, en este 3er cuarto Miami no anotó puntos . Comenzando el último cuarto el receptor de Miami Jaylen Waddle recibe pase de su mariscal y anota un touchdown para poner a ganar otra vez a Miami 20 a 17, faltando 3:40 en 4to cuarto los Jaguares anotan un gol de campo de 54 yardas y de esta manera empatan el partido a 20 puntos por lado, luego de esta jugada Miami en su serie ofensiva no logró anotar, por lo que faltando 0:01 los Jaguares logran anotar un gol de campo de 53 yardas para ganar el partido 23 a 20 .
In the 3rd quarter the Jaguars score a touchdown on the ground with a pass in shotgun position from Trevor Lawrence to his right guard Robinson who scores after advancing 24 yards, with this touchdown Jacksonville is up for the first time in the scoreboard 13 to 17, in this 3rd quarter Miami did not score points. Starting the last quarter Miami receiver Jaylen Waddle receives a pass from his quarterback and scores a touchdown to put Miami up again 20 to 17, with 3:40 left in the 4th quarter the Jaguars score a field goal of 54 yards and in this way tie the game at 20 points per side, after this play Miami in its offensive series failed to score, so the Jaguars are able to score a touchdown. with 0:01 left the Jaguars managed to score a 53-yard field goal to win the game 23 to 20 .
---

Claves del partido | Match keys
Somos de la opinion que este encuentro fue equilibrado por los dos equipos tanto en sus sistemas ofensivos como defensivos, pero no así en sus equipos especiales, los cuales son los encargados entre otras cosas de patear los despejes de balón y de los goles de campo, es precisamente en este punto donde los jaguares jugaron a la perfección y concretaron 11 puntos en goles de campo, tuvieron marca perfecta de 3 goles de campo en 3 intentos por intermedio de su pateador Wright, quienes no tuvieron la misma suerte fueron los delfines, ya que de 3 intentos lograron 2 goles de campo, fallando uno , estando empatados a 20 puntos y faltando 3:40 del ultimo cuarto, los jaguares concretaron un gol de campo de 54 yardas para liquidar el partido con marcador final 23 a 20 , con esta victoria los Jaguares ponen fin a su racha de 20 juegos perdidos de manera consecutiva, y quedan con 1 juego ganado y 5 perdidos en 6 encuentros, por su parte los Delfines que venían con 1 y 4 , con esta derrota dejan sus registro en lo que va de temporada en 1 ganado y 5 perdidos . Al final del encuentro el jugador más valioso del partido fue precisamente el pateador de los Jaguares, Matthew Wright.
We are of the opinion that this game was balanced by both teams in their offensive and defensive systems, but not in their special teams, which are in charge of kicking kickoffs and field goals, among other things, It is precisely in this point where the Jaguars played to perfection and scored 11 points in field goals, they had a perfect score of 3 field goals in 3 attempts through their kicker Wright, who did not have the same luck were the Dolphins, since in 3 attempts they made 2 field goals, missing one, being tied at 20 points with 3 missing: 40 of the last quarter, the Jaguars made a field goal of 54 yards to settle the game with final score 23 to 20, with this victory the Jaguars put an end to their streak of 20 consecutive lost games, and are with 1 game won and 5 lost in 6 games, while the Dolphins who came with 1 and 4, with this defeat leave their record so far this season in 1 won and 5 lost. At the end of the game the Most valuable player of the game was precisely the Jaguars kicker, Matthew Wright.
HE HOOKED IT IN!@Jaguars tie it up with a WILD 54-yard field goal. #DUUUVAL

📺: #MIAvsJAX on CBS
📱: NFL app pic.twitter.com/FMGEvlQxwO

— NFL (@NFL) October 17, 2021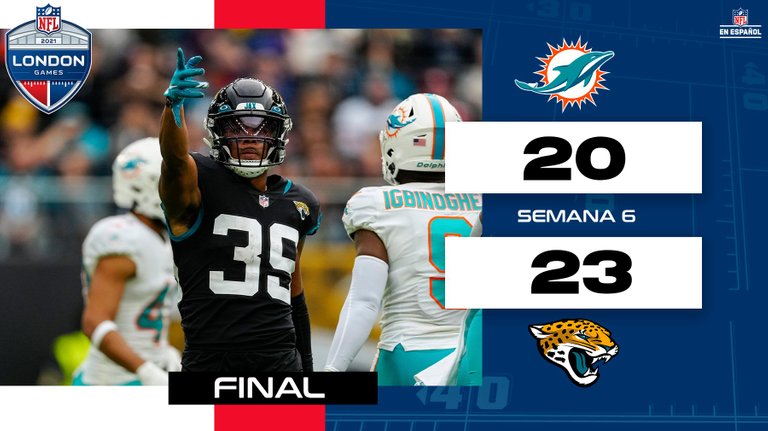 Fuente | Source
---
---
Translated with
www.DeepL.com/Translator
(free version)✔️
---

---
Descargo de responsabilidad | Disclaimer
✔️

2021 NFL Enterprises LLC. NFL y el diseño del escudo de la NFL son marcas registradas de la National Football League.Los nombres de los equipos, los logotipos y los diseños de los uniformes son marcas registradas de los equipos indicados. Todas las demás marcas comerciales relacionadas con la NFL son marcas comerciales de la National Football League. Imágenes de la NFL © NFL Productions LLC.
2021 NFL Enterprises LLC. NFL and the NFL shield design are registered trademarks of the National Football League.The team names, logos and uniform designs are registered trademarks of the teams indicated. All other NFL-related trademarks are trademarks of the National Football League. NFL footage © NFL Productions LLC.
---

---
---