[ Esp - Eng ] El partido más esperado de la semana 4 | Tampa Bay Buccaneers Vs New England Patriots 🏈 The most anticipated game of week 4 | Tampa Bay Buccaneers Vs New England Patriots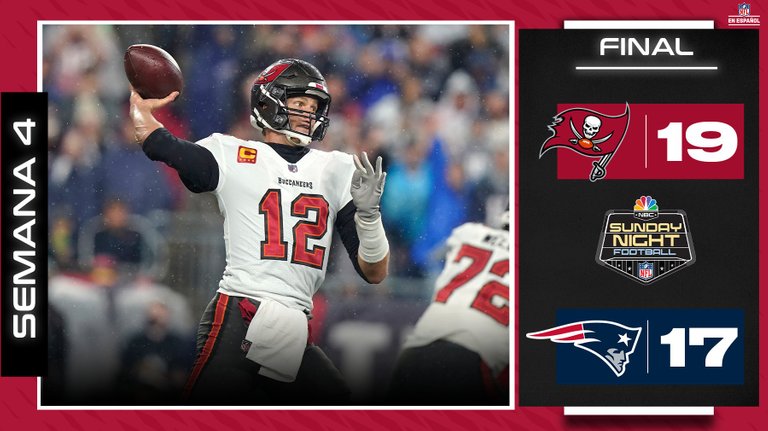 Fuente | Source
---
El juego más esperado de la temporada regular correspondiente a la semana 4 como era de esperarse lo pudimos ver en el horario estelar del Sunday Night Football , el domingo 3 de octubre de 2021, cuando se enfrentaron Tampa Bay Buccaneers y los New England Patriots en el Gillette Stadium en Foxborough, Massachusetts, sede de los Patriotas de Nueva Inglaterra, antes del partido ambos equipos venían con el siguiente registro correspondiente a las 3 semanas precedentes: Tampa Bay 2 ganados y 1 perdido, New England 1 ganado y 2 perdidos, recordemos que entre las expectativas de dicho partido radicaba en que Tom Brady, ex jugador de los Patriotas, se enfrentaría a su antiguo equipo y afición ahora como rival.
En otras palabras fuimos testigos del enfrentamiento entre el Maestro, Bill Belichick, y su pupilo por 20 temporadas y ganador de 6 super tazones; además del duelo generacional entre mariscales de campo: Mac Jones de 23 años y novato y Tom Brady de 44 años, 20 temporadas y muchos récords a sus espaldas, además de que era muy probable que The GOAT (Great Of All Times, sobrenombre con el cual es conocido Brady, significa el más grande de todos los tiempos) impusiera un nuevo récord en la liga de mayor cantidad de yardas aéreas, record este en posesión de su amigo el también mariscal de campo, ahora retirado, Drew Brees , antes del encuentro para entrar en contexto es bueno recordar los números históricos entre estos 2 equipos, por lo que los invito a ojear la siguiente tabla:
The most anticipated game of the regular season corresponding to Week 4 as expected we could see it in the prime time of Sunday Night Football, Sunday, October 3, 2021, when Tampa Bay Buccaneers and New England Patriots faced each other at Gillette Stadium in Foxborough, Massachusetts, prior to the game. , on Sunday, October 3, 2021, when Tampa Bay Buccaneers and New England Patriots faced each other at Gillette Stadium in Foxborough, Massachusetts, home of the New England Patriots, before the game both teams came with the following record corresponding to the 3 preceding weeks: Tampa Bay 2 wins and 1 loss, New England 1 win and 2 losses, let's remember that among the expectations of such game was that Tom Brady, former Patriots player, would be facing his former team and fans now as a rival.
In other words, we witnessed the confrontation between the Master, Bill Belichick, and his pupil for 20 seasons and winner of 6 super bowls; in addition to the generational duel between quarterbacks: Mac Jones, 23 years old and rookie and Tom Brady, 44 years old, 20 seasons and many records behind him, plus it was very likely that The GOAT (Great Of All Times, nickname by which Brady is known, means the greatest of all time) would impose a new league record for most air yards, Before the game to get into context it is good to remember the historical numbers between these two teams, so I invite you to take a look at the following table:
Serie historica entre Tampa Bay Vs New England Historic series between Tampa Bay Vs New England
| Franquicia | Serie Particular últimos 9 juegos | Racha |
| --- | --- | --- |
| New England | 7 Ganados - 2 Perdidos | Ganados últimos 4 |
| Tampa Bay | 2 Ganados - 7 Perdidos | Perdidos últimos 4 |
| Último encuentro en sede de New England | 22 - 09 - 2013 | Marcador: Patriots 23 - Tampa Bay 3 |
| Último partido | 05 - 10 - 2017 | Marcador: Patriots 19 - Tampa Bay 14 |
Fuente | Source | Estadísticas | NFL.COM
---
Como podemos observar en la tabla anterior, los Patriots lideran las estadísticas históricas pero en esas victorias corresponden cuando Tom Brady jugaba para New England, ahora el escenario es otro y Brady juega con Tampa Bay, es de hacer mención que Tampa Bay llegó a este partido como favorito de todas las quinielas de las casas de apuestas de Las Vegas, otra información relevante es la ausencia en el partido del ala cerrada de Tampa Bay, Rob Gronkowski, por lo que Tom Brady no tendra a disposicion a su compañero de dupla por estar este en lista de incapacitados por fisura en costillas y perforación de un pulmón, a continuación estimados lectores les dejamos el resumen del partido y las claves del partido.
As we can see in the table above, the Patriots lead the historical statistics but those victories correspond to when Tom Brady played for New England, now the scenario is different and Brady plays with Tampa Bay, it is worth mentioning that Tampa Bay came to this game as the favorite of all the betting pools of the bookmakers in Las Vegas, Another relevant information is the absence in the game of Tampa Bay's tight end, Rob Gronkowski, so Tom Brady will not have at his disposal his teammate because he is on the disabled list due to cracked ribs and punctured lung, below dear readers we leave you the summary of the game and the keys to the game.
---
Mis apreciaciones del partido | My assessment of the match
A pesar de la constante lluvia a lo largo del partido pudimos ver y oír como la fanaticada de los Patriots se rendía a los pies de su ídolo, Tom Brady, a pesar de que este ya no formaba parte del equipo con el cual ganó 6 super tazones, la algarabía era ensordecedora y estridente. Según información de la página oficial de la NFL el boleto por persona para este encuentro rondaba en promedio los USD 360 , es de destacar que para Tom Brady este sería el juego numero 303 que inicia.
Despite the constant rain throughout the game we could see and hear how the Patriots fans surrendered at the feet of their idol, Tom Brady, even though he was no longer part of the team with which he won 6 Super Bowls, the noise was deafening and strident. According to information from the NFL's official website, the average ticket per person for this game was around USD 360, it is noteworthy that for Tom Brady this would be the 303rd game he starts.
La patada inicial la dio Tampa Bay, por lo que New England inició la ofensiva liderada por el novato de 23 años Mac Jones a quien vimos bastante seguro en sus pases por tierra y aire, pudimos ver que la defensa de Tampa Bay presionó mucho a Jones y este fue prácticamente anulado en el 1er cuarto del partido al punto de no concretar pases de touchdown en ese cuarto, por su parte cuando inició la ofensiva Tampa Bay esta fue eclipsada por la excelente defensiva de New England a tal punto que por 1era vez en muchos años Tom Brady no pudo concretar pases de touchdown a lo largo del partido. Fuimos testigos al final del 1er cuarto de un pase profundo de 28 yardas lanzado por Tom Brady a su receptor abierto Evans, aunque el pase no culminó en anotación este le sirvió para imponer un nuevo récord, y convertirse en 1er mariscal de campo campo en la historia de la NFL con más pases de yardas aéreas al superar la marca de Drew Brees de 80.358 yardas.
The kickoff was given by Tampa Bay, so New England started the offense led by the 23 year old rookie Mac Jones who we saw quite safe in his passes by land and air, we could see that the Tampa Bay defense put a lot of pressure on Jones and he was practically annulled in the 1st quarter of the game to the point of not scoring touchdown passes in that quarter, On the other hand, when Tampa Bay's offense started, it was eclipsed by New England's excellent defense to the point that for the first time in many years Tom Brady could not complete touchdown passes throughout the game. We witnessed at the end of the 1st quarter a 28-yard deep pass thrown by Tom Brady to his wide receiver Evans, although the pass did not result in a touchdown, it was enough to set a new record, and become the first quarterback in NFL history with more air yards passing, surpassing Drew Brees' mark of 80,358 yards.
Tom Brady superó el récord en yardas áreas con ese pase largo a Evans 🔥🔥🔥#NFLEspañol pic.twitter.com/vElbSgcPvO

— NFL en Español (@NFLEspanol) October 4, 2021
Fuente | Source | Nuevo récord de Tom Brady | New record for Tom Brady
---
El 1er cuarto terminó 3 a 0 a favor de Tampa Bay, de allí en adelante la ofensiva de New england se plantó en el terreno y anotó en los 3 últimos cuartos del partido 2 touchdown y un gol de campo para finalizar con 17 puntos, a lo largo del partido vimos una defensa y ofensiva por parte de New England muy bien balanceada, Mac Jones logró 2 pases de touchdown pero la defensiva aflojó y permitió que a Jones lo derribaran en 4 oportunidades y le interceptaran 1 pase y el pateador fallara un gol de campo de 56 yardas que de haberlo concretado New England hubiera ganado el encuentro. Por su parte Tampa bay fue anulado a la ofensiva, la defensiva de New England hizo un excelente trabajo para neutralizar a Tom Brady quien concretó 22 pases en 43 intentos para un 51,20% de efectividad, a diferencia de Mac Jones que de 40 intentos de pase completó 31 para una efectividad del 77,5% , a diferencia de New England , Tampa Bay anotó en los 4 cuartos y el trabajo de sus equipos especiales a la ofensiva les permitió ganar el partido en último cuarto con un gol de campo para que el encuentro finalizara 19 a 17 a favor de Tampa Bay. Con este juego ganado Tom Brady se coloca nuevamente en los records históricos de la NFL al ser el 4to mariscal de campo que logra en su carrera derrotar a los 32 equipos que conforman la liga .
The 1st quarter ended 3-0 in favor of Tampa Bay, from then on the New England offense took the field and scored in the last 3 quarters of the game 2 touchdowns and a field goal to finish with 17 points, throughout the game we saw a very well balanced defense and offense by New England, Mac Jones achieved 2 touchdown passes but the defense slacked and allowed Jones to be overthrown 4 times and had 1 pass intercepted and the kicker missed a 56 yard field goal that if New England had made it, they would have won the game. New England's defense did an excellent job to neutralize Tom Brady who completed 22 passes in 43 attempts for a 51.20% effectiveness, unlike Mac Jones who completed 31 passes in 40 attempts for an effectiveness of 77.5%, unlike New England, Tampa Bay scored in all 4 quarters and the work of their special teams on offense allowed them to win the game in the last quarter with a field goal so that the game ended 19-17 in favor of Tampa Bay. With this game win Tom Brady is again in the NFL historical records as the 4th quarterback to defeat all 32 teams in the league in his career.
Claves del partido | Match keys
En nuestra apreciación personal creemos que las claves para ganar el partido por parte de Tampa Bay estuvieron centradas los siguientes aspectos del juego : Yardas totales alcanzadas con 380 y 294 para New England, Balones perdidos: Tampa Bay 0 y New England 2 , estos balones perdidos de New England fueron oportunidades que Tampa Bay aprovechó para concretar en 2 goles de campo, e indudablemente influyó en la victoria de Tampa Bay que la defensiva lograra capturar en 4 oportunidades al mariscal Mac Jones, y le interceptara un pase que terminaria en anotación, otro aspecto importante del triunfo de Tampa Bay fue el manejo del tiempo de posesion del balon, New England lo tuvo en su poder 26:05 minutos y Tampa Bay 33:55 .
In our personal appreciation we believe that the keys to win the game for Tampa Bay were centered in the following aspects of the game: Total yards reached with 380 and 294 for New England, lost fumbles: Tampa Bay 0 and New England 2 , these lost balls of New England were opportunities that Tampa Bay took advantage of to make 2 field goals, and undoubtedly influenced in the victory of Tampa Bay that the defense managed to catch in 4 opportunities to quarterback Mac Jones, and intercepted a pass that would end in touchdown, another important aspect of the victory of Tampa Bay was the management of the time of possession of the ball, New England had it in their possession 26:05 minutes and Tampa Bay 33:55.
---
Translated with
www.DeepL.com/Translator
(free version)✔️
---

---
Descargo de responsabilidad | Disclaimer
✔️

2021 NFL Enterprises LLC. NFL y el diseño del escudo de la NFL son marcas registradas de la National Football League.Los nombres de los equipos, los logotipos y los diseños de los uniformes son marcas registradas de los equipos indicados. Todas las demás marcas comerciales relacionadas con la NFL son marcas comerciales de la National Football League. Imágenes de la NFL © NFL Productions LLC.
2021 NFL Enterprises LLC. NFL and the NFL shield design are registered trademarks of the National Football League.The team names, logos and uniform designs are registered trademarks of the teams indicated. All other NFL-related trademarks are trademarks of the National Football League. NFL footage © NFL Productions LLC.
---

---
---