[ Esp - Eng ] Opinión | Previa del partido Buffalo Bills vs. Los Angeles Rams 🏈 Opinion | Buffalo Bills vs. Los Angeles Rams Game Preview

Este jueves 8 de septiembre comienza la temporada regular de la NFL, con el encuentro entre los Buffalo Bills (AFC - Este) vs. Los Angeles Rams(NFC - Oeste) y actuales campeones del súper bowl 56. El partido se llevará a cabo en el Sofi Stadium, en California, sede de los Rams, a las 8:20 PM. En este post haremos un análisis basado en estadísticas de los enfrentamientos a lo largo de la historia de estas 2 franquicias, para finalmente dar nuestra opinión al respecto de las posibilidades de ganar de cada equipo.
This Thursday, September 8, the NFL regular season begins, with the match between the Buffalo Bills (AFC - East) vs. Los Angeles Rams(NFC - West) and reigning Super Bowl 56 champions. The match will take place at Sofi Stadium, in California, home of the Rams, at 8:20 p.m. In this post we will make an analysis based on statistics of the clashes throughout the history of these 2 franchises, to finally give our opinion regarding the chances of each team winning.
Fuente | Source
A través de la historia, estas 2 franquicias se han enfrentado 13 veces, incluyendo juegos de temporada regular y post temporada, los Buffalo Bills lideran la serie 8 a 5. En cuanto a puntos anotados en estas confrontaciones, también lideran en puntos anotados con 327 vs 271 por parte de los Rams. El último juego entre estos equipos se realizó el 27 de septiembre de 2020 con victoria de Buffalo Bills 35 a 32, a continuación mostraremos en detalle las estadísticas más relevantes de estos dos protagonistas.
Throughout history, these 2 franchises have faced each other 13 times, including regular season and post-season games, the Buffalo Bills lead the series 8 to 5. In terms of points scored in these confrontations, they also lead in points scored with 327 vs 271 by the Rams. The last game between these teams took place on September 27, 2020, with Buffalo Bills winning 35 to 32, below we will show in detail the most relevant statistics of these two protagonists.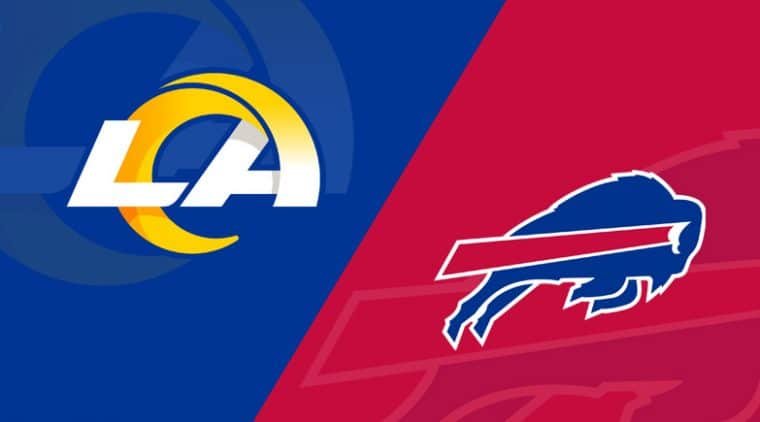 Fuente | Source
Estadística temporada regular | Regular season statistics
| AFC - Este 2021|2022 | W | L | PF | PC | DIF | V% | H | V | DIV | CONF | SB | Ap |
| --- | --- | --- | --- | --- | --- | --- | --- | --- | --- | --- | --- | --- |
| Buffalo Bills | 11 | 6 | 483 | 289 | +194 | .647 | 6|3 | 5|3 | 5|1 | 7|5 | 0 | 4 |
| NFC-Oeste 2021|2022 | W | L | PF | PC | DIF | V% | H | V | DIV | CONF | SB | Ap |
| --- | --- | --- | --- | --- | --- | --- | --- | --- | --- | --- | --- | --- |
| Los Angeles Rams | 12 | 5 | 460 | 372 | +88 | .706 | 5|3 | 7|2 | 3|3 | 8|4 | 2 | 5 |
Abreviaturas empleadas: (W) juegos ganados | (L) juegos perdidos | (PF) puntos a favor | (PC) puntos en contra | (DIF) diferencia de puntos | (V%) porcentaje de victorias | (H) juegos como local | (V) juegos como visitante | (DIV) juegos divisionales | (CONF) juegos de conferencia | (SB) super bowl ganados | (Ap) apariciones en super bowl.
Used abbreviations: (W) games won | (L) games lost | (PF) points in favor | (PC) points against | (DIF) point difference | (V%) winning percentage | (H) home games | (V) away games | (DIV) division games | (CONF) conference games | (SB) super bowl wins | (Ap) super bowl appearances.

Comentarios basados en las estadísticas | Comments based on statistics
Como podemos observar en los cuadros comparativos, se aprecia que ambas franquicias tuvieron excelentes números en la temporada 2021-2022, a resaltar destaca el porcentaje de victorias de los Ángeles Rams con .706, el 2.º mejor de la temporada, así como la diferencia de puntos de los Buffalo Bills con (+194) resultando mejor anotadores, sobre lo que podemos inferir que la defensa de los Bills fue superior que la de los Rams, quienes permitieron que les anotaran 372 puntos vs. 289 de Buffalo, de hecho la defensiva de los Buffalo Bills a nivel general fue la #1 de la temporada en yardas en contra con 4.637, #1 en puntos en contra con 289 y #3 en pérdidas de balón forzadas con 30.
As we can see in the comparative tables, it can be seen that both franchises had excellent numbers in the 2021-2022 season, highlighting the Los Angeles Rams' winning percentage of .706, the 2nd best of the season, as well as the point difference of the Buffalo Bills with (+194) resulting in better scorers, from which we can infer that the Bills' defense was superior to that of the Rams, who allowed them to score 372 points vs. 289 for Buffalo, in fact, the Buffalo Bills defense overall was #1 this season in yards against with 4,637, #1 in points against with 289 and #3 in forced turnovers with 30.
En lo que respecta a la ofensiva a nivel general, los Ángeles Rams ocuparon el puesto 9.º en yardas con 6.325, 7.º en puntos con 460, y 8.º en touchdowns con 52, en cuanto a la ofensiva por parte de los mariscales de campo, los Rams tuvieron mejor desempeño por lo que dominaron con respecto a los Bills en juego aéreo, ya que en yardas por aire fueron 5.º con 4.642 vs. Buffalo 9.º con 4.284, en lo referente a pases de touchdowns los Rams alcanzaron el puesto 2.º de la liga con 41 vs. el puesto 7mo de Buffalo con 36, en los intentos de pases Buffalo dominó con 655 ocupando el puesto 5.º vs. el puesto 10.° de los Rams con 607 intentos. Estas cifras nos hablan del superior y buen juego aéreo de los Rams, por lo que creemos que en esta estadística estuvo la clave para ganar el súper bowl 56.
In terms of overall offense, the Los Angeles Rams ranked 9th in yards with 6,325, 7th in points with 460, and 8th in touchdowns with 52, as for the offense by quarterbacks, the Rams performed better so they dominated over the Bills in the air game, as in yards through the air they were 5th. Buffalo was 9th with 4,284, in passing touchdowns the Rams ranked 2nd in the league with 41 vs. Buffalo's 7th place with 36, in pass attempts Buffalo dominated with 655 ranking 5th vs. the Rams 10th place with 607 attempts. These numbers tell us about the Rams' superior aerial play, which is why we believe that this statistic was the key to winning Super Bowl 56.
Por la via terrestre los Buffalo Bills son puesto 6°. con 2.209 yardas vs. puesto 21° de los Rams con 1.683, en touchdowns por tierra Buffalo está en el puesto 8°. con 20 vs. Rams con 10 en el puesto 28°. El desempeño de los equipos especiales ha sido tambien la clave para que los Rams ganen juegos, así tenemos que en la temporada pasada fueron 6°. con 32 vs. 28 de Buffalo en el puesto 15°. Como podemos ver el equipo de Buffalo domina el juego terrestre y los Rams uno de los mejores equipos de la liga en goles de campo anotados.
By land route the Buffalo Bills are ranked 6th. with 2,209 yards vs. Rams rank 21st with 1,683, in rushing touchdowns Buffalo ranks 8th. With 20 vs. the Rams with 10 in 28th place. The performance of the special teams has also been the key for the Rams to win games, so last season they were 6th. with 32 vs. 28 from Buffalo in 15th place. As we can see, the Buffalo team dominates the running game and the Rams are one of the best teams in the league in terms of field goals scored.

Comentarios y conclusiones | Comments and conclusions
Somos de la opinión que la experiencia y edad tienen un peso importante a la hora de evaluar a los mariscales de campo, para ello haremos una comparación de los respectivos números en la temporada regular 2021-2022 correspondientes a Josh Allen dorsal #17 por Buffalo Bills y Matthew Stafford dorsal #9 por los Ángeles Rams.
We think that experience and age have an important weight when evaluating quarterbacks, so we will make a comparison of the respective numbers in the 2021-2022 regular season for Josh Allen #17 for the Buffalo Bills and Matthew Stafford #9 for the Los Angeles Rams.
| Mariscal (QB) | Team | Age | Exp | G | Comp% | Yard | Int | TD | QBR% |
| --- | --- | --- | --- | --- | --- | --- | --- | --- | --- |
| Josh Allen #17 | Buffalo Bills | 26 | 5 | 17 | 63.30 | 4.407 | 15 | 36 | 60.70 |
| Matthew Stafford #9 | Los Angeles Rams | 34 | 14 | 17 | 67.20 | 4.886 | 17 | 41 | 63.80 |
Abreviaturas empleadas: (QB) mariscal de campo | (Team) equipo | (Age) edad jugador | (Exp) años de experiencia en la NFL | (G) juegos jugados como titular | (Comp%) porcentaje de pases | (Y) yardas lanzadas | (Int) intercepciones de pase | (TD) touchdowns lanzados | (QBR) estadística de eficiencia del mariscal en el ranking general de la liga.
Used abbreviations: (QB) quarterback | (Team) team | (Age) player age | (Exp) years of experience in the NFL | (G) games played as a starter | (Comp%) passing percentage | (Y) yards thrown | (Int) pass interceptions | (TD) touchdowns thrown | (QBR) quarterback efficiency stat in overall league ranking.
Basados en los números de cada mariscal, se puede observar que ambos tienen estadísticas similares, la diferencia estaría en el sistema ofensivo empleado, en el caso de Mattew Stafford este se caracteriza por un juego aéreo bastante agresivo, de hecho su QBR de 63.80 lo confirma y ubicarse en el puesto 4°., así como la cantidad de yardas lanzadas 4.886, por su parte Josh Allen tiene un juego aéreo menos agresivo de acuerdo a su QBR de 60.70 que lo ubica en el puesto 6°, por lo que veremos un inicio de temporada donde las tendencias y estadísticas dominantes favorecen a la franquicia de Los Ángeles Rams, quienes defenderan el título de campeones, pero también sabemos que los Buffalo Bills buscaran clavar el colmillo a los carneros, entre los entendidos analistas y las principales casas de apuestas tienen como favoritos a estos últimos, y esto pudiera ser cierto, ya que los Bills nunca han ganado un súper bowl.
Based on the numbers of each quarterback, we can see that both have similar statistics, the difference would be in the offensive system used, in the case of Matthew Stafford this is characterized by a fairly aggressive aerial game his QBR of 63.80 confirms it, and rank 4th, as well as the number of yards thrown 4,886, while Josh Allen has a less aggressive aerial game according to his QBR of 60. 70 which places him in 6th place, so we will see a start of the season where the dominant trends and statistics favor the Los Angeles Rams franchise, who will defend the title of champions, but we also know that the Buffalo Bills will seek to nail the fangs to the Rams, among the knowledgeable analysts and the major bookmakers have the latter as favorites, and this could be true since the Bills have never won a super bowl.
Creemos importante señalar que la serie particular entre estos equipos favorece a Buffalo Bill 8 a 5, en cuanto a los Rams como franquicia local la estadística la tienen en contra en 5 y 3 , por su parte Buffalo gana más juegos como visitante, pero no debemos olvidar las armas letales que poseen los Campeones del súper bowl 56, uno de ellos es el MVP y triple coronado (líder en recepciones con 145 | yardas aéreas 1.947 y 16 anotaciones, el receptor abierto Cooper Kupp, por otro lado, los Rams también tienen al tackle defensivo, Aaron Donald, líder defensivo del año en tres oportunidades (2020,2018,2017).
Por si fuera poco, los Bills acaban de firmar al exjugador de los Rams, el liniero defensivo, Von Miller, el cual viene a fortalecer aún más a la mejor defensiva de la liga. Por su parte, la ofensiva de los Buffalo Bills tiene un receptor abierto de elite, Stefon Diggs, a quien no hay que perder del radar, ya que es letal. En lo que respecta a nuestra opinión personal, nos decantamos por el equipo de los Rams como posibles ganadores de este duelo, el cual es probable que finalice con un marcador cerrado, esto debido a la calidad de talentos que poseen ambos protagonistas. De algo, si estamos seguros en este partido, veremos unos de los mejores juegos aéreos contra la defensiva elite de la liga enfrentados.
We believe it is important to point out that the particular series between these teams favors Buffalo Bill 8 to 5, as for the Rams as a local franchise the statistics have it against them in 5 and 3, on the other hand, Buffalo wins more games as a visitor, but we must not forget the lethal weapons that possess the Champions of super bowl 56, one of them is the MVP and triple crowned (leader in receptions with 145 | air yards 1. 947 and 16 touchdowns, wide receiver Cooper Kupp, on the other hand, the Rams also have defensive tackle, Aaron Donald, defensive leader of the year three times (2020,2018,2017).
In addition, the Bills just signed former Rams defensive lineman Von Miller, who will further strengthen the league's best defense. Meanwhile, the Buffalo Bill's offense has an elite wide receiver in Stefon Diggs, who should not be dropped from their radar, as he is lethal. As far as our personal opinion is concerned, we are leaning towards the Rams as the possible winners of this duel, which is likely to end with a close score, due to the quality of talent that both protagonists possess. One thing we are sure of in this game is that we will see some of the best aerial games against the league's elite defense.
📌
Translated with 
www.DeepL.com/Translator 
(free version)
Notice to the reader
My mother tongue is Spanish,
 so please excuse me for any grammatical or syntax errors 
in the translation of this content. 

Dallas Cowboys Logo






Descargo de responsabilidad ⚠️ Disclaimer
2022 NFL Enterprises LLC. NFL y el diseño del escudo de la NFL son marcas registradas de la National Football League.Los nombres de los equipos, los logotipos y  los diseños de los uniformes son marcas registradas de los equipos indicados. Todas las demás marcas comerciales relacionadas con la NFL son marcas comerciales de la National Football League. Imágenes de la NFL © NFL Productions LLC. | 2022 NFL Enterprises LLC. NFL and the NFL shield design are trademarks of the National Football League. Team names, logos, and uniform designs are the teams' trademarks. All other NFL-related trademarks are trademarks of the National Football League. NFL Images © NFL Productions LLC.
🔢
Todas las estadísticas empleadas en la elaboración de este post son números oficiales de la National Football League (NFL) | All statistics used in this post are official numbers from the National Football League (NFL) | www.nfl.com

Original Content by @jakim7 Copyright @jakim7 | All Rights Reserved 2022 | Animated Banner Created By @zord189
---
---