[ Esp - Eng ] Semana 12 🏈 Resumen del partido de Acción de Gracias | New Orleans Saints Vs Buffalo Bills 🦃 Week 12 | Thanksgiving Game Recap | New Orleans Saints Vs Buffalo Bills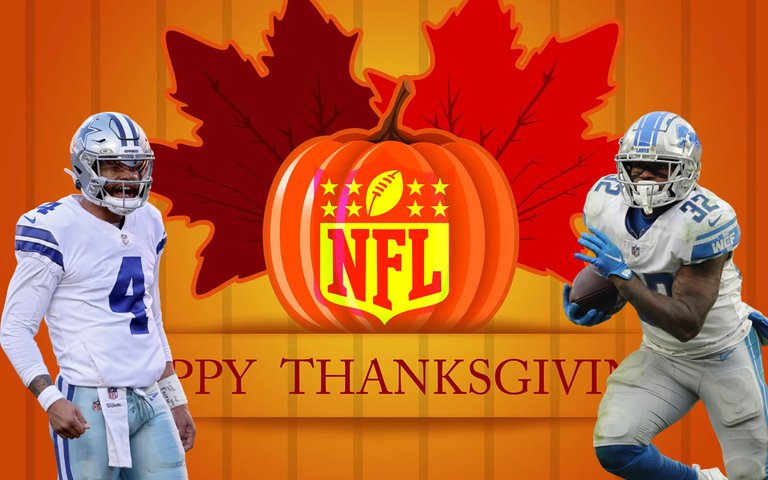 Fuente | Source
---
Saludos estimada audiencia de Hive, hoy traemos al feed de
@fulldeportes
, el resumen del 3er partido celebrado el jueves 25 de noviembre por la noche en horario estelar en ocasión del
día de acción de gracias
, correspondiente a la
semana #12
de la temporada regular , entre los
Buffalo Bills y New Orleans Saints
, el encuentro se llevó acabo en el remodelado y mítico
Louisiana Superdome
, sede de los
New Orleans Saints
, es de acotar que el nombre del estadio fue cambiado en julio 2021 por el de
Caesars Superdome
, inicialmente construido en 1975 con capacidad para 73.208 espectadores, y reabierto en 2006 luego de la devastación del huracán Katrina en la ciudad de New Orleans, Louisiana, el estadio cuenta con
césped artificial
, en este post el lector podrá ver la visión, opinión , análisis y puntos de vista personales del autor.
Greetings dear Hive audience, today we bring to the feed of

@fulldeportes

, the summary of the 3rd game held on Thursday night, November 25 in prime time on the occasion of

Thanksgiving Day

, corresponding to

Week #12

of the regular season, between the

Buffalo Bills and New Orleans Saints

, the game took place in the remodeled and mythical

Louisiana Superdome

, home of the

New Orleans Saints

, it should be noted that the name of the stadium was changed in July 2021 by the

Caesars Superdome

, initially built in 1975 with capacity for 73. 208 spectators, and reopened in 2006 after the devastation of Hurricane Katrina in the city of New Orleans, Louisiana, the stadium has

artificial turf

, in this post the reader can see the vision, opinion, analysis and personal views of the author.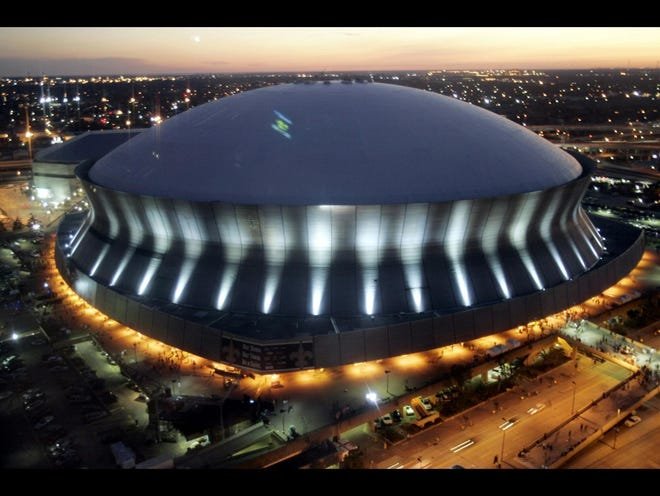 Fuente | Source | Caesars Superdome | New Orleans, Luisiana
---
Aspectos ofensivos relevantes | Relevant offensive aspects
Buffalo Bills | Este equipo perteneciente a la Conferencia Americana | División Este, llega a este juego con números conservadores: 6 juegos ganados y 4 perdidos, como local tiene récord de 3 - 2 | visitante 4 - 2 | en su división esta invicto 3 - 0 | en la conferencia 5 -4 , en sus últimos 5 juegos ha dejado registros de 3 - 2 . La ofensiva es su mejor arma, tanto en el juego aéreo como terrestre, ya que son la 4ta de la liga | 3ros en yardas con 4.282 | 1eros en puntos con 326 | 3ros en touchdowns con 38, la ofensiva la lidera el joven mariscal de campo de 25 años Joshua Allen #15, quien posee experiencia de 4 temporadas en la NFL, proviene de la universidad de Wyoming, fue drafteado en el 2018 por su equipo actual Buffalo Bills en el 2018 en la 1era ronda en el puesto 87, su rating de pases es de 87, con 28 touchdowns en lo que va de temporada antes de este partido, esta joven promesa se ubica como mariscal de campo en el top 10 en el puesto #8 con 3.071 yardas como pasador, su porcentaje de pases completados es de 66,80% , tan solo en 10 oportunidades le han interceptado pases.
New Orleans Saints | Los Santos como se le conoce entre la fanaticada, son un equipo de la Conferencia Nacional | División Sur, llegan a este partido con las siguientes estadísticas: 5 juegos ganados e igual cantidad de perdidos, Locales 2 - 3 | visitante 3 - 3 | division 1 - 2 | conferencia 4 - 4 , en sus últimos 5 partidos tienen récord perdedor de 1 - 4 . En cuanto a su ofensiva en nuestra opinión es deficiente su juego aéreo y terrestre no es consistente nuestra apreciación, pues se encuentran en el puesto #20 de 32 equipos, en el resto de las estadísticas figuran en el puesto #7 en touchdowns con 34 | en pases de touchdowns puesto 6 con 23 . El mariscal de campo que comanda la ofensiva es Trevor Siemian #15 de 29 años, con experiencia de 7 años, viene de la universidad Northwestern y fue drafteado por los Denver Broncos en el 2015 en la ronda 7 puesto 250, posee un rating de pases de 67, con 9 touchdowns en la temporada 2021,su ubicación en el ranking de mariscales es el puesto #43 , como pasador a lanzado pases para 1.083 yardas, el porcentaje de pases completados es del 57,20% y en lo que va de temporada le han interceptado pases en 3 ocasiones.

Buffalo Bills | This team belongs to the American Conference | Eastern Division, comes to this game with conservative numbers: 6 games won and 4 lost, as a home team they have a record of 3 - 2 | away 4 - 2 | in their division they are undefeated 3 - 0 | in the conference 5 - 4 , in their last 5 games they have left records of 3 - 2 . The offense is their best weapon, both in the air and ground game, as they are 4th in the league | 3rd in yards with 4. 282 | 1st in points with 326 | 3rd in touchdowns with 38, the offense is led by 25-year-old quarterback Joshua Allen #15, who has experience of 4 seasons in the NFL, comes from University of Wyoming, was drafted in 2018 by his current team Buffalo Bills in 2018 in the 1st round at 87th, his passer rating is 87, with 28 touchdowns so far this season before this game, this young promise ranks as a top 10 quarterback at #8 with 3. 071 yards as a passer, his pass completion percentage is 66.80%, only 10 times he has had passes intercepted.
New Orleans Saints | The Saints as it is known among the fans, are a team of the National Conference | Division Sur, they come to this game with the following statistics: 5 games won and the same amount of losses, Home 2 - 3 | visitor 3 - 3 | division 1 - 2 | conference 4 - 4 , in their last 5 games they have a losing record of 1 - 4 . As for their offense in our opinion is deficient their air and ground game is not consistent our appreciation, because they are ranked #20 of 32 teams, in the rest of the statistics they are ranked #7 in touchdowns with 34 | in touchdowns passes ranked 6 with 23 . The quarterback who commands the offense is Trevor Siemian #15 29 years old, with experience of 7 years, comes from Northwestern University and was drafted by the Denver Broncos in 2015 in round 7 position 250, has a passer rating of 67, with 9 touchdowns in the 2021 season,his location in the ranking of quarterbacks is the #43 position , as a passer he has thrown passes for 1. 083 yards, the percentage of completed passes is 57.20% and so far this season he has been intercepted 3 times.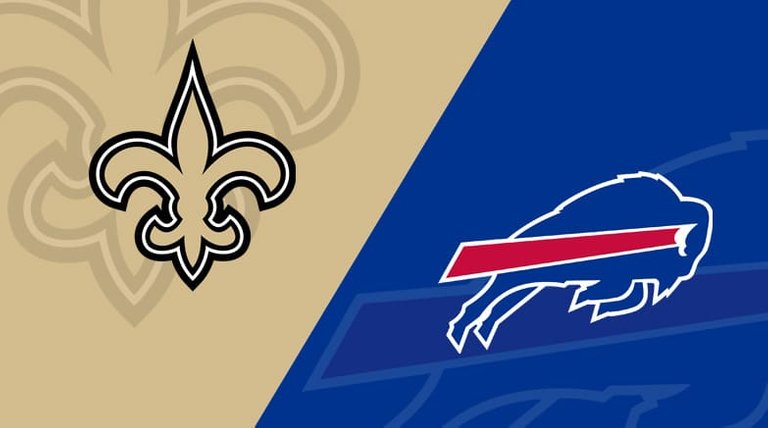 Fuente | Source
Aspectos defensivos relevantes | Relevant defensive aspects
Buffalo Bills | En lo referente a la defensiva Buffalo ocupa el 2do lugar del top 10 con 22 capturas de mariscales oponentes, en la zona roja o zona caliente que comprende las 20 últimas yardas antes de la línea de gol, solo permiten anotación en el 7% de los intentos, por lo que consideramos que la defensa de neoyorquinos es impenetrable. Otra nota importante de destacar es que Buffalo es el líder absoluto en pérdidas de balón forzadas con 25, en puntos en contra ocupan la 2da posición, es decir solo han permitido 177 a lo largo de la temporada, sus equipos especiales marchan en la posición 6 en cuanto a goles de campo concretados con 20 .
New Orleans Saints | La defensiva de los Santos se ubica en el puesto 17, solo han capturado mariscales en 10 ocasiones , son uno de los equipos que más les anotan por tierra y por aire, creemos que puertas adentro los Santos deben efectuar una reestructuración profunda y radical a su línea defensiva, por lo que no creemos relevante destacar las estadísticas defensivas en profundidad.

Buffalo Bills | Regarding the defense Buffalo ranks 2nd in the top 10 with 22 catches of opposing quarterbacks, in the red zone or hot zone that includes the last 20 yards before the goal line, they only allow touchdowns in 7% of attempts, so we consider that the New York defense is impenetrable. Another important note to highlight is that Buffalo is the absolute leader in forced turnovers with 25, in points against they occupy the 2nd position, that is to say they have only allowed 177 throughout the season, their special teams are in the 6th position in terms of field goals made with 20.
New Orleans Saints The Saints defense is ranked 17th, they have only caught quarterbacks 10 times, they are one of the teams that score more on the ground and through the air, we believe that the Saints must make a deep and radical restructuring to their defensive line, so we do not believe relevant to highlight the defensive statistics in depth.
Serie histórica entre Buffalo Bills Vs New Orleans Saints - Historic series between Buffalo Bills Vs New Orleans Saints
La serie histórica entre estos 2 equipos es de 12 partidos jugados , la serie está a favor de New Orleans 7 a 4 antes de este juego,el último encuentro entre estas 2 franquicias fue el 12-11-2017 donde los Santos vencieron a Buffalo con marcador 47 - 10 , también es interesante informar que el último donde los Santos jugaron como locales fue el 27-10-2013 y también ganaron a Buffalo 35 - 17 .
The historical series between these 2 teams is 12 games played , the series is in favor of New Orleans 7 to 4 before this game,the last meeting between these 2 franchises was on 12-11-2017 where the Saints beat Buffalo with score 47 - 10 , it is also interesting to report that the last where the Saints played as home was on 27-10-2013 and also beat Buffalo 35 - 17 .
Fuente | Source | Estadísticas | NFL.COM
---

Mis apreciaciones del partido | My assessment of the match
El partido lo disfrutamos a través de la señal de la nueva cadena de televisión, propiedad del gigante del entretenimiento Disney, StarPlus (Start+) ya que el juego no estuvo disponible para Latinoamérica y el líder en deportes ESPN no lo transmitió, el partido comenzó a las 07:40 hora de Barranquilla - Colombia.
We enjoyed the game through the signal of the new television network, owned by entertainment giant Disney, StarPlus (Start+) as the game was not available for Latin America and the leader in sports ESPN did not broadcast it, the game started at 07:40 Barranquilla - Colombia time.

1er Cuarto | La patada inicial del partido la dio Buffalo, por lo que la 1era serie ofensiva correspondió a los Santos por intermedio de su mariscal Trevor Siemian #15 pero Buffalo no pudo realizar avances significativos, tan solo pudieron mover las cadenas en 3 jugadas, por tal razón debieron despejar el balón,en la serie ofensiva comandada por Buffalo y su mariscal Josh Allen #17 luego de 10 jugadas y mediante pase corto a su ala cerrada Dawson Knox #88 lograron anotar el 1er touchdown del encuentro, el 1er cuarto terminaría 7 a 0 a favor de Buffalo.
1st Quarter | The kickoff of the game was given by Buffalo, so the first offensive series corresponded to the Saints through their quarterback Trevor Siemian #15 but Buffalo could not make significant progress, they could only move the chains in 3 plays, For this reason they had to clear the ball, in the offensive series led by Buffalo and their quarterback Josh Allen #17 after 10 plays and through a short pass to their tight end Dawson Knox #88 they scored the 1st touchdown of the game, the 1st quarter ended 7-0 in favor of Buffalo. .
---

2do Cuarto| En este cuarto tanto la ofensiva como la defensiva de los Santos no pudo concretar jugadas que permitieran anotación, y Buffalo con su magistral defensa impidió toda acción de New Orleans, por lo que vino un certero gol de campo de 34 yardas que el pateador Tyler Bass se adjudicara los 3 puntos y Buffalo aumentar el score a 10 puntos, los intentos de los Santos por anotar se difuminaron en todas las ofensivas emprendidas, a pesar que la defensa estuvo ligeramente mejor que en el 1er cuarto, al punto que logró una intercepción pero la 4ta defensiva de la liga los paro en el terreno y el 2do cuarto terminara 10 a 0 a favor de Buffalo.
2nd Quarter| In this quarter both the offense and defense of the Saints could not make plays that allowed touchdowns, and Buffalo with its masterful defense prevented any action of New Orleans, so it came an accurate field goal of 34 yards that kicker Tyler Bass was awarded the 3 points and Buffalo increase the score to 10 points, the Saints' attempts to score faded in all the offenses undertaken, even though the defense was slightly better than in the 1st quarter, to the point that they managed an interception but the 4th ranked defense of the league stopped them on the ground and the 2nd quarter ended 10 to 0 in favor of Buffalo.
---

3er Cuarto | En este cuarto la aplanadora ofensiva de Buffalo hizo estragos en la defensiva de los Santos, por lo que hubo dos nuevos touchdowns que pondrían arriba a los neoyorquinos 24 a 0 , por la parte ofensiva y defensiva no tenemos nada relevante que detallar, ya que continuaron después de 3 cuartos sin poder anotar punto alguno, el 3er cuarto finalizó 24 a 0 favor de los Buffalo Bills.
3rd Quarter | 3rd Quarter | In this quarter the Buffalo offensive steamroller wreaked havoc on the Saints defense, so there were two new touchdowns that would put the New Yorkers up 24 to 0, on the offensive and defensive side we have nothing relevant to detail, as they continued after 3 quarters without being able to score any points, the 3rd quarter ended 24 to 0 in favor of the Buffalo Bills..
---

4to Cuarto | En este cuarto observamos un mejor desempeño ofensivo y defensivo de New Orleans quienes por fin pudieron anotar a través de un pase profundo de su mariscal de campo Trevor Siemian a su ala cerrada Nick Vannett #81 para que este anotara y por número a la franquicia de Louisiana,después de esta anotación el entrenador mandó la seña para que no se hiciera el gol de campo, y procedieran a realizar una conversión de 2 puntos, la cual fue fallida y los Santos se quedarían en tan solo 6 puntos, vendría entonces la ofensiva de Buffalo hambrienta de anotación, para luego de 4 buenas ofensivas que sumaran 51 yardas el corredor Matt Breida # 22 anotara el 4to touchdown del encuentro para poner fin al partido y asi terminar la hegemonía histórica de los New Orleans Saints sobre los Buffalo Bills.El partido llegó a su fin con marcador de 31 a 6 a favor de Buffalo.
4th Quarter | In this quarter we observe a better offensive and defensive performance of New Orleans who finally could score through a deep pass from his quarterback Trevor Siemian to his tight end Nick Vannett #81 so that he could score and by number to the Louisiana franchise, after this touchdown the coach sent the signal not to make the field goal, and proceeded to make a 2-point conversion, which was failed and the Saints would be left with only 6 points, then came the Buffalo offense hungry for a touchdown, and after 4 good offenses that totaled 51 yards, running back Matt Breida # 22 scored the 4th touchdown of the game to end the game and end the historic hegemony of the New Orleans Saints over the Buffalo Bills. The game ended with a score of 31-6 in favor of Buffalo.
---
Fuente | Source | Twitter | Cuenta Primero y Diez
---
Claves del partido | Match keys
Como en el partido anterior que publicamos la semana pasada, este encuentro terminaría también en paliza, Buffalo hizo todo para ganar a pesar que la defensiva de New Orleans les intercepto 2 balones pero estos no pudieron concretar anotación con estas dos acciones. Aplaudimos a la defensiva de Buffalo que hizo un trabajo excepcional al capturar (sacks) en 6 oportunidades al mariscal contrario y desestabilizar sus series ofensivas, Buffalo hizo lo que sabe hacer muy bien por tierra y aire para triturar a los Santos, el jugador más valioso del encuentro fue el mariscal Josh Allen quien concretó 4 pases de touchdown | lanzo para 260 yardas | efectividad excelente en 28 intentos concreto 23 pases para un 82,14% | solo le hicieron 2 intercepciones | lo capturaron en 2 oportunidades, y deja excelentes registros en su productividad ya que su QBR queda en 75,90 y su rating de pase en un excepcional 115,20.
As in the previous game that we published last week, this game would also end in a beating, Buffalo did everything to win even though the New Orleans defense intercepted 2 balls but they could not score a touchdown with these two actions. We applaud the Buffalo defense that did an exceptional job to catch (sacks) 6 times the opposing quarterback and destabilize their offensive series, Buffalo did what they do very well on the ground and air to crush the Saints, the most valuable player of the game was quarterback Josh Allen who completed 4 touchdown passes, threw for 260 yards, had excellent efficiency in 28 attempts, 23 passes for 82.14%, had only 2 interceptions, was caught 2 times, and left excellent records in his productivity since his QBR was 75.90 and his pass rating was an exceptional 115.20.
---
Translated with
www.DeepL.com/Translator
(free version)✔️
---
---
Descargo de responsabilidad | Disclaimer
✔️

2021 NFL Enterprises LLC. NFL y el diseño del escudo de la NFL son marcas registradas de la National Football League.Los nombres de los equipos, los logotipos y los diseños de los uniformes son marcas registradas de los equipos indicados. Todas las demás marcas comerciales relacionadas con la NFL son marcas comerciales de la National Football League. Imágenes de la NFL © NFL Productions LLC.
2021 NFL Enterprises LLC. NFL and the NFL shield design are registered trademarks of the National Football League.The team names, logos and uniform designs are registered trademarks of the teams indicated. All other NFL-related trademarks are trademarks of the National Football League. NFL footage © NFL Productions LLC.
---

---
---