Athletes Just Keep Collapsing: 16 Dead in 16 Days, Alongside Mounting Post-Injection Heart Inflammation Cases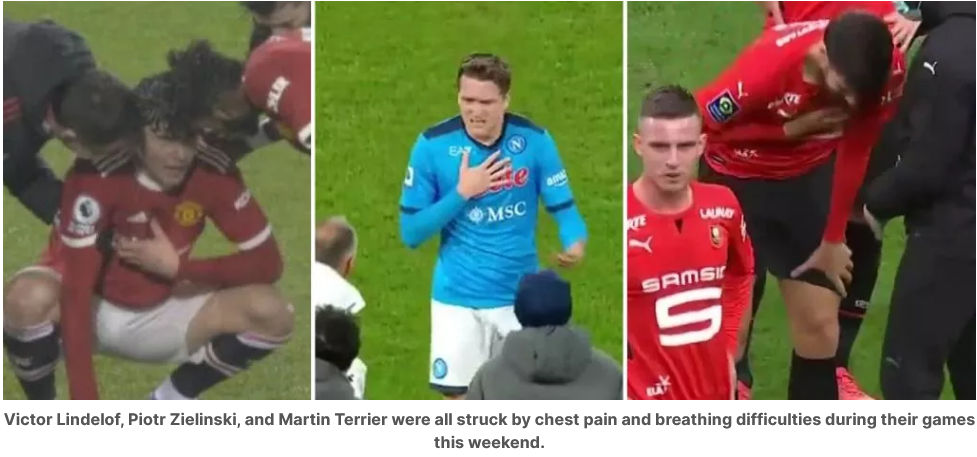 Young and healthy athletes in their prime continue to collapse suddenly on and off the playing field at unprecedented rates all around the world, as unexpected sudden deaths continue to steadily rise, and the number of players being diagnosed with myopericarditis (heart inflammation) and suffering other medical emergencies after vaccination also keeps mounting.
When French pro footballer Martin Terrier was walked off the playing field by medics last Sunday, clutching his chest as he struggled to breathe, he became the third European footballer to be substituted after experiencing the sudden onset of chest pain and breathing difficulties during a game last weekend, in a span of less than 24 hours. Previously, Napoli midfielder Piotr Zielinski on Sunday and Manchester United's Victor Lindelof on Saturday similarly exited their matches early as they struggled to breathe, they said, both also seen clutching their chests. All three players are in their mid-20s.
The players symptoms closely match those seen in former Manchester City striker Sergio Aguero, who was "diagnosed with a cardiac arrhythmia after suffering chest pains when playing for Barcelona against Alaves" in late October, eventually leading to his early retirement, with arrhythmia (after tachycardia) being the second most common cardiovascular adverse event associated with the Pfizer injection recorded by the company in the first two months of the vaccination campaign. Heart arrhythmia causes an irregular heartbeat and tachycardia a heartbeat that is too fast. Lindelof complained of a racing pulse when he left the game on Saturday, and it was reported that, along with problems breathing, "his heart rate was higher than normal." It is worth noting that myopericarditis, actually two similar forms of heart inflammation individually known as mycarditis and pericarditis, is one of the most widely known and documented risks associated with the Covid injections, and studies have shown that myocarditis "is an important cause of arrhythmias and sudden cardiac death (SCD) in both physically active individuals and athletes." A great many of the sudden athlete collapses observed this year have been caused by cardiac arrests and heart attacks.
A fourth soccer player last weekend, 22 year old Portugese defender Edgar Marquez of Pedrógão de São, was also hospitalized after collapsing on the field during a match on Sunday. During the previous week, Southend United footballer Abu Ogogo reported chest problems and was subsequently admitted to the hospital, where it was discovered that he had "inflammation around the heart muscle" (myocarditis), necessitating a "period of rest," and was then officially sidelined for a month. The player's vaccination status is yet unknown, but the condition is a common adverse event following injection with the experimental mRNA shots. Also last week, on December 8, Nine News captured the scene of Australian football defender, Demons premiership star Jake Lever, as he suddenly "collapsed" during training, attended by medics after the fainting episode...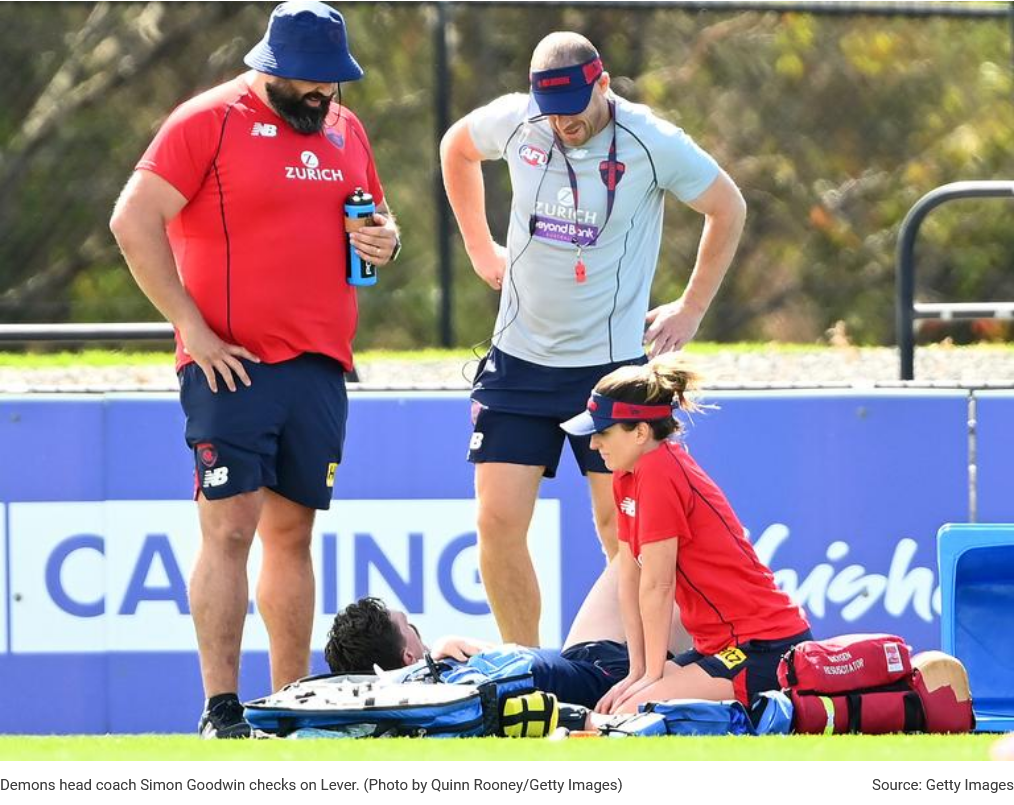 Two days later on December 10, 29 year old footballer Ricardo Gomes also collapsed during training in Serbia, less than six weeks after getting a Covid injection. The FK Partizan Belgrado coach later clarified in a press conference that "the situation is extremely serious."
At least two other professional soccer players and a dancer have also had their careers put on hold after developing heart inflammation following vaccination this month, diagnosed with myopericarditis, the widely acknowledged adverse 'vaccine' reaction now being all too commonly experienced be injection recipients around the world, especially in young men and teenage boys. Australian basketball player Ben Magden ended up in the hospital on the evening of December 1 and was diagnosed with pericarditis after his second Pfizer injection, where he informed the heart condition was now common in young males who had gotten the Pfizer shot.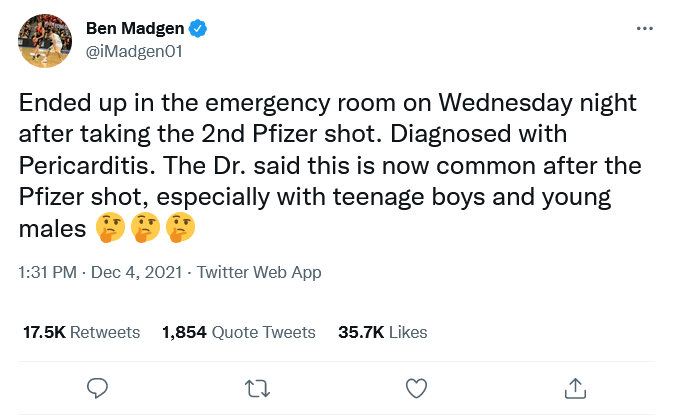 On December 2, an Adelaide Crows football player was also admitted to the hospital and diagnosed with pericarditis two weeks after his first Pfizer injection. More recently, 21 year old international ballroom dancer Maxwell Harrison told his story in a TV interview on December 13, explaining how he had been diagnosed with pericarditis just five days after his second Pfizer jab and won't be able to dance again for at least a year.
https://twitter.com/GBNEWS/status/1470450211910787073
Hundreds of athletes have collapsed suddenly or otherwise fallen ill with cardiovascular or circulatory issues this year, a staggering 69 in the month of October alone, suffering cardiac arrests, heart attacks, and heart inflammation, or experiencing other heart problems, blood clotting issues or strange sudden illness of unknown cause. And although the legacy media and 'fact-checkers' keep desperately pointing to the few athletes among these who have been confirmed as unvaccinated to make the case that this unprecedented spike in athlete collapses and sudden death this year is totally unrelated to the ongoing injection campaign, a number of others among this growing list of casualties had definitely received the experimental injection prior to their injury.
Besides those referenced above, we can mention Swedish ice skater Kjeld Nuis who "raised the alarm with his doctor and cardiologist" in early July "after he started experiencing severe flu symptoms and chest pressure a week after his first vaccination with the Pfizer/BioNTech vaccine," with hospital research showing he was suffering from an inflamed pericardium (pericarditis), which he has reportedly since recovered well from.. Meanwhile, 32 year old triathalete Antoine Méchin announced the end of his season following a pulmonary emoblism "due to Covid-19 Vaccine - 1st dose Moderna end of June 2021." His symptoms prior to diagnosis included the commonly reported shortness of breath among so many athletes being taken out during games as they clutch their chests. And on July 22, a 15 year old New York boy collapsed on the soccer field while playing soccer at a local camp and died in the hospital from the cardiac arrest responsible shortly thereafter, just four days after receiving his second Pfizer injection, the incident reported to the CDC as an adverse reaction.
In early September, 21 year old Tennessee college golfer John Stokes was hospitalized and diagnosed with myocarditus four days after taking the Pfizer shot, the 'vaccine' injury keeping him from playing for the rest of the season and his factual story repeatedly censored from social media. More recently, Florian Dagoury, the world's top static freediver, French outlet News in 24 reported on November 6, "cumulates myocarditis, pericarditis and trivial mitral regurgitation after his second Pfizer dose." One of the first recommendations the athlete had following his adverse reaction was for fellow athletes to stay away from the experimental mRNA injections.
Countless healthy athletes are being sidelined by serious heart conditions, but others are dying. Twenty eight year old body builder Jake Kazmarek, for example, "passed away unexpectedly on October 2," just four days after his second Moderna injection. The sudden deaths and collapses just don't stop, and December has been a particularly deadly month for athletes so far.
Cleveland Guardians minor-league baseball catcher, 20 year old Andrés Meléndez, became the 16th athlete to shock fans with his unexpected death this month, when he "passed away suddenly" in Miami on Thursday afternoon.
https://twitter.com/CleGuardians/status/1471688432506351617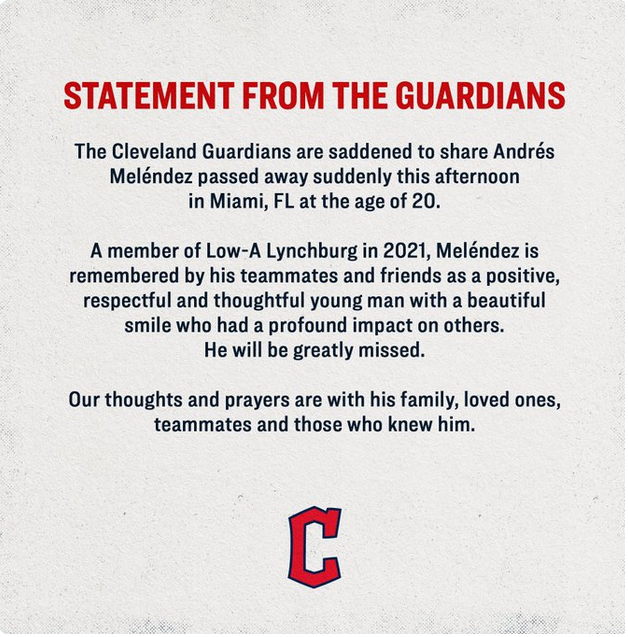 The death of former Tonga Rugby World Cup star, 36 year old Taniela Moa, was announced by the Tonga Rugby Union on the same day. The cause of death was not immediately given in either case, but if they were to follow the general pattern observed over the course of the year, there's a good chance these unfortunate instances were related to cardiac arrests, heart attacks or deadly blood clots.
The day before, on Wednesday December 15, Russian media reported that Night Hockey League player Alexander Frolov had unexpectedly died of a cardiac arrest in the ambulance on the way to the hospital after collapsing on the bench during the game, "when he suddenly fell ill and fainted." Last weekend here in the US, another hockey player also unexpectedly died, with the "sudden passing" of 23 year old Branson King on Saturday, the assistant captain described as "the heart and soul" of the Cal U Vulcans.
Earlier that same week, on the night of December 9, 33 year old former NFL star Demaryius Thomas was found dead in his shower when police responded to a 911 call "in reference to a cardiac arrest." On December 7, 52 year old Swiss ex-FC Luzern professional goalie "collapsed and died on Tuesday in the home port of his sailing ship in Croatia," where he had been busy winterproofing the ship and preparing for a planned cruise. And on Monday, just one day earlier, French volleyball coach and ex-pro player Xavier Ziani "died during a cardiac intervention, at only 49 years old," another professional athlete's life ended with a sudden cardiac arrest.
On Saturday December 4, former Iran U23 football defender Navid Khosh "died at the age of 30 due to the heart attack," and Stonydelph Juliors FC U10 Cougars coach and manager Rob Woodward also "passed away suddenly," the Club announced the following day.
On December 2, 53 year old Egyptian football coach Mohamed Saad collapsed on the sidelines during the celebration of his team's victory goal and died of the heart attack after being rushed to the hospital, and 43 year old female Italian volleyball player Romina De Angelis also died after collapsing while playing padel.
The five additional sudden athlete deaths this month include 19 year old Belgium football player Keanu Breurs who died suddenly on the morning of December 1; 14 year old Dutch football player Wouter Betjes who died in Amsterdam shortly after being rushed to the hospital when "he collapsed on the way to the dugout" immediately following a Saturday catch-up game on December 4; 24 year old Italian runner Fabio Pedretti who collapsed that same day in the final mile of the 20km Uno di Monticelli race and immediately died from the sudden cardiac arrest; 20 year old University of Alabama three-time state champion tennis player John Lewis Wolf who died on December 5 of an unspecified "medical illness," according to his Obituary; and former Oregon Ducks, pro runner Matt Scherer who died at 38 later that week, his "sudden passing" reported by Oregon Live on December 9, with no additional details shared.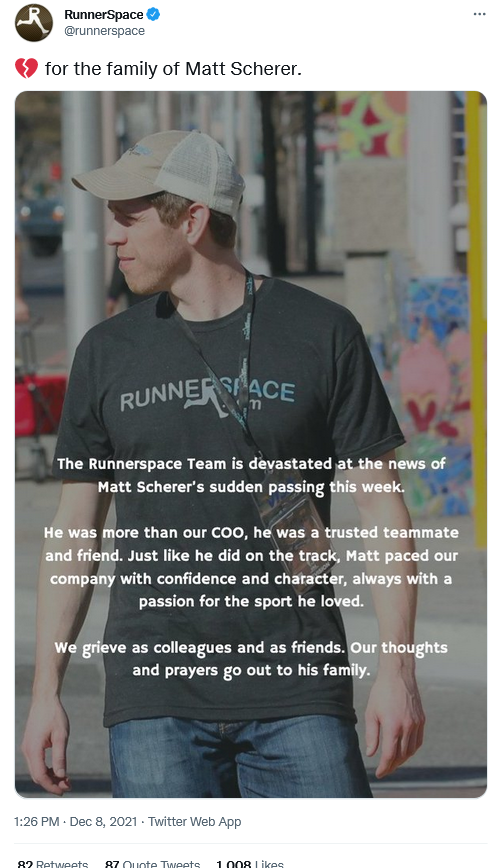 16 sudden athlete deaths in 16 days, a death a day through the 16th and December on track to be the third month in row with over 30 sudden athlete deaths this year...
This means that as of December 16, 2021, there are, based on the comprehensive list compiled by Goodsciencing.com, now a total of 194 documented sudden athlete deaths in 2021 and still counting, excluding Demaryius Thomas and 22 others who are separately listed in the 'May Or May Not Be Vax Related' section, and a total of 337 athletes who have collapsed and/or suffered cardiac arrest, heart attack, or the sudden onset of other serious issues (almost all cardiac or circulatory) this year.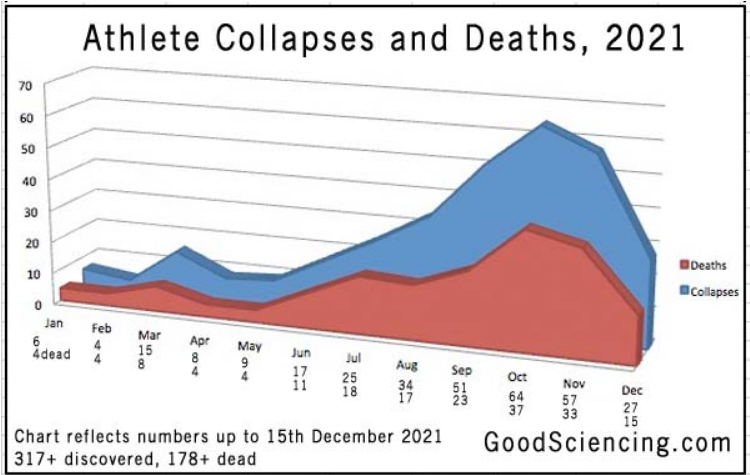 As scientific studies on the subject have repeatedly found, sudden death and cardiac arrest in athletes is extremely rare, from 1-2 per 100,000 per year. Something is clearly very wrong in 2021. As put by former pro soccer player Matt Le Tissier in an interview on GB News on Thursday, "The amount of people who are suffering [from heart issues] is going through the roof," and it is becoming increasingly difficult to pass this phenomenon off as 'normal'.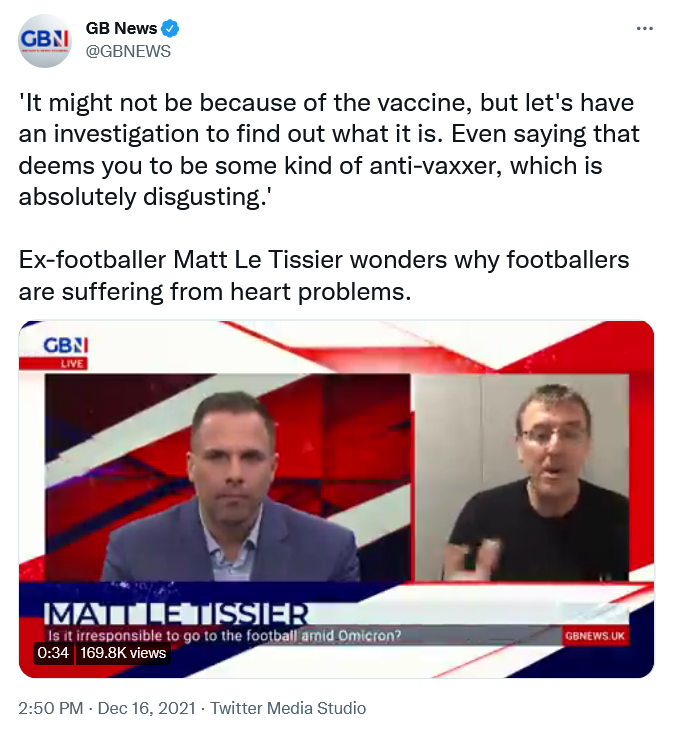 https://twitter.com/GBNEWS/status/1471613723357949962
"It might not be because of the vaccine, but let's have an investigation to find out what it is. Even saying that deems you to be some kind of anti-vaxxer, which is absolutely disgusting," Le Tissier said.
Such is the sad state of the world today, many of the 'experts' in denial that there is anything wrong with the picture at all, those who simply ask questions and point out facts censored and smeared, and the athletes just keep on collapsing on a daily basis now. Maybe many of these cases are totally unrelated the injection, and certainly some are, but to continue to argue that there is no connection at all between the two, in the face of the overwhelming evidence suggesting a very clear link between the rise in collapsing athletes and the global injection campaign while simultaneously ignoring the clear correlation and refusing to investigate further, is definitely one way to never find out.
Welcome to another Covid Clown World affair. On the one hand, a number of cardiac 'experts' cited by the establishment media insist they are unaware of even a single report of an athlete who's had a heart issue caused by the injection when in actuality there have been quite a few while insisting that they aren't seeing an unusual number of sudden collapses and deaths among athletes - "We have no data to suggest that the frequency of sudden cardiac arrest or sudden cardiac death in athletes is higher now than it was in the past," PolitiFact on December 1 cited the co-director of the Cleveland Clinic Sports Cardiology Center Michael Emery as saying. And then on the other hand, you have media talking heads citing other 'experts' and new medical studies attempting to explain away the unusually high number of heart problems in 2021, arguing that Recent Pot Use Tied to Rise in Heart Attack Risk, or that depression is to blame for the rising number of people visiting the ER after experiencing chest pains. Because it's not like there's already been millions of people widely using marijuana for years, so I guess there must have been a massive surge in pot use in 2021, or maybe the 10,000+ heart attacks and 19,000+ cases of heart inflammation reported to the CDC's vaccine adverse event tracking system (VAERS) following vaccination and all the cardiac arrests and sudden death in healthy teens were all caused by the spike in depression caused during all those government lockdowns imposed for your 'health' and 'safety'.
The media focuses exclusively on the one new study finding that pot use doubles risk of heart problems, or depression, or whatever they can point to besides an injection that is clearly associated with and openly acknowledged to cause heart problems, and totally ignores (or 'fact-checks') the study finding that mRNA injections also doubles the risk of serious heart problems, and ignores the fact that CDC's own study findings suggest the mRNA injections dramatically increase the risk of heart inflammation in males under 30 from between 6x-120x depending on age, and from 3x-15x in young females...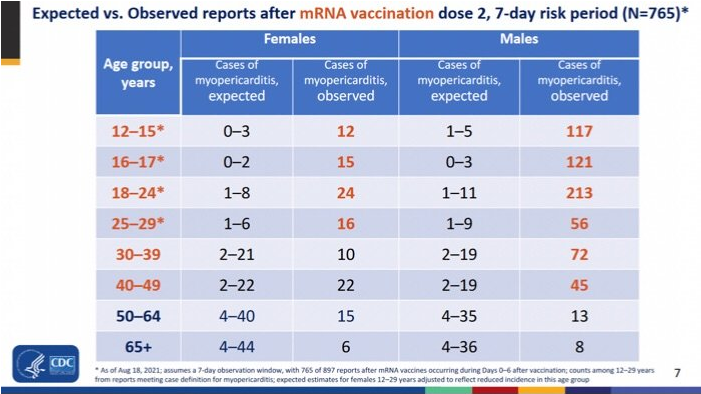 Don't mind the 16-47% increase in overall child mortality over previous years in 15-19 year old teenage boys in England and Wales since May, with Public Health England data [showing a great number of the country's excess deaths are being caused by heart failure, ischaemic heart disease, strokes and other circulatory diseases, with even the corporate media briefly asking why. Don't mind the excessive excess deaths in Scotland, either, a place that in mid-October, by which time it had reached an 87% rate of vaccination, was in its 20th straight week of excess deaths - 30% above normal. And don't mind the excess mortality in Germany, Denmark, Finland, Norway, or Israel this year, either; that must be totally 'normal' as well... And all those nurses and doctors speaking out about unprecedented levels of adverse reactions they've been seeing, they must just all be crazy.
https://twitter.com/SongbirdTam_83/status/1455814979702050819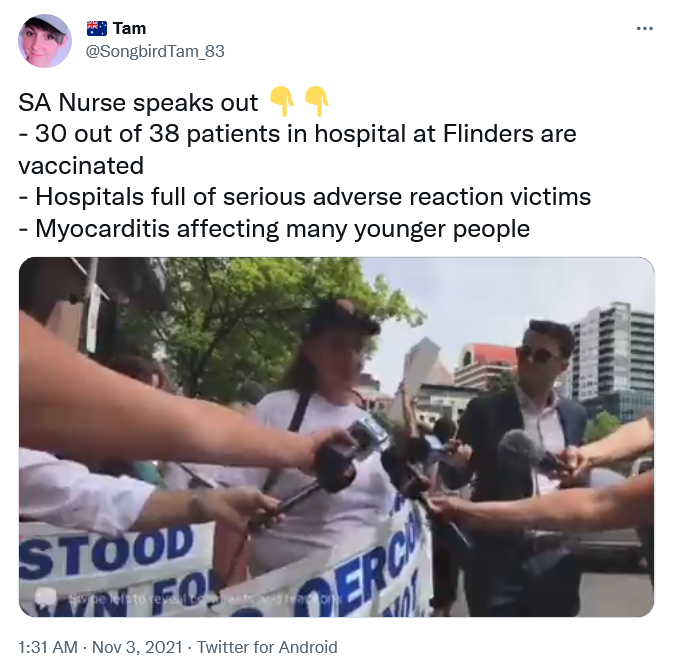 Because whatever is to blame for all the excess deaths this year, whatever is to blame for all of the athletes collapsing on the pitch this year, it's definitely not the 'vaccine'. It simply can't be. Because the 'vaccine' is safe and effective, they know that, everybody knows it, CDC and all the 'experts' have told us a million times that 'benefits outweigh the risk', and anything or anyone suggesting otherwise is definitely automatically fake news anti-vaxx conspiracy theory misinformation, so pot use and depression must be to blame, or maybe Covid (or climate change). I'm just sure of it, makes so much more sense than an experimental injection proven to cause the very type of heart problems being seen around the world having anything to do with it...

So as the establishment continues to insist that there is no connection between the deadliest vaccination campaign in world history and the fast growing number of collapsing athletes piling up in its wake, more and more of the millions of sports enthusiasts around the world are seeing young and healthy athletes suddenly collapsing during televised games for the first, then the second, then third, then fourth, then fifth time in their life - all in 2021 - and they are beginning to ask questions, because despite being assured that this is somehow 'normal', their life experience clearly demonstrates that there's absolutely nothing normal about this at all.
The curious case of collapsing athletes, it seems, has become the 'canary in the Covid coalmine', warning humanity of a far bigger problem than just a few hundred collapsing athletes, and the much larger scale of harm that is occurring but not being televised.
Humanity can choose to heed the warning signs and start asking questions, or people can keep their heads in the sand and continue to ignore all of the red flags popping up everywhere they turn as they continue to blindly trust a corrupt pharmaceutical industry that makes billions off human sickness and this injection campaign, government officials with a long track record of selling blatant lies to advance political agendas, and a corporate media which blindly repeats the words of these both as gospel truth, er, I mean science. Trust the science and stop asking questions, peasant, because the government cares about you, the media would never lie to you, and Big Pharma is in the business of healing the millions of chronically ill Americans they make billions off of every year. Or maybe, just maybe, red flags are indicators of imminent danger, and humanity should start paying attention...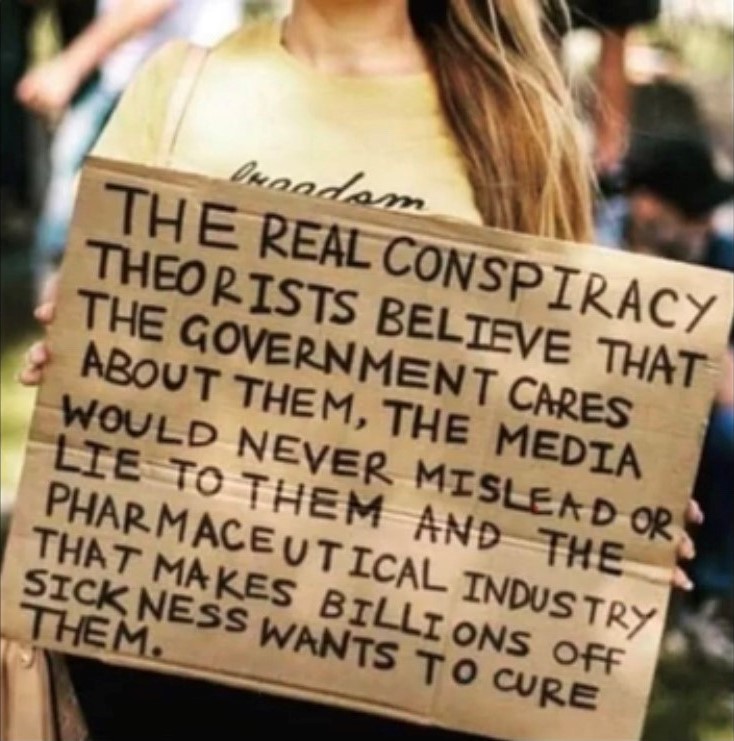 ---
BitCoin donations: 3Ccr4vwUGoR46y4HxM2FZs7BbmmDoHM8qg
---
---