An Ode to my Father, and the Spirit of Adventure Sports!

Now I like to watch a game of soccer, rugby, cricket or tennis as much as anyone. I do even enjoy playing tennis occasionally – sometimes you have to earn your gin & tonic in our lovely South African climate after all!
But I know where I'll be playing the tennis. The size of the court stays the same – hopefully the height of the net stays the same too. It's a static environment (and it should be) but where is the adventure? In a world full of 9-to-5 jobs – I think a lot of people are missing that craving for adventure and discovery… and they don't even know it.
My father was a rock-climber and a mountaineer. He was actually one of the best that South Africa has ever produced and opened a lot of new routes up mountains in the Rockies and the Andes that were only ever repeated many years later. I am named after the Jasper National Park in Canada, which contains some of my father's successful routes…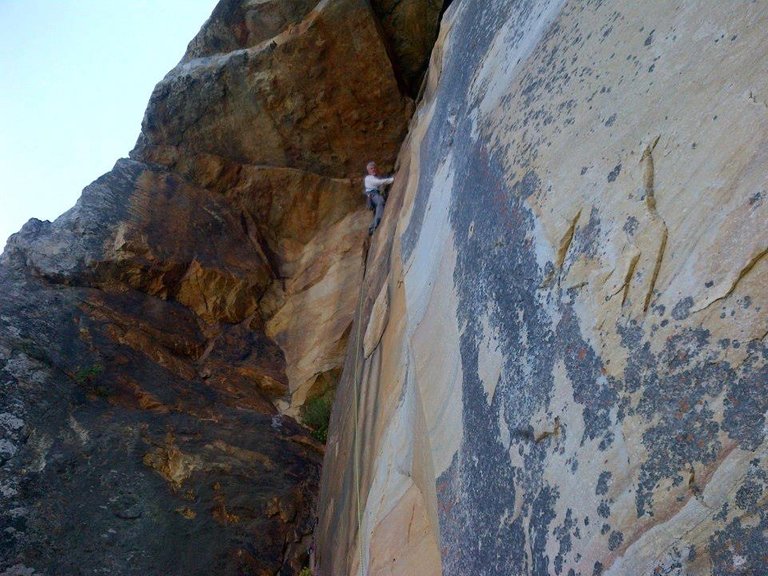 This is my father about ten years ago – he is 65 years old in this picture!
My father pushed himself. A friend died in an avalanche that narrowly missed killing him as well.
He and his team were once stuck in a snow cave in remote Baffin Island while a storm raged. The plan was for a small airplane to drop supplies to them when the storm passed… but after two weeks of nothing but a few chocolate bars, the team of five brave men eventually realized that they were going to have to save themselves. A mosquito net helped them catch fish out of a pool… and this food gave them energy to get below the snow-line where they started to eat berries off the bushes. That food gave them the energy to keep walking several days back to safety. All five of them made it that time, although my father lost 15kg (about 40lbs) and never really put the weight back on again. Oh well, I guess being light is an asset for a rock-climber though!
To put it bluntly – my father doesn't enjoy watching a climbing movie like "Touching the Void". It's too real for him and reminds him of his own epics. Come to think of it, I believe dad has climbed with both the people that "Touching the Void" is about. He's also climbed with George Mallory jnr, who is the spitting image of his grandfather George Mallory snr (who some people think might have been the first person to get to the top of Everest but then died on the way down… to this day people debate whether he died going up, or on the way down, on his attempt at the Everest summit in 1924. Remember that Edmund Hillary and Tenzing Norgay only finally achieved the feat for certain in 1953!) For what it's worth, grandson George Mallory jnr has definitely conquered Everest, without oxygen!
By the time I was a child, my father was taking it a bit easier. Instead of tackling full blown mountains, he was happy to practice the more technical aspect of climbing on cliffs of 100m or less. By placing protection constantly to clip the ropes into, a fall would be unlikely to hurt badly, let alone be life-threatening. He was still having fun finding new cliff faces with good, clean, climbable routes to open. I believe he made this change from life-threatening to ankle-threatening because he now had me, and my older sister, in his life…
Then there was me. As a child I was tall and very thin, and this meant I was able to do a few pull-ups even from a young age. I imagine my father had hopes for me as a kid who looked like he had a promisingly light frame and some upper body strength, and I would follow him up the odd climb occasionally, but I had, shall we say, at least the average person's fear of heights! I certainly didn't enjoy leading the rope up, instead of following, or doing anything risky – it just wasn't my sport!
Luckily my father never pushed me too hard to make me climb against my will… but through no fault of his own, can you imagine being a boy with a father that people talked about as a legend? How could I not compare myself sometimes?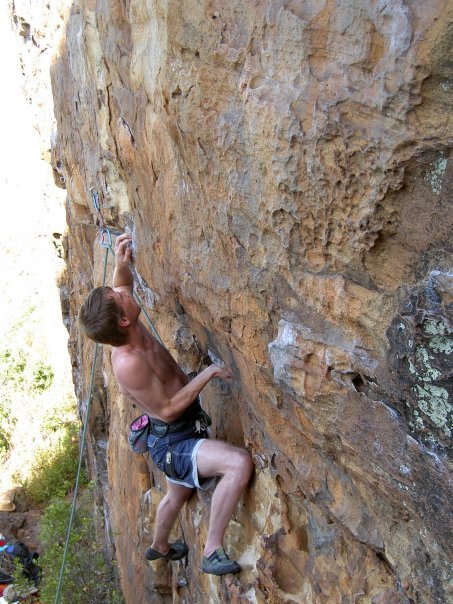 Here I am about as good as I ever got at climbing – not terrible, but my father wouldn't have needed the rope to get up here, even when he was about 65 years old. He's about 75 now and his climbing days are finally over, but he still sets a mean pace hiking in his beloved mountains!
Luckily, years later my father learnt to ski (in his 60s!) and I learnt to ski and snowboard along with him (in my mid 20s – there's not much snow in South Africa so we had to get to Europe first), and we finally got to have some adventurous father-son bonding time in the mountains doing something we both enjoyed!
I have been fortunate enough to get back to Europe with Dad and enjoy that experience of skiing/snowboarding in the snowy mountains with him several more times!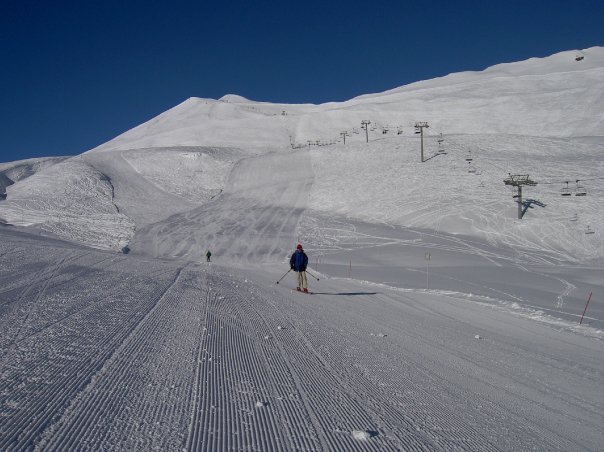 There he goes – learning to ski in his 60s. It wasn't long before he was leaving the prepared trails behind and exploring off-piste – but at least I was loving it too this time! It's been about 5 years now since my last European winter, and I hope I get to have at least one more ski season with my Dad before he really is too old! It's not an easy trip to afford on the South-African currency!
I am also a surfer, and that tends to be the sport I blog about the most here on Ecency/HIVE. I will be the first to admit I'm not a very good surfer, but that's the cool thing about adventure sports – I don't need to be the world's best surfer to go exploring and find my own little wave in a beautiful place, where just the slightest tinge of my father's adventurous gene comes alive in me!
More on that little surf exploration adventure of mine… Next time!
In the meantime, bless my father – May he have many more years of hiking and scrambling around his beloved mountains, while he is still able! May he have at least one more ski season left in him too – apparently the European Ski Resorts allow 80 year old people in for free! Haha!
May I tell him that I love him, as easily as I write it here...
THE END
---
---