RUGBY - Highlights from the Final Day of the Rugby Sevens World Cup in Cape Town, South Africa

Hello everyone on HIVE and especially the Sports Talk Social Community! My name is Jasper and I'm writing to you from Cape Town, South Africa! One of my topics that I tend to post about a lot on HIVE is one of my favourite sports, surfing!
In fact, I've barely posted about anything else on Sport Talk Social, so it may surprise you that I do partake in other sports a bit (martial arts like kickboxing and Brazilian Jiu-Jitsu and a little bit of tennis, running and strength training), and that there are other sports that I simply like to watch. Like almost any South African man, I can appreciate a good game of rugby.
Last weekend, the Cape Town Stadium hosted the Rugby Sevens World Cup and I got to go and see the final action-packed day. Why not enjoy the highlights with me?
Firstly, what is meant by Rugby Sevens? Well, normal rugby is played with 15 players from each team on the field (and 8 more replacements on the bench) over two halves of 40 minutes each. With the half time break thrown in, it means one match takes about 2 hours to watch.
Rugby Sevens is very different. The halves are only 7 minutes each! Because there are only 7 players per side, on the same sized field, the players are able to create opportunities to pass the ball and run through gaps in the other team's defence which makes for a much more exciting, faster paced game where many tries (like a touchdown in American Football) are scored in that short time! It also means that you can have an entire World Cup with 16 or more teams in both divisions (men and women) all in one weekend!
If you've never watched any rugby before, Rugby Sevens is probably the place to start to see if you enjoy it at all! (I imagine the same goes for T20 (20 overs per team) cricket instead of the 5-day version which is for the nutcase fans!) Are there any other sports with shorter, faster paced versions? You get 5-a-side soccer I suppose? Please mention any others in the comments!
So here's how it went: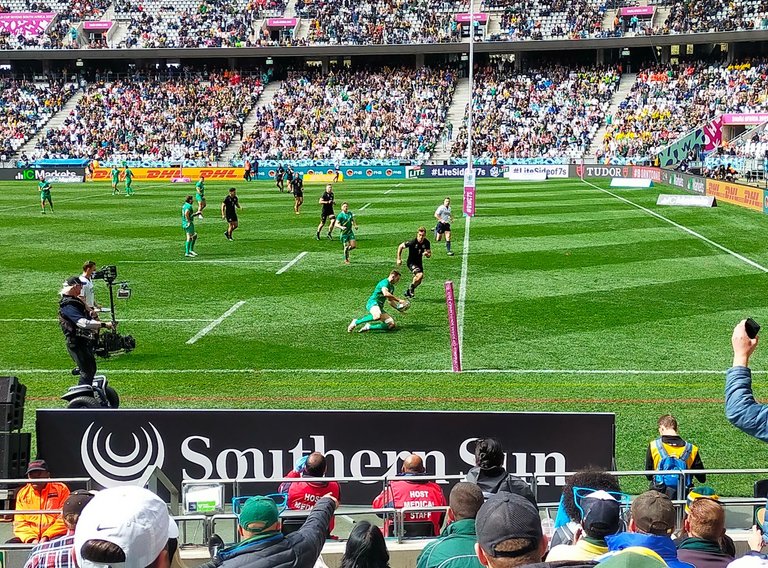 We arrived in time to see the men's semifinals. Here is an Irish player about to place the ball down over the line to score a try (5 points) against New Zealand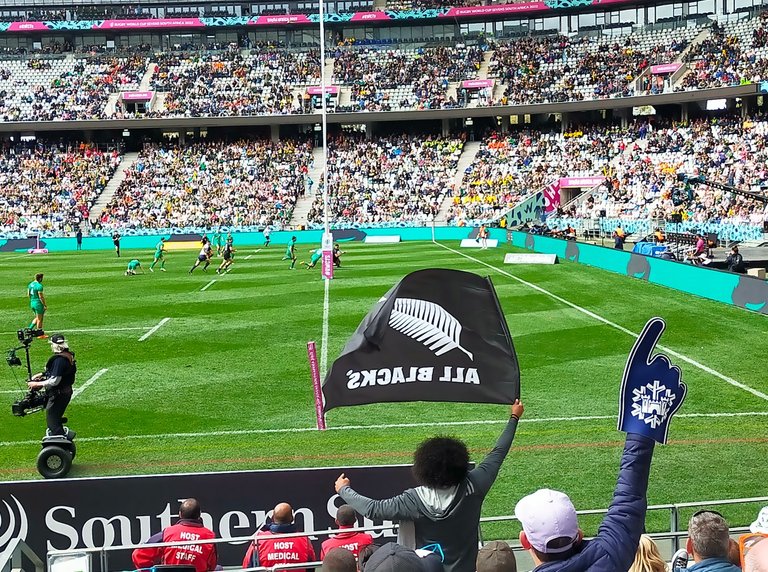 However, New Zealand (known as the "All Blacks") are the most decorated team in Rugby Sevens, and arguably normal Rugby too, and were able to win the match with some tries of their own - onto the final for NZ! There's one supporter who was very happy about it!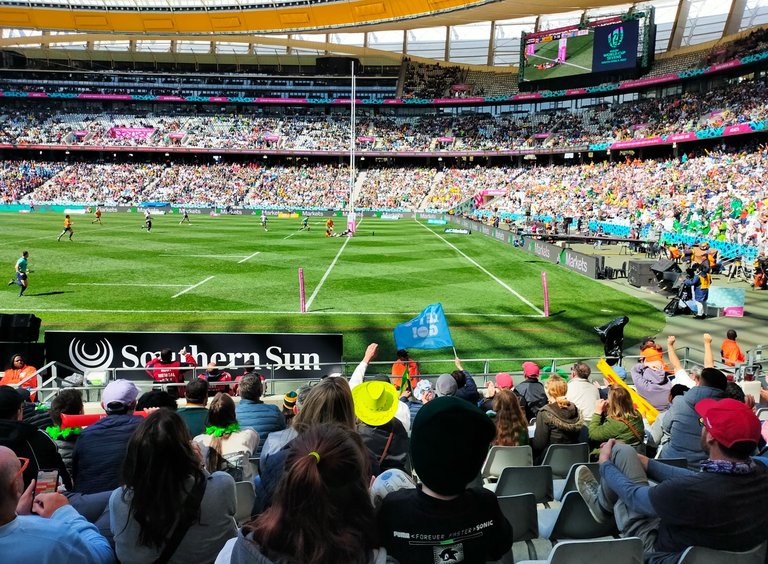 The other men's semifinal was between Fiji and Australia. Fiji doesn't seem to have the population and numbers to be a dominant force in normal Rugby, but they certainly are when it comes to the Sevens game! They were able to beat Australia and make the final with New Zealand - a showdown between arguably the two countries with the best Sevens pedigree!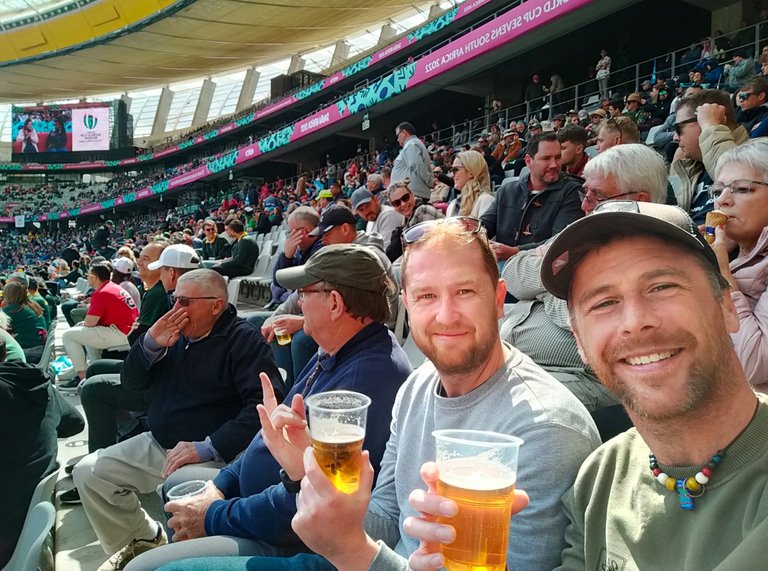 With so much action, and so many matches one after the other, the Stadium was a vibe! My father-in-law is having a big yawn as this was his third day in a row, whereas my friend and I are just getting started!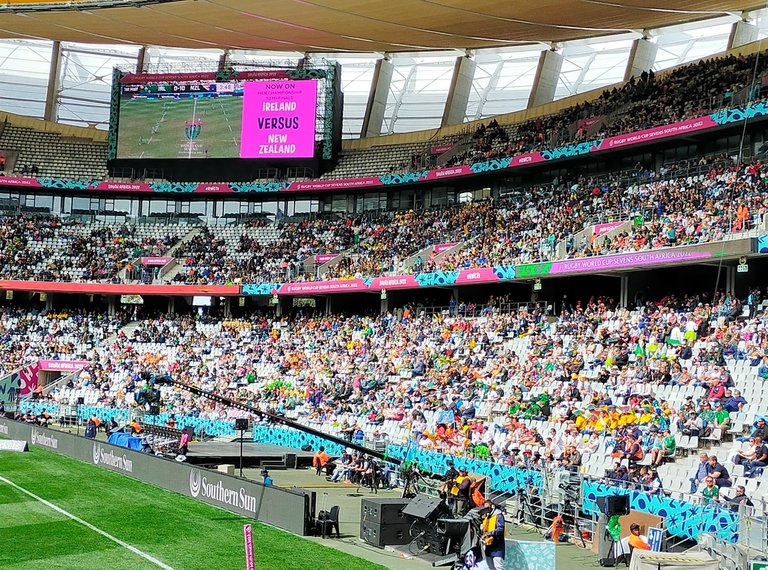 If the action on the far side of the pitch was too far away to see, there were big screens to watch the TV-viewers perspective...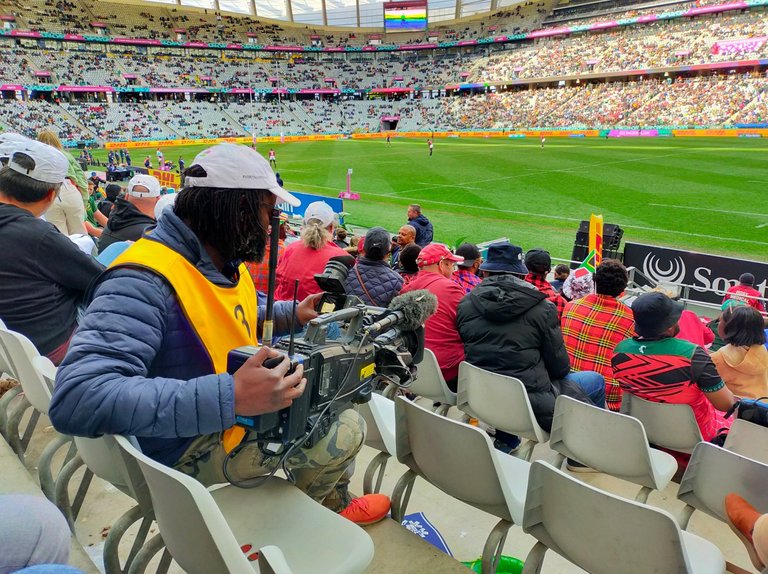 This meant many camera men trying to find interesting angles - during the last match the Kenyan team got to play, one camera man was enjoying the reactions of a tight-knit group of Kenyan supporters just in front of us!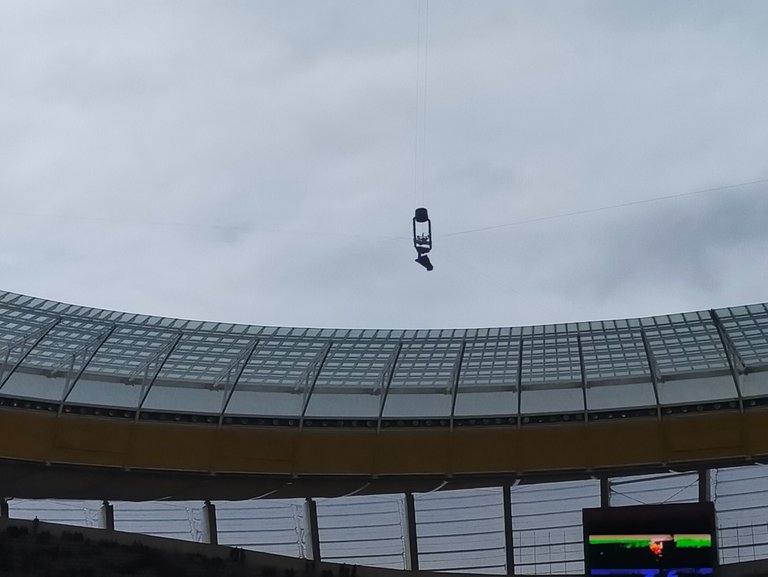 One of the more impressive cameras! I'm happy no team ever kicked the ball up there against the camera or one of its wires! (In Sevens, possession of the ball is relatively more important than territory, compared to the 15 man game, so luckily there is less kicking the ball away!)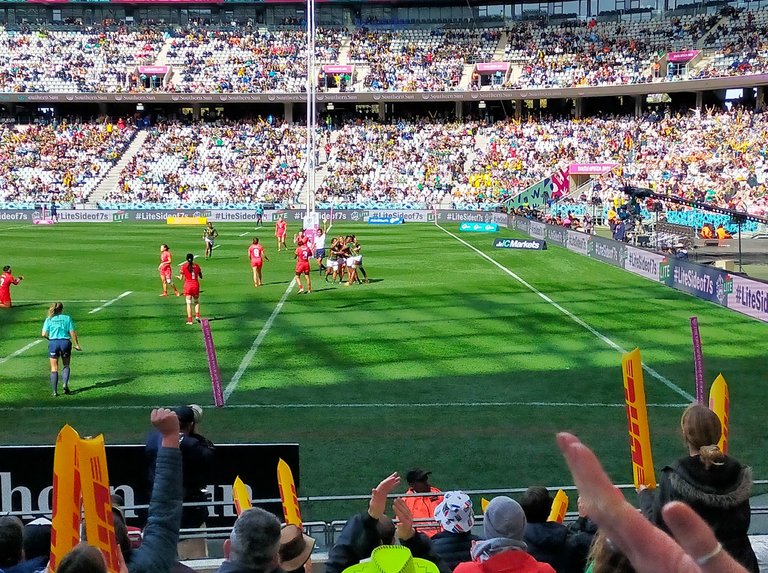 The SA ladies team came 14th out of 16 teams. This doesn't sound very good, but apparently the team is very new with players poached from other sports like Netball. Hopefully we can improve because South Africa is quite a proud rugby nation! Here they are celebrating a try against China, although they ultimately lost this game.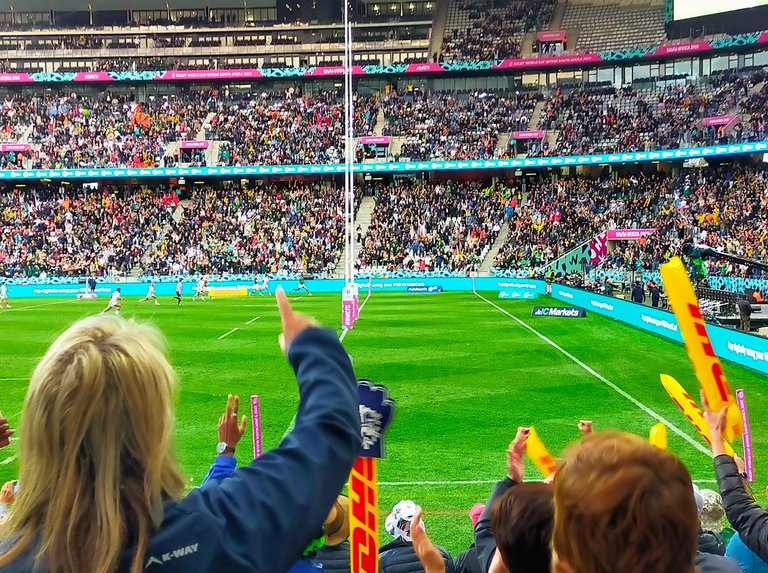 Here is the SA men's team (the Blitzbokke) getting 7th place in a convincing win against Samoa. Unfortunately, this was a disappointing result as in recent years our men's team has been able to win World Series events against the top teams like New Zealand and Fiji, and we are the current Commonwealth Games champions from earlier this year as well, so to do so badly at home with losses to Ireland and Argentina was simply disappointing for most fans, although the volume of support for this match where they finally came right was still great!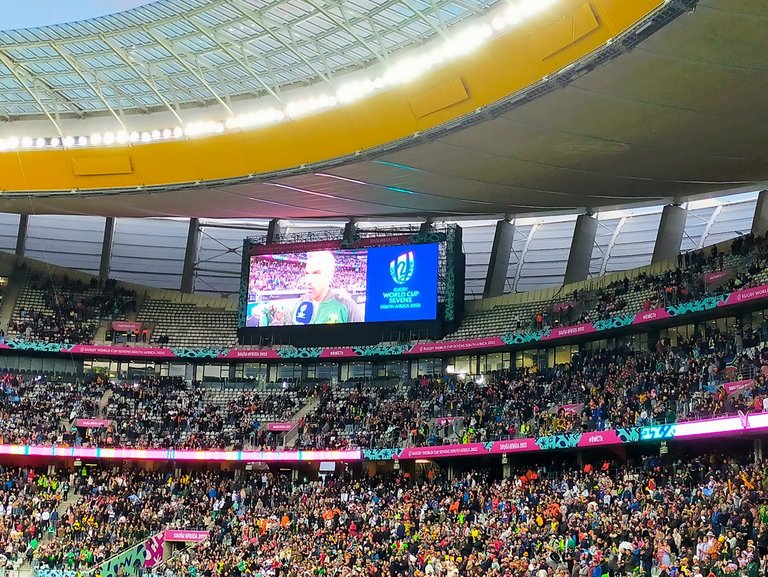 A moving tribute to Neil Powell, the SA coach who was retiring after a great career as both SA player, and then coach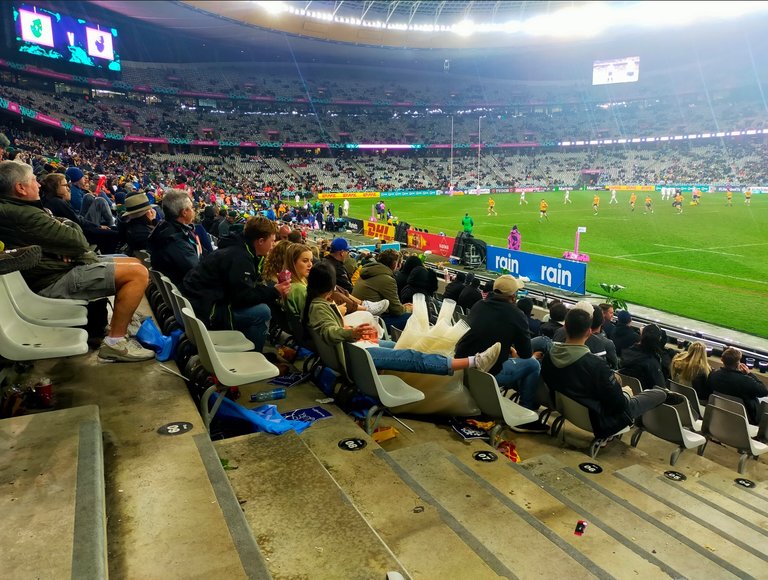 An impressive collection of beer cups, her parents must be so proud! Apparently the Stadium ran out of brandy as well! What debauchery!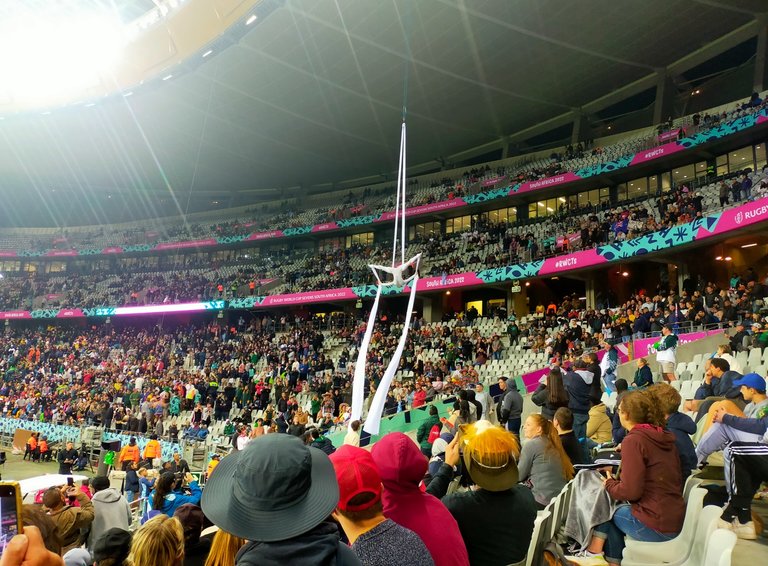 While the ladies and men's finalists were getting ready, we were treated to mini-concerts and this rather amazing display of acrobatic ladies in each corner of the stadium...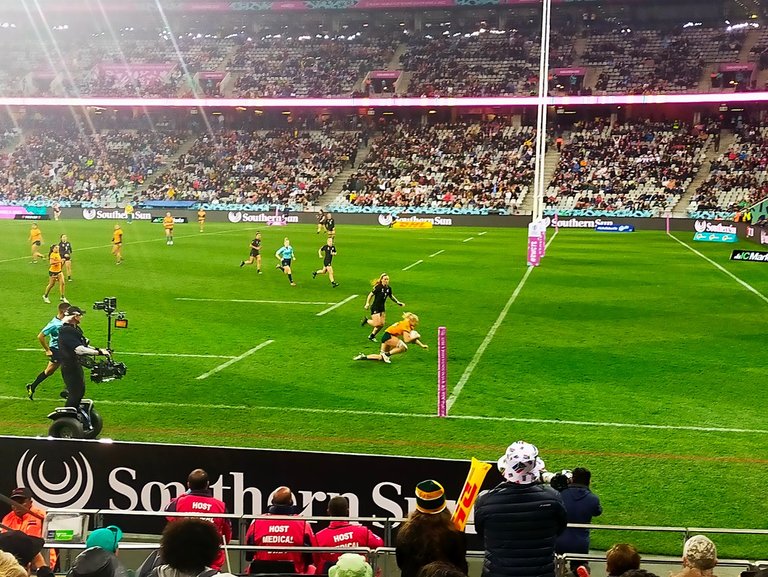 The ladies final was between New Zealand, the usually dominant reigning World Cup Champions vs Australia, who were having a fantastic year (already winning the Commonwealth Games and the Sevens Series). Australia got the better of the first half!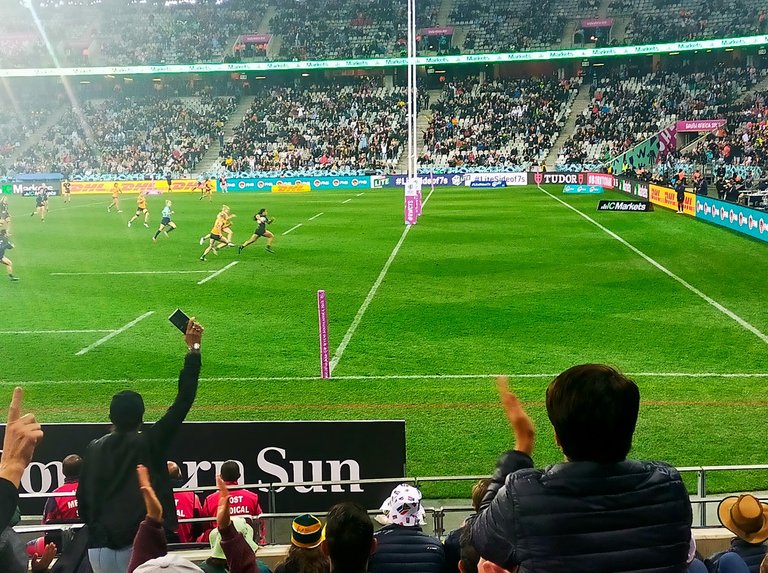 The New Zealand ladies fought back in the second half. Here's a try after the full-time whistle that brought the score back to 24-22. After the try, New Zealand were allowed the usual opportunity to try and dropkick the ball between the posts (called a conversion kick) - if it went between the poles they would then get 2 more points to level the game at 24-24 and take the match into extra time! The position for the kick was not the most difficult, but unfortunately for New Zealand, the kicker missed, and now has to live with squandering that opportunity! A very heartbreaking finish to the Women's Event as New Zealand lose their World Cup Dominance, and Australia add the World Cup to their Commonwealth and Series Victories this year. What a rivalry!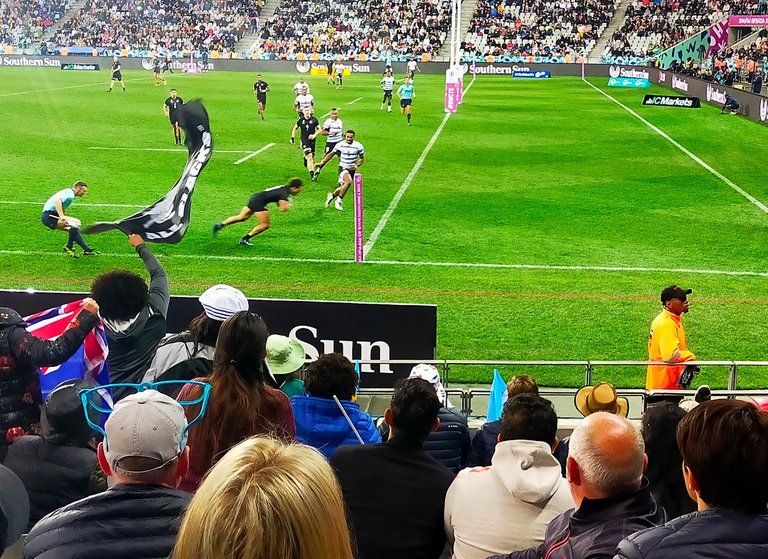 Onto the men's final - this was one of very few tries scored by New Zealand against Fiji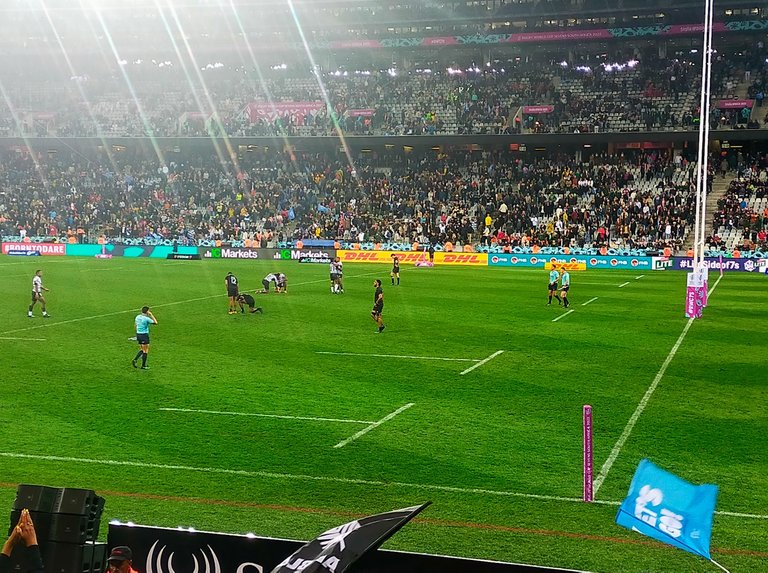 To our complete surprise and delight (because of our rivalry, South Africans will usually support anybody else playing against New Zealand or Australia!), Fiji were actually dominant for most of the rest of the match and ended the dominance of the NZ team in Men's Sevens World Cups (as well as the ladies division earlier). I find it interesting that the Fijians (white) praying in celebration looks almost the same as the NZ (black) players bent over in the pain of accepting defeat!
So! What a lot of action crammed into a day! There were many other matches I didn't even talk about! Seriously, if you want to give rugby a try, maybe start with Sevens and see if you enjoy this fast-paced, exciting version of the game first!
THE END
---
---