SURFING: Action Camera Footage: Do you get what you pay for? "Affordable" Volkano 4K vs "real" Go Pro Hero Black 8!
Good morning everyone! I am writing to you from Cape Town in South Africa. I am quite new to Ecency/HIVE, and so far, several of my posts have described the adventures I have had exploring the surf spots all around the peninsula that Cape Town is located on. I also plan to share my original music, show off my pet cats, and talk about several other hobbies and interests as well, but surfing and martial arts (kick-boxing/BJJ) are the "sports" I tend to focus on, along with a bit of training to help with those...
Please check out some of the posts I have shared to do with surfing so far:
https://ecency.com/hive-148441/@jasperdick/surfing-hiding-from-a-big
https://ecency.com/hive-148441/@jasperdick/surfing-another-place-to-hide
https://ecency.com/hive-148441/@jasperdick/surfing-in-cape-town-south
To add some photos that give the reader a feeling of being out there in the water, I have taken an action camera out into the water with me, along with a mouth mount, so that you can really see photos from my point-of-view (POV).
The camera I have been using is a Volkano Extreme Series 4K Action Camera. It is probably the most affordable Action Camera on the market in Cape Town, costing around R1 000 (about $60!). I was lucky here as my sister-in-law lent it to me.
Recently, my friend Schalk lent me a real Go Pro Hero Black 8. If I wanted to get one of these, it would cost about R7 000 ($420), but at least that is still cheaper than the current model, the Go Pro Hero Black 10, which would be about R10 000 ($600). Of course, I was eager to see if the real deal is really that much better!
Please see the comparison screen-grabs from the video footage below. The two cameras were used on different days, but at the same short reef break breaking to the left. On both days, my friend Max was out in the water with me, so let's start with images of him taking off on a wave as I'm paddling back out…


Picture of Max from the "affordable" Volkano 4K
As you can see, the Volkano 4K footage is relatively lower quality. You can see the pixels if you zoom in enough, and the colours seem to be quite drab and faded…


Picture of Max from the "real" Go Pro Hero Black 8
Sure, the waves were a bit bigger and cleaner on this day… but the image has much better quality and colour considering it is a screen-grab from a video. I did notice that a clip of the same length would be much larger, and so it was important that the Go Pro had a nice big memory card!
What about footage from my point of view while actually riding a wave? Unlike Max, I have a natural footed stance (left foot forward, right foot back), which means I ride these left-breaking waves with my back to the wave instead of facing it…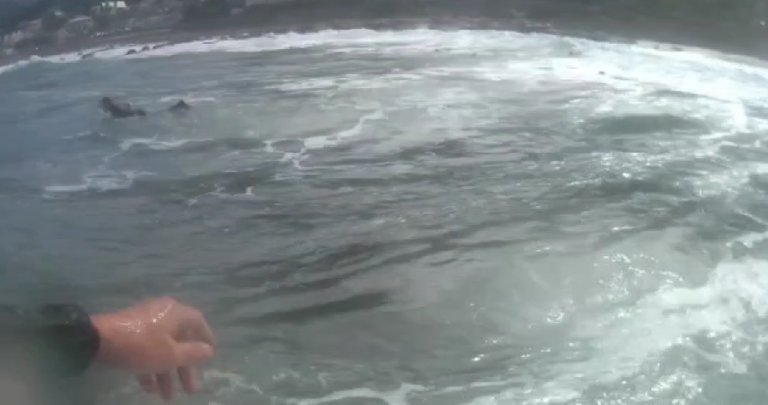 Picture of my point of view while riding, from the "affordable" Volkano 4K
Lower quality, and drab colours aside, the so-called wide angle of the lens is not really perceptible. If it wasn't for my left hand cutting across the screen, you might not even know I was up and riding as you can only really see the flat water in front of me. You cannot see my surfboard below me, or the wave just to the left of the image, because the angle is too narrow and not suitable for surfing POV footage.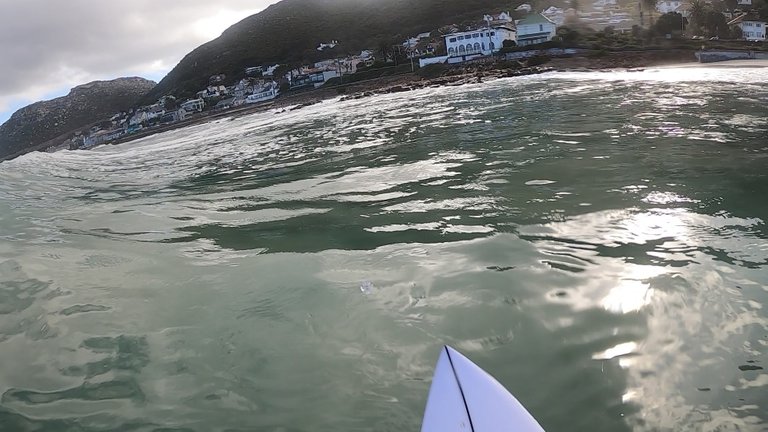 Picture of my point of view while riding, from the "real" Go Pro Hero 8
Suddenly, you can see the nose of my board below me! You can also see the wave to the left. Somehow, you can also see more of the shoreline, such that a person from Cape Town might even be able to work out roughly where I am! All this is because the camera angle is wider, and gives the viewer much more information closer to what your eyes would be taking in if you were really me. What I can't show you in the photos is that the Go Pro also seems to have some kind of way of taking out the shakiness in the video footage – the video was much smoother, especially during that turbulent bumpy moment where I catch the wave in the first place.
So from the images it seems clear: unfortunately, as with many things in life, you get what you pay for!
What about things that the images cannot show? The Volkano 4K charger needs to be held down at an angle to charge the thing now! The "down" button no longer works, and I have to scroll upwards through the menus! I really don't think the Volkano 4K is going to be usable for much longer! The waterproof mounting and camera settings mean that it is not practical to start and stop taking footage from the water, which means I have to start taking footage before I paddle out and then let the camera run continuously until the battery runs out about an hour later. This makes it pretty tiresome to go through the footage, looking for the parts of the session that were actually worth filming… a lot of surfing is sitting around waiting for the waves, which usually arrive in sets.
None of these problems with the Go Pro Hero Black 8!
So now, the question for me is if there is a happy medium? Something that bridges the gap in price and quality, so that I can actually afford it? Another friend says he might have the answer, so perhaps there will be a Part 2 to the post!
THE END
---
---