SURFING (POV Pictures): Two ways to make the most of tiny waves on a workday sundowner surf session!
Hi everyone on HIVE and especially the Sports Talk Social Community! My name is Jasper and I'm a renewable energy developer living in Cape Town, South Africa. My main two post topics on HIVE are usually about my main after-hours hobbies: the music I write and perform on the Music Community, and then on the sporting side… there's a bit of martial arts but mainly surfing!
If you have petrol/gasoline for your car, and enough time to check spots along the Cape Town peninsula, you will generally find good waves somewhere on any given day. The peninsula is almost an island and so the wind is always blowing in the right direction somewhere. There are exposed spots to get a decent sized wave on small days, and sheltered places to hide and ride smaller waves on enormous days when the open ocean looks like certain death.
I said if…
Petrol/gasoline is getting more expensive for sure! Then there's time… As well as a busy job, and my music, I also became a father about exactly 1 year ago. My daughter is absolutely gorgeous, and you can read about her 1st birthday party here… https://ecency.com/hive-168869/@jasperdick/weekend-experiences-my-baby-girl
But it does mean that time is an issue! The weekend before last I didn't get to surf (this weekend neither come to think of it) ... The following Monday, I worked from home and occasionally flipped over to the webcam for the beach that is closest to my house. Muizenberg is definitely the best beach in Cape Town to learn how to surf – the waves are weakened by a long struggle to get into False Bay and the beach has a very gentle slope. This means that the waves are usually small and weak. Ironically, this makes them easy to surf if you're just trying to stand and keep afloat, but hard to surf in a dynamic exciting way because there's so little energy in the wave.
This is how it appeared according to the webcam as the workday was coming to an end on the Monday, but at least the wind was soft and as a result the little waves were looking beautifully glassy and clean. I received my permission slip from my wife, who was happy to put the baby to bed by herself, and I packed boards in the car and dashed to the beach before the sun went down.
And so, I guess this is a post about small wave surfing – it's better than nothing!
Now there are two main ways to try and tackle surfing tiny waves:
Method 1: Create the extra energy and momentum you need using your body mechanics (ie. be a good surfer!)
If you are a good surfer (I am not), you can use an ordinary surfboard to surf small waves – and you can use your body almost like a spring, constantly compressing and expanding, to add the energy you need as you keep your board doing small turns from rail to rail to keep the momentum going.
Imagine you are a child again, on a playground swing – do you remember how you managed to get the swing pretty high up in the air even through you started from the bottom and didn't have someone to push you? It wasn't gravity alone that did that – with air resistance you would have lost height with each swing if you had just sat/stood there doing nothing. No, as a child you intuitively learnt to unweight your body at the top and then push it down again at the perfect moments to gain energy and height on the next swing! A good surfer does the same with his body!
Like I say, I'm not a good surfer!
Luckily my friend Jono was also out in the water catching some last waves before it was too dark to see, and he IS a good surfer! He was perfecting his body mechanics to make the most out of the tiny waves – if he uses the same approach in decent waves where his own energy is matched by some real wave energy, he will look absolutely amazing!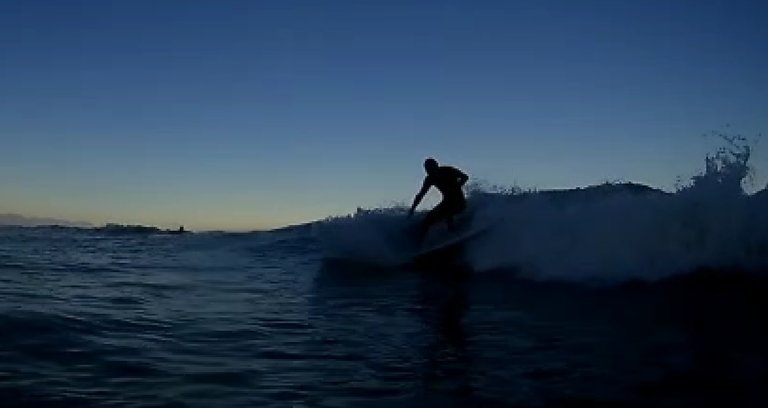 Jono constantly trying to stay dynamic – turning the board from one side to the other, compressing and expanding his body, as he turns back to where the wave at least has a little bit of energy (where the blue face is breaking into white water). Gee! This camera I'm borrowing from a friend is struggling in the post-sundown light! Luckily, I will be getting my own real Go-Pro soon!
Method 2: Choose the right board to help you! (ie. cheat?)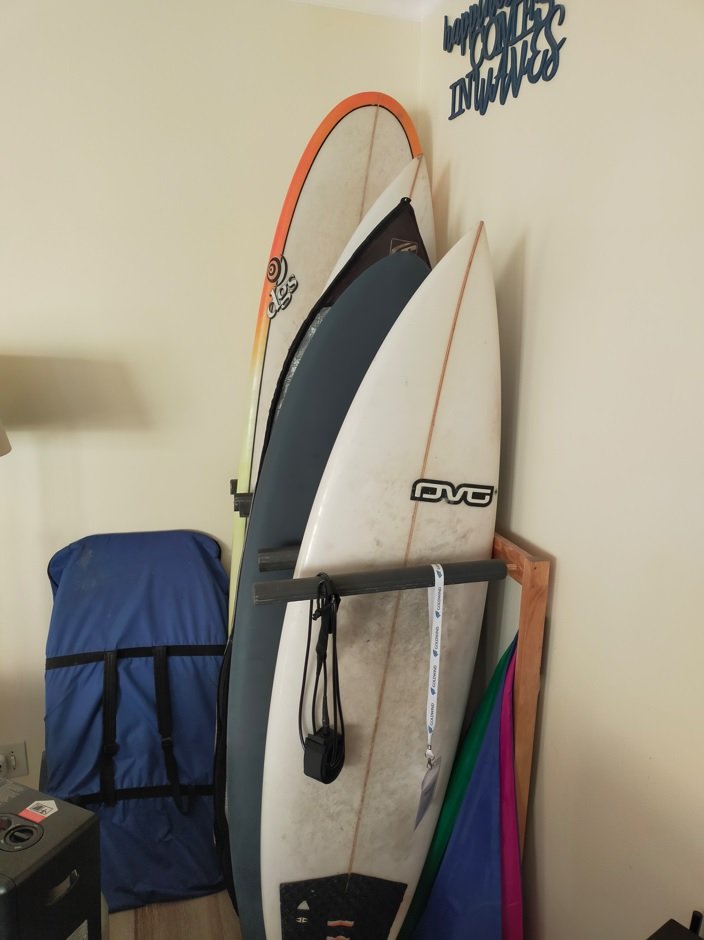 Here is my quiver of boards – They are shaped differently to either make the best of small waves, or to be more stable in bigger waves. I chose the biggest, flattest orange board (a 7'6 mini-malibu) to catch the small waves easily and give me lovely, sustained momentum that kept me going through even the flattest parts of the small waves!
And so here are some pictures from one of the waves I managed to catch before it got too dark to see at all…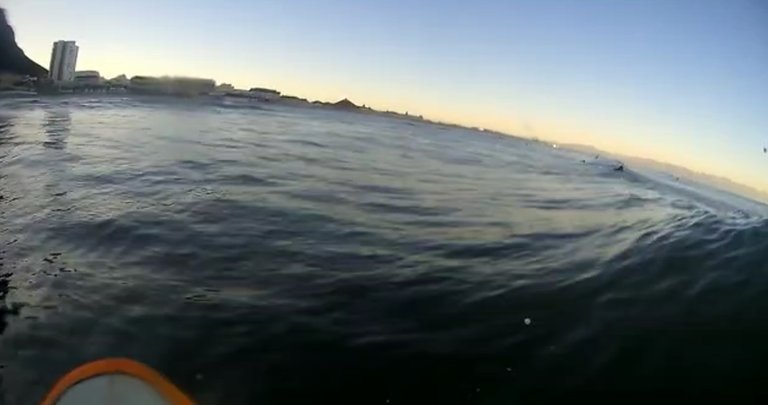 Just getting started on this small but clean wave…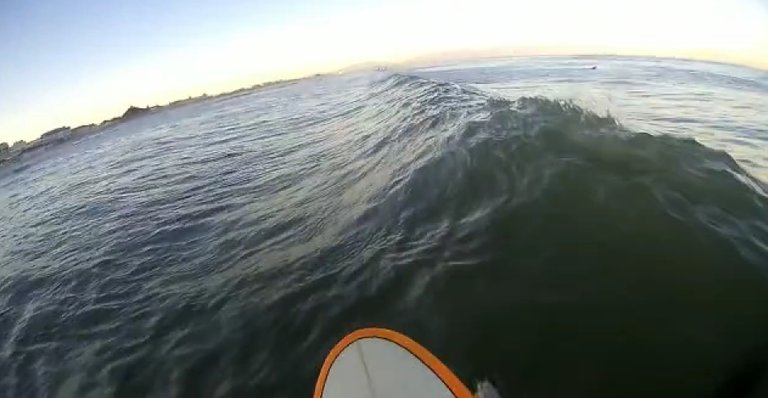 Even with a big board milking the wave for what energy it could – I still found myself trying to do little turns up and down the face to add some momentum of my own…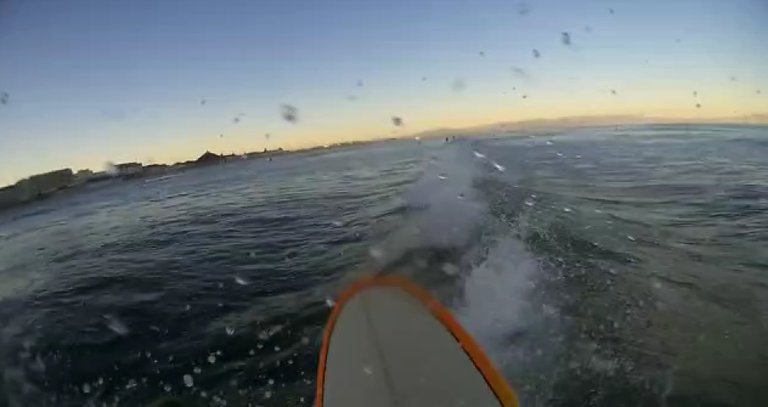 This meant that even an average surfer like me had enough speed to do a proper turn as the wave came to an end (turned to white water).
So, I went into the surf with low expectations, and came out happy! It was definitely worth the drive, to have a paddle and catch a few rides – even in small waves, surfing is good for the soul!
Obviously, the ideal combination is to choose the correct board and be a good surfer! I'm working on it, and improving for the first time in years!
THE END
---
---