TENNIS: 2022 was a Frustrating Year for Novak Djokovic Fans!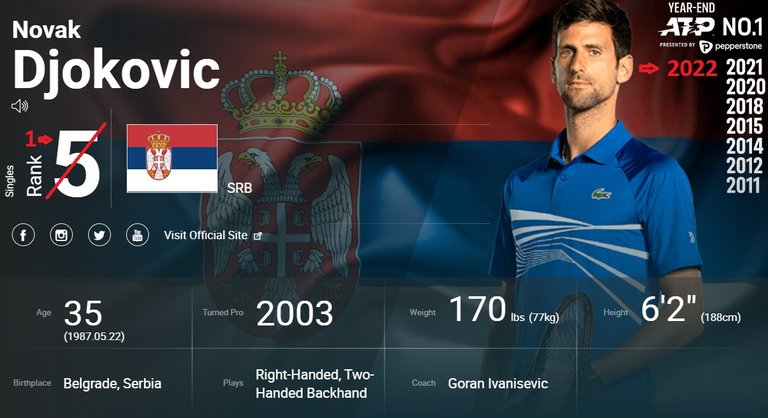 Picture sourced from https://www.atptour.com/en/players/novak-djokovic/d643/bio and tinkered with by me on MS Paint for effect!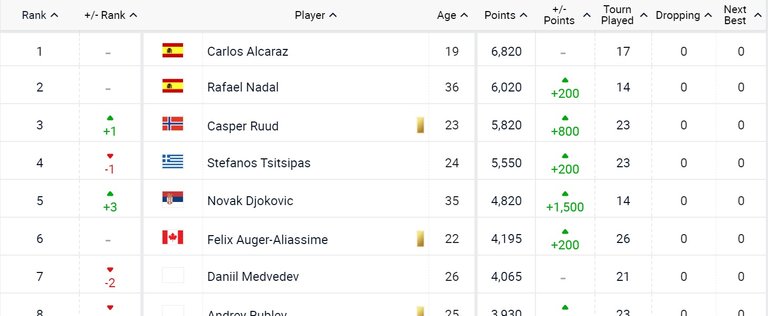 ATP Year-end Men's World Tennis Singles Rankings Source: https://www.atptour.com/en/rankings/singles
Look at the year end rankings of the ATP Tennis Tour above. They seem to tell a great story: Carlos Alcaraz, a 19-year-old Spanish kid has even overtaken Rafael Nadal and ended the Big 3 (Roger Federer, Rafael Nadal, and Novak Djokovic) domination of the sport… There are obviously questions about whether he can keep this level up for years to come, and be the "next Nadal" for Spain… so let's not take anything away from him and his achievement where he won the US Open Grand Slam Title (his first) along the way...
But 2022 was a rubbish year for tennis fans, and an especially rubbish year for Novak Djokovic fans. Politics got in the way... Let's take the following into account:
• Djokovic won Wimbledon this year. However, because Wimbledon decided to not let Russian players compete (something to do with a war that they didn't choose), the ATP decided to not award points at Wimbledon at all. That means that 2000 points that Novak Djokovic would have guaranteed through winning, are not counted on that table above – which would have taken him close to number 1 already.
• Djokovic was not allowed to play the Australian Open or the US Open this year at all. This was to do with his choice not to get the Covid-19 vaccinations. (This is not a political post but I do wonder if the same call would be made knowing what we know now… I travelled to Europe without having to show proof of vaccination a few months ago already.) As a frequent winner of both of these Grand Slams and the Australian Open especially, you'd have to assume that he would have got enough points from these two Grand Slams to end the year as World Number 1.
You may have noticed that I am a bit biased towards Djokovic – I have been a fan since 2007 before he ever won his first Grand Slam.
I would argue that he already has done enough to be the Greatest Tennis Player of All Time (GOAT). He has more weeks at Number 1 than Federer or Nadal. He's the only one of the three to have won all four Grand Slams in a row. He has winning records over Federer and Nadal. He has the longest winning streak of the three… what more do you want?
"Ah yes" say the Nadal fans – "but Nadal has won 22 Grand Slams when Djokovic has "only" won 21…" and for some reason only Grand Slams (and popularity) seem to matter... now that that's all that they have left…
Well, I do certainly hope that Djokovic manages to win one more next year and draw level with Nadal, and hopefully put the question of who the GOAT is to bed. Based on Djokovic's performances recently where he's just won the Nitto ATP Finals against the rest of the top 8 – you'd have to think it's still possible for Djokovic to win a couple more Grand Slam titles before he retires!!
But if he doesn't? Well, I think we should do an investigation into the twit politicians from Australia who made some rubbish decisions at the beginning of 2022, and we will probably find out that they are all Rafael Nadal fans!
Disclaimer: I'm actually pretty fond of Nadal too, especially his personality! I don't understand why being a fan of one means that you seem to have to hate the other?
THE END
---
---