Bocanada de aire para Magallanes // A breath of fresh air for Magallanes [ESP//ENG]
El conjunto de los Navegantes del Magallanes parece haber retomado el buen camino, con dos victorias el fin de semana, primero ante Tigres de Aragua (4-5), luego ante Bravos de Margarita (8-9).
The Navegantes del Magallanes team seems to be back on the right track, with two victories over the weekend, first against Tigres de Aragua (4-5), then against Bravos de Margarita (8-9).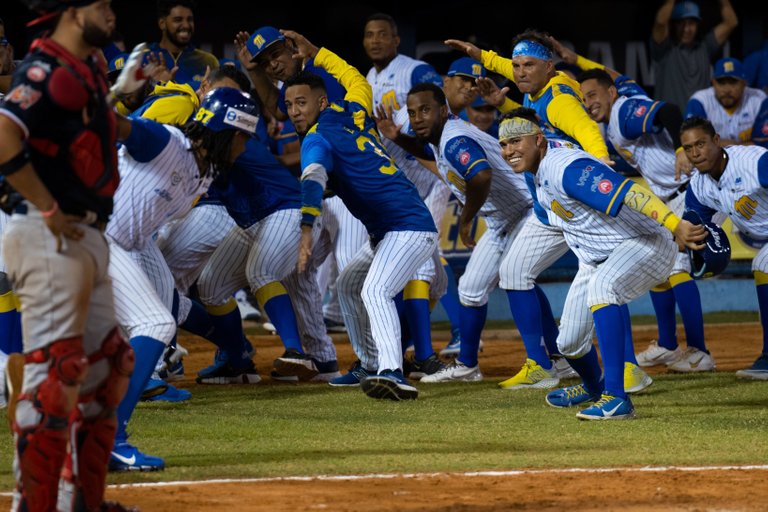 Fuente // Source
Con estos triunfos los eléctricos retoman el cuarto lugar de la tabla, posición que da acceso directo al Round Robin, lugar que habían perdido por la seguidilla de malos resultados.
With these victories, the electric team regained fourth place in the table, a position that gives them direct access to the Round Robin, a place they had lost due to a string of bad results.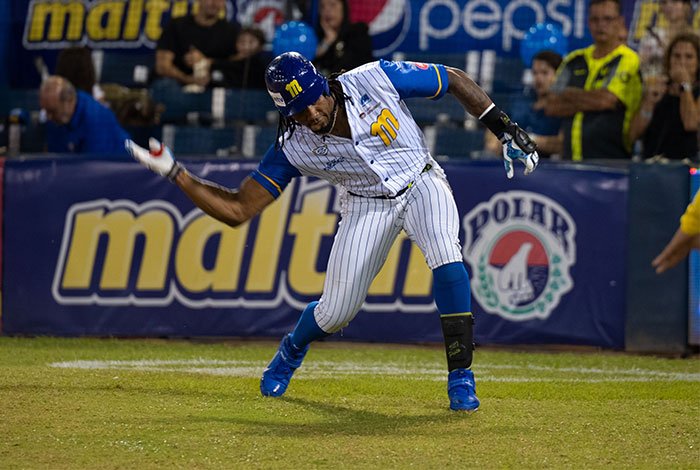 Fuente // Source
La primera remontada // The first comeback
Los filibusteros no agacharon la cabeza en el compromiso del día sábado, 26 de noviembre, pese a iniciar perdiendo ante los bengalíes con un cuadrangular de José Martínez en la cuarta entrada. En ese mismo episodio Rainel Rosario la sacó del parque por primera vez en la noche para igualar la pizarra.
El abridor turco, Erick Leal, se complicó para sacar el quinto inning donde permitió dos anotaciones, una de ellas por un error en su lanzamiento al plato, sin embargo, Magallanes descontó una rayita en la sexta entrada que permitió tener a los Tigres más cerca.
Así llegó el séptimo episodio, donde a pesar de que los aragüeños anotaron una carrera más para alejarse, Edwin García con un elevado de sacrificio y Rainel Rosario con su segundo vuelacercas de la noche lograron darle vuelta al partido, que a la postre terminó así, ya que entre Anthony Vizcaya, Enderson Franco y Bruce Rondón sacaron los últimos seis outs.
The Filibusteros did not let their heads drop in the game on Saturday, November 26, despite starting the day trailing the Bengalis with a home run by José Martínez in the fourth inning. In that same episode, Rainel Rosario hit it out of the park for the first time in the night to even the scoreboard.
The Turkish starter, Erick Leal, had a hard time in the fifth inning where he allowed two runs, one of them due to an error in his throw to the plate, however, Magallanes scored a run in the sixth inning that allowed the Tigres to get closer.
Thus came the seventh inning, where despite the fact that the Aragüeños scored one more run to pull away, Edwin García with a sacrifice fly and Rainel Rosario with his second home run of the night were able to turn the game around, which in the end ended like this, since Anthony Vizcaya, Enderson Franco and Bruce Rondón got the last six outs.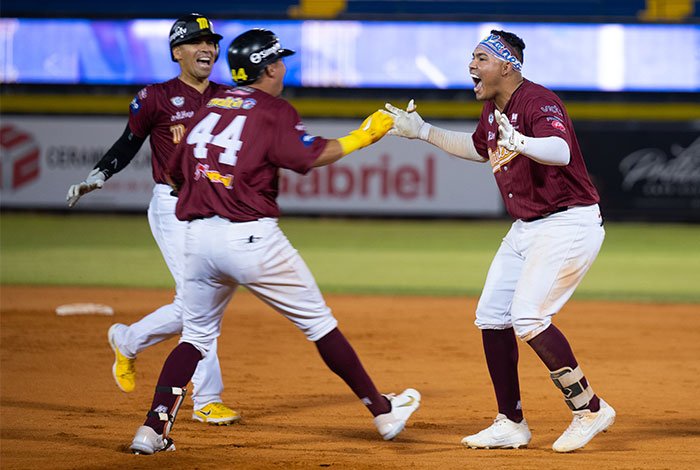 Fuente // Source
Un bravo toma y dame // A bravo take and give me
El duelo del domingo ante los Bravos de Margarita fue un enfrentamiento donde ambos equipos se hicieron daño de principio a fin. En el mismo primer episodio los insulares hicieron dos carreras y Magallanes devolvió el golpe multiplicado por dos.
Luego de un segundo inning calmado, los margariteños igualaron las acciones a cuatro carreras, pero en la cuarta entrada la Carabela retomó la ventaja de dos que poseía hasta episodio anterior.
Los Bravos volvieron a reaccionar en el séptimo con un jonrón de Luis Castro para descontar una anotación y en el octavo igualaron la contienda, pero nuevamente los locales despertaron, un cuadrangular de Robinson Chirinos los puso arriba 6-7.
En un final de película, los isleños hicieron dos carreras y los actuales campeones repitieron la dosis para dejarlos en el terreno, para de esta manera sellar la vuelta a los lugares más seguros de la tabla de clasificación.
Sunday's duel against the Bravos de Margarita was a confrontation where both teams hurt each other from the beginning to the end. In the very first episode, the islanders scored two runs and Magallanes returned the blow multiplied by two.
After a calm second inning, the Margaritans evened the score at four runs, but in the fourth inning the Carabela retook the two-run lead it had held until the previous episode.
The Bravos reacted again in the seventh inning with a home run by Luis Castro to score one run and in the eighth inning they tied the game, but again the locals woke up, a home run by Robinson Chirinos put them up 6-7.
In a dramatic ending, the islanders scored two runs and the reigning champions repeated the dose to leave them in the field, thus sealing their return to the safest places in the standings.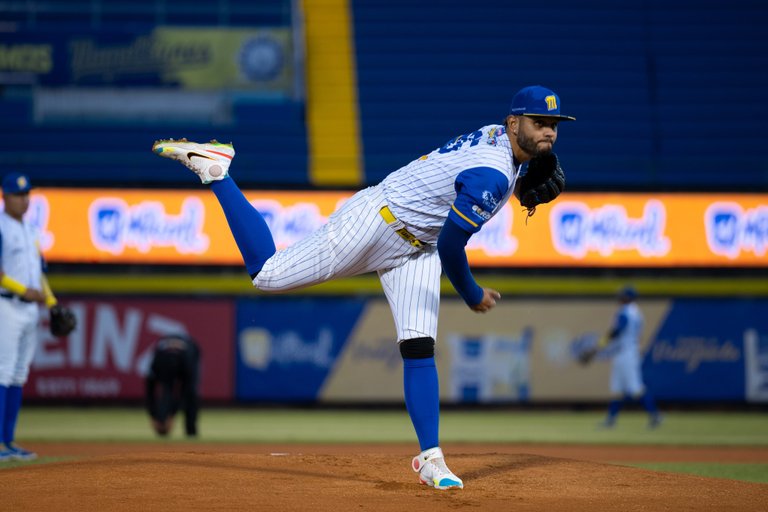 Fuente // Source
Opinión // Opinion
Cuando la presión es elevada se demuestra de qué está hecho un equipo y especialmente de que está hecho un manager, la situación que atraviesa el equipo del Cabriales no es la mejor, pero bajo máxima presión supo responder en estos dos últimos juegos.
El bateo estuvo presente para apoyar al pitcheo cuando este no lograba sacar el cero, los pitcher fueron sacados a tiempo cuando se vieron que no estaban 100% concentrados o no rendían lo esperado.
Este es el Magallanes que nos gustaría ver día a día, pese a las limitaciones de no contar con jugadores MLB, este equipo que vimos se asemeja mucho al equipo que salió campeón hace nueve meses atrás, esperemos que por el bien del espectáculo todos y cada uno de los integrantes se mantengan concentrado en lo suyo, hoy nos toca aplaudirlos de pie.
When the pressure is high, it shows what a team is made of and especially what a manager is made of, the situation that the Cabriales team is going through is not the best, but under maximum pressure they were able to respond in these last two games.
The batting was present to support the pitching when they were not able to get the zero, the pitchers were taken out on time when they were not 100% concentrated or did not perform as expected.
This is the Magallanes that we would like to see day by day, despite the limitations of not having MLB players, this team that we saw is very similar to the team that was champion nine months ago, let's hope that for the good of the show each and every one of the members stay focused on their own, today we have to applaud them standing up.
Texto traducido al inglés mediante DeepL // Text translated into English through DeepL
---
---