La pelea por el último boleto directo al Round Robin está cada vez reñida // The fight for the last direct ticket to the Round Robin is getting closer and closer[ESP // ENG]
Ha pasado casi una semana de mi último post sobre la temporada 2022-2023 de la LVBP, específicamente sobre el acontecer de mi equipo de toda la vida: Los Navegantes del Magallanes, esto debido a que entre semana fue realizado el sorteo de la Copa Libertadores 2023 y no quise dejar pasar la oportunidad de redactar sobre otro de los deportes que más me gusta, también he estado un poco ocupado en asuntos familiares típicos de estas fechas decembrinas.
It's been almost a week since my last post about the 2022-2023 season of the LVBP, specifically about the happenings of my lifelong team: Los Navegantes del Magallanes, this because during the week the draw for the Copa Libertadores 2023 was held and I did not want to miss the opportunity to write about another of the sports I like the most, I have also been a little busy with family matters typical of this holiday season.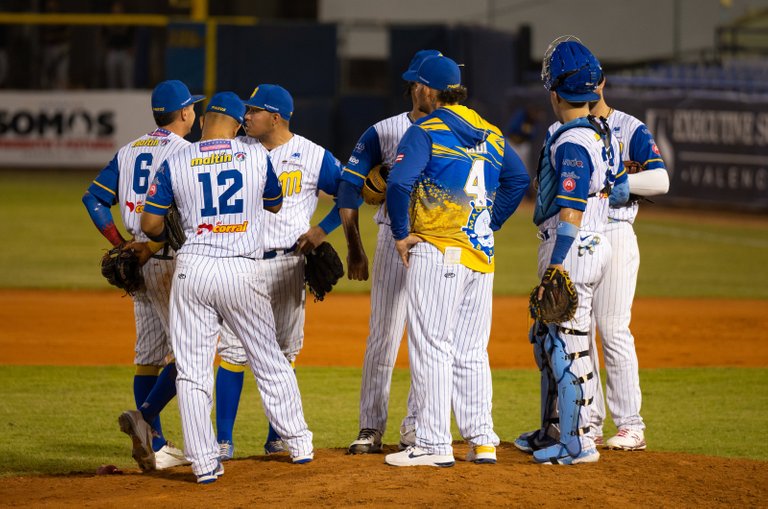 Fuente // Source
Pero volvamos al tema, desde el domingo hasta la noche de hoy, viernes 23 de diciembre, la Nave ha afrontado cinco compromisos de los cuales logró ganar en tres ocasiones, sin embargo, a pesar de ser positiva la marca el no haber podido ganarle los dos juegos a los Bravos de Margarita ha complicado mucho el panorama para clasificar de manera directa a la siguiente fase del béisbol criollo.
El pasado domingo, los turcos cayeron de local (4-2) ante la Barra Brava, debido a que el abridor Ricardo Sánchez no pudo mantener la ventaja que había obtenido el equipo desde la parte baja de la primera entrada, situación que quizás se pudo haber evitado si el manager no lo fuera dejado lanzar ese sexto inning, donde recibió dos anotaciones, pero tampoco podemos achacar toda la culpa a Ricardo o Yadier, porque la ofensiva se divorció con el batazo oportuno.
But let us return to the subject, from Sunday until tonight, Friday, December 23, La Nave has faced five games of which it managed to win on three occasions; however, despite the positive record, not having been able to win both games against the Bravos de Margarita has complicated the outlook to qualify directly to the next phase of Venezuelan baseball.
Last Sunday, the Turcos lost at home (4-2) against Barra Brava, because the starter Ricardo Sanchez could not maintain the advantage that the team had obtained since the bottom of the first inning, a situation that could have been avoided if the manager had not let him pitch that sixth inning, where he received two runs, but we cannot put all the blame on Ricardo or Yadier, because the offense was divorced with the opportune batting.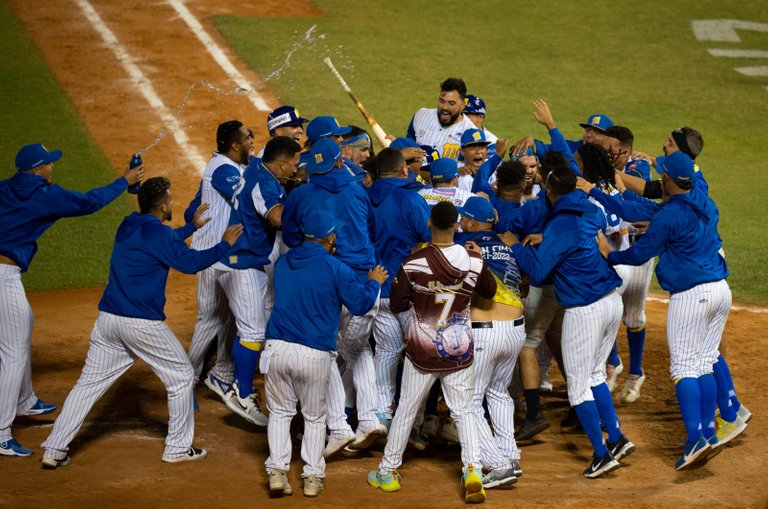 Fuente // Source
Con la presión de ganar o ganar el martes ante los insulares, el equipo respondió de gran forma, los batazos llegaron y Magallanes se pudo traer la victoria del Fórum La Guaira (7-1), el trabajo colectivo fue excepcional, solo Daniel Mayora no logró participar directamente en la anotación de algunas de las carreras y los cuatro lanzadores que se posaron en la lomita no pudieron tener una mejor presentación.
La situación se complicó el día miércoles, La Carabela cayó (5-1) ante Cardenales de Lara y los Bravos vencieron a Tiburones de La Guaira en los juegos pautados ese día, esto volvió a poner la situación muy complicada, ya que pasaron de depender de sí mismos a ligar resultados en otros parques.
Pasada la página y nuevamente con la presión al máximo, los comandados por Yadier Molina lograron barrer a Caribes de Anzoátegui (8-9 y 4-8) los días jueves y viernes, respectivamente. Permitiendo así que los actuales campeones retomen la seguridad de saber que si ganan los juegos que le quedan estarán directamente en el Round Robin, gracias a que las Águilas de Zulia contra todo pronóstico pudo ganar uno de los dos juegos que disputó ante los margariteños.
With the pressure to win or win on Tuesday against the islanders, the team responded in a great way, the hits came and Magallanes was able to bring the victory from Forum La Guaira (7-1), the collective work was exceptional, only Daniel Mayora could not participate directly in the scoring of some of the runs and the four pitchers who were on the mound could not have a better performance.
The situation became more complicated on Wednesday, La Carabela lost (5-1) against Cardenales de Lara and the Bravos defeated Tiburones de La Guaira in the games scheduled for that day, this made the situation very complicated again, since they went from depending on themselves to having to depend on results in other parks.
Once the page was turned and the pressure was back on, the team led by Yadier Molina managed to sweep Caribes de Anzoátegui (8-9 and 4-8) on Thursday and Friday, respectively. This allowed the current champions to regain the security of knowing that if they win their remaining games they will be directly in the Round Robin, thanks to the fact that the Águilas de Zulia, against all odds, were able to win one of the two games they played against the Margaritans.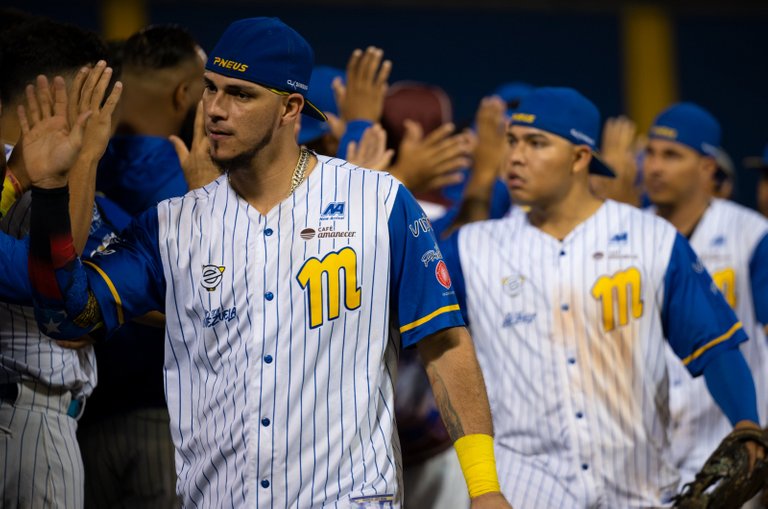 Fuente // Source
Opinión // Opinion
Mi pensamiento ha sido constante, el mayor obstáculo de este equipo son ellos mismos, porque han demostrado que le pueden vencer a cualquiera siempre y cuando el juego sea vital, esto me hace pensar que el mayor problema del conjunto magallanero es que suele confiarse mucho y eso termina pasando factura en compromisos que en los papeles eran más fáciles de ganar.
A Magallanes le quedan solo dos juegos, uno de visitante ante Cardenales el lunes 26 y el otro de local ante Tiburones el martes 27 de diciembre, en cambio a Bravos le queda cuatro cotejos, el primero ante Leones, después un doble juego ante Tigres y finalmente el último juego sería el miércoles 28 ante Tiburones. La clave de la clasificación pasará por ganar los dos juegos que quedan, sino tocará ligar a que los Bravos trastabillen en su intento de ganar sus cuatro juegos, esa serie de dos ante Tigres será vital para los insulares.
Gracias a Navidad tendremos dos días de merecido descanso, espero puedan disfrutar estos días con sus familiares y amigos, desde esta pequeña ventana que me da Hive y esta hermosa comunidad de @fulldeportes, les deseo a todos unas muy felices fiestas.
My thought has been constant, the biggest obstacle of this team is themselves, because they have shown that they can beat anyone as long as the game is vital, this makes me think that the biggest problem of the Magallanes team is that they tend to be overconfident and that ends up taking its toll in games that on paper were easier to win.
Magallanes has only two games left, one away against Cardenales on Monday 26 and the other one at home against Tiburones on Tuesday December 27, while Bravos has four games left, the first one against Leones, then a double game against Tigres and finally the last game on Wednesday 28 against Tiburones. The key to qualification will be to win the two remaining games, otherwise it will be up to the Bravos to stumble in their attempt to win their four games, that two-game series against Tigres will be vital for the islanders.
Thanks to Christmas we will have two days of well-deserved rest, I hope you can enjoy these days with your family and friends, from this small window that gives me Hive and this beautiful community of @fulldeportes, I wish you all a very happy holiday season.
Texto traducido al inglés mediante DeepL // Text translated into English through DeepL
---
---