¿Seguirán el ejemplo que Caracas dio? // Will they follow the example set by Caracas? [ESP-ENG]
Ante la posibilidad de un tricampeonato compartido entre los Navegantes del Magallanes, Trotamundos de Carabobo y el Carabobo F.C. este año, me surgió una duda: ¿Alguna vez, los equipos más importantes de un estado han quedado campeones en mismo lapso anual?, la respuesta es sí.
With the possibility of a shared tricampeonato between Navegantes del Magallanes, Trotamundos de Carabobo and Carabobo F.C. this year, a doubt arose in my mind: Have the most important teams of a state ever been champions in the same annual period? The answer is yes.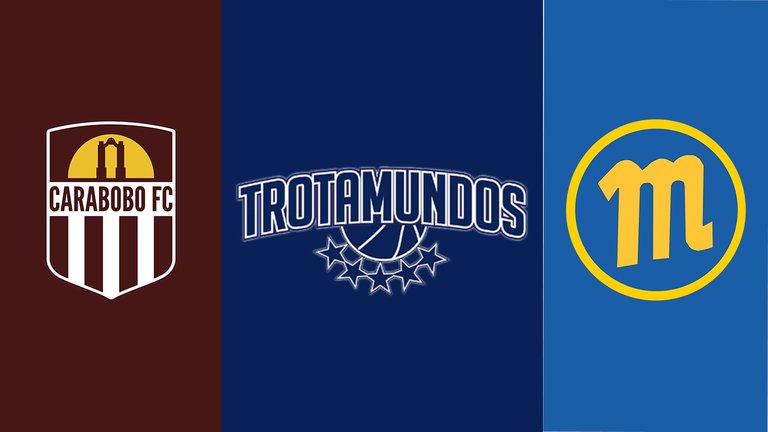 Imagen editada por mi en Adobe Photoshop
Tras realizar una breve investigación y chequear el palmarés de los equipos campeones de la primera categoría del béisbol, baloncesto y fútbol profesional venezolano, pude comprobar que una sola vez en la historia deportiva nacional los equipos más importantes de una región alzaron los trofeos de dichas disciplinas en un mismo año.
Por allá en el 2010, Leones del Caracas, Cocodrilos de Caracas y el Caracas F.C. se coronaron campeones nacionales al consagrarse en la temporada 2009/10 de la Liga Venezolana de Béisbol Profesional, de la temporada 2010 de la Liga Profesional de Baloncesto y de la temporada 2009/10 de la Primera División del fútbol venezolano, respectivamente.
After conducting a brief research and checking the track record of the champion teams of the first category of Venezuelan professional baseball, basketball and soccer, I was able to verify that only once in the history of national sports did the most important teams of a region win the trophies of these disciplines in the same year.
Back in 2010, Leones del Caracas, Cocodrilos de Caracas and Caracas F.C. were crowned national champions in the 2009/10 season of the Venezuelan Professional Baseball League, the 2010 season of the Professional Basketball League and the 2009/10 season of the First Division of Venezuelan soccer, respectively.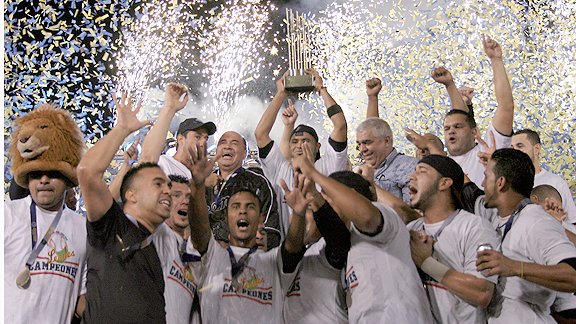 Fuente
Los Melenudos fueron los primeros en obtener el título
Leones del Caracas se consagró campeón de la LVBP 2009/10 en una final muy reñida ante su eterno rival, Navegantes del Magallanes.
La Gran Final que cautivo a todo un país inició en Valencia con dos victorias para el Home Club, luego se trasladó a la capital, donde los Leones consiguieron igualar la serie (2-2). A pesar de ello, tuvieron que regresar al estadio José Bernardo Pérez con un juego de desventaja al perder en el quinto compromiso.
En el parque valenciano «Los Melenudos» tuvieron un desenlace soñado, al lograr la victoria en el sexto y séptimo juego, para de esta manera alzar el título número 20 de su historia y con la añadidura de ser el primero ante su archirrival.
The Melenudos were the first to win the title
Leones del Caracas was crowned champion of the 2009/10 LVBP in a very close final against their eternal rival, Navegantes del Magallanes.
The Grand Final that captivated an entire country began in Valencia with two victories for the Home Club, then moved to the capital, where the Leones managed to even the series (2-2). In spite of this, they had to return to the José Bernardo Pérez stadium with a one-game disadvantage after losing in the fifth game.
In the Valencian park, "Los Melenudos" had a dream outcome by winning the sixth and seventh games, thus winning the 20th title in their history and with the added bonus of being the first against their arch-rivals.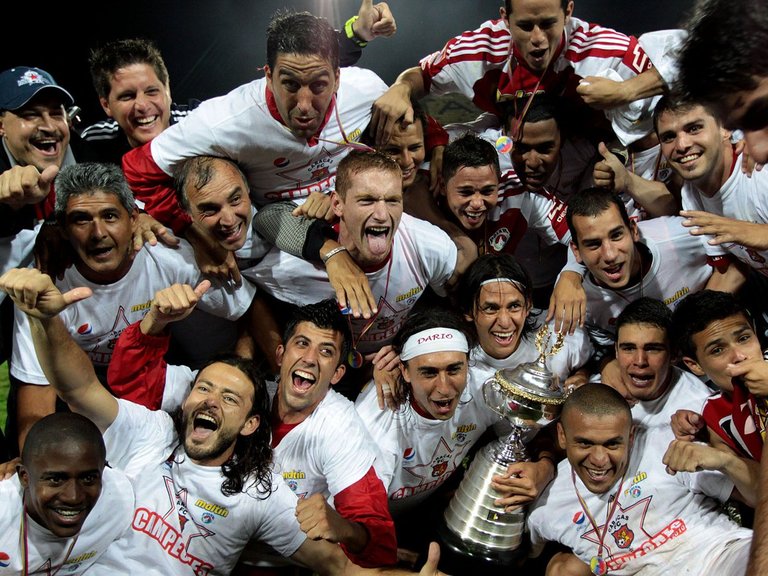 Fuente
El Rojo continuó la fiesta
Caracas F.C. obtuvo la estrella de la Primera División del fútbol venezolano al derrotar en dos juegos al Deportivo Táchira.
El título más importante del balompié en Venezuela también se definió en una final entre los dos equipos más importantes de la disciplina.
La ida se disputó en el estadio Olímpico de la Universidad Central de Venezuela y finalizó con victoria por la mínima (1-0) para los locales. Mientras que la vuelta en el Polideportivo de Pueblo Nuevo, terminó de consagrar a «Los Rojo del Ávila» que logró golear (1-4) al conjunto aurinegro en su feudo, para así conseguir su decimoprimera estrella en el FUTVE.
El Rojo continued the party
Caracas F.C. won the Venezuelan First Division soccer star by defeating Deportivo Táchira in two games.
The most important title in Venezuelan football was also defined in a final between the two most important teams in the discipline.
The first leg was played at the Olímpico stadium of the Universidad Central de Venezuela and ended with a 1-0 victory for the locals. The second leg at the Polideportivo de Pueblo Nuevo, meanwhile, ended in a 4-1 victory for "Los Rojo del Ávila", who defeated the Aurinegros at home to win their eleventh star in the FUTVE.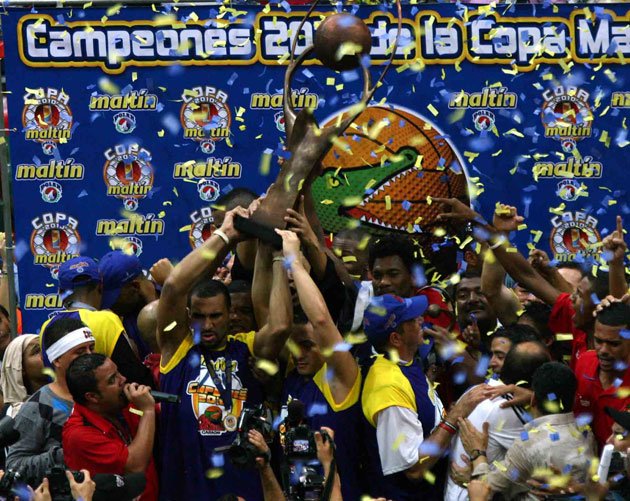 Fuente
Los Saurios pusieron la guinda al pastel
Cocodrilos de Caracas fue el último de los tres equipos capitalinos en conseguir el título, al derrotar a Marinos de Anzoátegui en una épica final.
La serie finalizó tras la culminación del sexto juego en el Parque Naciones Unidas, donde «Los Saurios» llegaron con ventaja de 3 victorias y 2 derrotas.
Lo que fue el último compromiso de la temporada, se terminó definiendo en un tiempo extra, donde los importados del conjunto capitalino tomaron la batuta y le brindaron a la fanaticada sauria el cuarto campeonato al derrotar (111-102) al Acorazado Oriental.
Los Saurios put the icing on the cake
Cocodrilos de Caracas was the last of the three capital teams to win the title, defeating Marinos de Anzoátegui in an epic final.
The series ended after the completion of the sixth game at Parque Naciones Unidas, where "Los Saurios" came with an advantage of 3 wins and 2 losses.
What was the last game of the season, ended up being defined in overtime, where the imported players of the capital team took the baton and gave the Saurian fans the fourth championship by defeating (111-102) the Acorazado Oriental.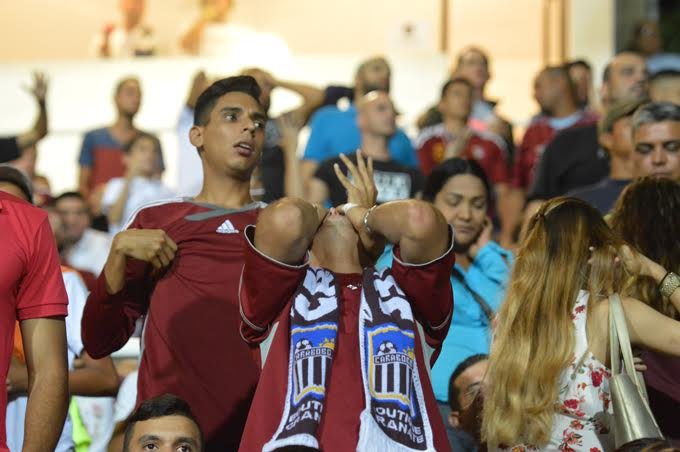 Fuente
El sueño carabobeño
Para todos los fanáticos regionalistas del estado Carabobo es un sueño ver triunfar a los tres equipos más importantes del estado, esa pequeña esperanza que se veía tan lejana y apagada hace un par de años, hoy ha aflorado nuevamente y está más viva que nunca, tras lo realizado en la última jornada de la fase regular del fútbol venezolano por el Carabobo FC y por el gran trabajo que vienen haciendo las juntas directivas de los equipos.
Magallanes ya realizó la tarea, solo queda esperar qué pasará con Trotamundos en la SPB y «El Grana» en la Liga Futve.
Como despedida les dejo la siguiente pregunta: ¿Cree usted que tendremos otro tricampeonato regional o alguno de los dos fallará, y entonces Caracas quedará al menos un año más como la única región que ha visto coronarse a sus tres equipos más importantes?
The Carabobo dream
For all the regionalist fans of the state of Carabobo it is a dream to see the three most important teams of the state succeed, that small hope that seemed so far away and extinguished a couple of years ago, today has surfaced again and is more alive than ever, after what was done in the last day of the regular phase of Venezuelan soccer by Carabobo FC and by the great work that the boards of directors of the teams have been doing.
Magallanes has already done the task, it only remains to wait what will happen with Trotamundos in the SPB and "El Grana" in the Futve League.
As a farewell I leave you with the following question: Do you think we will have another three-time regional championship or will one of the two fail, and then Caracas will remain at least one more year as the only region that has seen its three most important teams crowned?
Translation: DeepL
---
---