Tres de tres: El campeón está de vuelta // Three out of three: The champion is back [ESP//ENG]
Desde la última derrota el pasado jueves, 1 de diciembre, Magallanes suma tres triunfos al hilo, el primero ante los Leones del Caracas (14-15), el segundo y tercero ante las Águilas del Zulia (7-9 y 1-2). Todo esto tras el regreso de los peloteros con contratos en MLB.
Since the last defeat last Thursday, December 1, Magallanes has three wins in a row, the first against the Leones del Caracas (14-15), the second and third against the Águilas del Zulia (7-9 and 1-2). All this after the return of the players with MLB contracts.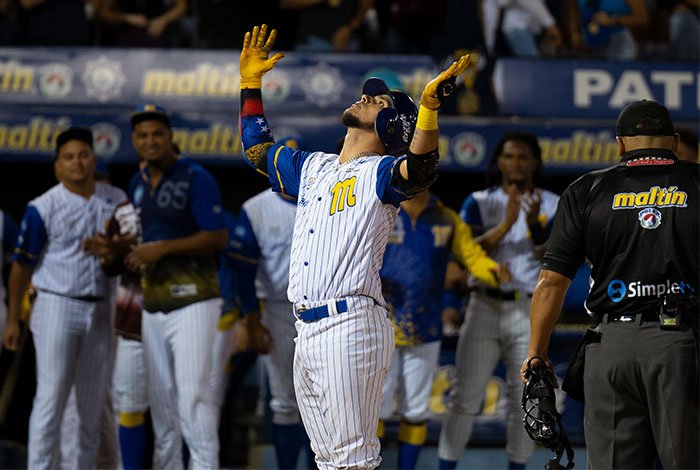 Fuente // Source
Victoria antológica // Anthological victory
El espectáculo que inició el viernes y finalizó en la madrugada del sábado entre Caracas y Magallanes, fue el mejor juego de pelota entre los eternos rivales en los últimos años, aunque la victoria se quedó en casa, hasta los fanáticos melenudos se fueron satisfechos con la actuación de sus peloteros.
Y es que los locales llegaron al noveno episodio ganando por cinco carreras de diferencia (5-10), pero el conjunto capitalino no se dió por vencido y logró remontar la partida, el marcador al momento de batear Magallanes marcaba un increíble 12 a 10.
Esta situación obligó que los filibusteros buscarán sí o sí remontar o al menos empatar y lograron hacer lo último, aprovecharon que Anthony Castro entró descontrolado al bolear a tres bateadores de manera seguida.
Ya en extrainnings apoyados por el corredor emergente que es colocado por regla ambas novenas anotaron carreras, mientras que los Leones pasaron por la registradora a dos corredores, la Carabela pasó a tres para dejar a la visita en el terreno.
The show that began on Friday and ended in the early hours of Saturday morning between Caracas and Magallanes, was the best ball game between the eternal rivals in recent years, although the victory stayed at home, even the Melenudos fans were satisfied with the performance of their players.
The locals reached the ninth episode leading by five runs (5-10), but the team from the capital did not give up and managed to come back, the score at the time of Magallanes' batting was an incredible 12-10.
This situation forced the Filibusteros to look for a comeback or at least a tie and they managed to do the latter, taking advantage of Anthony Castro's uncontrolled run when he hit three batters in a row.
In extra innings, both teams scored runs, while the Leones put two runners through the register, the Carabela put three through to leave the visitors in the field.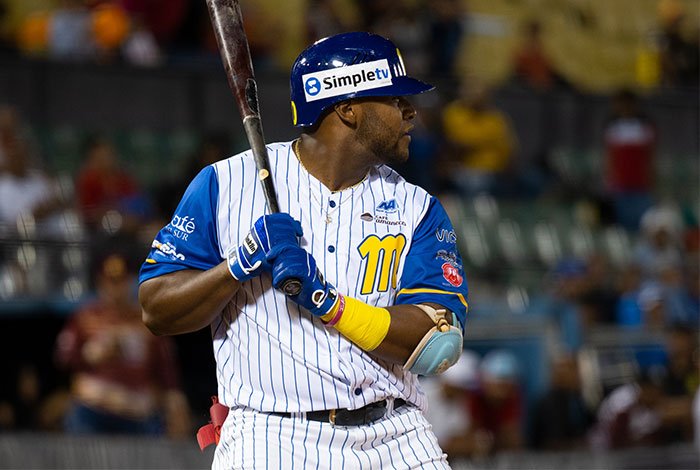 Fuente // Source
Otra noche de batazos // Another night of batting
El sábado también hubo un duelo de alto calibre, donde las Águilas lograron remontar en el séptimo inning, sin embargo, la artillería de la nave estuvo bien calibrada para responder con cinco anotaciones en la parte baja y retomar la ventaja.
Con el marcador 6 a 9 la visita lo intentó remontar en par de ocasiones, a pesar de anotar una en el noveno ante los envíos de Ederson Franco, este último logró dominar a Alí Castillo con un rodado que finalizó el encuentro al concretarse la doble matanza.
On Saturday there was also a high caliber duel, where the Águilas managed to come back in the seventh inning, however, the ship's artillery was well calibrated to respond with five runs in the bottom half and retake the lead.
With the score 6-9, the visitors tried to come back on a couple of occasions, despite scoring one in the ninth on Ederson Franco's delivery, the latter managed to dominate Alí Castillo with a ground ball that ended the game with the double kill.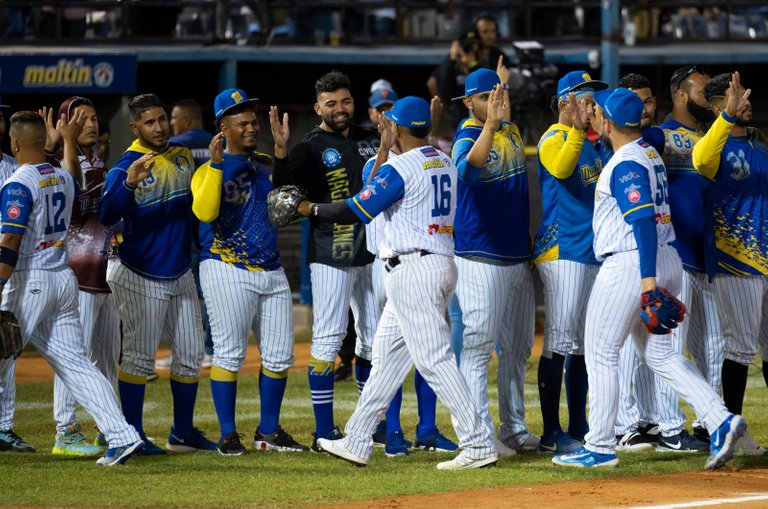 Fuente // Source
Sacando la escoba // Sacando la escoba
Al siguiente día el juego finalizó con el mismo ganador (Navegantes del Magallanes), aunque el trayecto fue muy distinto a lo visto la noche anterior.
En un duelo de picheo entre Porfirio López y Yohander Méndez, donde los dos lograron sacar 6.0 y 6.1 entradas, respectivamente, solo el zuliano recibió una rayita, sin embargo, terminó el juego sin decisión, ya que las Águilas igualaron en el séptimo tramo.
La carrera de la victoria fue traída al plato por uno de los grandes ligas recién ingresados a la nomina, Luis Torrens, en el octavo episodio.
The following day, the game ended with the same winner (Navegantes del Magallanes), although the game was very different from the previous night.
In a pitching duel between Porfirio López and Yohander Méndez, where both pitched 6.0 and 6.1 innings, respectively, only the Zuliano received one run, however, he finished the game without a decision, since the Águilas equalized in the seventh inning.
The winning run was brought to the plate by one of the new major leaguers, Luis Torrens, in the eighth inning.
Texto traducido al inglés mediante DeepL // Text translated into English through DeepL
---
---