(ESP-ENG) Conclusiones del inicio de temporada!
Hola amigos, buenas vibras para todos.
Hello friends, good vibes to all.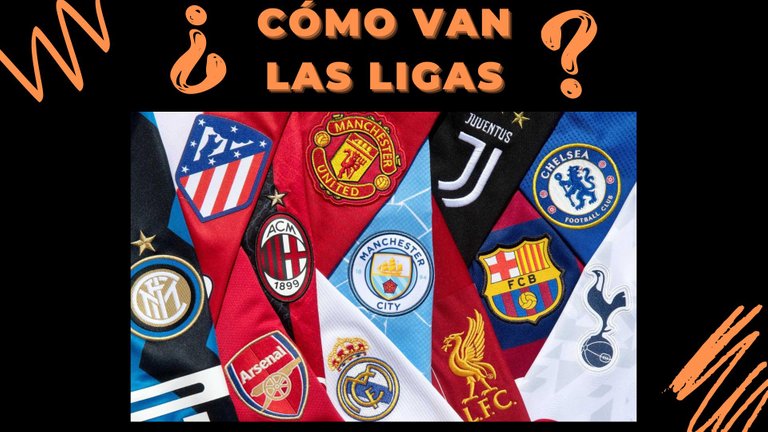 Source! -- Imagen editada en Canva.
Hace dos semanas el telón subió en Europa para dar paso al inicio de la temporada 2023-2024, a lo largo de estos días hemos visto más o menos como se han ido desenvolviendo las diferentes ligas con sus respectivos clubes y aunque es muy temprano para sacar conclusiones algo se ha visto que nos permita comentar un poco. Un comienzo de temporada marcado por un mercado de fichajes no voy a decir que desigual pero si condicionado por el excesivo dinero de los árabes a tal punto que algunos de los nombres más relevantes han dejado el viejo continente para irse a probar suerte a tierras arábicas. Aún así con este mercado que todavía no cierra ya llevamos dos jornadas, en Italia y Alemania una sola, y se han visto cosas.
Two weeks ago the curtain went up in Europe to give way to the start of the 2023-2024 season, throughout these days we have seen more or less how the different leagues have been developing with their respective clubs and although it is too early to draw conclusions something has been seen that allows us to comment a little. The beginning of the season has been marked by a transfer market that has been conditioned by the excessive Arabian money to such an extent that some of the most important names have left the old continent to try their luck in Arabian lands. Even so, with this market that has not yet closed, we have already spent two matchdays, in Italy and Germany only one, and things have been seen.
Empecemos por la Premier League en donde en esta última jornada vimos como el City, Arsenal y un sorprendente Brighton, quien va líder, mantuvieron la senda de la victoria y se mantienen invictos con 6 puntos. Los de Guardiola le ganaron a un Newcastle desconocido, inactivo y sin llegada. Se llevaron el triunfo por 1-0 con un gran gol de Julián Álvarez. Al City no lo veo engranado, Haaland muy intermitente, por momentos se nota la ausencia tanto de De Bruyne como la de Bernardo Silva, funcionalmente no están en su mejor momento pero igual ganan. El Arsenal con lo justo al Crystal Palace en una visita dura y complicada con un gol de penal y un expulsado. Los dirigidos por Roy Hodgson se plantaron bien y nos dieron un buen partido pero al final Arteta y los suyos lograron el triunfo.
Let's start with the Premier League where in this last matchday we saw how City, Arsenal and a surprising Brighton, who is the leader, maintained their winning ways and remain undefeated with 6 points. Guardiola's team beat an unknown Newcastle, inactive and without goals. They won 1-0 with a great goal by Julian Alvarez. I don't see City as a team, Haaland is very intermittent, at times the absence of both De Bruyne and Bernardo Silva is noticeable, functionally they are not at their best but they still win. Arsenal just managed to beat Crystal Palace in a tough and complicated visit with a penalty goal and a player sent off. Roy Hodgson's team played well and gave us a good game but in the end Arteta and his team got the win.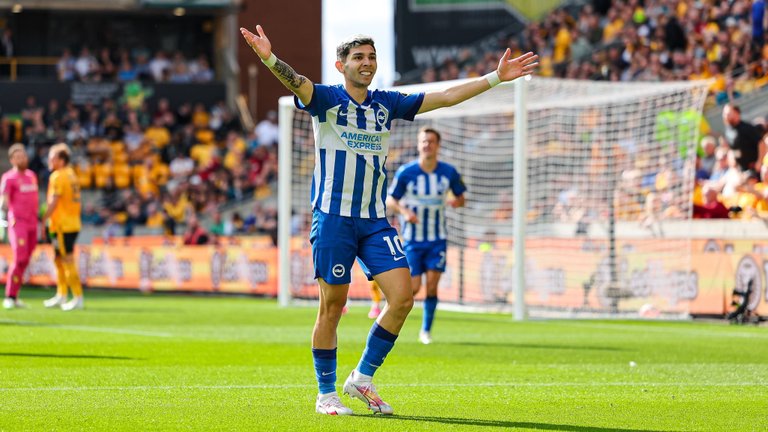 Pero si hay un equipo al que habría que ponerle el ojo, por lo menos en este inicio es al Brighton, un equipo que ha hecho 8 goles en dos partidos de la mano del extremo derecho Solly March. Hace poco ficharon al paraguayo Julio Inciso quien fue la figura del último encuentro con dos asistencias. Creo que lo poco que hemos visto de este club da para pensar que pueden que estén para estar arriba, el trabajo del italiano De Zerbi viene siendo muy bueno. Lo que no es tan bueno es el Chelsea que sigue declive total, después del partido contra el Liverpool de la primera fecha uno imaginaba que vería otra cara, no fue tan así, se fueron goleados 3-1 por el West Ham. El tema acá es que el partido estuvo muy igualado pero defensivamente al Chelsea le falta trabajo, fue un juego ida y vuelta en donde los blues erraron un penal pero cometieron otro y así perdieron en el tiempo de descuento.
But if there is one team to keep an eye on, at least at this early stage, it is Brighton, a team that has scored 8 goals in two games thanks to right winger Solly March. They recently signed Paraguayan Julio Inciso who was the star of the last game with two assists. I think that the little we have seen of this club gives us to think that they can be at the top, the work of the Italian De Zerbi has been very good. What is not so good is Chelsea, which is still in total decline, after the game against Liverpool on the first matchday one imagined that they would see another face, it was not so, they were beaten 3-1 by West Ham. The issue here is that the match was very even but defensively Chelsea lacks work, it was a back and forth game where the blues missed a penalty but committed another one and lost in stoppage time.
El Chelsea lleva 1 punto de seis, nada diferente a la temporada pasada. En otros resultados el Liverpool ganó sobrado y el United perdió contra el Tottenham, esto para mi fue una sorpresa. Mucha inestabilidad es lo que veo en la Premier en estas primeras fechas como es normal y lógico, al único equipo que veo sólido es al Brighton porque de resto todos tienen cosas que corregir. Nos vamos a España en donde el Real Madrid sigue siendo una maquina bien engrasada liderados por Bellingham quien lleva 3 goles en dos partidos. Los merengues están jugando bien, Ancelotti está rotando el medio campo entre Kroos, Camavinga, Modric y Valverde y de momento le ha salido bien. Uno pensaría que no les hace falta un 9 pero yo creo que si, un referente en el área de nombre es muy necesario por más goles que puedan garantizar Vinicius y Rodrygo.
Chelsea have 1 point from six, no different to last season. In other results, Liverpool won with a comfortable win and United lost against Tottenham, this was a surprise for me. A lot of instability is what I see in the Premier League in these first dates as it is normal and logical, the only team that I see solid is Brighton because the rest all have things to correct. We go to Spain where Real Madrid continues to be a well-oiled machine led by Bellingham who has 3 goals in two games. The Merengues are playing well, Ancelotti is rotating the midfield between Kroos, Camavinga, Modric and Valverde and so far it has worked out well. One would think that they do not need a 9 but I think they do, a reference in the penalty area is very necessary for more goals that Vinicius and Rodrygo can guarantee.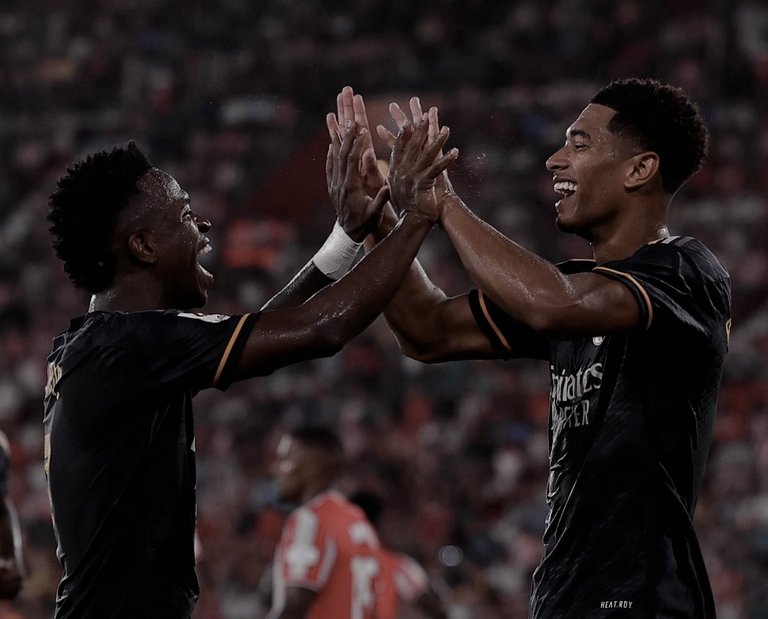 Por otro lado el Barcelona se vio ante el Cádiz en un partido con un arbitraje lamentable en donde el portero de los visitantes, Ledesma, fue la figura del encuentro. Por parte de los culés diría que Pedri, Yamal y Gündoğan fueron los más destacados. Lewandowski viene con la pólvora mojada, no está atravesando su mejor momento al punto que fue Ferrán Torres el que hizo uno de los goles. Le costó mucho al Barcelona hacer los tantos a pesar de tener el dominio y varias ocasiones, en los dos partidos de Liga hemos visto lo mismo, pareciera que falta intención y movilidad de media cancha hacia adelante. Y otra cosa a mencionar es que el mejor funcionamiento se da cuando entran los jóvenes, Abde, Ansu Fati, etc; algo está pasando con los "habituales" que no están saliendo las cosas. No se pero hay algo que en Oriol Romeu que no me termina de convencer, por instantes los hace bien pero después se pierde en el campo y esa media saga queda desprotegida.
On the other hand, Barcelona faced Cadiz in a match with a lamentable refereeing in which the goalkeeper of the visitors, Ledesma, was the star of the match. On the part of the Culés I would say that Pedri, Yamal and Gündoğan were the most outstanding. Lewandowski comes with wet powder, he is not going through his best moment to the point that it was Ferrán Torres who scored one of the goals. It was very difficult for Barcelona to score goals despite having dominance and several chances, in the two league games we have seen the same thing, it seems that there is a lack of intention and mobility from the midfield forward. And another thing to mention is that the best performance is when the youngsters come in, Abde, Ansu Fati, etc; something is happening with the "regulars" that things are not working out. I don't know but there is something about Oriol Romeu that doesn't convince me, he does well at times but then he gets lost in the field and the midfield is unprotected.
A destacar lo del Sevilla que de 6 puntos están en cero y el Valencia que llevan dos victorias también, un equipo que fue increíblemente irregular la temporada pasada. En líneas generales tenemos a un Madrid haciendo de momento las cosas bien y de manera contundente, un Barca que le está costando encontrar su juego asociado, no es casualidad que se le encierren atrás y no sean capaces de encontrar los caminos para el gol y pues por ahora un Valencia y Atlético tratando de mantenerse en lo más alto. Creo que la liga española puede que termine estando más igualada que lo habitual, no veo esa diferencia abismal de equipos que se veía hace 15 años, honestamente espero que así sea por el bien del espectáculo.
It is worth mentioning Sevilla, who are on zero points out of 6, and Valencia, who also have two wins, a team that was incredibly irregular last season. In general terms we have a Madrid doing things well for the moment and in a convincing way, a Barca that is finding it hard to find its associated game, it is no coincidence that they are locked behind and are not able to find ways to score and for now Valencia and Atletico trying to stay at the top. I think the Spanish league may end up being more equal than usual, I do not see that abysmal difference in teams that was seen 15 years ago, I honestly hope so for the sake of the show.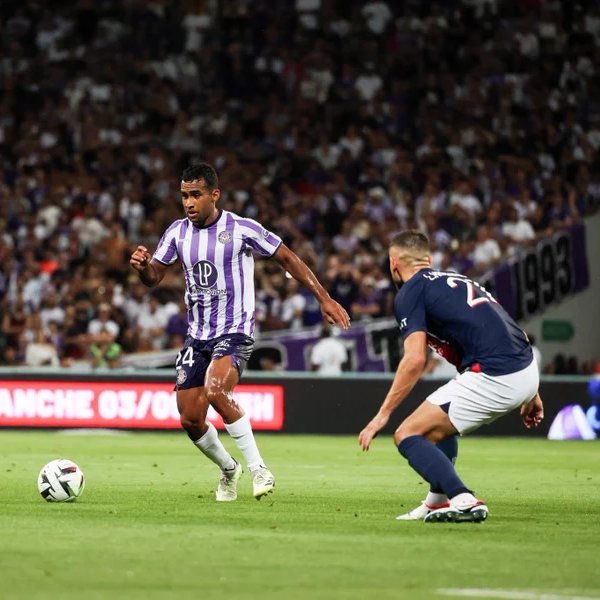 Ese jugador que ven allí es Cristian Casseres Jr, un venezolano que jugó el pasado fin de semana contra el PSG en donde empataron 1-1. El Toulouse lleva 4 de seis puntos ya que lograron rasguñar el empate ante los dirigidos por Luis Enrique. El equipo de segunda, como me gusta llamar al PSG, no han sido capaces de conocer lo que es una victoria aún, si bien es verdad que durante los dos partidos han sido superiores el gol parece que está divorciado de ellos. Con un equipo totalmente distinto y una mentalidad de fichajes también diferente o por lo menos esa es la impresión, buscan mantener las esperanzas de hacer una buena temporada después de la marcha de Messi y Neymar y unos cuantos más.
That player you see there is Cristian Casseres Jr, a Venezuelan who played last weekend against PSG in a 1-1 draw. Toulouse has 4 out of six points as they managed to scrape a draw against Luis Enrique's side. The second team, as I like to call PSG, have not been able to know what a win is yet, although it is true that during the two games they have been superior the goal seems to be divorced from them. With a totally different team and a different signing mentality as well or at least that is the impression, they are looking to keep their hopes of having a good season after the departure of Messi and Neymar and a few others.
En cuanto a la Serie A y a la Bundesliga, honestamente no hubo sorpresa, ganaron los que en teoría todos los que tenían que hacerlo además de que solo va una fecha de campeonato. Honestamente no veo el futbol italiano, muy rara vez me lanzo un partido completo, nunca me ya llamado la atención. Mismo caso con la Bundesliga, hay mucho nivel pero para mi no se comparan con la Premier ni con la propia Liga de España. Por los momentos hasta acá lo dejo, no quiero hacer más extenso esto por lo que solo traje lo más relevante.
As for Serie A and the Bundesliga, honestly there was no surprise, in theory all the teams that were supposed to win won, besides the fact that there is only one date left in the championship. Honestly I don't watch Italian soccer, I rarely watch a complete match, it has never caught my attention. Same case with the Bundesliga, there is a lot of level but for me it doesn't compare with the Premier League or the Spanish League itself. For the time being I'll leave it here, I don't want to make this more extensive so I only brought the most relevant.
Bueno mi gente por hoy es todo, espero que les haya gustado.
¡Un abrazo a todos, nos leemos en la próxima!
Well my people that's all for today, I hope you liked it.
¡Hugs to all, see you next time!
---
---