(ESP-ENG) De alta tensión, el Liverpool a un paso del poker // High voltage, Liverpool one step away from poker.
Hola amigos, buenas vibras para todos.
Hello friends, good vibes to all.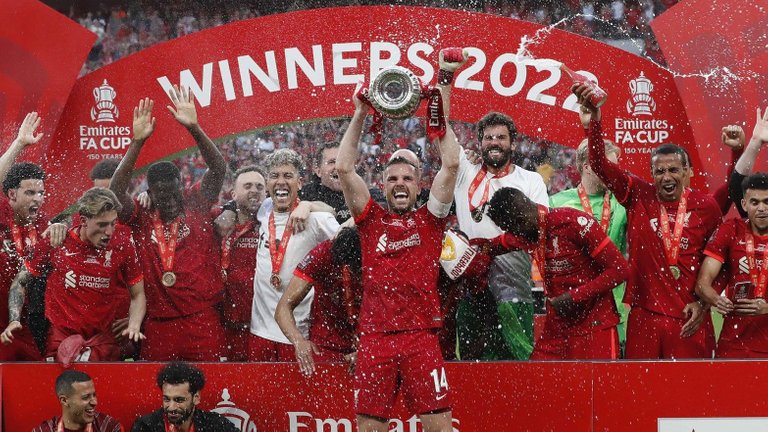 Lo que ha venido haciendo el Liverpool en esta temporada es algo realmente impresionante y eso se traduce en que a estas alturas son el único equipo que está optando y que se puede llevar el pleno de títulos en una temporada o el más conocido triplete. El último en lograrlo fue el Bayern en la temporada 19/20 cuando le ganó la final de la Champions al PSG por marcador de 1-0. Ciertamente no es un camino fácil porque todavía no tiene garantizado dos de las competencias que le quedan, la primera que sería la Premier que se define este domingo y en la que no dependen enteramente de ellos mismos y lógicamente la final de la Champions la cual es la semana que viene contra el Real Madrid.
What Liverpool have been doing this season is really impressive and that translates into the fact that at this point they are the only team that can win a full set of titles in a season or the better known treble. The last one to achieve it was Bayern in the 19/20 season when they beat PSG in the Champions League final by a score of 1-0. It is certainly not an easy road because they still have not guaranteed two of the remaining competitions, the first one which would be the Premier League which is defined this Sunday and in which they do not depend entirely on themselves and logically the final of the Champions League which is next week against Real Madrid.
Hoy por hoy se puede decir y no hay dudas de ello que este Liverpool dirigido por Klopp es el mejor equipo del mundo o por lo menos para mi lo es. Y no tanto por lo resultados que han obtenido, que obviamente importan, sino por el modo y nivel de juego desplegado a lo largo de la temporada, han sido un equipo sumamente constante, con ligeros baches en el camino pero ninguno grave, que ha sabido materializar la gran forma y plantel que tiene para llegar a donde están hoy en día.
Today it can be said and there is no doubt that this Liverpool team led by Klopp is the best team in the world or at least for me it is. And not so much for the results they have obtained, which obviously matter, but for the way and level of play displayed throughout the season, they have been an extremely consistent team, with slight bumps in the road but none serious, which has managed to materialize the great form and squad they have to get to where they are today.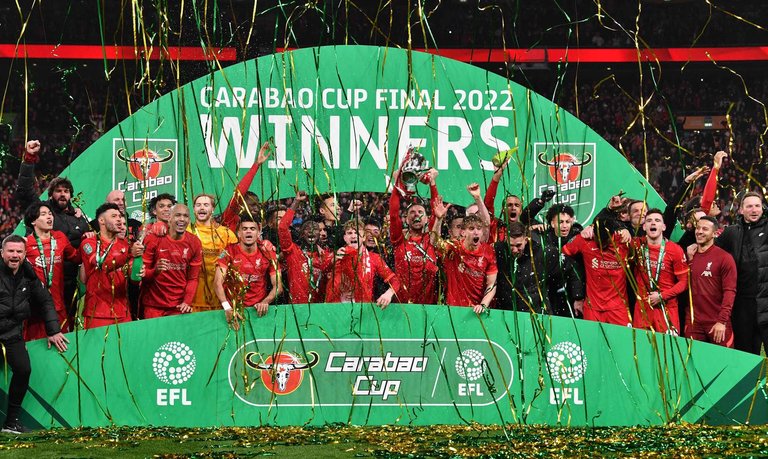 Si hay un equipo al que el Liverpool se la tiene aplicada en este temporada es sin ninguna duda el Chelsea ya que los dos títulos que hasta ahora llevan los Reds han sido obtenidos derrotando, y de la misma forma en ambos partidos, a los Blues dirigidos por Tuchel. El primero de esos encuentros fue por la Copa de la Liga el cual que se disputó hace casi dos meses y se definió por tandas de penales. Recuerdo que hasta el cobro de los penales fue cerrado ya que hicieron falta 21 lanzamientos desde el punto penal para definir todo siendo Kepa, el portero del Chelsea, el villano al estrellar el balón al poste.
If there is one team that Liverpool have had it in for this season, it is undoubtedly Chelsea, since the two titles that the Reds have won so far have been obtained by defeating, and in the same way in both matches, the Blues led by Tuchel. The first of those matches was for the League Cup which was played almost two months ago and was defined by penalty shootouts. I remember that even the penalty shootout was close as it took 21 kicks from the penalty spot to define everything with Kepa, Chelsea's goalkeeper, being the villain when he smashed the ball against the post.
Recuerdo que aquel partido fue muy pero muy parejo, siendo como es costumbre la posesión del balón para el Liverpool pero con el juego vertical del Chelsea ocasionando peligro cada vez que podía. Llevándose ese titulo ya el trabajo estaría un 25% listo, los jugadores y el mismo técnico nunca hablan de eso pero todos estamos seguros que el póker de trofeos es algo que muchos de esos jugadores, por no decir todos, tienen en mente y lograrlo tiene que ser el objetivo principal y general de todos.
I remember that game was very, very even, being as usual the possession of the ball for Liverpool but with the vertical game of Chelsea causing danger every time they could. The players and the coach himself never talk about it, but we are all sure that the trophy poker is something that many of those players, if not all, have in mind and achieving it has to be the main and general objective of all of them.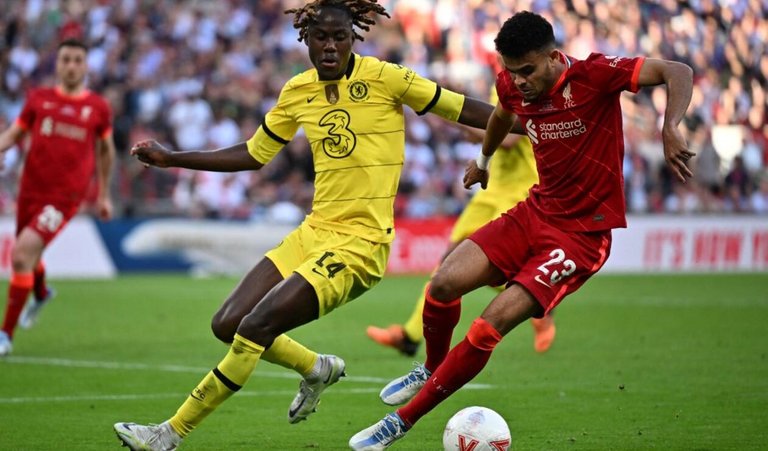 El segundo titulo en marcha sería la FA Cup la cual también tuvo como protagonistas al Liverpool y al Chelsea y la cual igualmente se decidiría a través de los tiros desde el punto penal. Siempre he comentado en estas líneas que el futbol no es de merecer sino del que hace los goles, pues en este partido si tenemos que hablar de merecimientos porque el Liverpool de la mano de Luis Diaz hicieron todo lo posible para llevarse la copa en el tiempo reglamentario pero no se pudo. Diaz es el mejor fichaje que he visto que haya un club en los últimos años, se que puede parecer exagerado pero todo lo que el colombiano ha aportado al equipo de Klopp es abismal: goles, desequilibrio, juego, posesión, verticalidad por la banda izquierda, en fin, un jugador que llegó a Inglaterra a hacer historia.
The second title in progress would be the FA Cup which also had as protagonists Liverpool and Chelsea and which would also be decided through kicks from the penalty spot. I have always commented in these lines that soccer is not about deserving but about the one who scores the goals, because in this match we have to talk about deserving because Liverpool with Luis Diaz did everything possible to win the cup in regulation time but it was not possible. Diaz is the best signing I have seen in a club in recent years, I know it may seem exaggerated but everything that the Colombian has contributed to Klopp's team is abysmal: goals, imbalance, play, possession, verticality on the left wing, in short, a player who came to England to make history.
La gran mayoría de las ocasiones de gol pasaron por los botines de "Lucho", sino fuera por el poste y por lo gran portero que es Mendy ese partido se hubiera definido en los primeros 90 minutos pero la pelota es redonda y como diría Quique Wolf es "caprichosa" también. Así que nos fuimos nuevamente a los penales, no tan extensos como los de la Copa de la Liga, pero igual de emocionantes. Esta vez los "villanos" fueron Azpilicueta y Mason Mount. No me imagino lo frustrante que debe de ser que en un periodo relativamente corto perder dos títulos y de la misma forma. Un golpe durísimo para el Chelsea.
If it weren't for the post and the great goalkeeper Mendy, that game would have been defined in the first 90 minutes, but the ball is round and as Quique Wolf would say, it is "capricious" as well. So we went to penalties again, not as long as in the League Cup, but just as exciting. This time the "villains" were Azpilicueta and Mason Mount. I can't imagine how frustrating it must be to lose two titles in the same way in a relatively short period of time. A huge blow for Chelsea.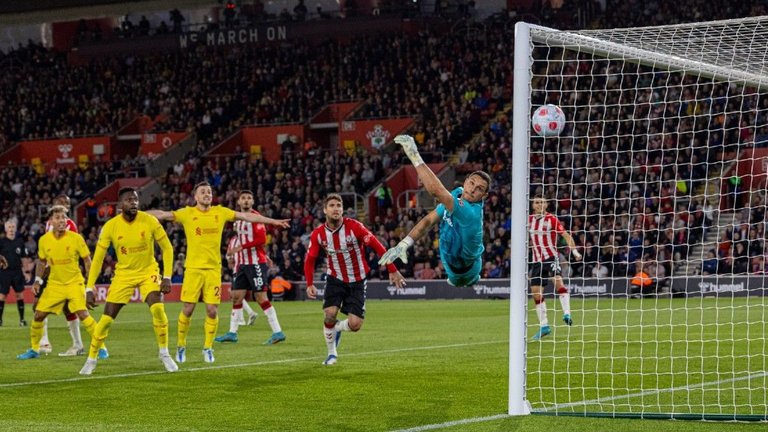 Y finalmente llegamos a la tercera competición, porque de la Champions ya hemos hablado un poco anteriormente, en la que la situación cambia radicalmente. Digo esto porque no dependen de ellos para llevarse la Premier. Un poco de contexto: este domingo se define todo, el Manchester City lidera la tabla con una diferencia de un solo punto por lo que tienen que ganar si o si. El morbo de la cosa cae en que su rival es el Aston Villa, dirigido por Steven Gerrard, quizás el jugador más querido del Liverpool en su historia y que por medio de sus jugadores puede darle el titulo a su equipo de la vida siempre y cuando los Reds hagan su trabajo también, lógicamente.
And finally we come to the third competition, because we have already talked a bit about the Champions League, where the situation changes radically. I say this because they do not depend on them to win the Premier League. A bit of context: this Sunday everything is defined, Manchester City leads the table with a difference of only one point so they have to win if or if not. The morbidity of the thing is that their rival is Aston Villa, led by Steven Gerrard, perhaps Liverpool's most beloved player in its history and that through his players can give the title to his team of life as long as the Reds do their job too, of course.
Ayer hicieron lo que les tocaba, le ganaron al Southampton por 2-1 en un partido que les tocó remontar y sin su once de gala. Aun así no fue ningún tipo de problema lograr llevarse el partido porque el rival, un equipo que no se jugaba absolutamente nada y que está de quinceavo en la tabla, nunca opuso resistencia; fue un juego de tramite para el Liverpool. Con esa victoria dejaría la mesa servida para el domingo para enfrentarse a los Wolves, un equipo de media tabla que lleva una racha de cinco partidos sin ganar y que no supondría un obstáculo.
Yesterday they did what they had to do, they beat Southampton 2-1 in a game they had to come from behind and without their first eleven. Even so, it was no problem at all to win the game because the rival, a team that was playing for absolutely nothing and that is fifteenth in the table, never put up any resistance; it was a game of routine for Liverpool. With that victory, the table would be set for Sunday's game against Wolves, a mid-table team on a five-game winless streak that would not be an obstacle.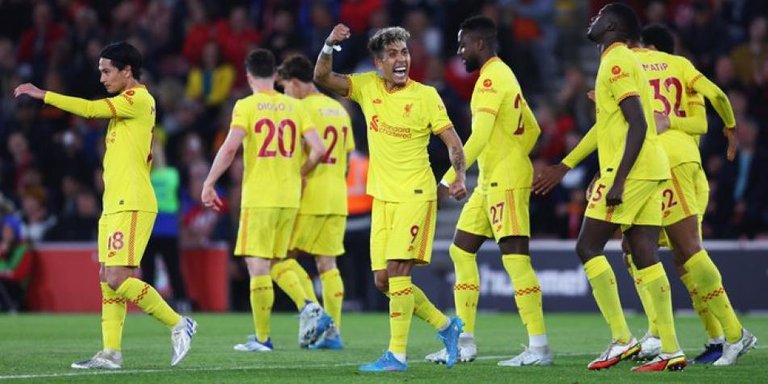 Lo que viviremos el domingo no es apto para cardiacos y para los fanáticos del futbol. El City que ha demostrado ser un equipo netamente de ligas y no tanto de copas va a buscar a toda costa ganar porque saben que es lo único que les sirve para llevarse otro titulo de la Premier. Y el Liverpool, esperando la ayuda de Gerrard y los suyos quienes están en el puesto 14 pero con tres partidos sin perder, también buscarán la victoria para así estar cada más cerca del objetivo final, arrasar con todo a su paso. Estoy convencido que ambos partidos echarán chispas porque si hay par de equipos no bajan los brazos con el City de Guardiola y el Liverpool.
What we will experience on Sunday is not suitable for cardiac and soccer fans. City, who have proven to be a team purely focused on leagues and not so much on cups, will be looking to win at all costs because they know that it is the only thing that will help them to win another Premier League title. And Liverpool, waiting for the help of Gerrard and his team, who are in 14th place but with three games unbeaten, will also be looking for a victory to get closer to their ultimate goal, to sweep away everything in their path. I am convinced that both games will spark because if there are a couple of teams that won't let their arms down, it will be Guardiola's City and Liverpool.
Esto que voy a decir si lo hago en tono personal pero por este lado si quisiera que el Liverpool se llevara la Premier. Creo que la temporada que están haciendo es merecedora de ese titulo junto con el de la Champions. Sin desmeritar a nadie pero bueno, ya estoy hablando como fanático del futbol que soy.
I am going to say this in a personal tone but I would like Liverpool to win the Premier League. I think the season they are having is worthy of that title along with the Champions League. No disrespect to anyone but hey, I'm speaking as a soccer fan myself.
Bueno mi gente por hoy es todo, espero que les haya gustado.
¡Un abrazo a todos, nos leemos en la próxima!
Well my people that's all for today, I hope you liked it.
¡Hugs to all, see you next time!
---
---