(ESP-ENG) El caos reinó en Marina Bay // Chaos reigned at Marina Bay!
Hola amigos, buenas vibras para todos.
Hello friends, good vibes to all.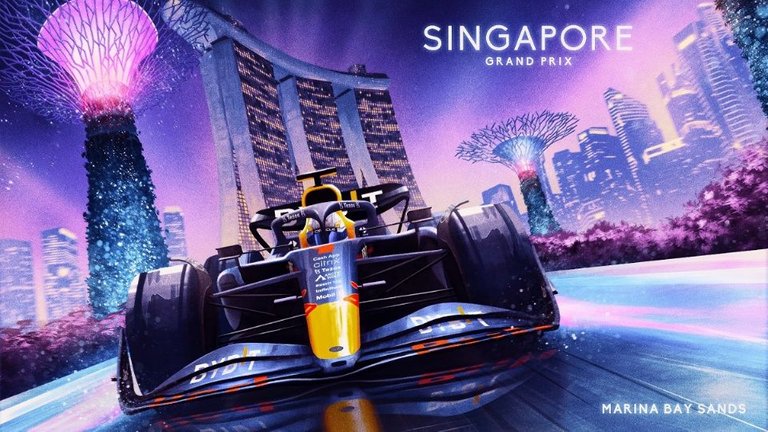 Después de unas tres semanas de ausencia la acción de la formula uno volvía a uno de los circuitos los cuales en los últimos dos años estuvo ausente por las circunstancias ya conocidas y en donde el último ganador sería uno que está corriendo su temporada de despedida, me refiero a Sebastian Vettel. Este circuito es de los conocidos como los callejeros en donde las habilidades se tienen que poner en evidencia más que nunca ya que es uno bastante técnico, muchas curvas cerradas en donde los frenos y la manejabilidad tienen que ser de los elementos más importantes a tomar en cuenta. Y si a todo esto le agregamos que el fin de semana en Singapur fue un desastre en lo que a clima se refiere con grandes lluvias, sin dudas lo que nos esperaba no iba a ser poco cosa.
After about three weeks of absence the action of the formula one returned to one of the circuits which in the last two years was absent for the circumstances already known and where the last winner would be one who is running his farewell season, I mean Sebastian Vettel. This circuit is one of those known as street circuits where the skills have to be put in evidence more than ever because it is a very technical one, many tight corners where the brakes and handling have to be the most important elements to take into account. And if we add to all this that the weekend in Singapore was a disaster as far as weather is concerned with heavy rains, no doubt what awaited us was not going to be a small thing.
Correr con lluvia es de las cosas más peligrosas que hay pero aquí no estamos delante de niños ni pilotos cualquiera, estamos ante los mejores del mundo (con sus excepciones, más en concreto el canadiense Latifi, me disculpan pero es de lo peor que ha habido en F1), que tienen carros con tecnologías muy avanzadas y que además tienen neumáticos con gomas hechas especialmente para la lluvia. Los elementos para que la carrera sea lo más segura posible dentro de los riesgos que siempre van a haber existen pero este fin de semana la FIA decidió que nada de eso importaba y nos lanzó un retraso de más una hora lo que eventualmente ocasionaría que la carrera no se corriera completa ya que el tiempo limite se acabó. Ya con eso empezábamos mal...
Racing in the rain is one of the most dangerous things there is but here we are not in front of children or just any drivers, we are in front of the best in the world (with exceptions, more specifically the Canadian Latifi, excuse me but he is the worst there has been in F1), who have cars with very advanced technologies and also have tires with rubber made especially for rain. The elements to make the race as safe as possible within the risks that there will always be exist but this weekend the FIA decided that none of that mattered and threw us a delay of over an hour which would eventually cause the race not to be run in its entirety since the time limit was over. Already with that we were off to a bad start...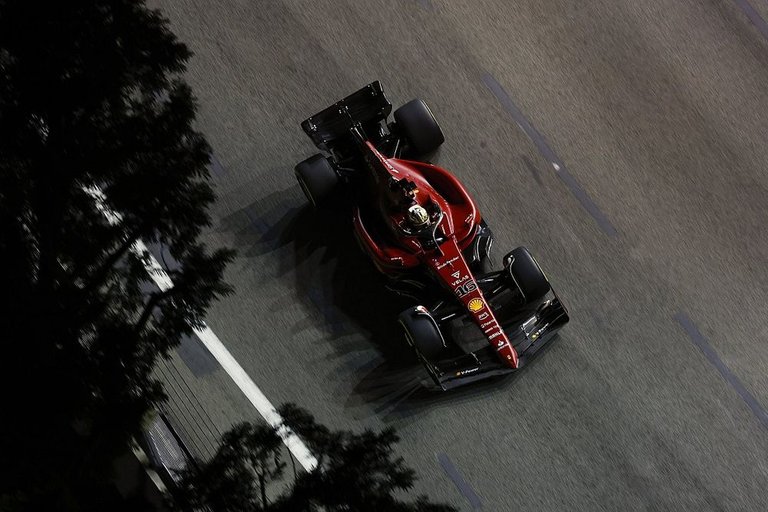 Pero esto empieza el día sábado con lo que fue la clasificación de la pole position en donde también vimos lluvia. Hay que decir que las tres sesiones clasificatorias estuvieron un poco más entretenidas que la carrera en si, por lo menos la Q3 la cual cambió de liderato unas cuentas veces entregándonos un poco de emoción. Esos cambios eran básicamente entre Leclerc, Verstappen y el británico Lewis Hamilton quien sorprendentemente estuvo a la altura con su Mercedes en toda la clasificación. Quien no tuvo tanta suerte fue su compañero de equipo George Russell el cual salió eliminado en la Q2, de hecho el fin de semana completo fue un completo desastre para él porque en la carrera tampoco pudo ver luz.
But this starts on Saturday with what was the pole position qualifying where we also saw rain. It must be said that the three qualifying sessions were a bit more entertaining than the race itself, at least the Q3 which changed leadership a few times giving us a bit of excitement. Those changes were basically between Leclerc, Verstappen and the British Lewis Hamilton who surprisingly was up to the task with his Mercedes throughout qualifying. Who was not so lucky was his teammate George Russell who was eliminated in Q2, in fact the whole weekend was a complete disaster for him because in the race he could not see the light either.
Pero bueno, como les decía la Q3 fue bastante entretenida porque faltando tres minutos para su final no sabíamos con certeza quien podía llevarse la pole. Todo se decidió prácticamente en el último minuto cuando Leclerc marcaba el mejor tiempo, seguido por el Checo Pérez a quien se le dan muy bien estos circuitos callejeros y de tercer lugar entraría Hamilton quien estuvo empujando desde siempre. Verstappen en lo que venía siendo su última vuelta y que le podía traer por lo menos un podio es llamado a ultimo momento a los pits por un tema de gasolina y no pudo completar dicha vuelta. La rabia e impotencia fue más que evidente pero por reglamento necesitaban esa muestra de combustible, el neerlandés terminaría octavo.
But well, as I was saying, Q3 was quite entertaining because with three minutes to go we did not know for sure who could take the pole. Everything was decided practically in the last minute when Leclerc set the best time, followed by Checo Perez who is very good at these street circuits and in third place would enter Hamilton who was pushing all the time. Verstappen in what was his last lap and that could bring him at least a podium was called at the last minute to the pits due to a fuel issue and could not complete the lap. The rage and impotence was more than evident but by regulation they needed that fuel sample, the Dutchman would finish eighth.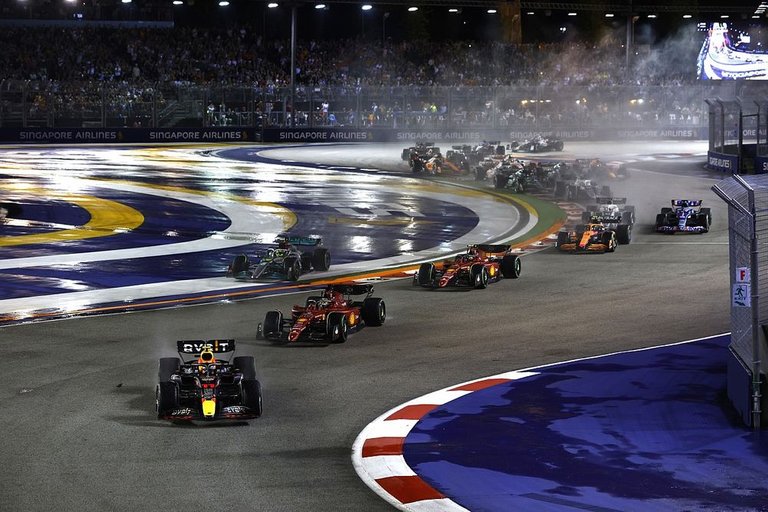 Llegábamos al día de ayer, día de carrera el cual empezaba con un aguacero sobre el circuito de Marina Bay. Ciertamente la lluvia era abundante pero nada que impidiera que se pudiera correr, toda la vida se ha corrido con esas condiciones o por lo menos parecidas por lo que en principio no entendí el retraso. La Formula Uno, un deporte de vanguardia el cual cuenta con las mejores tecnologías y avances, un deporte demás costoso pero que usa escobas para secar sus pistas. No se si es que yo estoy siendo muy critico pero aquella imagen era dantesca, las pobres personas de mantenimiento secando una pista de formula uno como si fuera la cocina de sus casas. La verdad nunca voy a entender ese proceder, proceder que consumió más de una hora por lo que la carrera ya se sabía no iba a poder ser terminada ya que la posibilidad de que hubieran Safety Car era gigantesca.
We arrived yesterday, race day which began with a downpour on the Marina Bay circuit. Certainly the rain was abundant but nothing that prevented us from racing, we have always raced with those conditions or at least similar, so in principle I did not understand the delay. Formula One, an avant-garde sport which has the best technologies and advances, a very expensive sport but which uses brooms to dry its tracks. I don't know if I'm being too critical but that image was Dantesque, the poor maintenance people drying a Formula One track as if it were the kitchen of their homes. The truth is that I will never understand that procedure, it took more than an hour and the race could not be finished because the possibility of a Safety Car was gigantic.
Pero después de la espera se daba la largada con varias sorpresas. Una de ellas es que Verstappen quien salía en el puesto 8 caía al 12. Se supo que eso pasó porque el neerlandés puso la configuración errónea el motor a la hora de la salida, de ahí a que el carro no arrancara como se suponía tenía que hacerlo, lo que nos demuestra que estos pilotos son humanos. La segunda sorpresa fue que Hamilton perdió su posición contra Sainz quien fue un verdadero dolor de cabeza para el piloto de Mercedes en gran parte de la carrera, el español venía con un ritmo increíblemente lento en comparación con los dos de punta, Leclerc y Pérez, lo que hizo que Hamilton en varias ocasiones se frustrara al considerar que estaba perdiendo ritmo.
But after the wait, the start was given with several surprises. One of them was that Verstappen, who started in 8th place, fell to 12th. It was known that this happened because the Dutchman set the wrong engine configuration at the start, hence the car did not start as it was supposed to, which shows us that these drivers are human. The second surprise was that Hamilton lost his position against Sainz who was a real headache for the Mercedes driver in most of the race, the Spaniard came with an incredibly slow pace compared to the two leading drivers, Leclerc and Perez, which made Hamilton frustrated on several occasions to consider that he was losing pace.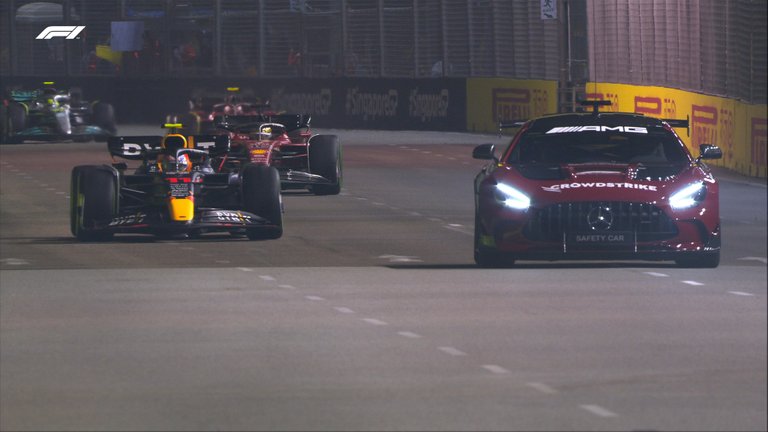 Vuelta siete y empezaba el caos, primer Safety Car a cargo del peligro de las pistas, del piloto que no tiene puntos y que fue superado por un novato en una sola carrera, si, hablo de Nicholas Latifi que se llevó prácticamente por el medio al piloto de Alfa Romeo Guanyu Zhou, esto haría que ambos se quedaran fuera del premio. Este primer SC haría que Verstappen tomara un nuevo aire y comenzara a avanzar posiciones y ya para la vuelta 15 estaba de séptimo. Honestamente en las primeras posiciones no veríamos ninguna emoción ni cambios desde que el Checo pasara a Leclerc en aquella primera curva, de ahí en adelante el patrón iba a ser el mismo. Vuelta 22 y esta vez sería un VSC ya que Alonso en su carrera 350 quedaría fuera por una falla mecánica, esto fue una lastima porque el asturiano estaba dando una muy buena carrera en el sexto lugar haciéndole un poco la vida imposible a Verstappen quien no podía pasarlo.
Lap seven and the chaos began, first Safety Car in charge of the danger of the tracks, the driver who has no points and who was overtaken by a rookie in a single race, yes, I'm talking about Nicholas Latifi who practically took the Alfa Romeo driver Guanyu Zhou through the middle, this would make them both stay out of the prize. This first SC would make Verstappen take a new air and began to advance positions and by lap 15 he was already seventh. Honestly in the top positions we would not see any excitement or changes since Checo passed Leclerc in that first corner, from then on the pattern was going to be the same. Lap 22 and this time it would be a VSC as Alonso in his 350th race would be out due to a mechanical failure, this was a pity because the asturian was giving a very good race in sixth place making life impossible for Verstappen who could not pass him.
De aquí en adelante se darían dos VCS más y un Safety Car para un total de cinco interrupciones. Además de todo esto tanto Verstappen como Hamilton cometieron errores que les costaron posiciones importantes, ambos sufrieron estragos a la hora de tomar curvas y se fueron de largo, todo esto por las condiciones de pista. Ambos pudieron haber quedado en mejor posición de no haber sido por esos fallos. Al final fueron seis abandonos, un segundo y tercer lugar para la gente de Ferrari que sin hacer mucho se llevaron unos buenos puntos y la victoria para el Checo que vuelve a demostrar que los circuitos de calles se les da bien, Australia, Mónaco y ahora Singapur fueron premios en donde hizo un muy buen trabajo.
From here on there would be two more VCS and a Safety Car for a total of five interruptions. In addition to all this both Verstappen and Hamilton made mistakes that cost them important positions, both suffered havoc when cornering and went long, all this because of the track conditions. Both could have been in a better position had it not been for those mistakes. In the end there were six retirements, a second and third place for the Ferrari team, who without doing much, got good points and the victory for Checo, who once again shows that street circuits are good for them, Australia, Monaco and now Singapore were prizes where he did a very good job.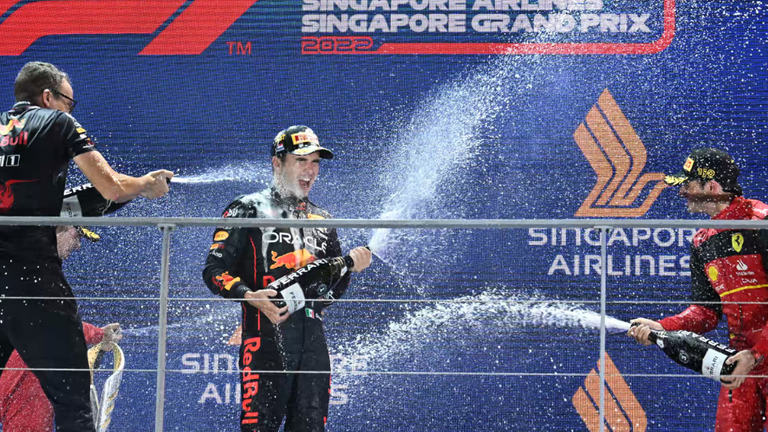 Max Verstappen tenía la oportunidad de ser campeón ayer pero no se le dio. Creo que lógicamente lo será, la cosa es saber donde, puede que sea en Japón la semana que viene. La ventaja que tiene frente al segundo es de 104 puntos, la verdadera pelea está por ese segundo lugar entre Leclerc y el Checo ya que la diferencia es de tan solo DOS puntos, 237 a 235 puntos respectivamente. Y el cuarto lugar entre Russell y Sainz también está al rojo vivo con una diferencia de un solo punto apenas, 202 a 203 puntos. Noe leemos la semana que viene ya que nos vamos al circuito de Suzuka.
Max Verstappen had the chance to be champion yesterday but he didn't get it. I think logically he will be, the thing is to know where, it may be in Japan next week. The advantage he has over the second is 104 points, the real fight is for that second place between Leclerc and Checo as the difference is only TWO points, 237 to 235 points respectively. And the fourth place between Russell and Sainz is also red hot with a difference of just one point, 202 to 203 points. Noe see you next week as we head to the Suzuka circuit.
Bueno mi gente por hoy es todo, espero que les haya gustado.
¡Un abrazo a todos, nos leemos en la próxima!
Well my people that's all for today, I hope you liked it.
¡Hugs to all, see you next time!
---
---