(ESP-ENG) Fin de semana de altibajos en el futbol europeo // Weekend of ups and downs in European soccer!
Hola amigos, buenas vibras para todos.
Hello friends, good vibes to all.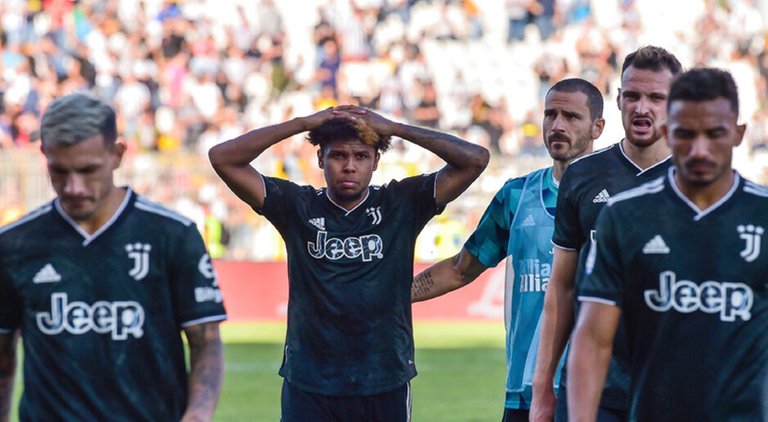 Este fin de semana hubo acción en las principales ligas de Europa antes del parón de la fecha FIFA que arranca esta semana. Lo relevante en que en todas se dieron algunos resultados dignos de ser comentados, tanto en Italia, Alemania, España e Inglaterra, resultados que nos dicen un poco las situaciones por las que algunos clubes están pasando, ya sean positivas como negativas. Positivas pues tenemos a un Manchester City que sigue imparable de la mano de Haaland, un Real Madrid que a pesar de no haber tenido su mejor noche el día de ayer sigue en racha y está invicto en la Liga, su paso por ella es perfecto y un Barcelona que parece que solo sabe ganarles a clubes muchos más pequeños.
This weekend there was action in the main European leagues before the FIFA break that starts this week. The relevant thing is that in all of them there were some results worth commenting on, both in Italy, Germany, Spain and England, results that tell us a little about the situations that some clubs are going through, both positive and negative. On the positive side, we have a Manchester City that continues to be unstoppable thanks to Haaland, a Real Madrid that despite not having its best night yesterday is still on a roll and is undefeated in La Liga, its passage through it is perfect and a Barcelona that only seems to know how to beat much smaller clubs.
Las negativas en este caso son más llamativas, vemos como el Bayern perdió contra un equipo de media tabla por la mínima y a una Juventus que está sumergida en una profunda crisis deportiva al perder contra uno de los equipos que son colistas en la actual Serie A. Creo que estamos presenciando un desgaste en muchos de los proyectos que están en marcha porque hablar de una merma en lo físico no tiene mucho sentido por lo temprana de la temporada, además de que lo segundo no tiene mucho que ver con que un equipo pierda de la forma en como lo hizo contra un club que está en puestos de descenso, creo que no hay justificación alguna para eso.
The negatives in this case are more striking, we see how Bayern lost against a mid-table team by the minimum and a Juventus that is immersed in a deep sporting crisis by losing against one of the teams that are bottom in the current Serie A. I think we are witnessing an attrition in many of the projects that are underway because talking about a physical decline does not make much sense because of the early season, plus the latter does not have much to do with a team losing the way they did against a club that is in relegation places, I think there is no justification for that.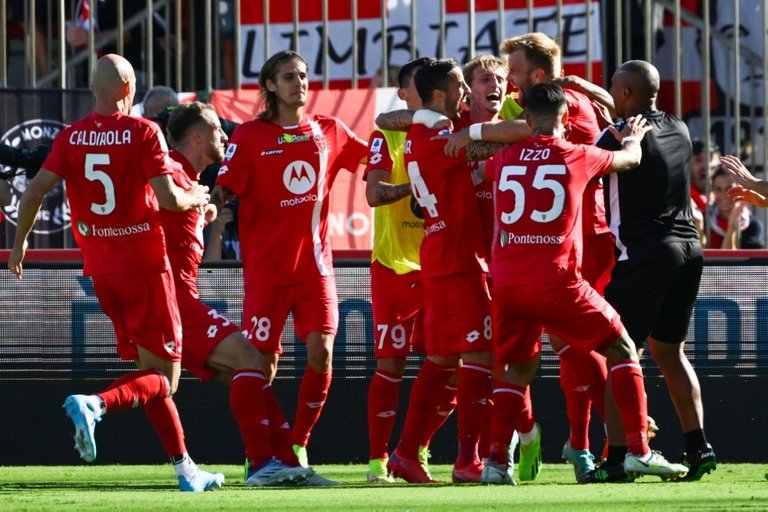 El día de ayer en el estadio del Monza se verían las caras la Juventus de un Allegri que yo quisiera pensar que está en la cuerda floja pero que según uno de los gerentes del club no lo está y que por el contrario la confianza en él es plena para la construcción de un proyecto de aquí a cuatro años. Este tipo de declaraciones la verdad me cuesta entenderlas porque van en contra de lo que se está viendo reflejado en la cancha, la Juve leva cinco partidos seguidos sin ganar, dos derrotas en la Champions League (no están eliminados pero casi) y solo dos ganados de siete partidos posibles en la Serie A. Pero es que el tema no es perder, es como pierden, es el desastre defensivo y ofensivo que tienen, no hay creación de juego ni tenencia de balón y un ejemplo de eso fue este partido de ayer.
Yesterday at the Monza stadium, Juventus faced Allegri's Juventus, who I would like to think that he is in a tightrope, but according to one of the club's managers, he is not, and that on the contrary, he has full confidence in him for the construction of a project for the next four years. This kind of statements are hard to understand because they go against what is being reflected on the field, Juve has five consecutive matches without a win, two defeats in the Champions League (they are not eliminated but almost) and only two wins out of seven possible matches in Serie A. But the issue is not losing, it's how they lose, it's the defensive and offensive disaster they have, there is no playmaking or ball possession and an example of that was yesterday's game.
El Monza, un equipo que no había ganado en la actual temporada y que su primera victoria haya sido contra la Juve tiene que ser un llamado de atención muy grande para los directivos de la Vecchia Signora. Y es que ayer el Monza fue superior en todos los sentidos, en posesión, remates al arco, pases completados, ocasiones creadas, en todo, al punto de que el equipo que parecía que estaba ascendiendo era la Juventus. Un bochorno para los fanáticos que Allegri siga al mando, puedo entender el tema de proyecto pero cuando las cosas no funcionan, hay que cambiarlas.
Monza, a team that had not won in the current season and that their first victory was against Juve has to be a big wake-up call for the directors of the Vecchia Signora. And the fact is that yesterday Monza were superior in every way, in possession, shots on goal, passes completed, chances created, in everything, to the point that the team that seemed to be moving up was Juventus. An embarrassment for the fans that Allegri is still in charge, I can understand the project issue but when things don't work, you have to change them.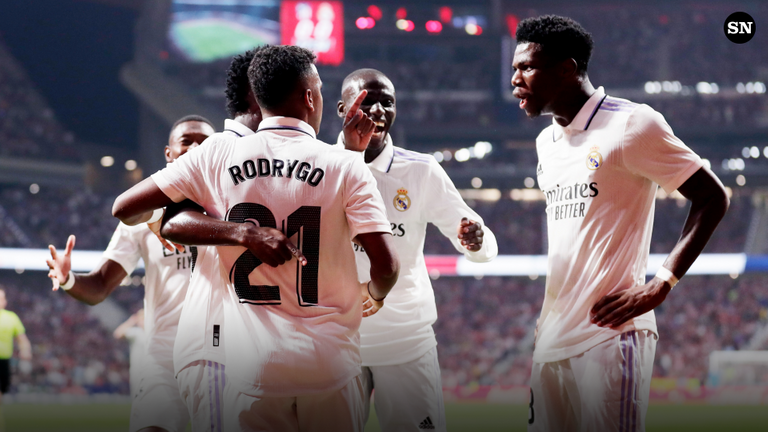 El Real Madrid tiene oro en su medio campo y con la salida de Casemiro lo están empezando a notar mejor. El estado de gracia en el que está Fede Valverde parece que es sacado de una película, lleva cuatro goles siendo uno más importante que el anterior, además de tener un par de asistencias las cuales han sido fundamentales para las últimas victorias de los merengues. Porque es eso, Valverde se está convirtiendo en un jugador FUNDAMENTAL para el Madrid y la verdad espero que así lo siga haciendo. Y si a eso le sumamos lo de Tchouameni que a medida que pasan los partidos se va consolidando más y más podemos decir que hay una generación que realmente mete miedo.
Real Madrid has gold in their midfield and with the departure of Casemiro they are starting to feel it better. The state of grace in which Fede Valverde is in seems to be taken out of a movie, he has four goals being one more important than the previous one, in addition to having a couple of assists which have been fundamental for the last victories of the merengues. Because that's just it, Valverde is becoming a FUNDAMENTAL player for Madrid and I hope he continues to do so. And if we add to that Tchouameni, who as the games go by is consolidating more and more, we can say that there is a generation that really scares us.
Ayer en el derbi de Madrid los blancos fueron mejores en la primera parte, con los goles de Rodrygo y Fede se pusieron al frente de mercador ante un Atlético que tampoco está en su mejor momento, van de séptimos pero su funcionamiento está lejos de ser el mostrado en años anteriores. Pero en la segunda parte esos papeles se invirtieron, el Madrid bajó la guardia considerablemente y los dueños del partido fueron los rojiblancos presionando por todos los costados hasta que lograron el descuento. Es muy peligroso esta merma del rendimiento porque con un Atlético mejor aceitado pudieron haber hasta perdido el encuentro, el Real no atacó casi en los segundos 45 minutos. Lo mismo les sucedió con el Leipzig en Champions, les pasaron por encima pero aún así ganaron llevándose un susto.
Yesterday in the Madrid derby the Whites were better in the first half, with goals from Rodrygo and Fede they took the lead against Atletico who are not in their best moment either, they are in seventh place but their performance is far from the one shown in previous years. But in the second half those roles were reversed, Madrid lowered their guard considerably and the owners of the match were the red and white pressing on all sides until they got the discount. This drop in performance is very dangerous because with a better Atletico they could have even lost the game, Real almost didn't attack in the second 45 minutes. The same thing happened to them against Leipzig in the Champions League, they went over their heads but still won with a scare.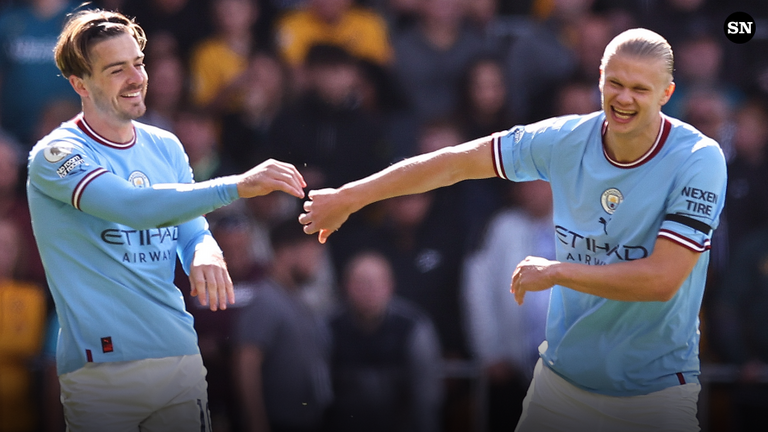 Si hablábamos de que el Madrid tenía una buena generación por delante que decir del City con Haaland, Foden, Grealish y De Bruyne. Creo que de los mejores fichajes que se han hecho últimamente por el tema de rendimiento ha sido el del noruego, es increíble lo lejos que está su techo, parezco un poco como un disco rayado pero es que esa verdad no se puede tapar con un dedo. Lleva 11 goles en los últimos seis partidos y en términos generales son 28 goles en 19 partidos. Quisiera entender cual puede ser el limite de este jugador pero no lo consigo, creo que nadie, su nivel está muy por encima de la media y ahora en un equipo donde hacer goles puede que se le haga más fácil, pues habrá que sentarse y solo mirar.
If we were talking about Madrid having a good generation ahead of them, what can we say about City with Haaland, Foden, Grealish and De Bruyne. I think that one of the best signings that have been made lately in terms of performance has been that of the Norwegian, it is incredible how far his ceiling is, I sound a bit like a broken record but that truth cannot be covered with a finger. He has 11 goals in the last six games and overall that's 28 goals in 19 games. I would like to understand what could be the limit of this player but I do not get it, I think no one, his level is well above average and now in a team where scoring goals may be easier for him, we will have to sit back and just watch.
El City ganó con autoridad el sábado, ya en la primera media hora tenían sentenciado el encuentro con los goles del mismo Grealish y Haaland. Pero otro detalle a tomar en cuenta es que en sus filas está el jugador con más asistencias en la Premier, el belga Kevin De Bruyne, con seis asistencias. Lo que juega este tipo es una locura y es que es el compañero perfecto para una bestia del área como lo es Haaland. Guardiola puede estar tranquilo porque juego y goles no le van a faltar en esta temporada, esa plantilla es calidad pura, de las mejores e Europa sn niuguna duda.
City won with authority on Saturday, and in the first half an hour they had already sealed the game with goals from Grealish and Haaland. But another detail to take into account is that in their ranks is the player with the most assists in the Premier League, the Belgian Kevin De Bruyne, with six assists. What this guy plays is crazy and he is the perfect partner for a beast in the box like Haaland. Guardiola can rest assured that he will not be short of play and goals this season, this squad is pure quality, one of the best in Europe without a doubt.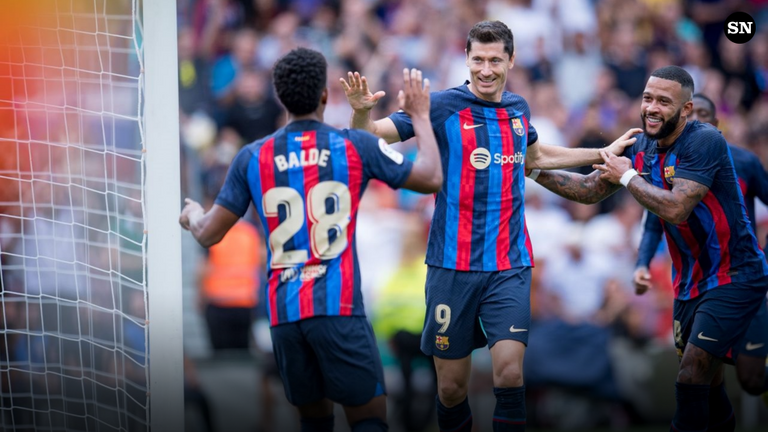 Y si hablamos de monstruos que hacen goles no podemos dejar por fuera a Lewandowski quien el sábado se marcó otro doblete más para la cuenta. Lo de Haaland es impresionante por la edad que tiene pero y es que el polaco con 34 años no es más meritorio?... - Los números de Lewandowski también son escandalosos porque lleva 11 goles en ocho partidos oficiales con el Barcelona además de que actualmente es el pichichi de la Liga y de la Champions. Los culés les pasaron por encima al Elche y es entonces cuando me pregunto: será que el Barca solo puede ganarle a equipos considerablemente más pequeños? - y esto no lo digo yo, lo dice los hechos de sus últimos partidos.
And if we talk about goal scoring monsters, we can't leave out Lewandowski who on Saturday scored yet another brace. Haaland's performance is impressive for his age, but isn't the 34-year-old Pole more deserving? - Lewandowski's numbers are also scandalous because he has 11 goals in eight official matches with Barcelona and is currently the top scorer in La Liga and the Champions League. The Culés overcame Elche and that's when I ask myself: is it that Barca can only beat considerably smaller teams? - And this is not just me saying this, but the facts of their last few games.
Equipos como el Elche, Valladolid, Cádiz, son clubes que en comparación con los blaugranas son casi la nada y en los resultados lo vemos pero entonces a la hora de enfrentarse a los top como el Bayern en Champions se van en cero. Yo se que el Barca en ese partido fue mejor, tuvo más ocasiones pero los alemanes fueron más contundentes y eso puede ser un problema, que con un par de llegadas ya te hagan dos goles. Creo que la otra prueba es contra el Inter en par de semanas, con base en ese resultado veremos si este Barcelona está para pelear en Europa porque en la Liga está claro que no están teniendo problemas.
Teams like Elche, Valladolid, Cadiz, are clubs that in comparison to the blaugranas are almost nothing and we can see it in the results but then when facing the top teams like Bayern in the Champions League they go to zero. I know that Barca was better in that game, they had more chances but the Germans were more convincing and that can be a problem, that with a couple of arrivals they already score two goals. I think the other test is against Inter in a couple of weeks, based on that result we will see if this Barcelona is ready to fight in Europe because in La Liga it is clear that they are not having problems.
Bueno mi gente por hoy es todo, espero que les haya gustado!
!Un abrazo a todos, nos vemos en la próxima!
Well my people, that's all for today, I hope you liked it!
¡A hug to all of you, see you next time!
---
---