(ESP-ENG) Hamilton y sus 100 victorias en la mejor carrera de la temporada // Hamilton and his 100 wins in the best race of the season.
Hola amigos, buenas vibras para todos.
Hello friends, good vibes to all.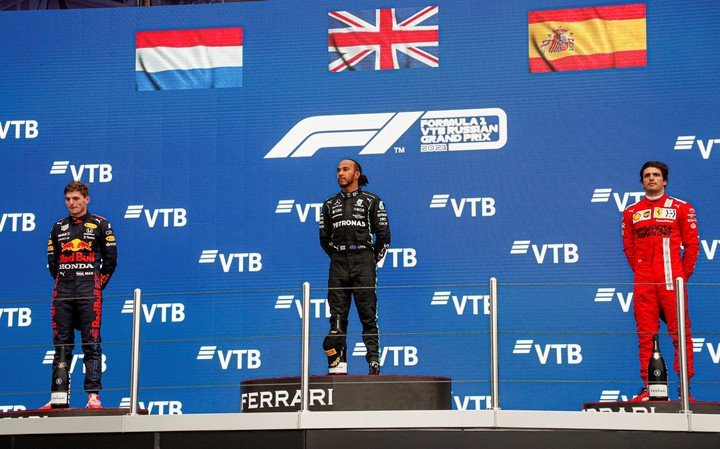 Cuando hablo con personas y les comento que voy a ver una Pole Position o que es domingo de carrera de la Formula 1 lo primero que me dicen es que como es posible que vea eso si es tan aburrido y largo pero nada está más alejado de la realidad que esas "afirmaciones" y prueba de ello fue la carrera del día de ayer que para mi fue de las mejores que han habido hasta ahora en lo que va de temporada.
When I talk to people and tell them that I'm going to see a Pole Position or that it's a Formula 1 race Sunday, the first thing they tell me is that how can I possibly see that if it's so boring and long, but nothing is further from the truth than those "statements" and proof of that was yesterday's race, which for me was one of the best so far this season.
Por qué lo digo? - pues porque en ella hubo de todo al punto que las 53 vueltas que conforman el circuito de Sochi se hicieron extremadamente cortas. Desde el día anterior, día de la Pole, ya sabíamos que íbamos a tener una carrera particular; por un lado Verstappen salió en el último lugar motivado a un cambio en su unidad de potencia, Leclerc tuvo la misma sanción y salió de 19 y Valtteri Bottas también fue penalizado pero por cambiar solo algunos elementos saliendo en el puesto 17.
Why do I say that? - Because in it there was everything to the point that the 53 laps that make up the Sochi circuit were extremely short. Since the day before, the day of the Pole, we already knew that we were going to have a particular race; on the one hand Verstappen started in the last place due to a change in his power unit, Leclerc had the same penalty and started from 19th and Valtteri Bottas was also penalized but for changing only some elements starting in 17th place.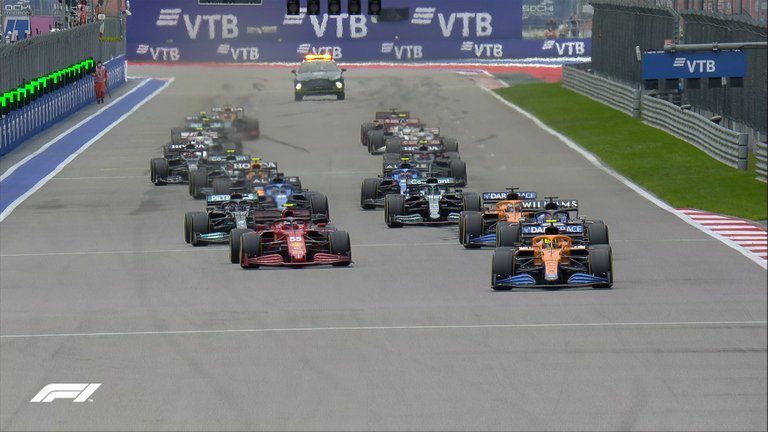 Todo lo anterior significaba que a lo largo de la carrera tendríamos muchos adelantamientos porque es sabido que tanto los Red Bulls como los Mercedes y hasta la misma Ferrari son carros extremadamente rápidos en comparación con los Hass, Alfa Romeo y Williams, llevados además por grandes pilotos. A esto le sumamos la pelea que se iba a disputar en la parte delantera con Norris, Sainz y el actual campeón mundial Hamilton para obtener la victoria sin duda la carrera iba a ser espectacular; cosa que así fue.
All of the above meant that throughout the race we would have many overtakes because it is known that both the Red Bulls and Mercedes and even Ferrari itself are extremely fast cars compared to the Hass, Alfa Romeo and Williams, also driven by great drivers. Add to this the fight at the front with Norris, Sainz and the current world champion Hamilton for the victory and without a doubt the race was going to be spectacular; which it was.
A lo largo de las casi 53 vueltas vimos un dominio absoluto de Lando Norris quien se perfilaba a ganar su primera carrera en la máxima competencia después de haber quedado segundo en el premio anterior, con una buena estrategia por parte del equipo Mclaren a la hora de hacer el pit-stop y hacer el primer cambio de cauchos de medias a duras la verdad todo pintaba para que la escudería británica repitiera podio. Por momentos el español Carlos Sainz era el único que amagaba con superarlo, de hecho lo hizo en ocasiones.
Throughout the almost 53 laps we saw an absolute dominance of Lando Norris who was shaping up to win his first race in the top competition after finishing second in the previous award, with a good strategy by the Mclaren team at the time of pit-stop and make the first change of tires from medium to hard the truth everything looked for the British team to repeat podium. At times the Spaniard Carlos Sainz was the only one who threatened to overtake him, in fact he did it on occasions.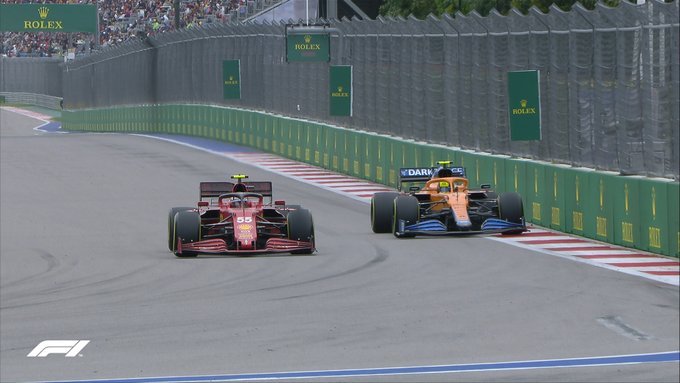 Hamilton estaba al acecho desde el puesto 6 haciendo su carrera tranquilo, como buen campeón sabía que en algún momento su oportunidad llegaría ya sea a mitad de carrera o al final. Puestos más abajo venían subiendo como la espuma el neerlandés Verstappen junto a Leclerc, cosa que se esperaba por la calidad de ambos y que la necesidad de sumar puntos a falta de cada vez menos carreras era vital. De hecho para la vuelta 4 ya Max había subido 5 puestos, una bestia al volante.
Hamilton was lurking from 6th place doing his race quietly, as a good champion he knew that at some point his chance would come either in the middle of the race or at the end. Verstappen and Leclerc were climbing like crazy, which was expected due to the quality of both of them and the need to score points with less and less races to go. In fact by lap 4 Max had already climbed 5 places, a beast at the wheel.
Sin duda fue de las carreras más emocionantes porque desde principio a fin se vio como nunca hubo calma como suele pasar en la mayoría de los premios, siempre estaba pasando algo ya sea desde lo primeros lugares hasta la parte media de la clasificación.
It was undoubtedly one of the most exciting races because from start to finish it was never calm as it usually happens in most of the awards, there was always something going on from the first places to the middle of the classification.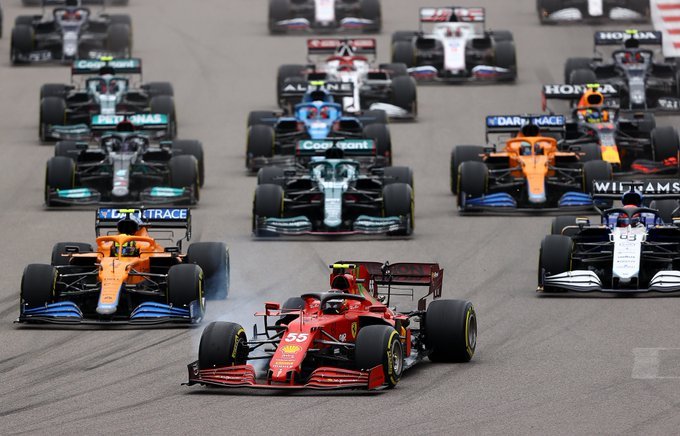 Y así fue avanzando todo, los pilotos hicieron sus respectivas paradas de pits, algunos con más retrasos que otros pero al final las estrategias de los grandes fueron las que prevalecieron como buenos experimentados que son. Ya para la vuelta 42, faltando 11 para el final, la lucha entre Hamilton y Norris era despiadada y feroz pero a Norris no parecía temblarle el pulso para mantener a raya a Lewis cosa que hubiese sido posible hasta que TODO cambió.
And so everything went on, the drivers made their respective pit stops, some with more delays than others, but in the end the strategies of the great drivers were the ones that prevailed as the experienced ones they are. By lap 42, with 11 to go, the fight between Hamilton and Norris was merciless and fierce but Norris did not seem to shake his pulse to keep Lewis at bay, which would have been possible until EVERYTHING changed.
Vuelta 46, llega la invitada especial del día: la lluvia; y con ella todos los planes se trastocan y es donde se comienzan a separar los grandes de los más pequeños. Hamilton sabiendo que correr con cauchos no especializados para la lluvia era un suicidio decide pasar por los pits y hacer el cambio a las gomas verdes, la cosa es que Norris no lo hizo y fue en ese momento cuando se perdió la carrera.
Lap 46, the special guest of the day arrives: the rain; and with it all plans are disrupted and it is where the big ones begin to separate from the smaller ones. Hamilton, knowing that running with tires not specialized for rain was a suicide, decides to go to the pits and change to green tires, the thing is that Norris did not do it and it was at that moment when the race was lost.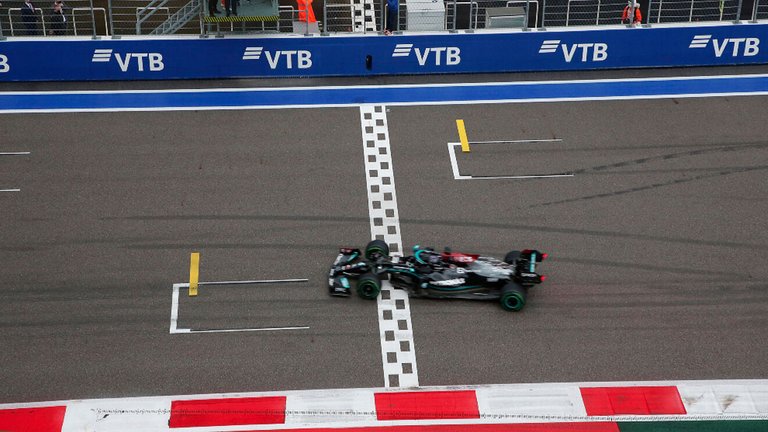 Al no cambiar los cauchos, Norris pierde el control y fue ahí cuando Hamilton aprovecha para ponerse de primero y así ganar su carrera número 100 para convertirse en el primer piloto de la Formula 1 en lograr semejante hazaña y números. Verstappen quedó segundo haciendo la carrera de su vida (saliendo de 20 para quedar en el podio) y Carlos Sainz finalizó tercero.
By not changing the tires, Norris loses control and that's when Hamilton takes advantage to take the lead and win his 100th race to become the first Formula 1 driver to achieve such a feat and numbers. Verstappen was second, having the race of his life (starting from 20th to be on the podium) and Carlos Sainz finished third.
Ayer Norris pagó la novatada y se antepuso la experiencia de un múltiple campeón mundial pero estoy seguro que de aquello aprendió su lección y para la próxima tendrá que tomar mejores decisiones, además que con tan solo 21 años la revancha le llegará más temprano que tarde. Como les dije una carrera muy entretenida donde ocurrió de todo y de las cuales desde ya catalogo como de las mejores que he visto últimamente.
Yesterday Norris paid the hazing and the experience of a multiple world champion came before him, but I am sure that he learned his lesson from that and for the next one he will have to make better decisions, besides, with only 21 years old, the revenge will come sooner rather than later. As I said, it was a very entertaining race where everything happened and which I consider one of the best I have seen lately.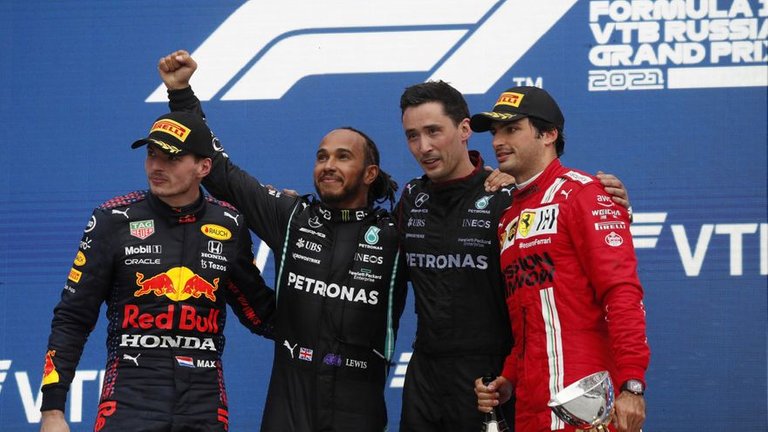 La clasificación después del gran premio de Rusia quedó con Hamilton encabezando con 246.5 puntos con Verstappen de segundo con 244.5 y Bottas quien terminó de 5to lugar en el tercer puesto con 151 puntos. En cuanto a la carrera por ser el mejor equipo la Mercedes sigue cómoda en lo alto con 397.5 puntos seguida por Red Bull con 364.5 y la britanica McLaren de tercera con 234 puntos.
The standings after the Russian Grand Prix were left with Hamilton leading with 246.5 points with Verstappen second with 244.5 and Bottas who finished 5th in third place with 151 points. As for the race to be the best team Mercedes is still comfortably on top with 397.5 points followed by Red Bull with 364.5 and Britain's McLaren in third with 234 points.
Bueno amigos por hoy es todo, espero que les haya gustado.
¡Un abrazo a todos, nos leemos en la próxima!
Well friends that's all for today, I hope you liked it.
¡A hug to all, see you next time!
---
---