(ESP-ENG) Se viene la Champions League!
Hola amigos, buenas vibras para todos.
Hello friends, good vibes to all.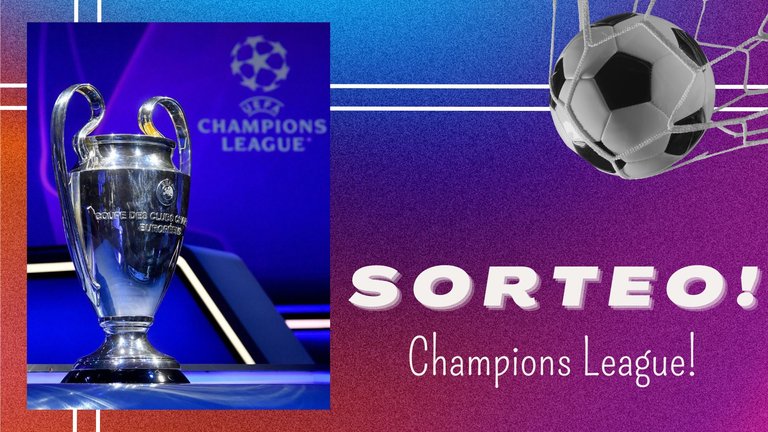 Source! -- Imagen editada con Canva.
Parece que fue hace nada cuando estábamos descubriendo quien sería el campeón de la UCL en el partido aquel entre el Manchester City y el Inter de Milán, hace un poco menos de 3 meses. Pues el día de ayer se celebró el sorteo para lo que será la fase de grupos que dará inicio en un poco más de dos semanas dando como resultado unos emparejamientos muy interesantes. De las cosas "extrañas" de esta nueva edición es que será la última tal cual como la conocemos ya que a partir del año que viene será todo distinto, no serán 32 equipos sino 36 y la clasificación será tipo una liga, cuatro grupos de 9 clubes en donde jugaran todos contra todos.
It seems like it was nothing ago when we were discovering who would be the champion of the UCL in the match between Manchester City and Inter Milan, a little less than 3 months ago. Well, yesterday the draw was held for what will be the group stage that will start in a little over two weeks, resulting in some very interesting pairings. One of the "strange" things about this new edition is that it will be the last one as we know it, since from next year it will be all different, there will not be 32 teams but 36 and the classification will be like a league, four groups of 9 clubs where they will play against each other.
También hay que decir que no veremos a clubes míticos este año tales como el Liverpool, Chelsea o la Juventus, los dos primeros por haber hecho una temporada pasada bastante baja de calidad y el tercero por problemas disciplinarios. Y por último decir que será una Champions sin Lionel Messi, después de no se cuanto tiempo. Esto ya pudiera ser algo más romántico pero la verdad es que es un golpe de realidad y es que los grandes cracks del futbol o se están retirando o están migrando a otras tierras lo que eventualmente hace que el futbol europeo vaya siendo lo que es. Que por cierto, como un dato no menor, Ceferin, el presidente de la UEFA, le cerró la puerta a los árabes en su intención de querer ser invitados a jugar la Champions en un futuro, algo que era una locura pero bueno, algunos piensan que con dinero se puede hacer todo.
It must also be said that we will not see mythical clubs this year such as Liverpool, Chelsea or Juventus, the first two for having made a rather low quality last season and the third for disciplinary problems. And finally, it will be a Champions League without Lionel Messi, after I don't know how long. This could be something more romantic but the truth is that it is a blow of reality and it is that the great soccer stars are either retiring or migrating to other lands, which eventually makes European soccer what it is. By the way, as a not minor fact, Ceferin, the president of UEFA, closed the door to the Arabs in their intention of wanting to be invited to play in the Champions League in the future, something that was crazy but well, some people think that with money you can do anything.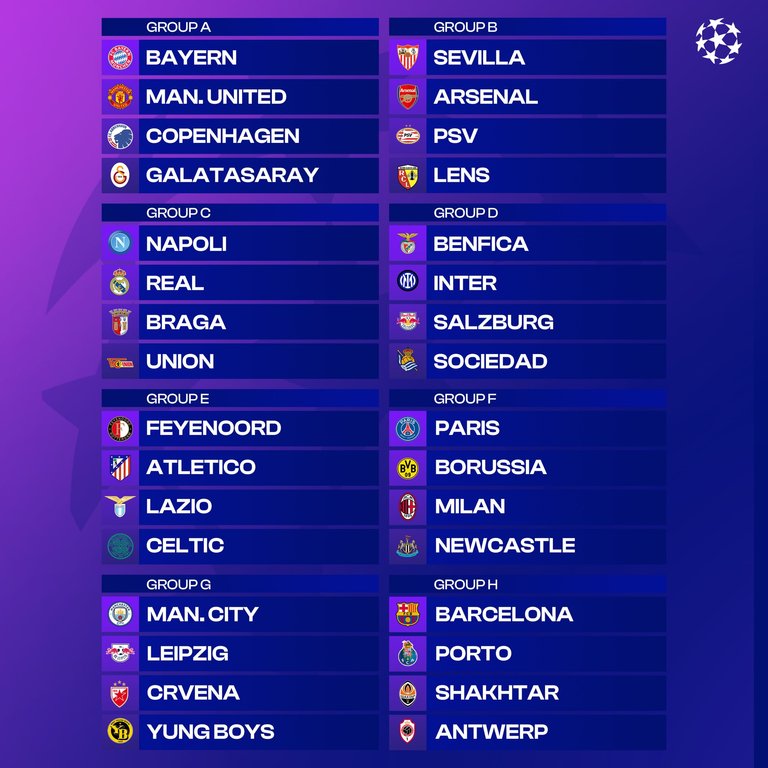 Entrando a los que nos compete, hablemos de como quedaron conformados los ocho grupos de esta nueva edición. Tengo que decir que me parece que en líneas generales quedaron bastante parejos, recuerdo que en años anteriores hubo un poco más de disparidad cosa que ahora no noto tanto. Si me preguntan cuales son los grupos más interesantes les diría: A, B y como no, el grupo de la muerte, el F. Al Madrid le tocó bailar con el campeón de Italia, el Napoli y dos clubes de segunda mano; al actual campeón le toco una llave increíblemente fácil, el grupo del City no tiene sentido lo accesible que es; cuidado con el Barcelona, jugar contra el Shakhtar ya sabemos que tan fácil no es y el Porto es un equipo muy aguerrido y con experiencia y bueno el Inter y el Benfica no tendrán problemas para pasar a octavos.
Let's talk about how the eight groups of this new edition were formed. I have to say that I think that in general terms they were pretty even, I remember that in previous years there was a little more disparity which I do not notice so much now. If you ask me which are the most interesting groups I would say: A, B and of course, the group of death, F. Madrid had to dance with the champion of Italy, Napoli and two second hand clubs; the current champion had an incredibly easy key, City's group does not make sense how accessible it is; be careful with Barcelona, playing against Shakhtar we already know that it is not so easy and Porto is a very tough and experienced team and well Inter and Benfica will have no problems to get to the round of 16.
Que pasa con el grupo A? - si bien es cierto que esta el Copenhague tanto el Bayern, ManU y el Galatasaray son clubes, guardando distancias, en donde jugar en sus casas es de las cosas más complicadas que hay. El infierno turco, el Sami Yen, estadio del Galatasaray, es de los lugares más hostiles que hay para jugar debido a la fanaticada que tienen y que futbolísticamente no son unos muertos tampoco. Creo que el Bayern es el favorito, poco a poco se han puesto a tono con un Harry Kane enchufado desde ya y bueno el Manchester United que comenzó un poco regular la temporada. La cosa es que jugar la Champions es algo totalmente distinto a las ligas de cada país, hay clubes que son coperos y otros ligueros, prueba de ello pudiera ser el United.
What about group A? - While it is true that Copenhagen, Bayern, ManU and Galatasaray are clubs, keeping distances, where playing at home is one of the most complicated things there is. The Turkish hell, the Sami Yen, Galatasaray's stadium, is one of the most hostile places to play because of the fans they have and they are not dead footballers either. I think Bayern is the favorite, little by little they have been getting in tune with Harry Kane and Manchester United who started the season a bit regular. The thing is that playing in the Champions League is something totally different from the leagues of each country, there are clubs that are cup players and others that are league players, proof of this could be United.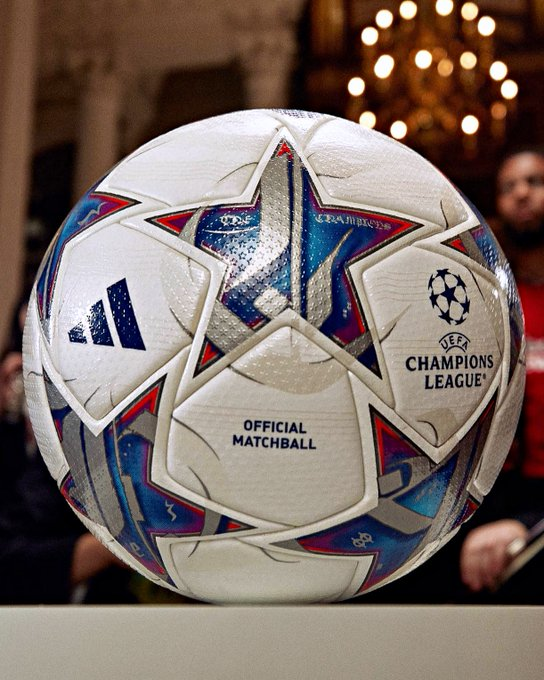 El grupo B y hasta el E diría que son los más parejos. Sevilla, Arsenal, PSV y el Lens de Francia. Campeón de la Europa League y los otros tres los segundos lugares en sus respectivas ligas, si eso no es tener paridad no se que será. La verdad cualquier equipo pudiera pasar pero me voy a inclinar por el Arsenal y el PSV, no se porque al Sevilla nunca le he tenido fe en Champions. Mientras que el E tenemos al Feyenoord, campeón de la Eredivisie, la Lazio quien quedó de segunda en el Calcio, el Celtic campeón de Escocia y el Atlético del Cholo que siempre serán una piedra en el zapato. Acá me voy con el Atlético pero con el segundo tengo dudas porque el comienzo tanto del Feyenoord como el de la Lazio no está siendo muy bueno, vamos a apostar por los de Países Bajos.
Group B and even E I would say are the most evenly matched. Sevilla, Arsenal, PSV and Lens from France. Champions of the Europa League and the other three second places in their respective leagues, if that is not parity I don't know what is. The truth is that any team could go through but I'm going to go for Arsenal and PSV, I don't know why I've never had faith in Sevilla in the Champions League. While in E we have Feyenoord, champion of the Eredivisie, Lazio who finished second in Calcio, Celtic, Scottish champion and Cholo's Atletico who will always be a stone in the shoe. Here I am going with Atletico but with the second I have doubts because the start of both Feyenoord and Lazio is not being very good, we will bet on those from the Netherlands.
Y bueno, llegamos al temido grupo F. PSG, Dortmund, Milan y Newcastle. No se ni por donde empezar. Para los que me leen saben que yo no le tengo especial estima al PSG, no me gusta, no lo considero un club grande ni con historia ni arraigo, es por eso que creo que esta es la oportunidad para que me callen la boca, creo que es la oportunidad perfecta para que demuestren lo "grande" que son y logren pasar de ronda. En lo personal creo que no van a clasificar por mucho Mbappe que tengan, su mercado de fichajes ha sido muy distinto a lo acostumbrado, no buscaron nombres de talla mundial sino a jugadores más mediano perfil y con eso tratarán de hacer algo en Europa, de saldar esa deuda que tienen.
And well, we come to the dreaded Group F. PSG, Dortmund, Milan and Newcastle. I don't even know where to start. For those who read me know that I have no special esteem for PSG, I don't like them, I don't consider them a big club with history or roots, that's why I think this is the opportunity to shut my mouth, I think it's the perfect opportunity to show how "big" they are and make it through the round. Personally I think they are not going to qualify no matter how much Mbappe they have, their transfer market has been very different from what they are used to, they did not look for world class names but for more medium profile players and with that they will try to do something in Europe, to pay off that debt they have.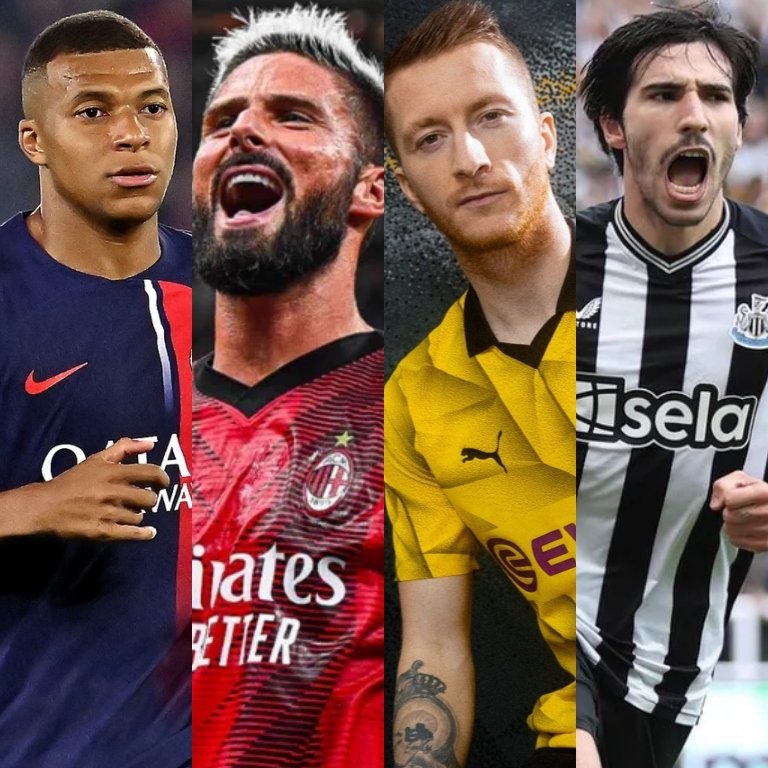 El Milan va líder de la Serie A, es un equipo con mucho peso en Europa, la temporada pasada fueron de altibajos pero aún así su participación en la Champions fue más que digna. El Dortmund es de esos clubes que son dolores de cabeza, tienen buen plantel y sobre todo buen técnico, Edin Terzić, el alemán ha sabido llevar y mantener este club en lo más alto. Y bueno tenemos al Newcastle después de casi 20 años sin estar en Champions, un club totalmente reconstruido en las últimas dos temporadas y que llega con la ilusión de hacer un papel decente. Que difícil está elegir pero creo que me iré con el Milán y el Dortmund. Capaz los ingleses dan la campanada y se cuelan, ojala, pero veo a los italianos y alemanes pasando de ronda. El PSG siempre será una duda, de ahí que mi confianza esté en cero con ellos.
Milan is the leader of Serie A, it is a team with a lot of weight in Europe, last season they had ups and downs but even so their participation in the Champions League was more than worthy. Dortmund is one of those clubs that are headaches, they have a good squad and above all a good coach, Edin Terzić, the German has been able to lead and maintain this club at the top. And well we have Newcastle after almost 20 years without being in the Champions League, a club completely rebuilt in the last two seasons and that comes with the illusion of making a decent role. How difficult it is to choose but I think I will go with Milan and Dortmund. Maybe the English will pull off a shock and sneak through, I hope so, but I see the Italians and Germans going through. PSG will always be a doubt, that's why I have zero confidence in them.
En general los favoritos siempre serán los mismos, el Real Madrid, Manchester City, Bayern, espero que el Arsenal haga una muy buena Champions, es de las cosas que más deseo, el Inter puede que repita hazaña y avance más de lo esperado y bueno el Barcelona que no se porque pero muy claro no lo tengo con ellos, les está costando mucho ganar en la Liga a pesar de tener una plantilla decente. Un común denominador son las lesiones, TODOS los clubes las están sufriendo y tienen bajas prolongadas importantes. Hay que ver como afrontan ese tema porque aunque no se hable mucho puede ser determinante a la hora de saber llevar la cantidad absurda de partidos que se vienen, con parones de fecha FIFA incluida. Espero que sea una Champions de calidad, creo que hay equipos para eso, pero sobre todo veo y siento que será una edición muy equilibrada y pareja.
In general the favorites will always be the same, Real Madrid, Manchester City, Bayern, I expect Arsenal to make a very good Champions League, it is one of the things I want most, Inter may repeat the feat and advance more than expected and well Barcelona, I do not know why but I am not very clear with them, they are having a hard time winning in La Liga despite having a decent squad. A common denominator is injuries, ALL clubs are suffering from them and have important prolonged absences. We will have to see how they deal with this issue because, although not much is said about it, it could be a determining factor when it comes to knowing how to handle the absurd amount of matches that are coming up, including FIFA breaks. I hope it will be a quality Champions League, I think there are teams for that, but above all I see and feel that it will be a very balanced and even edition.
Bueno mi gente por hoy es todo, espero que les haya gustado.
¡Un abrazo a todos, nos leemos en la próxima!
Well my people that's all for today, I hope you liked it.
¡Hugs to all, see you next time!
---
---