(ESP-ENG) Un despegue que está tardando más de la cuenta // A takeoff that is taking longer than it should.
Hola amigos, buenas vibras para todos.
Hello friends, good vibes to all.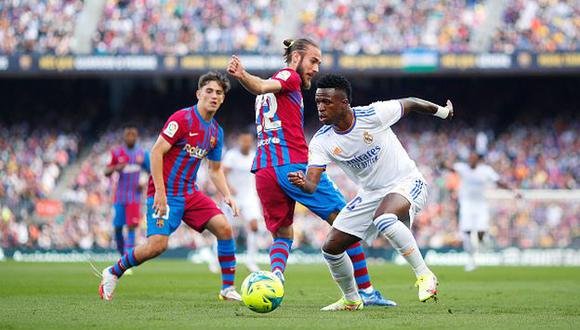 Este pasado fin de semana, el domingo para ser más especifico, fue uno de esos días donde el televisor estuvo encendido desde temprano en la mañana hasta casi finalizar la tarde debido a la gran cantidad de partidos ya sean clásicos o derbis que se disputaron en el viejo continente. Pero sobre todos destacan 2 en especial, el clásico español: Barcelona - Real Madrid y el correspondiente a la Premier League: Manchester United - Liverpool.
This past weekend, Sunday to be more specific, was one of those days where the TV was on from early in the morning until almost the end of the afternoon due to the large number of matches, whether classics or derbies that were played in the old continent. But two of them stand out in particular, the Spanish derby: Barcelona - Real Madrid and the Premier League: Manchester United - Liverpool.
Prometían ser partidos de alto voltaje porque independientemente de la situación en la que se encuentran algunos de los equipos involucrados este tipo de encuentros siempre van a despertar el espíritu competitivo y el honor que hay detrás de las camisetas y de los mismos fanáticos. Lo "cómico" de esto es que lo que se esperaba que sucediera pasó, ya que como dije en el titulo no hay manera de que el despegue definitivo ocurra.
They promised to be high voltage matches because regardless of the situation in which some of the teams involved find themselves, this type of match will always awaken the competitive spirit and the honor behind the jerseys and the fans themselves. The "comical" thing about this is that what was expected to happen happened, since as I said in the title there is no way for the definitive take-off to happen.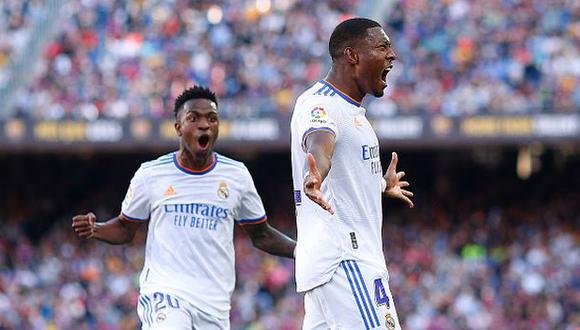 Empezamos este pequeño recorrido en el Camp Nou, casa de los blaugranas, con un partido que prometía mucho en los papeles por el gran historial y el espectáculo que están acostumbrados a ofrecer pero que en la realidad fue uno un poco soso. Un Madrid que fue una aplanadora en el primer tiempo con Vinicius demoledor por banda izquierda haciéndole la vida imposible a un Mingueza que no encontraba la forma de detener al carioca.
We started this little tour at Camp Nou, home of the blaugranas, with a match that promised a lot on paper because of the great record and the show they are used to offer but in reality it was a bit bland. A Madrid that was a steamroller in the first half with Vinicius devastating on the left flank making life impossible for a Mingueza who could not find a way to stop the Carioca.
Todo el primer tiempo el Barcelona estuvo anulado ya sea por la falta de asociación demás evidente en la parte ofensiva y por la gran presión en medio campo de los blancos. Tanto es así que el primer gol llegó después de un contraataque mortal en donde Alaba hizo gala de su pegada para marcarse un golazo tras una excelente jugada acompañada por Vinicius y Rodrygo.
Throughout the first half, Barcelona was nullified either by the lack of association in the offensive part and by the great pressure in the midfield of the Whites. So much so that the first goal came after a deadly counterattack in which Alaba showed off his punch to score a great goal after an excellent play accompanied by Vinicius and Rodrygo.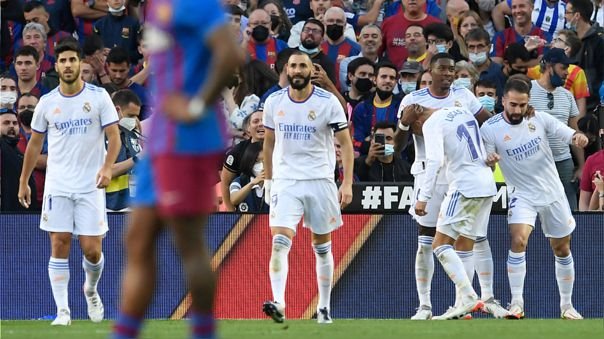 Koeman para la segunda parte entendió que le sobraba una pieza por el lado izquierdo y prescindió del más débil de aquella banda, Mingueza, para dar entrada a Coutinho y con él otro aire al Barcelona. Los culés reaccionaron y generaron mucho más pero es que cuando no se está en forma no hay manera, me atrevería a decir que es algo psicológico porque no se entiende el tan pobre rendimiento de estos jugadores.
In the second half, Koeman understood that he had one more player on the left side and he left out the weakest player on that flank, Mingueza, to bring on Coutinho and with him a new look for Barcelona. The Culés reacted and generated much more but when you are not in form there is no way, I would dare to say that it is something psychological because the poor performance of these players is not understood.
Los merengues como era de esperarse bajaron el ritmo y con todo y eso los catalanes no fueron capaces de empatar hasta que casi finalizando llegó la estocada final con el segundo gol en los pies de Lucas Vásquez. El Barca descontó gracias al Kun Aguero pero fue estéril al final de todo. Con este resultado se agrava la situación del Barcelona que llevan 4 clásicos sin conocer la victoria y un Koeman que parece no estar dispuesto a renunciar.
The Merengues, as expected, slowed down the pace and the Catalans were not able to tie the game until almost the end when Lucas Vasquez scored the second goal. Barca scored a second goal thanks to Kun Aguero but in the end it was all for naught. With this result, Barcelona's situation worsens and they have 4 classics without knowing the victory and Koeman seems not to be willing to give up.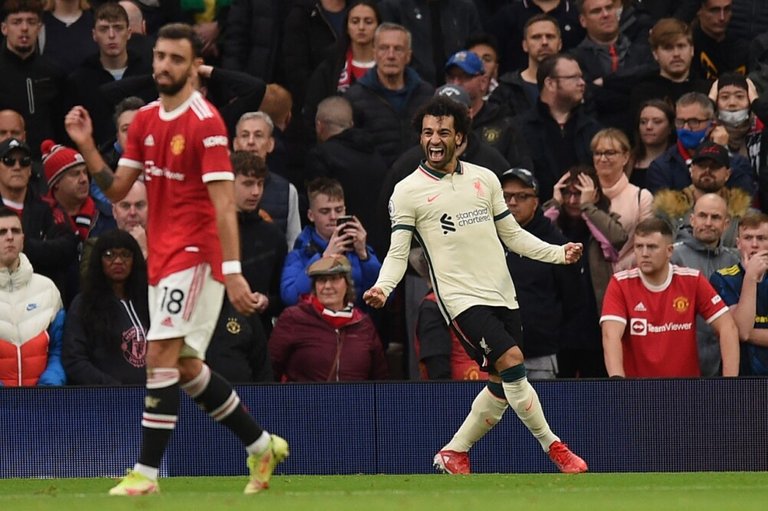 En la misma línea tenemos al ManU que en mi opinión está en una situación mucho más precaria por la calidad de plantilla que tiene y por los pésimos resultados que están teniendo, por cada partido bueno tienen cinco malos. En esta oportunidad cayeron por goleada ante el Liverpool con marcador de 5-0 en una actuación para el olvido de TODO el equipo y es que hasta el propio Cristiano perdió los papeles en varios pasajes.
In the same line we have ManU, which in my opinion is in a much more precarious situation due to the quality of the squad and the terrible results they are having, for every good game they have five bad ones. This time they lost 5-0 to Liverpool in a performance to forget for the ENTIRE team and even Cristiano himself lost his temper in several passages.
Con un gol de camerino a los 5 minutos y un segundo a los trece el desbarajuste de los diablos rojos fue muy claro. El problema está en la defensa, siempre lo he comentado pero es que es así, es sumamente frágil y si a eso le sumamos el bajo nivel que está mostrado De Gea la combinación es terrorífica. CR7 no puede solo y eso la gente y los propios compañeros de equipos parece que no lo entienden, lo digo porque un jugador tan experimentado como Paul Pogba se dejó expulsar de una manera tonta dejando con 10 a los suyos.
With a goal after 5 minutes and a second one after thirteen minutes, the red devils' mess was very clear. The problem is in the defense, I have always commented it but it is like that, it is extremely fragile and if we add to that the low level that De Gea is showing the combination is terrifying. CR7 can't play alone and people and his own teammates don't seem to understand that, I say this because a player as experienced as Paul Pogba was sent off in a silly way leaving his team with 10 men.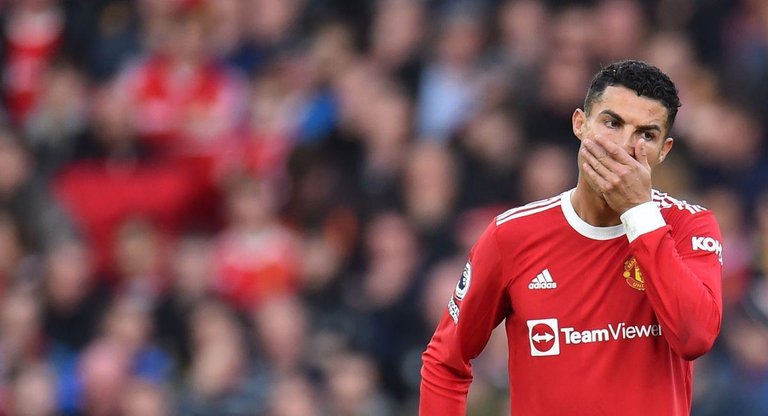 Los siguientes 3 goles fueron obra de Salah quien está en un nivel magnifico, como casi siempre lo ha estado. Tenía tiempo que no veía un partido tan malo del Manchester y miren que está temporada los han tenido pero el del domingo fue lamentable y es una pena que un grande de Europa esté pasando por esa situación tan critica.
The next 3 goals were scored by Salah who is at a magnificent level, as he has almost always been. It's been a while since I've seen such a bad game from Manchester and they've had them this season, but Sunday's game was pitiful and it's a shame that a big European club is going through such a critical situation.
Quien o quienes son los culpables de esta debacle? - a mi parecer es de Solskjær porque no ha sabido dar con la formula defensiva. Acá hay mucha más veteranía y experiencia que en el Barcelona y es por eso que creo que es un problema enteramente del técnico y el no saber manejar semejante plantilla. Lo del Barcelona es un tema de confianza, lo del Manchester United es un tema de funcionamiento errado.
Who is to blame for this debacle? - In my opinion it is Solskjær's because he has not been able to find the defensive formula. Here there is much more experience and experience than in Barcelona and that is why I think it is entirely a problem of the coach and not knowing how to manage such a squad. Barcelona's problem is a matter of confidence, Manchester United's is a matter of wrong operation.
Así que mis amigos, como lo expongo en el titulo estamos ante dos potencias del futbol que no terminan de dar el brinco definitivo y por el bien del espectáculo y del juego esperemos que lo den pronto y no vaya a ser muy tarde para que puedan recuperarse y ponerse a pelear en las diferentes competiciones.
So my friends, as I state in the title, we are facing two soccer powers that have not yet made the definitive leap and for the sake of the show and the game, let's hope that they do it soon and it won't be too late for them to recover and start fighting in the different competitions.
Bueno mi gente por hoy es todo, espero que les haya gustado.
!Un abrazo grande, nos leemos en la próxima!
Well my people, that's all for today, I hope you liked it.
¡Big hugs, see you next time!
---
---