(ESP-ENG) Venezuela y el camino del sufrimiento!
Hola amigos, buenas vibras para todos.
Hello friends, good vibes to all.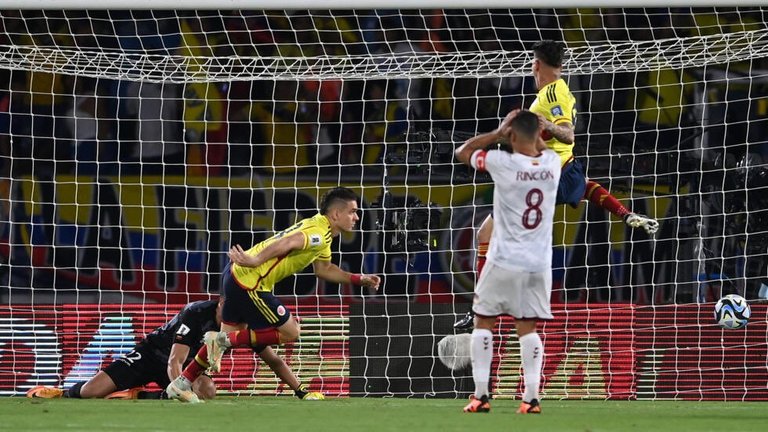 Comenzaron las eliminatorias más difíciles, complicadas y exigentes del mundo y no son otras que las de Conmebol, eso es sabido desde años atrás y viendo lo visto el día de ayer pues se confirma una vez más. Con el inicio de este nuevo viaje también da comienzo al "camino del sufrimiento" que no es otro que las ilusiones de un país entero depositadas en once hombres persiguiendo un balón con la finalidad de obtener por primeras vez un pasaje a un mundial mientras nosotros nos aferramos a esa ilusión. Pero ahora es diferente ya que el para el 2026 no habrán 32 países sino 48 por lo que ya no serán 4 clasificados directos sino 6 más el repechaje por lo que las probabilidades, en teoría, son más altas, pero, hay posibilidades?...
The most difficult, complicated and demanding qualifying rounds in the world have begun and they are none other than those of Conmebol, that has been known for years and seeing what we saw yesterday confirms it once again. With the beginning of this new journey also begins the "road of suffering" which is none other than the illusions of an entire country deposited in eleven men chasing a ball in order to obtain for the first time a ticket to a World Cup while we cling to that illusion. But now it is different since for 2026 there will not be 32 countries but 48, so there will no longer be 4 direct qualifiers but 6 plus the playoff, so the probabilities, in theory, are higher, but, are there any possibilities?...
Venezuela se enfrentaba a una Colombia que viene con muchos cambios, no es aquella maquina del futbol dirigida por Pekerman que realmente daba mucho miedo, enfrentarse a aquella selección era garantía de salir bailados como nunca. Actualmente no es el caso, son pocos los jugadores que quedan de aquel equipo, hay una propuesta distinta ya que las eliminatorias pasadas fueron un desastre para ellos y aún así perdimos. Pero, por qué caímos la noche de ayer? - son varias cosas y les aseguro que una de ellas no fue porque Colombia jugó un gran partido, nada más alejado de la realidad, fue porque los viejos fantasmas que siempre han rondado a nuestra selección se hicieron presentes ayer, no en todo el juego pero si se les vio la cara.
Venezuela faced a Colombia that has undergone many changes, it is not that soccer machine coached by Pekerman that was really scary, facing that team was a guarantee to get danced like never before. Nowadays it is not the case, there are few players left from that team, there is a different proposal since the last qualifiers were a disaster for them and we still lost. But why did we lose last night? - There are several things and I assure you that one of them was not because Colombia played a great game, nothing could be further from the truth, it was because the old ghosts that have always haunted our national team were present yesterday, not in the whole game but we could see their faces.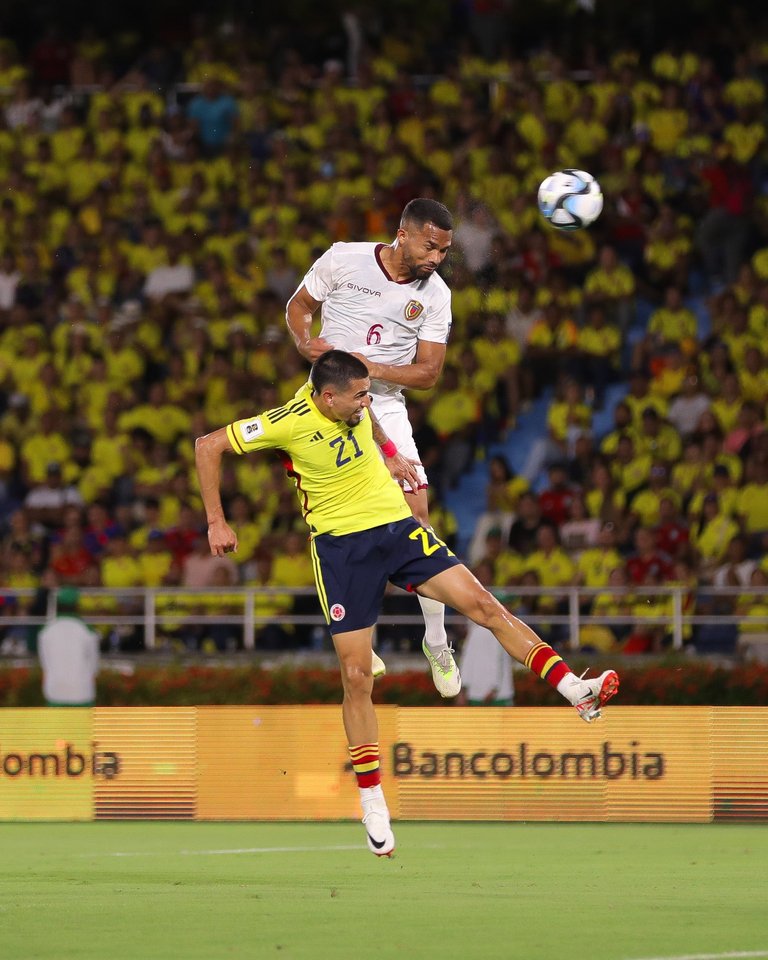 La Vinotinto salía con un 4-3-3. Me llamó la atención ver a Luis Mago en la posición de lateral pero entiendo que se necesitaba a alguien verdaderamente zurdo para la posición, la cosa es que le fue mal, nunca se vio cómodo, no tiene desborde, ni proyección y a la hora de la marca siempre se vio superado ya sea por Cuadrado o por Arias quien fue el que hizo el centro para que Borré hiciera el gol. Mago era candidato a ser sustituido para el segundo tiempo, no fue así y llegó el gol. Evidentemente la culpa no es entera de él, fue un gol de camerino que condicionó y noqueó a los nuestros y eso pesa. Siguiendo en esa saga defensiva el otro al que se le notó muy superado fue a Alexander González quien no le ganó un duelo a Luis Díaz, la calidad del jugador del Liverpool es inmensa pero el criollo nunca le vio luz y el peligro siempre pasaba por los botines de él.
The Vinotinto came out with a 4-3-3 formation. I was surprised to see Luis Mago in the fullback position but I understand that someone really left footed was needed for the position, the thing is that it went badly, he never looked comfortable, he has no overflow, no projection and when it came to marking he was always overpowered either by Cuadrado or by Arias who was the one who made the cross for Borré to score the goal. Mago was a candidate to be substituted for the second half, but he was not and the goal came. Evidently he is not entirely to blame, it was a dressing room goal that conditioned and knocked out our team and that weighs. Continuing in this defensive saga, the other player who was noticed to be very outclassed was Alexander González who did not win a duel with Luis Díaz, the quality of the Liverpool player is immense but the Creole never saw the light and the danger always passed through his boots.
Es una lastima que el Brujo Martínez hayA tenido un juego regular, es de los mejores de nuestra selección pero ayer lo noté desaparecido, no fue el motor que es en el Philadelphia Union, ese que marca y pega y da uno que otro pases filtrados. Yangel fue de los mejores, es lo más parecido que tenemos a un 10 que genere juego y reparta balones, en el primer tiempo hizo un buen trabajo, no fue suficiente claro está pero es de lo más rescatable. La delantera, la bendita delantera. Les pregunto, que piensan de Salomón Rondón? - como lo vieron? - en lo personal lo vi lento, extremadamente lento y pesado, es verdad que por el esquema y la forma en como se estaba jugando no lo beneficiaba tanto ya que no le llegaban balones pero es que fue un espectro en todo el partido.
It is a pity that Brujo Martinez had a regular game, he is one of the best in our national team but yesterday I noticed him missing, he was not the engine that he is in Philadelphia Union, the one that scores and hits and gives one or another filtered passes. Yangel was one of the best, he is the closest thing we have to a 10 that generates play and distributes balls, in the first half he did a good job, it was not enough of course but he is one of the most recoverable. The striker, the blessed striker. I ask you, what do you think of Salomón Rondón? - How did you see him? - Personally I saw him slow, extremely slow and heavy, it is true that because of the scheme and the way the game was being played he did not benefit so much since he did not get any balls, but he was a spectrum during the whole game.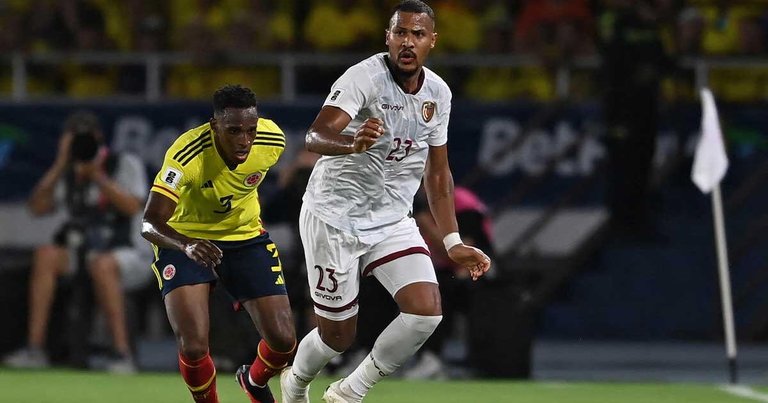 Venezuela jugó un decente primer tiempo, supieron mantener el bloque defensivo compacto, las líneas eran cortas y esto hizo que Colombia no pudiera generar nada peligro, tenían la posesión pero no generaban absolutamente nada. Al jugar así se apostó a la contra y al primer pase cosa que "funcionó" ya que por momentos se vio incomoda a los cafeteros. No es posible que los que generaron más peligro hayan sido Yangel y Savarino cuando decidían ir un poco hacia adelante, eso de dar tres o cuatro pases seguidos en el campo rival nunca lo vimos, nunca hubo ese juego asociado y así amigos es muy complicado todo, no se puede pretender hacer goles tirando balones largos o esperar un tiro libre o tiro de esquina, repito, el ataque Vinotinto fue nulo.
Venezuela played a decent first half, they knew how to keep the defensive block compact, the lines were short and this made Colombia unable to generate any danger, they had possession but generated absolutely nothing. Playing like this, they bet on the counter and the first pass, which "worked" because at times they made the Colombians uncomfortable. It is not possible that those who generated more danger were Yangel and Savarino when they decided to go forward, we never saw three or four passes in a row in the opponent's field, there was never that associated play and that way, friends, everything is very complicated, you cannot expect to score goals by throwing long balls or waiting for a free kick or corner kick, I repeat, the Vinotinto attack was null and void.
Ya el desastre total fue en el segundo tiempo, lo visto en los primeros 45 minutos se perdió, si antes Venezuela no tenía el balón pues ahora menos. El Bocha sacó a Yangel, un error para mi, y los tres de arriba para que entraran Soteldo, Josef Martínez, Alejandro Marqués y más hacia el final Rómulo Otero. Con esos cambios el esquema era un 4-4-2, honestamente pensé que veríamos algo de peligro con eses nuevas piezas pero que va, totalmente anulada la Vinotinto. Hace falta más trabajo, mucho más trabajo de cara a lo que viene, tenemos que ser capaces de mantener una idea de juego los 90 minutos del partido porque sino no llegaremos a ningún lado.
The total disaster came in the second half, what was seen in the first 45 minutes was lost, if before Venezuela did not have the ball, now even less. El Bocha took off Yangel, a mistake for me, and the three up top to bring on Soteldo, Josef Martinez, Alejandro Marques and towards the end Romulo Otero. With those changes the scheme was a 4-4-2, I honestly thought we would see some danger with those new pieces but no way, the Vinotinto was totally annulled. We need more work, much more work for what is to come, we have to be able to keep an idea of the game for the 90 minutes of the match because otherwise we will not get anywhere.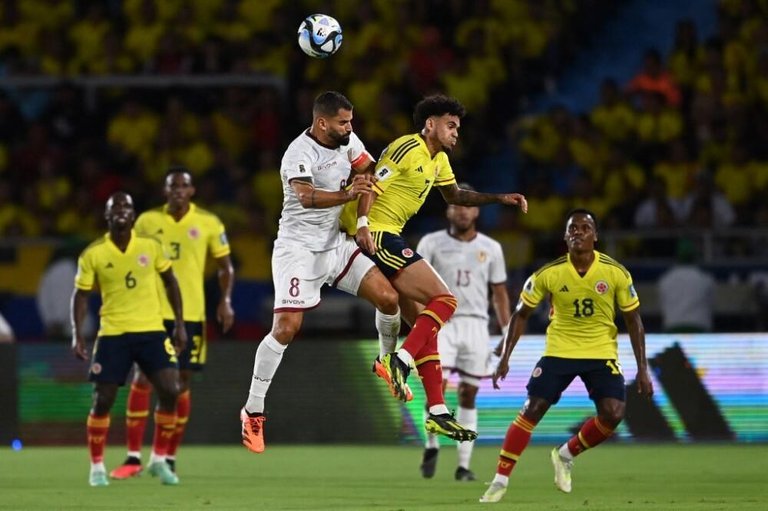 Me voy decepcionado? - No. Y la repuesta es no porque a pesar de la derrota vi que por lo menos hay una intención de juego, se nota la mano del Bocha, los jugadores en cancha nunca bajaron de intensidad, el técnico cuando necesitó ser ofensivo no le dio miedo de meter todas las piezas y sobre todo y para mi más importante, los ánimos nunca cayeron. Hay que ser críticos, siempre, pero la idea tampoco es hablar mal por hablar. No es el resultado ideal, se sabia que ganar en Colombia era complicado aunque ya sabemos que lejos estuvieron de ganarnos con contundencia, ahora lo que hay que hacer es pensar en Paraguay el día martes. Estos empataron contra Perú por lo que la necesidad de puntear de ellos será la misma que la de nosotros.
Am I disappointed? - No. And the answer is no, because despite the defeat I saw that at least there is a game intention, the hand of Bocha is noticeable, the players on the field never lowered their intensity, the coach, when he needed to be offensive, was not afraid to put all the pieces and above all and for me the most important thing, the spirits never dropped. We must always be critical, but the idea is not to speak badly for the sake of speaking. It is not the ideal result, we knew that winning in Colombia was complicated although we already know that they were far from beating us convincingly, now what we have to do is to think about Paraguay on Tuesday. They drew against Peru, so their need to score will be the same as ours.
Venezuela no se puede dar el lujo de perder puntos en casa si se quieren tener aspiraciones, ganar a Paraguay es obligado sino queremos repetir pasos de eliminatorias pasadas. En las últimas dos hemos quedado de últimos, para Rusia y Catar no hemos sido capaces de salir del sótano. Hay confianza? - quiero tenerla, creo que lo visto en el primer tiempo da para pensar que hay un trabajo hecho y una idea concebida. Espero que el Bocha haya tomado nota y haga los cambios pertinentes de cara al martes, no es cambiar a todo el once pero si algunos elementos que no funcionaron como es esperaba, por lo menos así lo percibo. Toca esperar y confiar, no nos queda otra. Colombia ganó y ya, sin más y gracias a un gol de una jugada esporádica; estos chamos tienen que quedarse con eso y corregir lo que haga falta.
Venezuela cannot afford to lose points at home if they want to have aspirations, winning against Paraguay is a must if we do not want to repeat the steps of past qualifiers. In the last two qualifiers we have finished last, for Russia and Qatar we have not been able to get out of the basement. Are you confident? - I want to be confident, I think that what we saw in the first half gives us to think that there is a job done and an idea conceived. I hope that Bocha has taken note and will make the necessary changes for Tuesday, not changing the whole eleven but some elements that did not work as expected, at least that's how I perceive it. We have to wait and trust, we have no other choice. Colombia won and that's it, just like that and thanks to a goal from a sporadic play; these guys have to keep that and correct what is needed.
Bueno mi gente por hoy es todo, espero que les haya gustado.
¡Un abrazo a todos, nos leemos en la próxima!
Well my people that's all for today, I hope you liked it.
¡Hugs to all, see you next time!
---
---