MY LOVE FOR FOOTBALL⚽⚽|| WORLD CUP 2022
Whenever it is world sport time, I can see that just how much of sports that I love, football always comes first to mind because I've had a good history of loving national football.
It started all the way back with my parents who for the sake of a national team playing a game in the world cup had to connect the TV true a car battery because there was no power to watch the game.
We loved watching football with Nigerian team back then the superheroes were the stars to beat, however in this recent times they have not been performing up to par.
For this reason they have not qualified for the world cup starting today time in Qatar.
However it does not stop us from watching the game we love the world cup 2022.
I still have countries from Africa that I can support Senegal, Cameroun, Ghana, Tunisia and Morocco are great sporting teams that I can vouch my love and support for in this coming world cup.
I have reasons to believe one African country will make it past the quarterfinals.
I'm even more excited about the idea of creating a reward pool for betting on games by the hive.buzz team.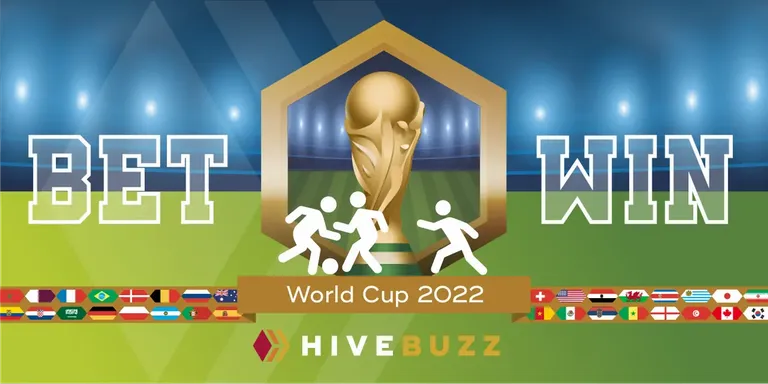 To join all you have to do is send 1 hive to @hivebuzz.pool account or better still read the post on this link.
Hive rewards are going to be shared across and everyone can actually be a winner.
I m excited for the kind of fun discussions that will erupt from the world cup.
I hope you are ready to ball, because I am as well.
The world cup is being hosted this year in Qatar, the first Arab country to host it, I think.
It's gonna be quite interesting as the open the games against Ecuador @ 4pm UTC time.
If you are interested in joining the hive games, make sure you read the post carefully, it's easy to follow, and very promising too.
Thanks to @ecency and @3speak teams for their support as well. We all love football.
I hope to see the games draws us closer as we laugh, love, share and have fun together.
HiveBuzz is a project created by @arcange
Word Cup 2022
---
---