Tunnels, frogs and fireflies - Actifit: June 20 2022

I went walking with my friend and her dog, just as night was falling, so we could see the fireflies. They are amazing right now, if you know where to go to find them. They like woods and meadows. And we are fortunate to have both of those things in a park where we live.
Now, sadly it is nearly impossible to take pictures of fireflies. Picture an enormous field, as far as the eye can see, twinkling with millions of time fairy lights in the dark. There is no way to capture that, except in words. (Although I do have a few videos from over the years.)
However, we passed through a tunnel on the way to and from the park. And so I focused my photographic efforts on that. I love how some of these turned out!
In the first one, my friend looks a little bit like a ghost. My phone camera does okay in weird lighting situations, but prefers objects that are not on the move.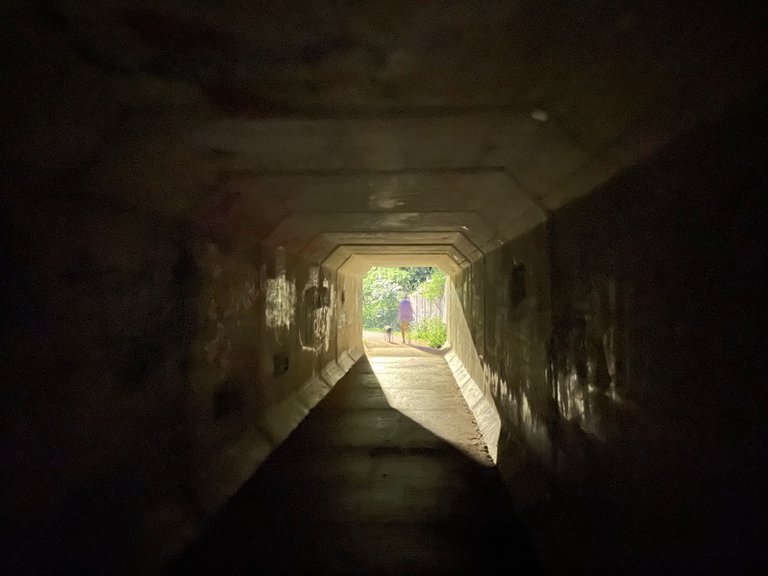 The next two pictures were taken just before that as they entered the tunnel.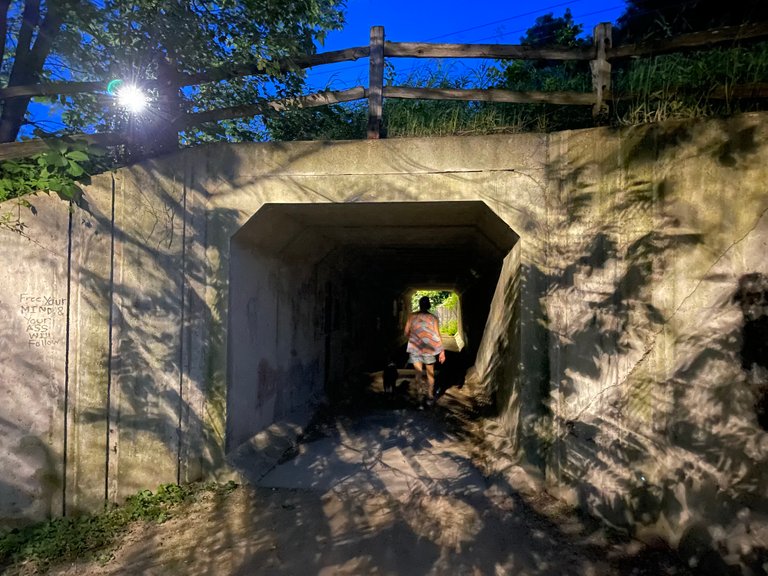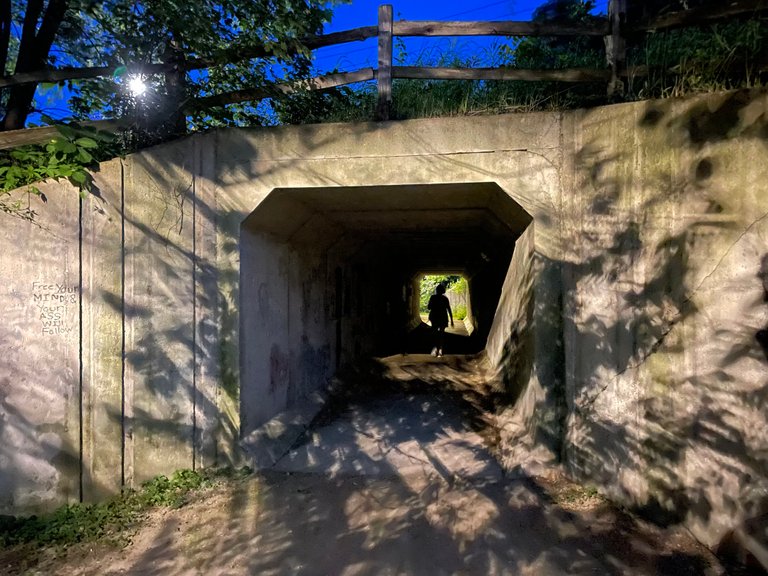 I love how the tunnel frames them. I might use one of these as a short story prompt. Couldn't you just easily imagine some interesting scenarios for stories?
This next one is actually the first one of the series. I loved the mysterious and foreboding tunnel, as we walked toward it. The streetlight is undoubtedly there to provide visibility and reassurance, and yet it has the effect of casting the tunnel in deep darkness, in contrast to the light. Would you enter that tunnel?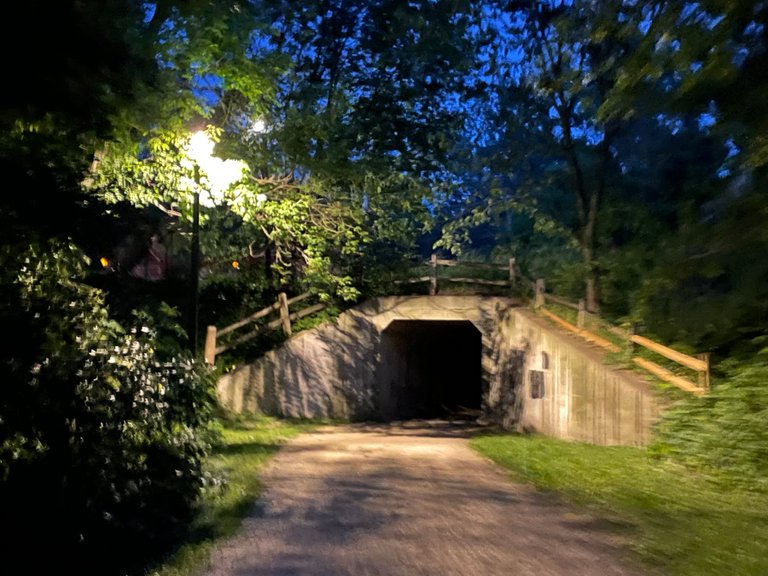 The next picture is of my friend's dog, as we returned after our sojourn into the magical world of fireflies. I love the sweet, pensive mood these pictures create. Where is this dog going? Is it looking for its long lost master? Is it lost and alone?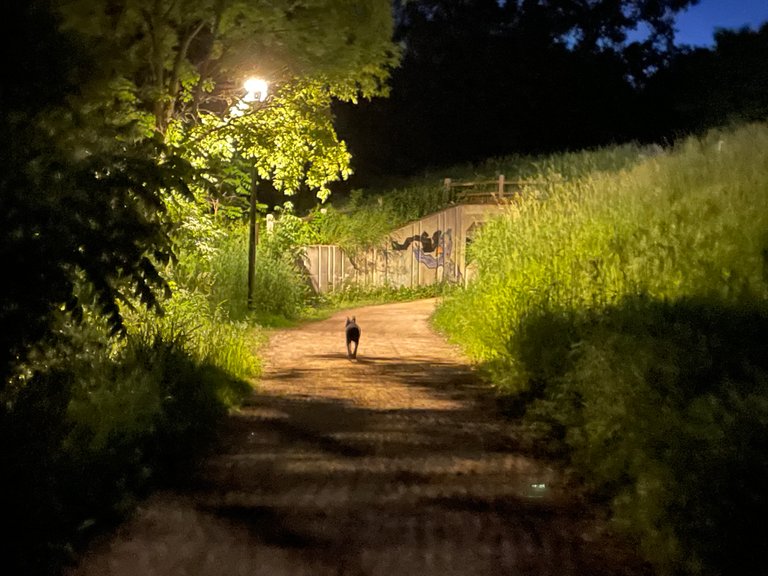 But of course she was with us, and she knew we were following along behind!
What about the frogs, you may wonder? Well we saw frogs all along the walk. You actually have to watch your step while walking in the dim lighting past sundown, as bullfrogs hop across the path all the time.
But when we entered the tunnel, which is a damp environment where moisture collects, we suddenly noticed movement and turned on our phone lights. All around us on the walls and damp pathway were tiny green frogs!
So we walked through with lights on to avoid stepping on them.
Okay, here's my last picture — my subjects! They were so nice to let me photograph them!
Thanks for visiting! I appreciate it!
---


Photo credits: All of the photos in this post were taken by me with my iphone and belong to me, unless otherwise noted.
Join Hive at Hive.io
Hive is a social blockchain where you can join communities, blog about your favorite topics, curate content and earn cryptocurrency.
Get started
Sign up an account by clicking this referral link: HiveOnboard.
Or start at Actifit.io! Simply click this referral link to get started. Earn tokens by getting active every day and sharing your results.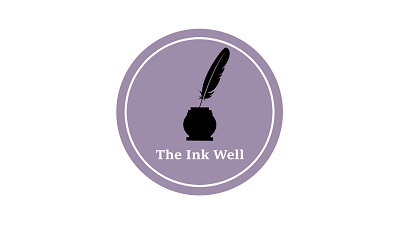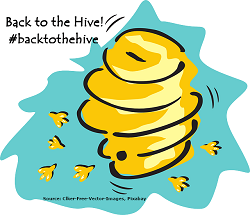 #backtothehive
is an initiative I've started to encourage long-time members to return with fresh energy!

This report was published via Actifit app (Android | iOS). Check out the original version here on actifit.io




20/06/2022

10581

---
---