Rutina potente (tren inferior). || Powerful routine (lower body).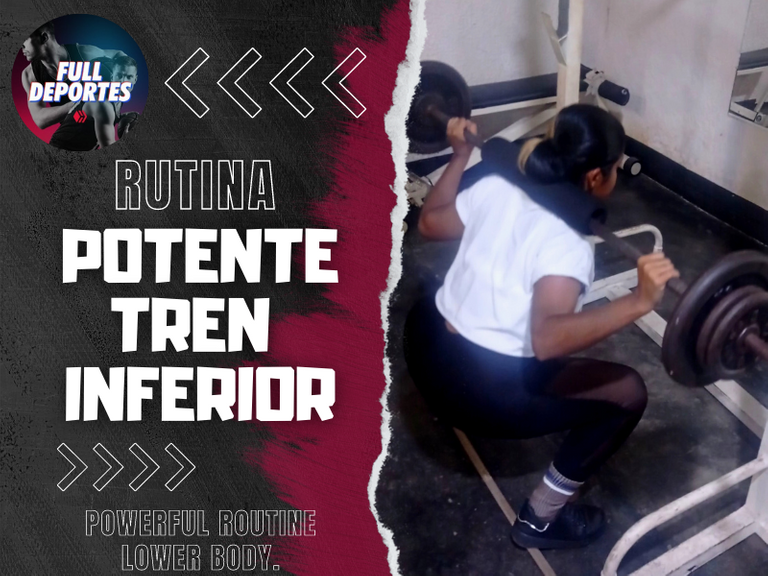 Edited in Canva

Empecemos la semana activando nuestro cuerpo con esta poderosa rutina hecha en gym, aunque pueden adaptarla para realizar en casa más adelante les explicaré como, esta rutina esta enfocada en el tren inferior la realicé el día viernes en el gimnasio al que asisto, es creada por mi entrenador quien es un profesional del mundo del entrenamiento al final dejaré sus redes sociales para que sigan más de su conocimiento, es potente como su nombre lo indica, en mi casa de entrenamiento trabajamos por circuitos y a final solemos hacer un poco de tabata o algún movimiento complementario ese día en especifico fueron planchas bajas con elevación de cadera, sin decir más los dejo con la rutina.
Let's start the week activating our body with this powerful routine made in gym, although you can adapt it to perform at home later I will explain how, this routine is focused on the lower train I performed it on Friday at the gym I attend, it is created by my coach who is a professional in the world of training at the end I will leave their social networks to follow more of their knowledge, it is powerful as its name suggests, in my training house we work by circuits and at the end we usually do a little tabata or some complementary movement that day specifically were low planks with hip elevation, without saying more I leave you with the routine.

1. Sentadilla con barra:
Squat with barbell:
Para ser honesta es uno de los ejercicios que más evado, aun me cuesta mantener una buena técnica en todas las repeticiones, por ello lo hago con pausa tomando el tiempo que necesite, deben inhalar y bajar manteniendo la espalda recta, con la barra situada en la parte superior de los trapecios, al subir se contrae el abdomen y se exhala, este movimiento lo repetí para esta rutina 20 veces, si harán en casa pueden hacer una sentadilla sin carga o usar una botella de agua para ejercer más presión. Pesos usados en la barra para quien interese, 26kg primera serie, 36kg segunda y tercera serie, 4 serie 41kg.
To be honest it is one of the exercises that I avoid the most, it is still hard for me to maintain a good technique in all repetitions, so I do it with pause taking the time I need, you must inhale and lower keeping your back straight, with the bar located at the top of the trapezius, when rising the abdomen contracts and exhales, I repeated this movement for this routine 20 times, if you will do at home you can do a squat without load or use a water bottle to exert more pressure. Weights used on the barbell for those interested, 26kg first set, 36kg second and third sets, 4 set 41kg.
---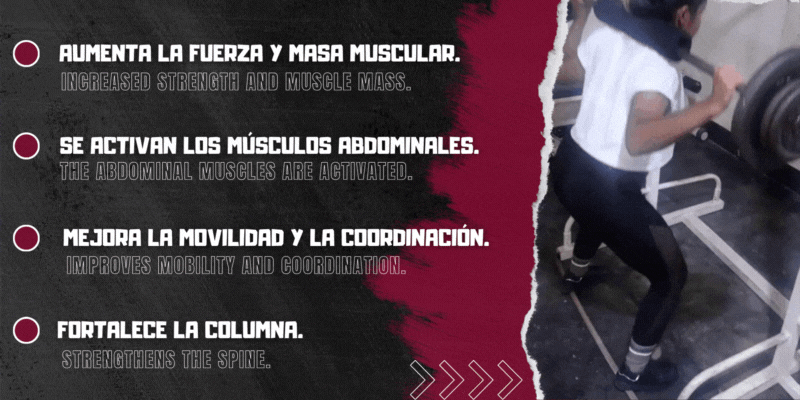 ---
2. Escalada unilateral con elevación de rodilla:
Unilateral climbing with knee lift:
Este es un movimiento exigente, el tamaño de la superficie en la que realizaremos la escalada debe llegar a nuestra rodilla, o en mi caso esta un poco más arriba, la técnica esta en mantener la espalda derecha al subir y bajar de la superficie, coloquen el pie firme sobre lo que usen para la escalada, el otro pie debe estar aun lado y hacia atrás, suban y eleven la rodilla hasta formar una escuadra, realicen 20 repeticiones, si lo harán en casa pueden usar un cajón de madera o alguna superficie estable.
This is a demanding movement, the size of the surface on which we will make the climb should reach our knee, or in my case is a little higher, the technique is to keep your back straight up and down the surface, place the firm foot on what you use for climbing, the other foot should be even side and back, up and raise the knee to form a square, perform 20 repetitions, if you do it at home you can use a wooden crate or a stable surface.
---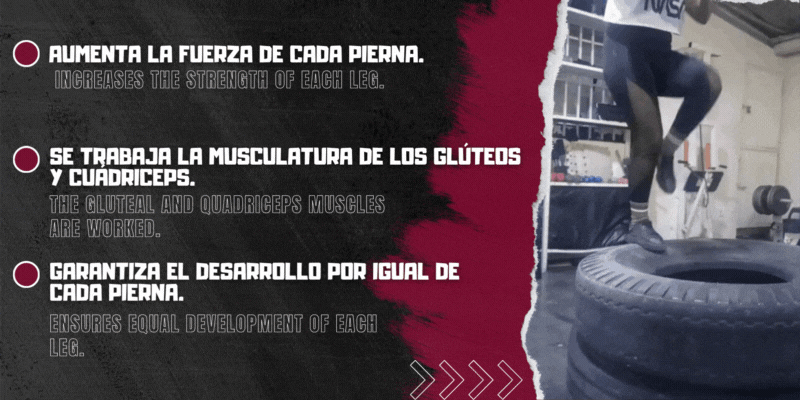 ---
3. Sentadilla con aducción de pierna:
Squat with barbell:
Un movimiento combinado que trabaja varias zona del tren inferior, se debe hacer una sentadilla bajando lo más que nuestra flexibilidad los permita, al subir eleven una pierna al lateral, trabajen una pierna a la vez, 10 repeticiones de un lado y 10 repeticiones el otro lado, este movimiento se puede hacer sin problemas en casa recuerden inhalar al bajar y exhalar al subir.
A combined movement that works several areas of the lower body, you must do a squat down as much as our flexibility allows, when going up raise one leg to the side, work one leg at a time, 10 repetitions on one side and 10 repetitions on the other side, this movement can be done without problems at home remember to inhale when going down and exhale when going up.
---
---
4. Elevación de talones con mancuerna:
Dumbbell heel raises:
El movimiento final de este circuito es una elevación de talones con mancuerna, se eleva un talón a la vez, el movimiento debe ser pausado controlando en todo momento la elevación, manténganse rectos, sostengan la mancuerna al lado de la pierna que trabajará, eleven el talón sostengan unos segundos y bajen, repitan el movimiento 20 veces, en casa pueden hacer el movimiento apoyando las manos de la pared y sin usar carga, para quien interese usé una mancuerna con 20kg.
The final movement of this circuit is a heel lift with dumbbell, one heel is lifted at a time, the movement should be paused at all times controlling the elevation, keep straight, hold the dumbbell next to the leg that will work, raise the heel hold a few seconds and lower, repeat the movement 20 times, at home you can do the movement by supporting the hands of the wall and without using load, for those interested I used a dumbbell with 20kg.
---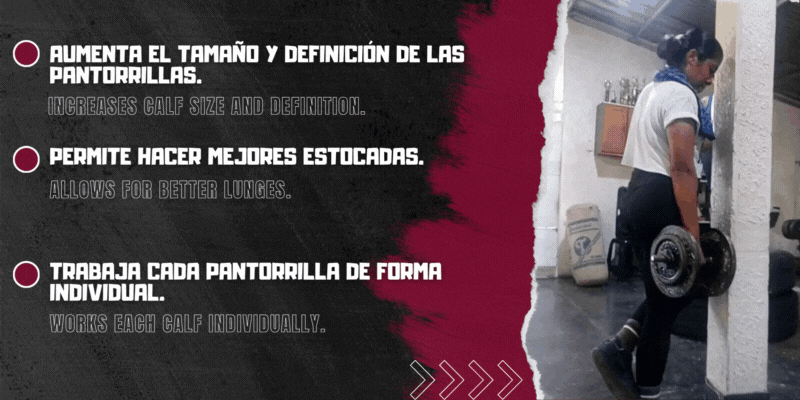 RUTINA 20 X 4. 20 repeticiones por 4 series.
ROUTINE 20 X 4. 20 repetitions for 4 sets.

Una rutina poderosa para trabajar el tren inferior, al terminar la rutina descanse unos minutos y realice 100 planchas bajas con elevación de cadera, recuerden calentar antes del entrenamiento debajo les dejaré un calentamiento dinámico para antes de entrenar piernas, hidrátense las veces que sean necesarias, descansen unos 20 segundos entre ejercicio, entre serie pueden tomar unos minutos de descanso para mejorar el rendimiento, cuéntenme en los comentarios que les ha parecido esta rutina, gracias por llegar hasta aquí.
A powerful routine to work the lower body, at the end of the routine rest a few minutes and perform 100 low planks with hip elevation, remember to warm up before training below I will leave a dynamic warm up before training legs, hydrate as many times as necessary, rest about 20 seconds between exercises, between series can take a few minutes rest to improve performance, tell me in the comments that you have found this routine, thanks for coming here.
---
Acondicionamiento dinámico (tren inferior). || Dynamic conditioning (lower body).



Imágenes tomadas desde mi Xiaomi Redmi Note 4. || Images taken from my Xiaomi Redmi Note 4.
Separadores hechos en Canva. || Dividers made in Canva.
Ediciones hechas en Canva. || Editions made in Canva.
Vídeos convertidos en gif || Videos converted to gif IMG2GO
Translator Deepl.
Créditos de la rutina: || Routine credits:
Kellys Rodriguez Prof: Educ, Física, Preparador físico, Coach Aplicado al Deporte y el Fitness. Instructor: Bailoterapia, STEP, Func. Susp, DA Boot-Camp bailokellys82
---
Imagen incrustada. || Embedded image. LOGO FULL DEPORTES
---
---