Strong and Stable - My Actifit Report Card: October 11 2021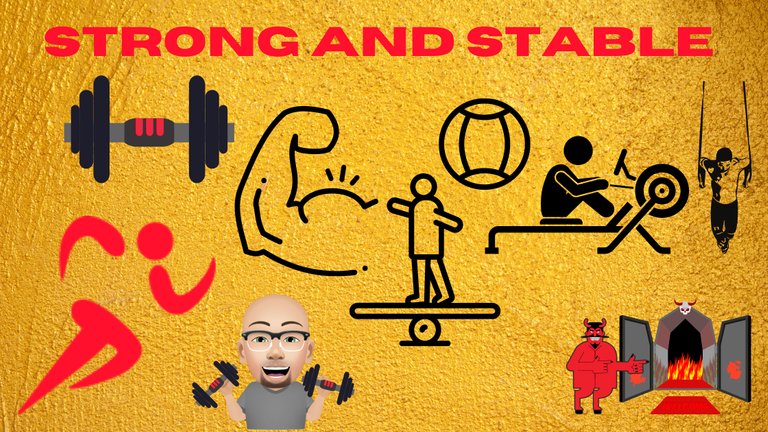 Today's Orangetheory Fitness template was a signature workout that included endurance and strength elements.
Template Name: Strong and Stable
They are truly preparing us for OTF Hell Week, which is just a couple of weeks away.
Monday, October 11, 2021 - 60 MINUTES
The rower blocks was all about the power strokes mixed with a set of balancing exercises with the medicine ball.
The floor blocks was all strength moves followed by a stabilizing exercise with the TRX straps and then a core exercise.
Rower and Floor was the first half of the session as always. Tiffany and I always prefer to do the running last.
Row Block
• ⁠Repeat 3 times and track total distance
• ⁠10 x single leg med ball overhead tricep extension, 10 x single leg med ball front press, 15 stroke row
• ⁠Record distance and reset monitor
• ⁠Repeat the same set and try and beat your distance
• ⁠Reset monitor and row for distance
Floor Block
• ⁠3 rounds of:
• ⁠6 x reverse grip hip hinge low row (tempo)
• ⁠12 x TRX low row
• ⁠14 total x kneeling plank bird dog
• ⁠3 rounds of:
• ⁠6 x dead lift
• ⁠6 each side x TRX single leg dead lift
• ⁠14 total x plank alternating leg lift se.
Tread Block (second half of the workout session)
% = inclines
• ⁠1 min base @ 3%
• ⁠1 min base @ 4%
• ⁠1 min base @ 5%
• ⁠1 min base @ 6%
• ⁠90 sec base @ 1%
• ⁠45 sec base @ 4%
• ⁠45 sec base @ 5%
• ⁠45 sec base @ 6%
• ⁠45 sec base @ 7%
• ⁠90 sec base @ 1%
• ⁠30 sec base @ 5%
• ⁠30 sec base @ 6%
• ⁠30 sec base @ 7%
• ⁠30 sec base @ 8%
• ⁠90 sec base @ 1%
• ⁠30 sec ALL OUT
My Orangetheory Fitness Heart Rate Monitor results: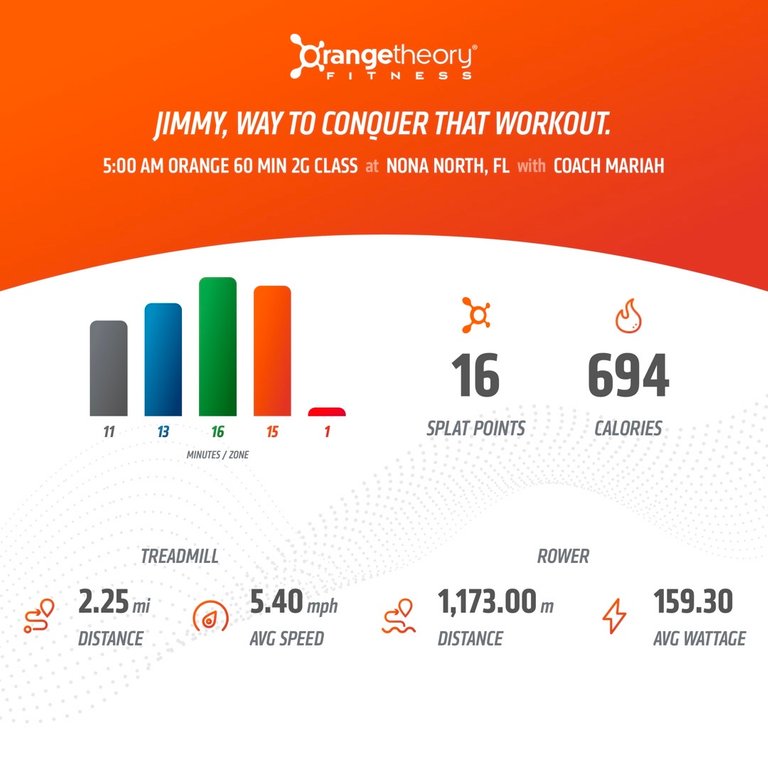 Tomorrow is another scheduled splat burning session. We will be going to the Nona North sister studio Nona South.
This report was published via Actifit app (Android | iOS). Check out the original version here on actifit.io




8931

Aerobics,Gym,Weight Lifting,Treadmill,Running
| | | | | | |
| --- | --- | --- | --- | --- | --- |
| | | | | | |
| 34 in | | in | | in | |
---
---