MLB/Major League Baseball: Open to Optimism, Let's Go Mets!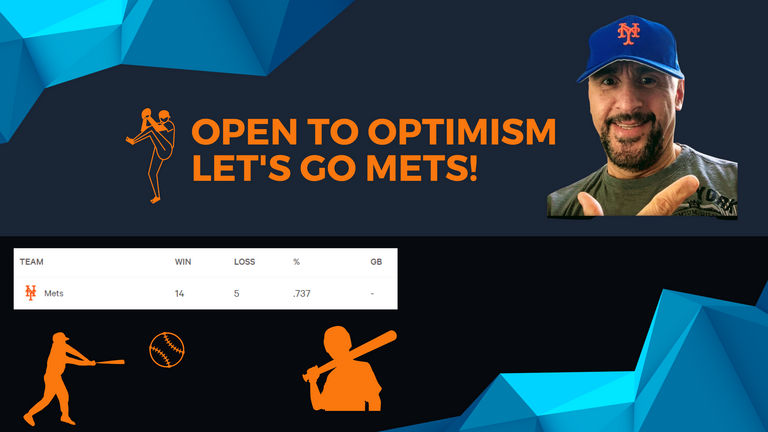 Sources (more sources at the end of the post):

Ok, so by now, based on the title of this post and my photo with the hat I'm wearing; that I am a New York Mets fan and like season's past; there is hope of a successful season in this fanatic's mist.
They have played 19 games thus far and have the best record in Major League Baseball at 14 wins and 5 losses, they lead their division - The National League East by 4 1/2 games and of course first in the National League Wild Card.
It's absolutely way too early in the season to get over excited about this team, because I've spent about 50 years with more broken hearts after a Mets' season than not. Unfortunately, some disastrous seasons.
That was mostly based on horrible ownership, with very bad decisions and playing in the a city that has the most popular team in sports history the New York Yankees who are starting to heat up after a bad start to the season and whose shadow; my team has had to play under - forever.

Three big factors that allows fans like myself to be overly optimistic about our team's chances to remain competitive throughout the season and actually positioned to be a winning franchise for the foreseeable future:
Ownership - the guy who bought the Mets recently is a billionaire and is a New York Mets fan. ENOUGH SAID!

Manager - We finally have a manager who has a winning pedigree, is old school; but open to the new wave of analytics in the sport and is great dealing with the different type of ballplayers in today's game and finally, winning the World Series as a manager has eluded Buck Showalter and I have a feeling this team will want to win one for the skipper. This adds a little more passion to their quest for a championship.

Pitching - for the most part in New York Mets history, they've had amazing pitchers; but they've also have dealt with too many injuries and it always seem like the medical staff the Met's had on board really didn't mesh well with ownership or vice versa. Not sure what the heck it was.
With that said about the pitching, the team started off the season without their ace, who is considered the best pitcher on the planet and it already seemed like doom and gloom for the team. But, they have managed to not only start the season with one of the best pitching staffs in all of baseball, our ace is mending much quicker than anticipated and he should be back in June.
If the New York Mets continue to play the way they are playing now - fundamentally adequate in all phases of the game, the pitching can stay the course and with Buck at the helm; I should be one happy Mets fan by the end of the season.
What would be a successful season?
I guess, winning the World Series is the only way to truly have a successful season; but it wouldn't be so bad to fortify a foundation for long-term winning baseball and the World Championship will eventually happen much sooner than later.
I truly believe that if we as fans, can go into the next handful of seasons knowing, without question, that the team is in great position to be a winner; then as a Met's fan, that would go a long way.
I don't mean a haphazard belief or one of fantasy, but one that transcended with long-term vision and smart decisions along the way.
Let's Go Mets!


*HIVE Divider Courtesy of @doze
I'm an upgraded member and use the following services:
CANVA.COM
IMGBIN.COM
CLICKTRACKPROFIT.COM
LEADSLEAP.COM
LISTNERDS.COM
THEATHTLETIC.COM
---
---