Millones vienen y millones van [ESP / ING] Millions come and millions go
      El fichaje de Haaland es otra muestra del poder económico que tiene el Manchester City ¿La Champions para cuándo? Como nos tiene acostumbrado este club, todos los años anuncia un gran fichaje o le cumple otro capricho a Guardiola. Comienzan la temporada muy bien y luego solo terminan ganando la liga, porque con el once que tienen no les alcanza para ganar un torneo importante, la billetera alcanza para comprar jugadores a un precio altísimo, pero eso no es suficiente para ganar la Champions League.
The signing of Haaland is another example of the economic power that Manchester City has. As we are used to, every year this club announces a big signing or fulfills another of Guardiola's whims. They start the season very well and then only end up winning the league, because with the eleven they have is not enough to win a major tournament, the wallet is enough to buy players at a very high price, but that is not enough to win the Champions League.
      Año tras años repiten la historia del PSG, al parecer el Fair Play Financiero no afecta a estos clubes, pero bueno ese no es el tema, el tema es Haaland, que eligió los millones que le ofrecía el City a jugar en un club con historia ¿El reemplazo de Agüero? Sinceramente, Haaland es un excelente jugador, pero hay que estar claro en una cosa, para llegar al nivel del Kun debe hacer un gran recorrido. El problema de estos clubes millonarios, es que creen, que un jugador es buenísimo porque marco treinta goles en una temporada. Pueden tener los once mejores jugadores del mundo y gastar millones en ellos, pero si no saben usar a sus jugadores no ganarán nada y lo primero es dominar el ego de ese vestuario, empezando por el entrenador, en el caso de este Manchester City.
Year after year they repeat the story of PSG, apparently the Financial Fair Play does not affect these clubs, but well that is not the issue, the issue is Haaland, who chose the millions offered by City to play in a club with history, the replacement of Agüero? Honestly, Haaland is an excellent player, but we must be clear about one thing, to reach the level of Kun he must make a great journey. The problem with these millionaire clubs is that they believe that a player is very good because he scored thirty goals in a season. They can have the eleven best players in the world and spend millions on them, but if they do not know how to use their players they will not win anything and the first thing is to dominate the ego of the dressing room, starting with the coach, in the case of Manchester City.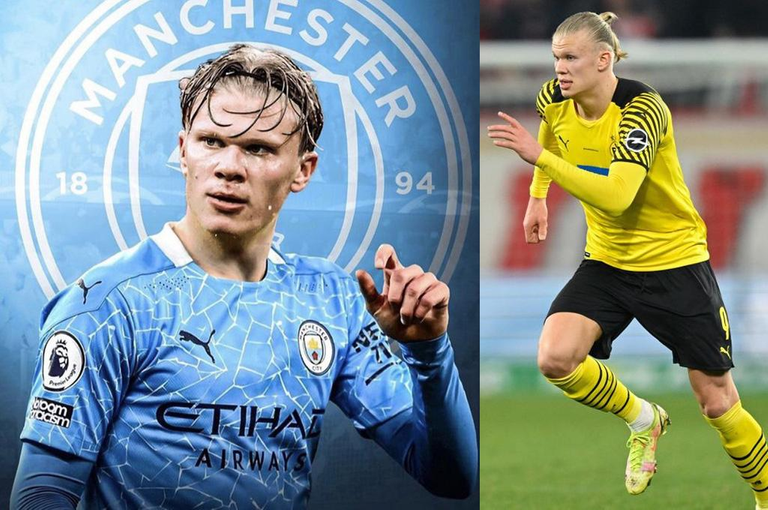 FUENTES

      ¿Qué pasó con Grealish? Llegó como un súper fichaje y a comer banca, Gabriel Jesús en la banca también y ahora fichan a Haaland, pienso que Guardiola no sabe lo que quiere, es como un niño mimado, que tiene muchos juguetes y le dice a la mamá que le compre otro, cuando tiene muchos sin ni siquiera usar, porque simplemente no sabe qué hacer con ellos ¿Será que con Haaland harán la diferencia? Yo soy de los que dicen "un palo no hace montaña" y mientras los jugadores se vayan al City solo por dinero, creo que su historia seguirá siendo chiquitita.
What happened with Grealish? He came in as a super signing and he ate the bench, Gabriel Jesus on the bench too and now they sign Haaland, I think Guardiola does not know what he wants, he is like a spoiled child, who has many toys and tells his mother to buy him another one, when he has many without even using them, because he simply does not know what to do with them, will they make a difference with Haaland? I am one of those who say "a stick does not make a mountain" and as long as players go to City just for the money, I think their story will remain small.
      Sabemos que Erling Haaland no es cualquier jugador, tiene un futuro prometedor, es joven y se puede adaptar rápido ¿Y si no? Y si solo queda en promesa y se quema en el City, si quiere optar por ganar el balón de oro y ser el mejor del mundo, tenía que irse a un club grande, como el Bayern, agregaría al Barcelona, que no pasa por buen momento, pero seguramente el próximo año sea bueno, y hasta el mismo Real Madrid, tenía tantas opciones y escogió la de más dinero, yo creo que a cualquiera con 21 años, se le agranda la cabeza, con un contrato como el del City.
We know that Erling Haaland is not just any player, he has a promising future, he is young and can adapt quickly and if not? And if he only remains in promise and burns at City, if he wants to opt to win the golden ball and be the best in the world, he had to go to a big club, like Bayern, I would add Barcelona, which is not going through a good time, but surely next year will be good, and even Real Madrid itself, had so many options and chose the one with more money, I believe that anyone with 21 years, his head is enlarged, with a contract like the one at City.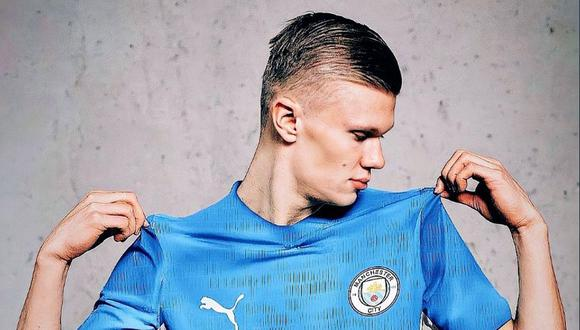 FUENTES
      El fútbol no se trata de tener "estrellas", aunque actualmente el marketing de tener esos jugadores "estrellas" quizás le genere más por la venta de camisetas, publicidades y otras cositas extras, que ganando algún título, pero el fútbol se trata de tener táctica, de resultados, siempre coloco de ejemplo al Real Madrid de los galácticos, con Figo, Ronaldo, Beckham, Ronaldo y otros ¿Que ganaron? Mucho dinero, por que vendieron demasiadas camisetas, pero a nivel futbolístico fueron un fracaso, lo mismo pienso de PSG y del City, que todos los años fracasan.
Soccer is not about having "stars", although currently the marketing of having those "star" players may generate more for the sale of shirts, advertising and other extra things, than winning a title, but soccer is about having tactics, results, I always put as an example Real Madrid of the galacticos, with Figo, Ronaldo, Beckham, Ronaldo and others, what did they win? A lot of money, because they sold too many shirts, but on a soccer level they were a failure, the same I think of PSG and City, who fail every year.
      Y aunque ahora Haaland será Citizen, no creo que sea la solución, para que este club por fin levante la Champions, no han aprendido de los errores pasados, ya que aún los siguen cometiendo. Aparte qué hay acotar algo y es que este jugador es muy joven y ha tenido muchas lesiones y esto no es bueno, es muy buen jugador, pero considero que su temporada en el Dortmund este año estuvo muy frenada por las lesiones y puedo llegar a pensar que es un fichaje como el de Gareth Bale, mucho ojo con eso.
And although Haaland will now be Citizen, I do not think he is the solution for this club to finally lift the Champions League, they have not learned from past mistakes, as they are still making them. Besides, there is something to note and that is that this player is very young and has had many injuries and this is not good, he is a very good player, but I think that his season at Dortmund this year was very slowed down by injuries and I can get to think that he is a signing like Gareth Bale, be careful with that.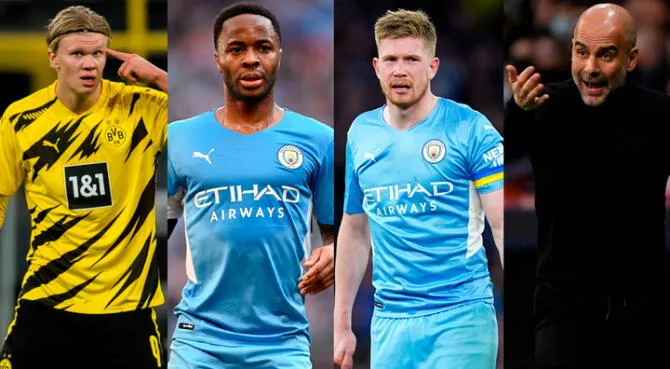 FUENTES
      El año que próximo volverán a ser favorito para ganar todo, pero seguramente volverá a suceder, quedarán en favoritos y ya. Al final yo creo que todos sabíamos desde un principio que eso de que el jugador se iba al Real Madrid o al Barcelona, era puro humo, iba a ganar el dinero del Manchester City, ya que el Madrid tiene otras prioridades y no iba a gastar, ni a complacer lo que este jugador pidiera y el Barcelona no tenía mucho que ofrecerle, era lógico, pero obviamente como fanáticos, nos imaginamos algo loco.
Next year they will again be favorites to win everything, but it will surely happen again, they will be favorites and that's it. In the end I think we all knew from the beginning that the player was going to Real Madrid or Barcelona, it was pure smoke, he was going to earn the money from Manchester City, as Madrid has other priorities and was not going to spend, or to please what this player asked for and Barcelona did not have much to offer him, it was logical, but obviously as fans, we imagined something crazy.
      Aunque todavía es algo incierto el contrato y saber por cuánto se fichó las cifras son muy altas, bueno eso imagino. Se habla unos 70 millones de euros, un sueldo de más o menos 30 millones, aparte que van a complacer los caprichos que exija el jugador, estamos hablando de una cantidad de dinero exorbitante ¿Vale la pena pagar tanto por un jugador de 21 años? Esto es de locos, una vez leí una pregunta que decía ¿Cuánto costaría Zidane? El mismo Ronaldinho ¿Cuál sería su valor en el mercado? Al final esto solo infla los precios del mercado.
Although the contract is still somewhat uncertain and to know how much he was signed for, the figures are very high, well I imagine so. They are talking about 70 million euros, a salary of more or less 30 million, besides that they will indulge the whims that the player demands, we are talking about an exorbitant amount of money Is it worth paying so much for a 21 year old player? This is crazy, I once read a question that said how much would Zidane cost? Ronaldinho himself, what would his market value be? In the end this just inflates market prices.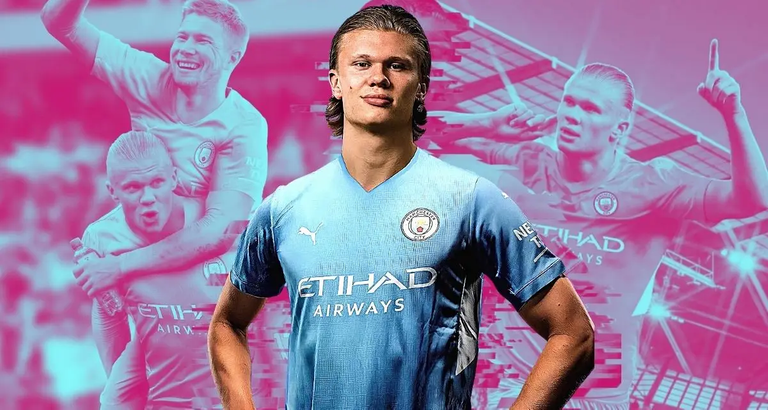 FUENTES
      Eso es todo por hoy queridos amigos. Erling Haaland eligió ya el club, pudo más el dinero, quizás el joven quieren arreglar su vida con esa cantidad de dinero, yo creo que en un futuro querrá irse a otro equipo, cuando sienta que del Dortmund al City la diferencia solo es de unos cuántos millones, el fútbol se ha convertido en un gran negocio, pero bueno, no queda de otra que seguir disfrutando de este deporte tan bonito. DE FÚTBOL SE HABLA ASÍ.
That's all for today dear friends. Erling Haaland already chose the club, the money was more important, maybe the young man wants to fix his life with that amount of money, I believe that in the future he will want to go to another team, when he feels that from Dortmund to City the difference is only a few million, soccer has become a big business, but well, there is no other choice but to continue to enjoy this beautiful sport. THAT'S THE WAY TO TALK ABOUT SOCCER.
Muchas gracias por leerme.
Thank you very much for reading me.

Texto traducido desde la página web DeelP.com.
Text translated from the DeelP.com website.
---
---