Se pone interesante… / It gets interesting...

     Cuatro ingleses, cuatro alemanes, tres italianos, dos portugueses, uno belga, uno francés y uno español es como quedan conformador los dieciséis equipos que van disputar los octavos de final de la Champions League. Aquí es donde se demuestra cuáles son las ligas que están mandando en la actualidad, el hecho de que quedaran cuatro ingleses dice mucho, por algo es considerada la mejor liga del mundo y metieron pleno en los octavos, la liga alemana ha crecido mucho últimamente, ya no es solo el Bayern o el Dortmund, ahora es Leipzig y el Eintracht Frankfurt, este ultimo con menos peso y diría yo que con un poco más de suerte a la hora de clasificar, sin embargo no se le quita ningún mérito, hicieron buenos partidos y se clasificaron de segundo, es un muy buen logro.
Four English, four Germans, three Italians, two Portuguese, one Belgian, one French and one Spanish is how the sixteen teams that will dispute the round of 16 of the Champions League are conformed. This is where it is demonstrated which are the leagues that are currently leading, the fact that there were four English teams says a lot, it is considered the best league in the world for a reason and they made it to the round of 16, the German league has grown a lot lately, It is no longer just Bayern or Dortmund, now it is Leipzig and Eintracht Frankfurt, the latter with less weight and I would say that with a little more luck when it comes to qualify, however it does not take away any merit, they played good games and qualified second, it is a very good achievement.
     En la liga Italiana el único defectuoso fue la poderosa Juventus, un equipo que últimamente no juega a nada, pero los otros clasificados son bastante buenos, el Inter y el Milan me generan muchas dudas, y el Napoli es un claro favorito, término de primero en un grupo algo complicado. El Porto muy cómodo, la sorpresa fue el Benfica, terminó primero que el Paris Saint-Germain en la última jornada y de verdad es algo que sorprende. Los franceses y los españoles solo metieron un equipo cada uno, pero son los mejores equipos de sus respectivas ligas, Real Madrid y PSG, mucha calidad en ambos. Por último el Club Brujas de Bélgica, creo que es el equipo contra el que todo quieren jugar.
In the Italian league the only flaw was the powerful Juventus, a team that lately has not been playing at all, but the other qualified teams are quite good, Inter and Milan generate a lot of doubts in my mind, and Napoli is a clear favorite, finishing first in a somewhat complicated group. Porto is very comfortable, the surprise was Benfica, they finished first than Paris Saint-Germain in the last matchday and it is really surprising. The French and the Spanish only put in one team each, but they are the best teams in their respective leagues, Real Madrid and PSG, a lot of quality in both. Finally Club Brugge from Belgium, I think they are the team that everyone wants to play against.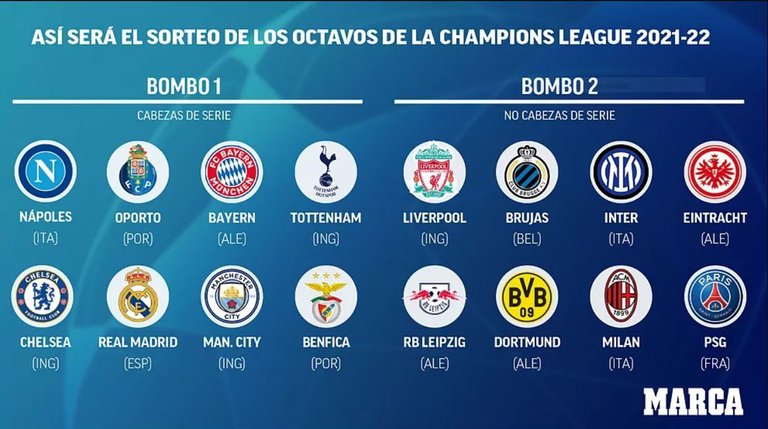 FUENTES

     Aunque se hable mucho de clubes como el Ajax, Barcelona o Juventus, que van a Europa League a jugar contra el Arsenal, Roma, Manchester United, PSV u otros equipos bastante interesantes, creo que esto no hace la Europa League mejor que la Champions League, obviamente será muy entretenida, pero no podemos comparar un posible choque entre el Bayern y Liverpool o Real Madrid contra los de Paris con un Barcelona Vs Betis, si habrán juegos muy buenos, pero jamás tienen comparación. A lo mejor lo digo porque el Madrid no está la Europa League, pero no nos podemos decir mentira la Champions es el mejor torneo del mundo en cuanto a clubes se trata.
Although there is a lot of talk about clubs like Ajax, Barcelona or Juventus, who go to the Europa League to play against Arsenal, Roma, Manchester United, PSV or other interesting teams, I think this does not make the Europa League better than the Champions League, obviously it will be very entertaining, but we can not compare a possible clash between Bayern and Liverpool or Real Madrid against Paris with a Barcelona Vs Betis, if there will be very good games, but they never compare. Maybe I say this because Madrid is not in the Europa League, but we can not lie to ourselves that the Champions League is the best tournament in the world in terms of clubs.
     Si se van a extrañar esos equipos con nombre e historia en la Champions, pero se sigue viendo interesante y sabemos que los cuartos de final estarán los mejores, aquí es donde empieza el descarte, donde la cosa se pone seria, no se ha realizado el sorteo y ya se tienen muchas expectativas, ya estamos esperando ver lo cruces, sacando posibilidades. A mi personalmente me gustaría ver los equipos más flojos contra lo grandes y no es exclusión, es como mencioné anteriormente es ir descartando, ademas sabemos qué hay equipos chicos que le meten el pie a los grandes y los dejan en el camino. Los equipos sorpresas aquí son el Brujas y Eintracht, los coleados, pero no se pueden confiar, porque al final no tienen nada que perder, pero si mucho que ganar.
Yes, we are going to miss those teams with name and history in the Champions League, but it is still interesting and we know that the quarterfinals will be the best, this is where the discarding begins, where things get serious, the draw has not been made and we already have many expectations, we are already waiting to see the crossings, taking possibilities. Personally I would like to see the weaker teams against the big teams and it is not exclusion, it is as I mentioned before, it is discarding, besides we know that there are small teams that put their foot in the door of the big teams and leave them in the way. The surprise teams here are Brugge and Eintracht, the teams that have been selected, but they can't be trusted, because in the end they have nothing to lose, but a lot to gain.
https://depor.com/resizer/lr3WdlCfBbo59zFFVMI8MFhhlIM=/580x330/smart/filters:format(jpeg):quality(75)/cloudfront-us-east-1.images.arcpublishing.com/elcomercio/SLKBOPURNZH77LPJ7ICOERVWVI.jpg
FUENTES

     Como clasificaron muchos ingleses y muchos alemanes, ya sabemos que del mismo país aún no se pueden enfrentar (lo único que se es que la UEFA no lo permite hasta los cuartos de final) entonces la posibilidades crecen, porque tampoco se pueden enfrentar si estuvieron en el mismo grupo y así como crecen muchas posibilidades, también se reducen a enfrentar rivales débiles, aunque si vemos los clasificados, son muy pocos los débiles. Bayern Vs Liverpool tienen altas posibilidades, diferentes grupos, diferentes países, uno segundo y otro primero, pero también está el PSG latente, sería una final anticipada ¿Se imaginan un Manchester City contra un Paris Saint-Germain? Sería fantástico.
As many English and many Germans qualified, we already know that from the same country still can not face each other (the only thing I know is that UEFA does not allow it until the quarterfinals) then the possibilities grow, because they can not face each other if they were in the same group and as many possibilities grow, they are also reduced to face weak opponents, although if we see the qualified teams, there are very few weak ones. Bayern Vs Liverpool have high possibilities, different groups, different countries, one second and the other first, but there is also the latent PSG, it would be an anticipated final Can you imagine a Manchester City against a Paris Saint-Germain? It would be
     Un Napoli Vs Dortmund, un duelo muy parejo y bastante interesante. No hay ningún desperdicio en estos octavos, como le dije, todos son buenos clubes y no solo eso, sino que su nivel en la Champions es muy alto. El Real Madrid podría enfrentar al Inter, PSG, Milan, Liverpool, Dortmund, Brujas, Eintracht. Por muchas razones me gustaría que se enfrentara a los dos últimos, pero no me confío mucho de que sean clubes "pequeños" si se confían mucho pueden haber sorpresas ¿Saben que? Yo no quiero que el Madrid se enfrente al Paris o al Liverpool, yo quisiera que se enfrentara al Milán, ya que ambos tienen mucho tiempo que compiten en en este torneo. Y no nos engañemos, la Europa League es el consuelo para los tercero de cada grupo, la Champions siempre será el torneo grande.
A Napoli Vs Dortmund, a very even and quite interesting duel. There is no waste in this round of 16, as I said, they are all good clubs and not only that, but their level in the Champions League is very high. Real Madrid could face Inter, PSG, Milan, Liverpool, Dortmund, Brugge, Eintracht. For many reasons I would like them to face the last two, but I don't trust too much that they are "small" clubs, if they trust too much there could be surprises. You know what? I don't want Madrid to face Paris or Liverpool, I would like them to face Milan, as both have been competing in this tournament for a long time. And let's not fool ourselves, the Europa League is the consolation for the third of each group, the Champions League will always be the big tournament.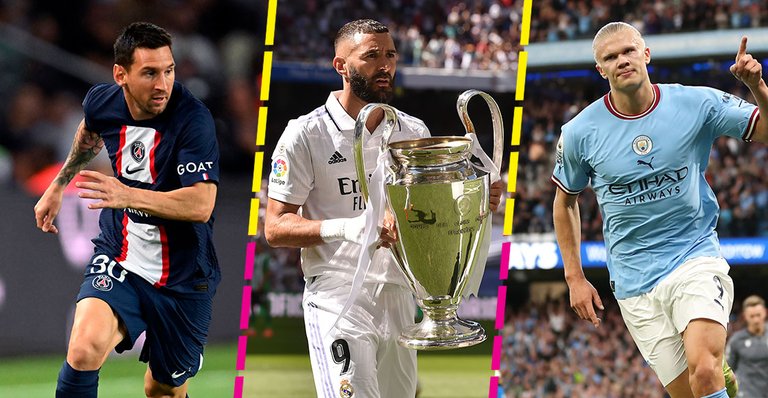 FUENTES
     Eso es todo por hoy queridos amigos. Yo diría que el sorteo queda así: Benfica y Leipzig, Bayern y Paris, Chelsea y Brujas, Manchester City y Eintracht, Porto y Liverpool, Napoli y Dortmund, y Real Madrid contra el Milán ¿Ustedes que opinan? Creo que todos son muy parejos, pero con expectativas muy altas, los favoritos siguen siendo los mismos, Bayern, City, PSG y Real Madrid sin descuidar al Napoli, que lo veo llegando muy lejos. DE FÚTBOL SE HABLA ASÍ.
That's all for today dear friends. I would say the draw looks like this: Benfica and Leipzig, Bayern and Paris, Chelsea and Brugge, Manchester City and Eintracht, Porto and Liverpool, Napoli and Dortmund, and Real Madrid against Milan What do you think? I think they are all very even, but with very high expectations, the favorites are still the same, Bayern, City, PSG and Real Madrid without neglecting Napoli, who I see going very far. THAT'S HOW WE TALK ABOUT SOCCER.
Muchas gracias por leerme.
Thank you very much for reading me.

Texto traducido desde la página web DeelP.com.
Text translated from the DeelP.com website.
---
---