And Like That....The Buffalo Bills Season Is Over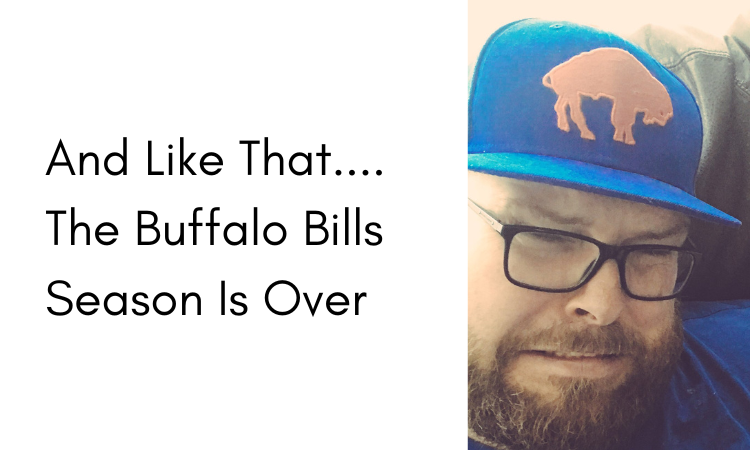 It started with so much promise....
And to be honest, I didn't like it. I didn't like the hype, I didn't want to be 'off season Super Bowl' champs. I knew, the season was long and the competition is always tough.
The season on paper, looked like a big win right? We ended up going 13-3 in the regular season. We won a playoff game. Won the AFC East. Everything looked great!
However, this season seemed cursed from the beginning. From the death of Luke Knox (Dawson Knox's younger brother), to the snowfalls that made Detroit home field for a few weeks...To of course, Damar Hamlin. The Bills seemed to be fighting demons each and every week.
And beyond that, when we won, it wasn't in convincing fashion like week's 1 and 2, it was nail biters. Way too close for comfort endings.
And then today happened and we go absolutely humbled by the Cincinnati Bengals. It really wasn't even close. And thus begins a very painful and long off season for Bills Mafia!
What do we do?
What needs to change?
Who is to blame?
Here's my armchair quarterback opinion around an hour after the season ended.
Coaching!
First, we have to get better coaching from the defense and offense. I believe both coordinator positions should be seriously considered as priority this off season.
There's no excuse for the awful game plans that have been drawn up for YEARS of defense in our biggest games of the year. And the offense this year was way too Josh Allen centric.
Which brings me too...
Better playmakers!
I know Stefon Diggs had a little tantrum on the side line during the game, but the dude is our only real threat. And we are never giving him the ball.
That being said, we need a true #2 wide receiver. We need a TRUE stud running back, or at least a coordinator that uses James Cook and his abilities.
Upgrade the o-Line
And if we want Josh to be our quarter back in 5 years from now and not in a coma every month...We have to give him time in the pocket. It's obvious, when Josh has time he's elite. But when he's rushed, 'Sugar High' Josh shows up. Which leads to dumb decisions.
And I'm sure I can find another 10 things I'd like to see improved but that is the NFL off season right? We always have our wish lists, and have to trust management to do what they feel is best.
But my goodness, we are so close to glory! But tonight, I can't help but think that we're further away from the promised land than we were this time last year.
This lost really hurt. And was a huge wake up call that all is not well in Bills land.
Oh and for the love of everything that's good....Build a damn dome stadium!!!!!
Go Bills...Forever and ever!
---
---