[ESP/ENG] CONTENDIENTES DE LA NBA 2021-2022: EL ESTE//NBA 2021-2022 CONTENDERS: THE EAST
Saludos amigos de fulldeportes! La pretemporada dio inicio y con ella todos los equipos tiene grandes expectativas, es por esto que quisiera comentarles con respecto a los equipos de la NBA que considero que se han reforzado mejor hacia la nueva temporada que está a punto de comenzar.
Greetings friends of fulldeportes! The preseason started and with it all the teams have great expectations, that is why I would like to comment on the NBA teams that I consider that have been reinforced better towards the new season that is about to begin.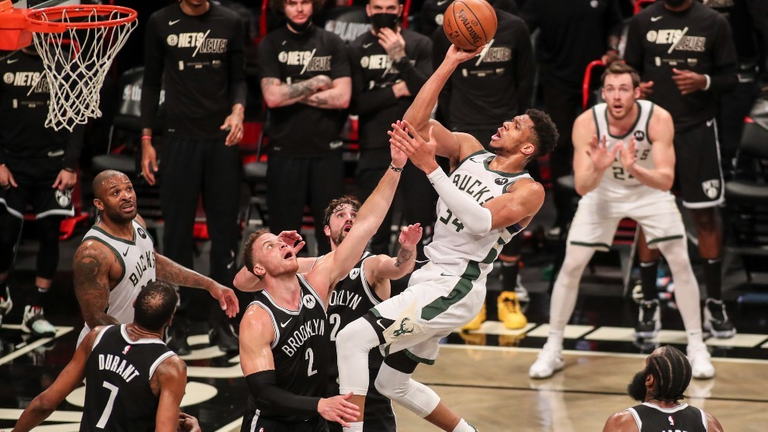 FUENTE/SOURCE
La División del Este que se presenta como una gran apuesta competitiva, con el trabajo realizado por la Oficinas de muchos equipos para reforzar sus plantillas, en este sentido debemos comenzar por el Campeón de la temporada pasada, Los Milwaukee Bucks, El super equipo que pretende todo Los Brooklyn Nets, y unos equipos ascendentes con mucho futuro.
The East Division looks like a great competitive bet, with the work done by the offices of many teams to strengthen their squads, in this sense we must start with last season's champion, the Milwaukee Bucks, the super team that pretends everything, the Brooklyn Nets, and some up-and-coming teams with a lot of future.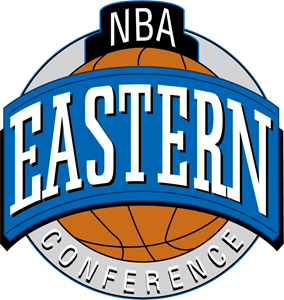 FUENTE/SOURCE

MILWAUKEE BUCKS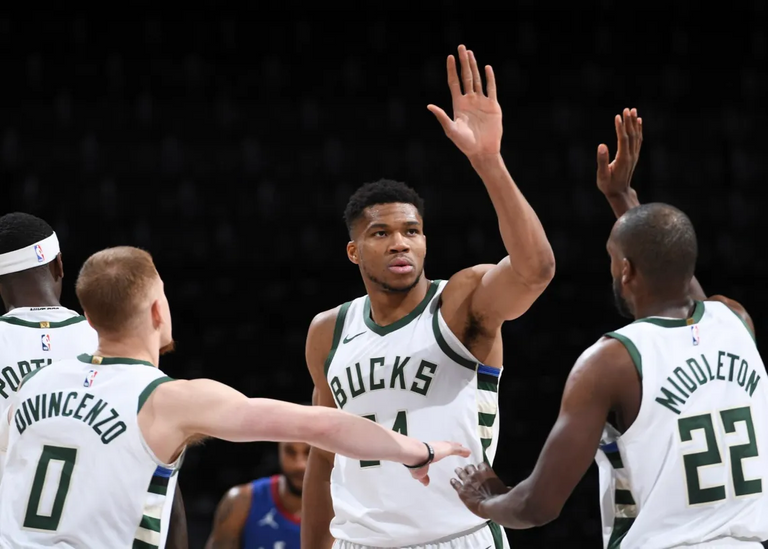 FUENTE/SOURCE
EL equipo de Milwaukee vuelve a aspirar a todo con sus estrellas Antetkoumpo, Middleton, y Holliday de vuelta al equipo y en buena forma física. Estos jugadores representan un núcleo que puede rendir en la ofensiva y defensiva del equipo, cuyo roster se mantiene con respecto a la temporada anterior, solo con la salida de PJ Tucker como elemento considerable, permanecen jugadores como Brook López y George Hill que le dan veteranía y profundidad.
The Milwaukee team is once again contending for everything with their stars Antetkoumpo, Middleton, and Holliday back on the team and in good physical shape. These players represent a core that can perform in the offense and defense of the team, whose roster remains the same as last season, only with the departure of PJ Tucker as a considerable element, players like Brook Lopez and George Hill remain to provide veteran and depth.
BROOKLYN NETS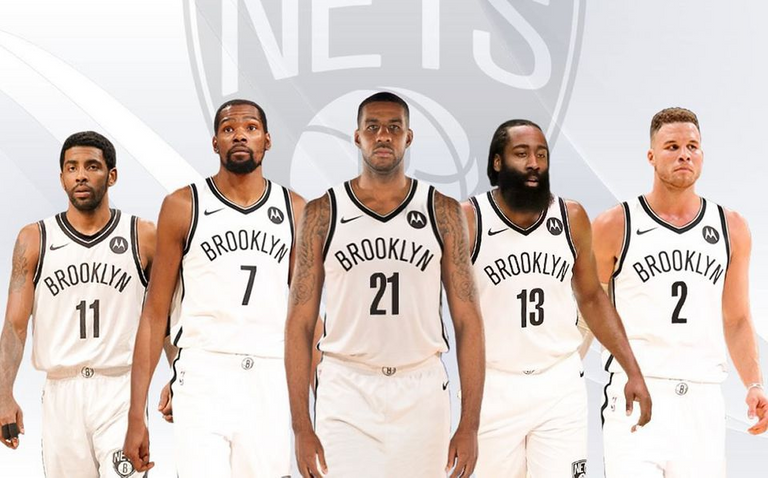 FUENTE/SOURCE
EL equipo de Brooklyn Nets que a mi criterio quedó en deuda el año pasado vuelve con su trio de Harden, Durant e Irving con un año más de integración (aunque esta la duda con respecto a Irving y su falta de vacuna), vuelve el retirado Alridge,junto con Blake Griffin, y Harris, además de sumar a Paul Millsap, y el australiano Patty mills, por lo cual se ve más profunda su banca que la pasada temporada.
The Brooklyn Nets team which in my opinion was in debt last year returns with its trio of Harden, Durant and Irving with one more year of integration (although there is a doubt regarding Irving and his lack of vaccination), the retired Alridge returns, along with Blake Griffin, and Harris, in addition to adding Paul Millsap, and Australian Patty Mills, so their bench looks deeper than last season.
MIAMI HEAT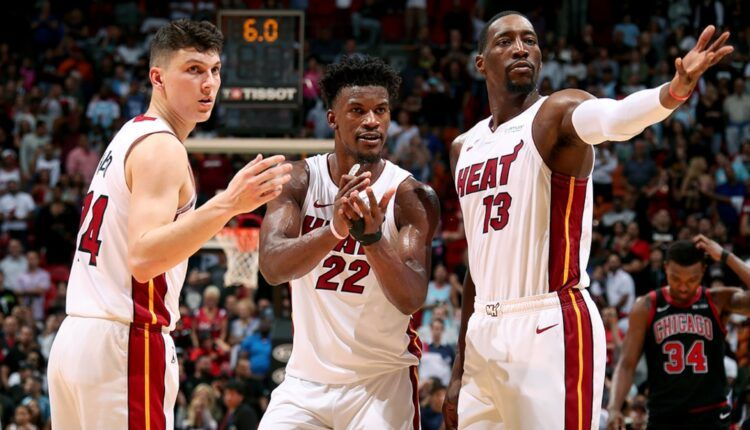 FUENTE/SOURCE
Luego está el Miami Heat, finalista hace una temporada y que vienen por sus fueros con la incorporación de un base con experiencia de campeonato como lo es Kyle Lowry para ayudar a Jimmy Butler y Ban Adebayo, y es que este equipo ha sumado en la temporada muerta, a jugadores como Markieff Morris y a PJ Tucker para sumar más profundidad a su banca, ojo con el Heat!.
Then there is the Miami Heat, finalist a season ago and who are coming back with the addition of a point guard with championship experience like Kyle Lowry to help Jimmy Butler and Ban Adebayo, and this team has added players like Markieff Morris and PJ Tucker to add more depth to their bench, watch out for the Heat!
PHILADELPHIA 76ERS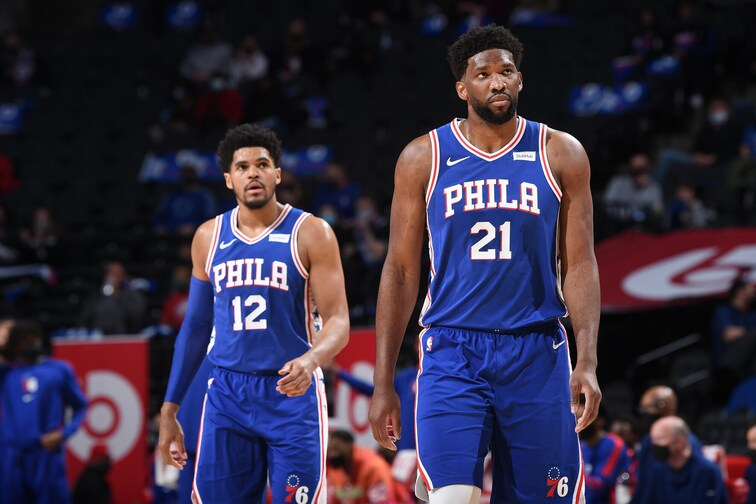 FUENTE/SOURCE
El caso contrario al Heat a mi criterio serían los 76ers quienes parecen a punto de dar un paso atrás con el problema que tienen con Ben Simons, quien aparentemente no va a jugar hasta que lo cambien de equipo, con las experiencias de este tipo de situaciones es muy probable que el equipo termine en una dependencia de Joel Embid como principal referente, quien si bien es de los jugadores más talentosos, usualmente pasa tiempo en la lista de lesionados cada campaña. La suerte la puede cambiar el desempeño de jugadores como Tobias Harris, Seth Curry y lo que pueda aportar desde la banca el talentoso centro Deandre Drumond así de un buen resultado del caso Simons (que decida jugar o que pueda reemplazarse por un buen jugador).
The opposite case to the Heat in my opinion would be the 76ers who seem about to take a step back with the problem they have with Ben Simons, who apparently will not play until he is traded, with the experiences of this type of situation it is very likely that the team ends up in a dependence on Joel Embid as the main reference, who although he is one of the most talented players, usually spends time on the injured list each season. The luck can be changed by the performance of players like Tobias Harris, Seth Curry and what the talented center Deandre Drumond can contribute from the bench as well as a good result of the Simons case (that he decides to play or that he can be replaced by a good player).
BOSTON CELTICS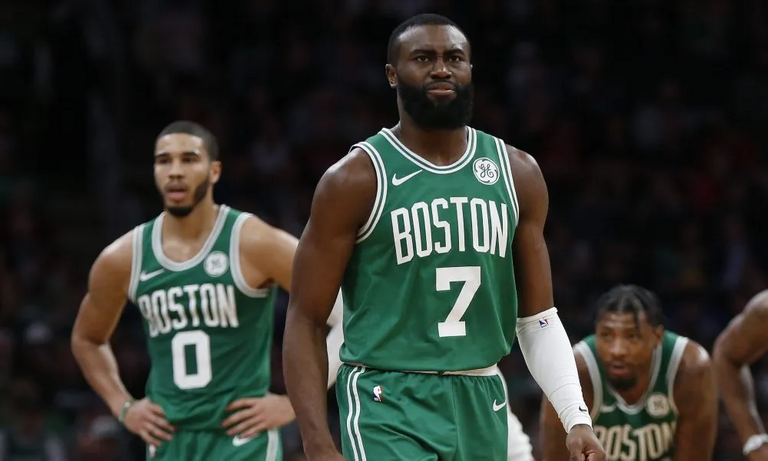 FUENTE/SOURCE
Un equipo que me llama la atención para esta temporada serían los Boston Celtics, el desarrollo del dúo de Jaylen Brown y Jason Tatum es para emocionar a más de uno, y el resto de la plantilla no se ve nada mal, los grandes defensores como Marcus Smart y el Dominicano AL Horford le dan veteranía al equipo, y la incorporación el base Schroderer puede suplir la salida de Kemba Walker para un equipo muy sólido de cara a la postemporada.
A team that catches my attention for this season would be the Boston Celtics, the development of the duo of Jaylen Brown and Jason Tatum is to excite more than one, and the rest of the roster does not look bad, the great defenders like Marcus Smart and Dominican AL Horford give veteran to the team, and the addition of point guard Schroderer can replace the departure of Kemba Walker for a very solid team for the postseason.
ATLANTA HAWKS Y NEW YORK KNICKS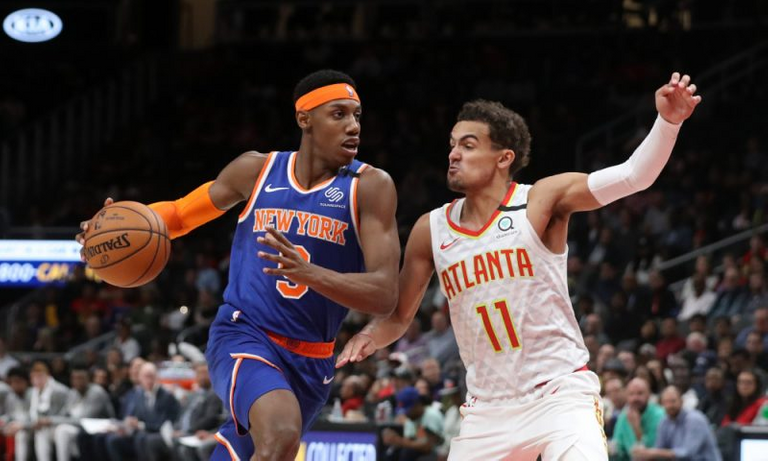 FUENTE/SOURCE
De resto hay varios equipos en la conferencia de mucha calidad, y que pueden dar un buen resultado, como ya lo hizo el año pasado el Atlanta Haws podrían volver a grandes planos con el mismo equipo liderado por el joven Trae Young y con un año más de Experiencia. Los New York Knicks que ya el año pasado tuvieron una gran mejora añaden dos jugadores muy buenos como Kemba Walker y Evan Fournier para dar veteranía a un talentoso y joven equipo, por lo cual podrían llegar lejos y sorprender este mismo año.
Otherwise there are several teams in the conference with a lot of quality, and that can give a good result, as it did last year the Atlanta Haws could return to big plans with the same team led by the young Trae Young and with one more year of experience. The New York Knicks who already last year had a great improvement add two very good players like Kemba Walker and Evan Fournier to give veteran to a talented and young team, so they could go far and surprise this year.
CHICAGO BULLS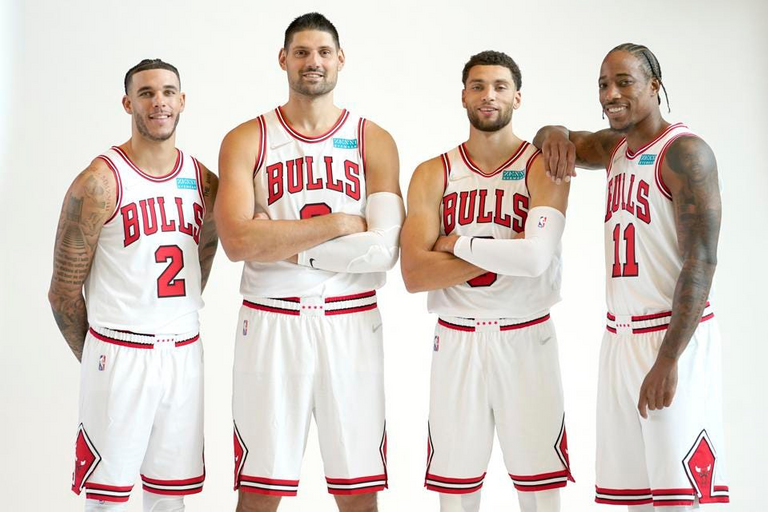 FUENTE/SOURCE
Una mención especial a los Chicago Bulls quienes han mejorado considerablemente su plantilla con Demar Derozan y Lonzo Ball para ayudar a Zack Lavine y al centro Nicola Vucevic, pero habrá que ver como encajan esas piezas a ver si pueden llegar lejos en los playoffs.
A special mention to the Chicago Bulls who have improved their roster considerably with Demar Derozan and Lonzo Ball to help Zack Lavine and center Nicola Vucevic, but we will have to see how those pieces fit together to see if they can go far in the playoffs.

Esta conferencia el Este al menos en lo que respecta a sus plantillas parece un poco más reñida que la conferencia del oeste, lo que asegura muchos partidos cerrados y una gran competición por los lugares en la postemporada, esperemos el comienzo de la misma para disfrutar del mejor baloncesto del mundo, muchas gracias por leer…
This conference the East at least in terms of their squads seems a little tighter than the western conference, which ensures many close games and a great competition for places in the postseason, let's wait for the start of it to enjoy the best basketball in the world, thank you very much for reading....
SI QUIERES VER MI POST DE AYER SOBRE LA CONFERENCIA DEL ESTE PUEDES HACERLO AQUI
HERE YOU CAN SEE YESTERDAY´S POST ABOUT WESTERN CONFERENCE

Translated with www.DeepL.com/Translator (free version)
---
---