Liga Futve Femenino | Gran Final, Partido de Ida. - [ESP-ENG]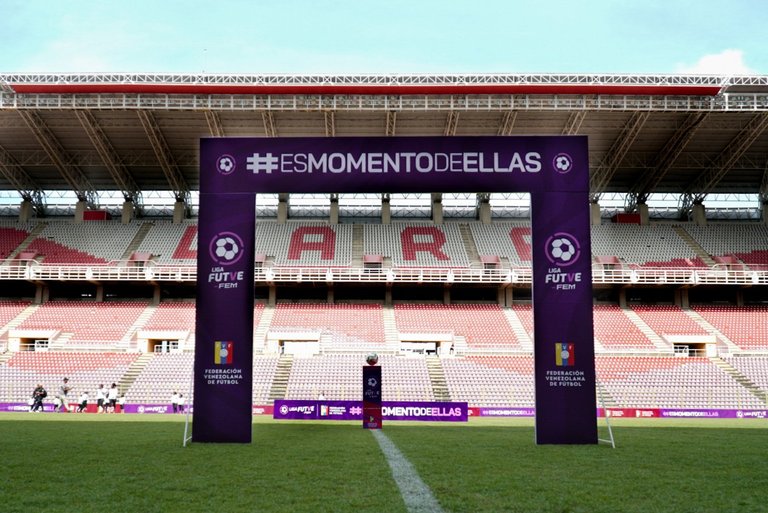 Fuente | Source
¡Hola! Muy buenos días, tardes y noches para toda la comunidad de Hive, espero que estén teniendo un estupendo fin de semana. A continuación, les hablaré sobre la gran final de la Liga Futve Femenino, este compromiso se disputo el día de hoy sábado 17 de septiembre del presente año en curso, un partido muy parejo y disputado, que dejaron sin palabras a los espectadores que hicieron vida en el estadio, un compromiso digno de una finalísima, sin más nada que agregar comenzamos.
Hello! Very good morning, afternoon and evening to all the Hive community, I hope you are having a great weekend. Next, I will talk about the great final of the Liga Futve Femenino, this match was played today Saturday September 17 of this year, a very even and disputed match, which left speechless the spectators who made life in the stadium, a commitment worthy of a final, with nothing more to add we begin.

Madeira Club Lara 2 – 2 Deportivo Lara



En el Estadio Metropolitano de Lara en la ciudad de Cabudare, en un partido de muchas emociones, las atlánticas del Madeira Club Lara y las rojinegras del Deportivo Lara no pasaron del empate en este primer round de la gran final, dejando todo para la vuelta, con un marcador final de 2 goles por 2, al minuto 33 Floriángel Apóstol apareció sola en el área y con un disparo cruzado para batir a la arquera, puso el 0-1 momentáneo para las visitantes para irse al descanso con la victoria parcial en el marcador, ya para el segundo tiempo habría algunas emociones más, las locales responderían al minuto 46 Cinthia Zarabia quitándose a Raymundo y todo el mundo, dejando hasta a 6 rivales con un misil y con algo de fortuna para marcar un verdadero golazo y poner el 1-1 en ese momento, pero nuevamente responderían las visitantes al minuto 53 en una bonita triangulación, Floriángel Apóstol con un disparo angulado imposible para la arquera marcando su doblete personal puso nuevamente en ventaja a las rojinegras colocando el 1-2 y cuando parecía que la victoria se la llevarían las visitantes al minuto 80 aparece María Reyes de cabeza luego de un tiro de esquina, puso el empate que a la postre seria definitivo en el compromiso, un 2-2 muy disputado y luchado por ambos conjuntos dejaron la eliminatoria abierta, las rojinegras con este resultado intentaran quedar campeonas en su casa para buscar el ansiado título, mientras que las atlánticas que son debutantes, han tenido un gran torneo intentaran hacer la heroica en condición de visitante para lograr el tan ansiado trofeo, el partido de vuelta entre estas 2 rivales se jugara el día sábado 24 de septiembre en una hora a confirmar en el Estadio Farid Richa en la ciudad de Barquisimeto.
At the Estadio Metropolitano de Lara in the city of Cabudare, in a match of many emotions, the Atlantic Madeira Club Lara and the red and black Deportivo Lara did not pass the tie in this first round of the final, leaving everything for the second leg, with a final score of 2 goals to 2, at minute 33 Floriángel Apostol appeared alone in the area and with a cross shot to beat the goalkeeper, In the second half there would be some more emotions, the locals would respond in the 46th minute, Cinthia Zarabia would beat Raymundo and everyone, leaving up to 6 rivals with a missile and with some luck to score a real great goal and put the score at 1-1 at that moment, but again the visitors would respond in the 53rd minute in a nice triangulation, Floriángel Apóstol with an angled shot impossible for the goalkeeper to score her personal double put the Red and Blacks in advantage again, making it 1-2 and when it seemed that the victory would be for the visitors, in the 80th minute, María Reyes headed in from a corner kick to tie the game, a 2-2 very hard fought and disputed by both teams, leaving the tie open, With this result, the red and blacks will try to be champions at home to seek the coveted title, while the Atlánticas, who are debutants, have had a great tournament, will try to make the heroic in away condition to achieve the coveted trophy, the second leg between these two rivals will be played on Saturday, September 24 at a time to be confirmed at the Farid Richa Stadium in the city of Barquisimeto.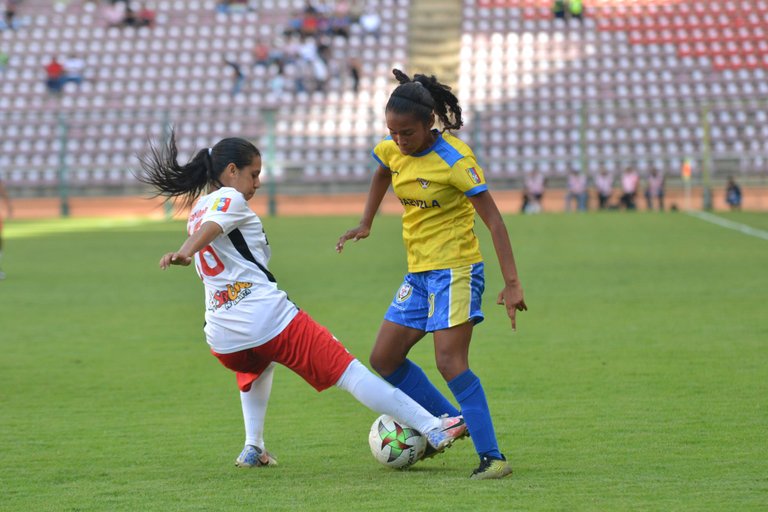 Fuente | Source

Análisis - Analysis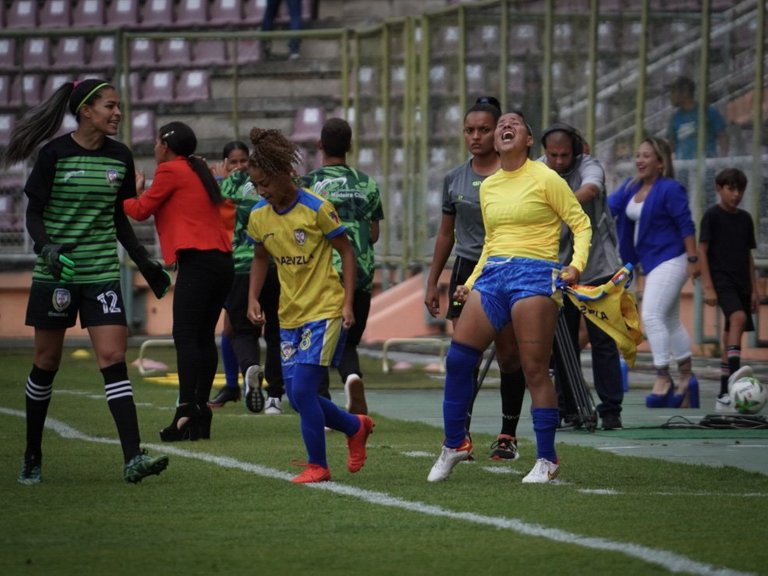 Fuente | Source
Tuvimos un partido de ida de la gran final de la Liga Futve Fem muy emocionante, una final con mucha chispa, en un primer tiempo muy parejo pero que el Deportivo Lara tuvo las llegadas más claras y al finalizar este las rojinegras aprovecharon y se fueron en ventaja gracias a una inspirada Floriángel Apóstol, ya para el segundo tiempo, Madeira Club Lara adelanto líneas y realizo un cambio que les resulto al minuto 1 ya que su jugadora referente Cinthia Zarabia con una genialidad dejo hasta 6 jugadoras para marcar un verdadero golazo y poner la paridad en ese entonces, pero con una genial triangulación que inicio la 10 rojinegra con un disparo cruzado Floriángel Apóstol puso nuevamente en ventaja a las visitantes, las locales volvieron a adelantar líneas y en un tiro de esquina apareció Maria Reyes con un certero cabezazo puso el 2-2 definitivo para el partido de vuelta, este partido tuvo muchas emociones de lado y lado, pero inclino la balanza para las rojinegras que tuvieron más dominio y tuvieron más llegadas pero no concretaron, pero en pocas palabras ambos equipos buscaron el compromiso desde el minuto 1, no jugaron a especular sino a buscar el resultado, sin dudas ambas oncenas nos regalaron un duelo digno de una final, esperemos que el juego de vuelta sea igual o mejor que este, pues solo resta escribir ¡Que ruede el balón!
We had a very exciting first leg of the final of the Futve Fem League, a final with a lot of spark, in a very even first half but Deportivo Lara had the clearest arrivals and at the end of this the red and black took advantage and went ahead thanks to an inspired Floriángel Apostol, and for the second half, Madeira Club Lara moved forward lines and made a change that worked for them at minute 1 as their referent player Cinthia Zarabia with a genius left up to 6 players to score a real great goal and put the parity at that time, but with a great triangulation that started the 10 red and black with a cross shot Floriángel Apostol put the visitors back in advantage, The locals went forward again and in a corner kick Maria Reyes appeared with an accurate header to put the definitive 2-2 for the second leg, this match had many emotions on both sides, but tipped the scales for the red and blacks who had more control and had more arrivals but did not finish, but in a few words both teams looked for the commitment from minute 1, they did not play to speculate but to look for the result, without a doubt both teams gave us a duel worthy of a final, let's hope that the return game will be equal or better than this one, because the only thing left to write is Let the ball roll!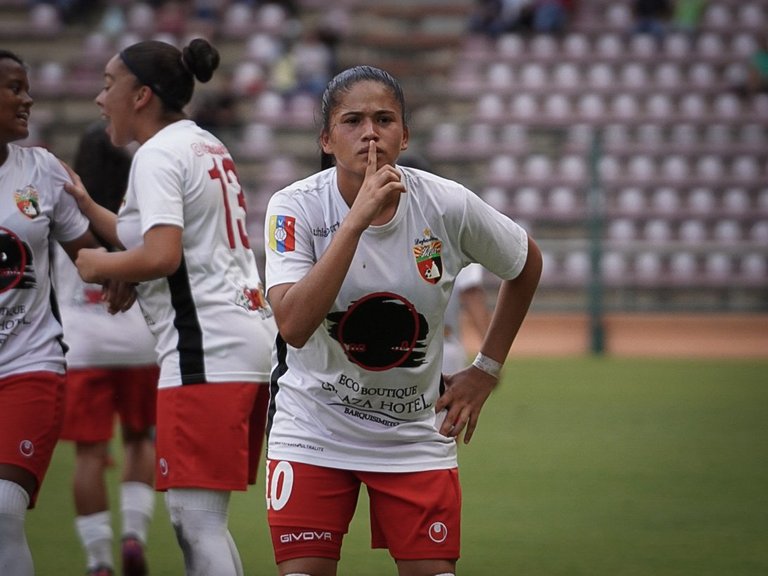 Fuente | Source

Partido de Vuelta - Return Match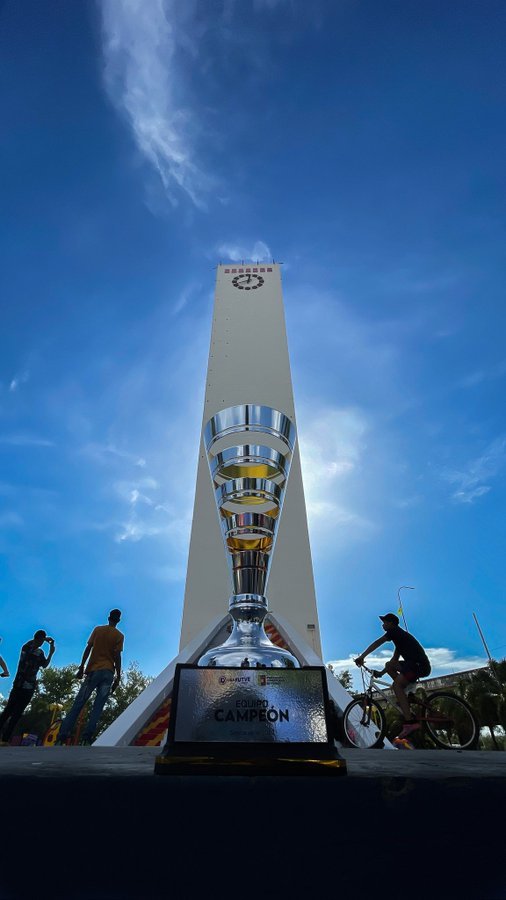 Fuente | Source
Na' Guara, tenemos finalistas en la Liga Futve Fem, son 2 equipos de la misma región, como lo son Madeira Club Lara y el Deportivo Lara, recordemos que estos equipos han quedaron 2do y 1ero en el grupo occidental respectivamente, estos equipos se enfrentaron 2 veces en la ronda eliminatoria, con resultados favorables para las rojinegras de Deportivo Lara con marcadores de 3-2 y 0-1 respectivamente, pero el pasado quedo atrás ya son 2 partidos completamente diferentes, que estarán cerrados y muy disputados. Si el partido de ida estuvo espectacular no me quiero imaginar el de vuelta, estos equipos darán lo mejor de sí para llevarse esta edición de la Liga Futve Fem, porque el campeón de este torneo representara a Venezuela en la Copa Libertadores Femenina, el partido de vuelta se jugara el próximo sábado en el Estadio Fard Richa en la ciudad de Barquisimeto en donde conoceremos al nuevo equipo vencedor de la Liga Futve Fem.
Na' Guara, we have finalists in the Liga Futve Fem, are 2 teams from the same region, as are Madeira Club Lara and Deportivo Lara, remember that these teams have been 2nd and 1st in the western group respectively, these teams faced 2 times in the knockout round, with favorable results for the red and black of Deportivo Lara with scores of 3-2 and 0-1 respectively, but the past is behind us and are 2 completely different games, which will be closed and very disputed. If the first leg was spectacular I do not want to imagine the second leg, these teams will give their best to take this edition of the Liga Futve Fem, because the champion of this tournament will represent Venezuela in the Copa Libertadores Femenina, the second leg will be played next Saturday at the Fard Richa Stadium in the city of Barquisimeto where we will know the new winner of the Liga Futve Fem.

Muchas gracias por tomar parte de tu tiempo en leer esto en verdad que estoy muy contento, si te gusto déjame un comentario y ayúdame a compartirlo para que llegue a más personas que a ti no te cuesta nada y a mí me ayudaría muchísimo.
Thank you very much for taking part of your time to read this, I am very happy, if you like it, leave me a comment and help me to share it so that it reaches more people, it doesn't cost you anything and it would help me a lot.
Traducido con www.DeepL.com/Translator (versión gratuita).
Translated with www.DeepL.com/Translator (free version).
Dios los bendiga a todos. | God bless you all.

---
---