Liga Futve Femenino | Gran Final, Partido de Vuelta - [ESP-ENG]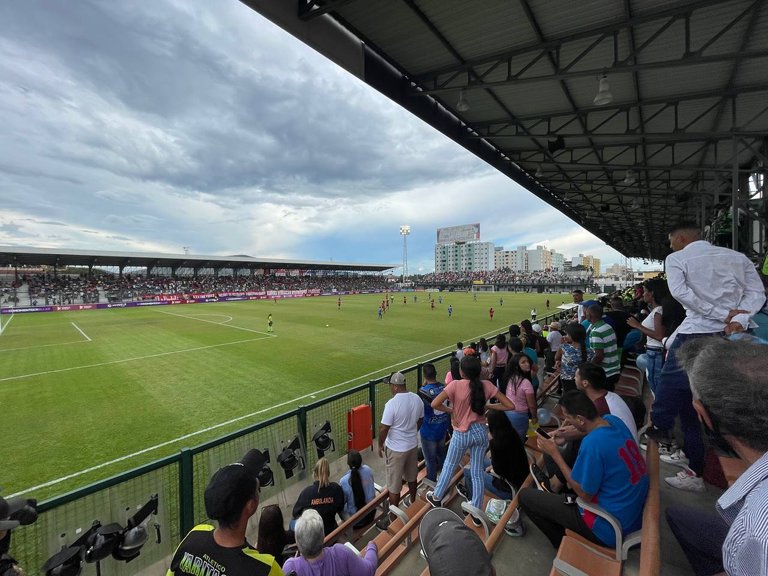 Fuente | Source
¡Hola! Muy buenos días, tardes y noches para toda la comunidad de Hive, espero que estén teniendo un estupendo fin de semana. A continuación, les hablaré sobre la gran final de la Liga Futve Femenino, este compromiso de vuelta que se disputo el día de hoy domingo 25 de septiembre del presente año en curso, un partido muy parejo y disputado, que dejaron sin palabras a los espectadores que hicieron vida en el estadio lleno, un compromiso digno de una finalísima que se tuvo que decidir en la tanda de penales, sin más nada que agregar comenzamos.
Hello! Very good morning, afternoon and evening to all the Hive community, I hope you are having a great weekend. Next, I will talk about the great final of the Liga Futve Femenino, this second leg that was played today Sunday September 25 of this year, a very even and disputed match, which left speechless spectators who made life in the stadium full, a commitment worthy of a final that had to be decided in the penalty shootout, with nothing more to add we begin.

Deportivo Lara 0 (5) – (4) 0 Madeira Club Lara



En el Estadio Farid Richa de la ciudad de Barquisimeto, en un partido muy peleado y disputado, en un marco pletórico a estadio lleno, las rojinegras del Deportivo Lara lograron titularse campeonas en la liga futve fem al vencer a las atlánticas de Madeira Club en el compromiso de vuelta de la gran final, con marcador final de 0 goles por 0 quedando el global con marcador final de 2 goles por 2, en la que se tuvo que decidir por la tanda de penales que se llevó el equipo local con resultado de 5 goles por 4 teniendo como protagonista a la arquera Nohelis Coronel quien tapo el penal decisivo para sellar el triunfo y representaran a Venezuela en la Copa Libertadores de América, un partido muy disputado sobretodo en el medio campo en donde hubieron ocasiones, un partido muy disputado y trabado entre ambas oncenas, donde hubo ocasiones de lado y lado, pero prevaleció el empate en este partido de vuelta, donde el equipo que cometiera un error la iba a pagar caro, pero no se hicieron daño en el compromiso dejando la puerta abierta para la definición de penales que al final, en donde se creció la portera local Nohelis Coronel tapando el tiro penal decisivo para que las rojinegras del Deportivo Lara se llevaran este título, un equipo de Lara que desde el principio del torneo con un equipo joven y experimentado dio mucho de qué hablar en la liga quedando primero en su grupo, coronaron su gran temporada con el título de liga muy bien merecido.
In the Farid Richa Stadium in the city of Barquisimeto, in a hard fought and disputed match, in a full stadium, the red and black Deportivo Lara managed to become champions in the futve fem league by defeating the Atlantic Madeira Club in the second leg of the final, with a final score of 0 goals to 0 leaving the aggregate with a final score of 2 goals to 2, In which had to be decided by the penalty shootout that took the local team with a result of 5 goals by 4 having as protagonist the goalkeeper Nohelis Coronel who covered the decisive penalty to seal the victory and represent Venezuela in the Copa Libertadores de America, a very disputed match especially in the midfield where there were chances, A very disputed and tight match between both teams, where there were chances on both sides, but the tie prevailed in this second leg, where the team that made a mistake was going to pay dearly, but no harm was done in the commitment leaving the door open for the definition of penalties in the end, In this game, the local goalkeeper Nohelis Coronel was the best, covering the decisive penalty shot for the red and black team of Deportivo Lara to take this title, a team from Lara that from the beginning of the tournament with a young and experienced team gave a lot to talk about in the league being first in their group, crowned their great season with the league title very well deserved.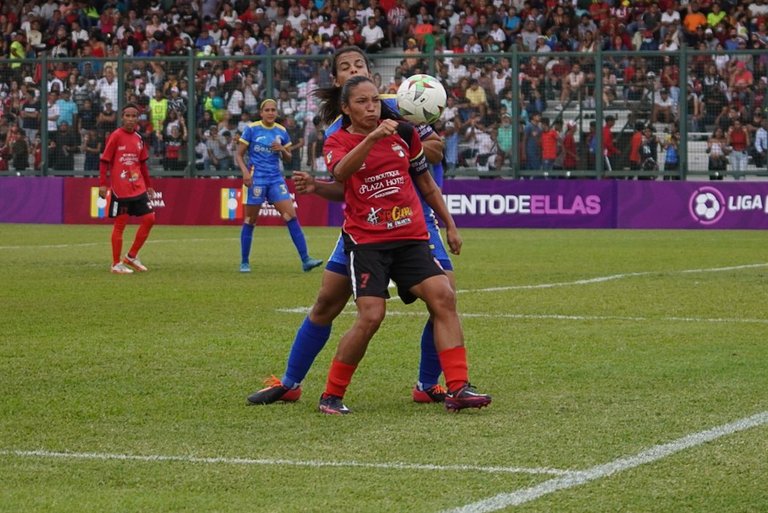 Fuente | Source

Análisis - Analysis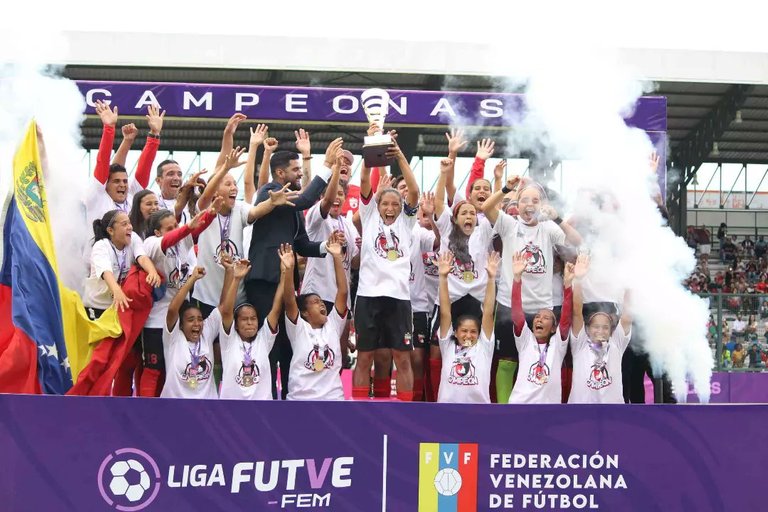 Fuente | Source
Tuvimos un partido de vuelta de la gran final de la Liga Futve Fem muy emocionante y emotivo, una final con mucha chispa e inédita porque ambos equipos eran de la zona, en un primer tiempo muy parejo pero que el Madeira Lara adelanto líneas, tuvo las llegadas más claras, ya para el segundo tiempo, el Deportivo Lara adelanto líneas poniendo el partido más trabado y parejo sobretodo en la zona del medio campo, este compromiso tuvo muchas emociones de lado y lado, las rojinegras que tuvieron más dominio y tuvieron más llegadas y pienso que esta eliminatoria la ganaron bien, pero en pocas palabras ambas oncenas buscaron el compromiso desde el minuto 1, no jugaron a especular sino a buscar el resultado, sin dudas ambos clubes nos regalaron un duelo digno de una final, que tuvo un campeón muy digno.
We had a very exciting and emotional second leg of the final of the Futve Fem League, a final with a lot of spark and unprecedented because both teams were from the area, in a very even first half but Madeira Lara advanced lines, had the clearest arrivals, and for the second half, Deportivo Lara advanced lines making the game more difficult and even especially in the midfield area, This match had many emotions on both sides, the red and blacks had more dominance and had more arrivals and I think they won this tie well, but in short both teams sought the commitment from minute 1, they did not play to speculate but to seek the result, no doubt both clubs gave us a duel worthy of a final, which had a very worthy champion.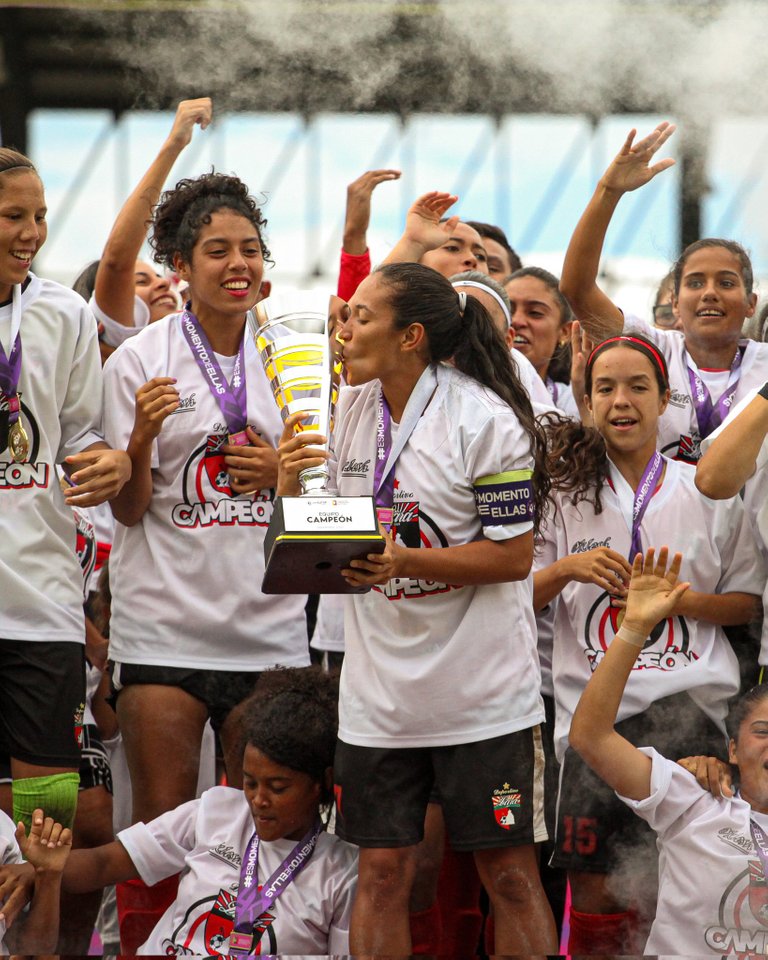 Fuente | Source

Campeón Liga Futve Fem - Futve Women's League Champion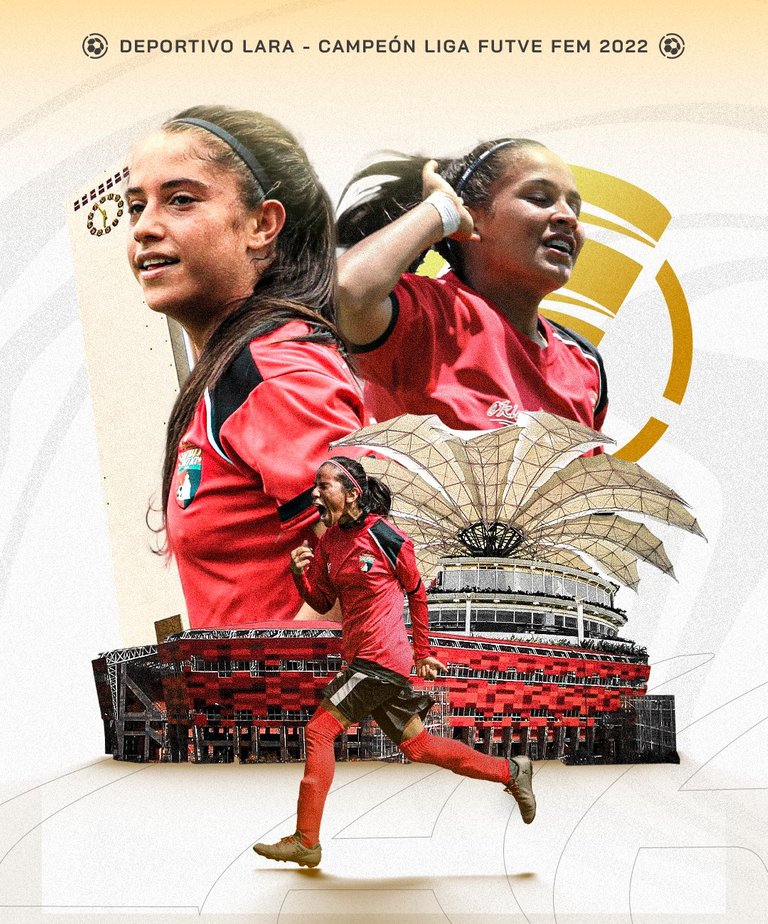 Fuente | Source
Na' Guara, tenemos campeón en la Liga Futve Fem, el Deportivo Lara, quedo 1ero en el grupo occidental en la ronda eliminatoria, un equipo que hizo todo de manera espectacular para llevarse el título este año, y se convierte automáticamente en el representante de Venezuela en esta venidera Copa Libertadores Femenina, esperemos que no solo esto quede aquí, esperemos que esta liga salgan las nuevas jugadoras que representaran al país en los próximos torneos futuros, hasta aquí me despido pero nos leeremos pronto en la venidera temporada invernal de béisbol y en la Copa Venezuela Femenina.
Na' Guara, we have champion in the Liga Futve Fem, Deportivo Lara, was 1st in the western group in the elimination round, a team that did everything in a spectacular way to take the title this year, and automatically becomes the representative of Venezuela in this coming Copa Libertadores Femenina, hopefully not only this remains here, hopefully this league will leave the new players who will represent the country in future tournaments, so far I say goodbye but we will read soon in the coming winter baseball season and in the Copa Venezuela Femenina.

Muchas gracias por tomar parte de tu tiempo en leer esto en verdad que estoy muy contento, si te gusto déjame un comentario y ayúdame a compartirlo para que llegue a más personas que a ti no te cuesta nada y a mí me ayudaría muchísimo.
Thank you very much for taking part of your time to read this, I am very happy, if you like it, leave me a comment and help me to share it so that it reaches more people, it doesn't cost you anything and it would help me a lot.
Traducido con www.DeepL.com/Translator (versión gratuita).
Translated with www.DeepL.com/Translator (free version).
Dios los bendiga a todos. | God bless you all.

---
---