Liga Futve Femenino | Resultados de Vuelta de las Semifinales - [ESP-ENG]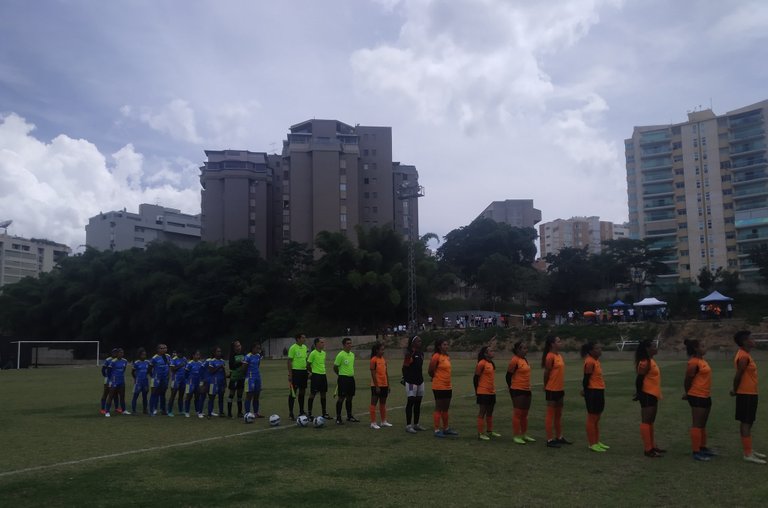 Fuente | Source
¡Hola! Muy buenos días, tardes y noches para toda la comunidad de Hive, espero que hayan teniendo un estupendo fin de semana. A continuación, les hablaré sobre los resultados de los compromisos de vuelta de las semifinales en la Liga Futve Femenino, todos estos partidos se disputaron el día de hoy domingo 11 de septiembre del presente año en curso, entre las 10:00 y 11:00 de la mañana hora de Venezuela, todos estos juegos estuvieron muy parejos, y que ambas llaves llegaron hasta la serie desde el punto penal y por supuesto tenemos a las 2 clasificadas a la Gran Final, sin más nada que agregar comenzamos.
Hello! Very good morning, afternoon and evening to all the Hive community, I hope you had a great weekend. Next, I will talk about the results of the second leg of the semifinals in the Liga Futve Femenino, all these games were played today Sunday September 11 of this year, between 10:00 and 11:00 am Venezuela time, all these games were very even, and that both keys reached the series from the penalty spot and of course we have the 2 classified to the Grand Final, with nothing more to add we begin.

Deportivo La Guaira 0 (2) – (4) 0 Madeira Club Lara



En la Cancha Santa Rosa de Lima de la ciudad de Caracas, las atlánticas del Madeira Club Lara lograron una clasificación histórica que las clasifica en la Gran Final del torneo, venciendo en tanda de penales a las naranjas del Deportivo La Guaira con marcador final en el compromiso de 0 por 0 y como el resultado global estaba empatado a 2 goles, la tanda de penales le favoreció al equipo visitante con un resultado final por 4 goles por 2, un partido muy disputado y trabado entre ambas oncenas, donde hubo ocasiones de lado y lado, pero prevaleció el empate en este partido de vuelta, dejando la puerta abierta para la definición de penales que al final el equipo larense con su portera protagonista tapando uno de los tiros penales de las litoralenses, lograron con un resultado final de 4 goles por 2 en donde ninguna de las ejecutantes fallo un penal, con este resultado avanzan a la Gran Final siendo un equipo debutante en este torneo y venciendo a unas naranjas que eran claras favoritas para llevarse el título pero que se despiden del torneo, Su rival en la final es un viejo conocido como el Deportivo Lara.
In the Santa Rosa de Lima Field in the city of Caracas, the Atlantic Madeira Club Lara achieved a historic classification that classifies them in the Grand Final of the tournament, beating the orange Deportivo La Guaira in a penalty shootout with a final score of 0-0 and as the overall result was tied at 2 goals, the penalty shootout favored the visiting team with a final score of 4 goals to 2, a hard-fought and tight match between both teams, where there were chances on both sides, But the tie prevailed in this second leg, leaving the door open for the definition of penalties that in the end the Lara team with its goalkeeper protagonist covering one of the penalty kicks of the litoralenses, achieved with a final result of 4 goals for 2 where none of the executors missed a penalty, with this result they advance to the Grand Final being a debutant team in this tournament and beating some oranges that were clear favorites to take the title but who say goodbye to the tournament, their rival in the final is an old acquaintance as Deportivo Lara.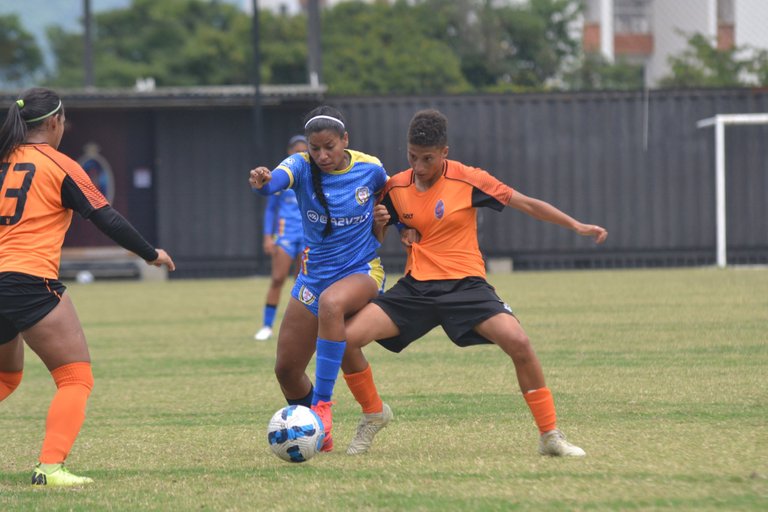 Fuente | Source

Deportivo Lara 2 (3) – (2) 2 Caracas FC



En el Estadio Farid Richa de la ciudad de Barquisimeto, en un partido muy peleado y disputado, las rojinegras del Deportivo Lara lograron un triunfo que las mete en la Gran Final del torneo al vencer a las rojas del Caracas FC en el compromiso de vuelta de las semifinales, con marcador final de 2 goles por 2 quedando el global por el mismo marcador a 2 pero que en la tanda de penales se llevó el equipo local con resultado de 3 goles por 2 teniendo como protagonista a la arquera Nohelis Coronel quien tapo 3 penales para sellar el pase a la final, un partido muy disputado sobretodo en el medio campo en donde hubieron ocasiones, el primer gol del partido llego al minuto 12 por medio de Yuleisi Rivero puso el 0-1 momentáneo para las capitalinas, pero las locales responderían rápidamente al minuto 18 por intermedio de Micheel Baldallo colocando el empate parcial para irse al descanso con el empate a un tanto, ya en el complemento llegaría la remontada larense por intermedio de Jesusmar Colmenárez al minuto 49 desde el punto penal para poner el 2-1 para las rojinegras, pero llegaría la reacción avileña por intermedio de Adrianny Luna de tiro libre al 54 para colocar el 2-2 que sería definitivo, en donde rojinegras y rojas iba a decidir quién clasificaba a la final en la tanda de penales, en donde se crecio la partera local Nohelis Coronel tapando 3 tiros penales para que las rojinegras del Deportivo Lara se llevaran esta llave y avanzaran a la gran final con un global final de 2 goles por 2 y en tanda de penales ganar con resultado de 3 goles por 2 a unas capitalinas del Caracas FC que lo dieron todo en esta eliminatoria pero que no les alcanzo y se despiden del torneo, Lara que hasta ahora ha dado mucho de qué hablar en la liga quedando primero en su grupo, su rival en esta gran final es su contrincante de patio, Madeira Club Lara.
At the Farid Richa Stadium in the city of Barquisimeto, in a hard fought and disputed match, the red and black team of Deportivo Lara achieved a victory that puts them in the Grand Final of the tournament by beating the red team of Caracas FC in the second leg of the semifinals, With a final score of 2 goals to 2, the overall score was the same to 2, but in the penalty shootout the local team won with a result of 3 goals to 2, having as protagonist the goalkeeper Nohelis Coronel who blocked 3 penalties to seal the pass to the final, The first goal of the match came at the 12th minute through Yuleisi Rivero who put the 0-1 momentary for the capital, but the locals would respond quickly at the 18th minute through Micheel Baldallo placing the partial tie to go to the break with the tie at one goal, In the second half, Jesusmar Colmenárez scored in the 49th minute from the penalty spot to make it 2-1 for the red and blacks, but the reaction came from Adrianny Luna from a free kick in the 54th minute to make it 2-2, which would be definitive, where the red and blacks would decide who would qualify to the final in the penalty shootout, where the local midfielder Nohelis Coronel was able to block 3 penalty kicks for the red and black Deportivo Lara to win this key and advance to the final with a final aggregate of 2 goals to 2 and in the penalty shootout to win with a result of 3 goals to 2 to Caracas FC who gave everything in this elimination but that was not enough for them and they say goodbye to the tournament, Lara, which so far has given a lot to talk about in the league being first in their group, their rival in this final is their backyard opponent, Madeira Club Lara.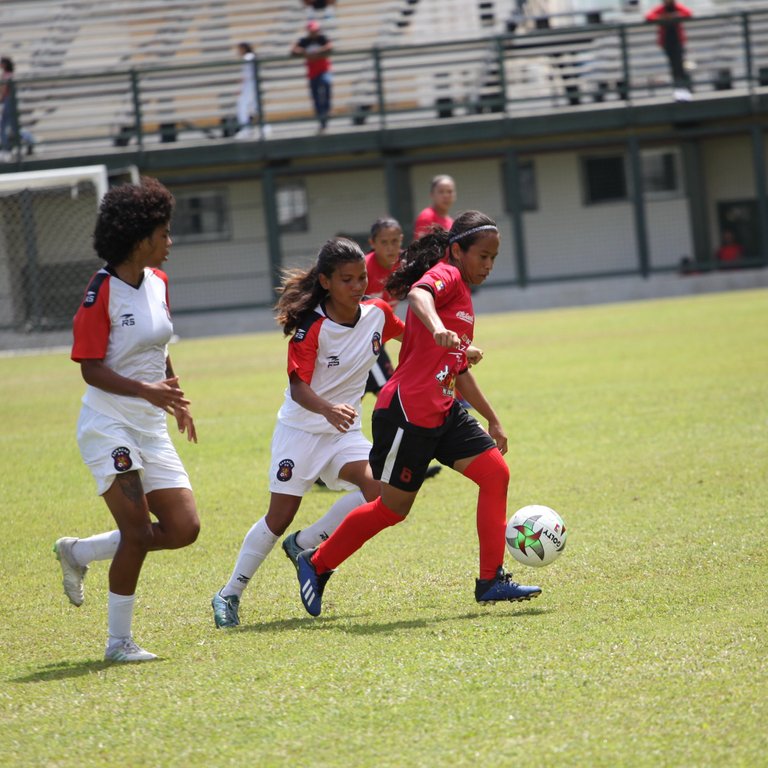 Fuente | Source

Análisis - Analysis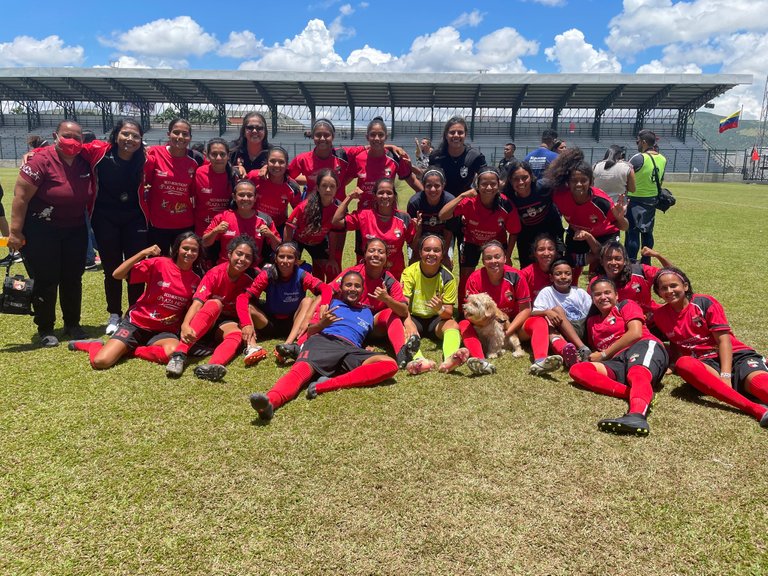 Fuente | Source
Tuvimos dos grandes semifinales de la Liga Futve Fem, los 4 equipos merecían pasar a la gran final, en la semifinal 1 las amarillas del Madeira Club Lara y las naranjas del Deportivo La Guaira nos regalaron una serie muy disputada y peleada hasta el último minuto hasta llegar a la tanda de penales resultando ganador el Madeira Lara sin duda un equipo que ha venido de menos a más, siendo un equipo debutante en la liga han logrado un excelente trabajo a lo largo del torneo sin duda dará mucha pelea en la gran final, por su parte en la semifinal ,2 las rojas del Caracas FC y las rojinegras del Deportivo Lara nos regalaron un lindo espectáculo, en un partido de vuelta en donde aparecieron los goles, en una eliminatoria muy pareja, también llegamos a los lanzamientos desde el punto penal y con una Nohelis Coronel impresionante, le dio la clasificación a el Deportivo Lara, que ha dado un gran torneo desde la ronda eliminatoria y logrando avanzar a la gran final, un final con mucha chispa, pues solo resta escribir ¡Que ruede el balón!
We had two great semifinals of the Liga Futve Fem, the 4 teams deserved to go to the final, in semifinal 1 the yellows of Madeira Club Lara and the oranges of Deportivo La Guaira gave us a very disputed series and fought until the last minute to reach the penalty shootout winning the Madeira Lara certainly a team that has come from less to more, being a debutant team in the league have done an excellent job throughout the tournament will certainly give a lot of fight in the final, Meanwhile in the semifinal, the reds of Caracas FC and the red and black of Deportivo Lara gave us a nice show, in a second leg where the goals appeared, in a very even tie, we also came to the penalty kicks and with an impressive Nohelis Coronel, gave the classification to Deportivo Lara, which has given a great tournament since the knockout round and managed to advance to the final, a final with a lot of spark, it only remains to write Let the ball roll!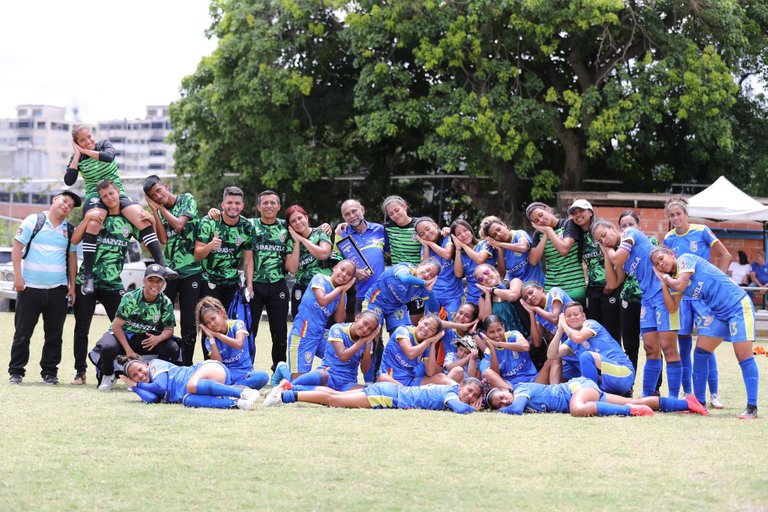 Fuente | Source

Cara a Cara - Face to Face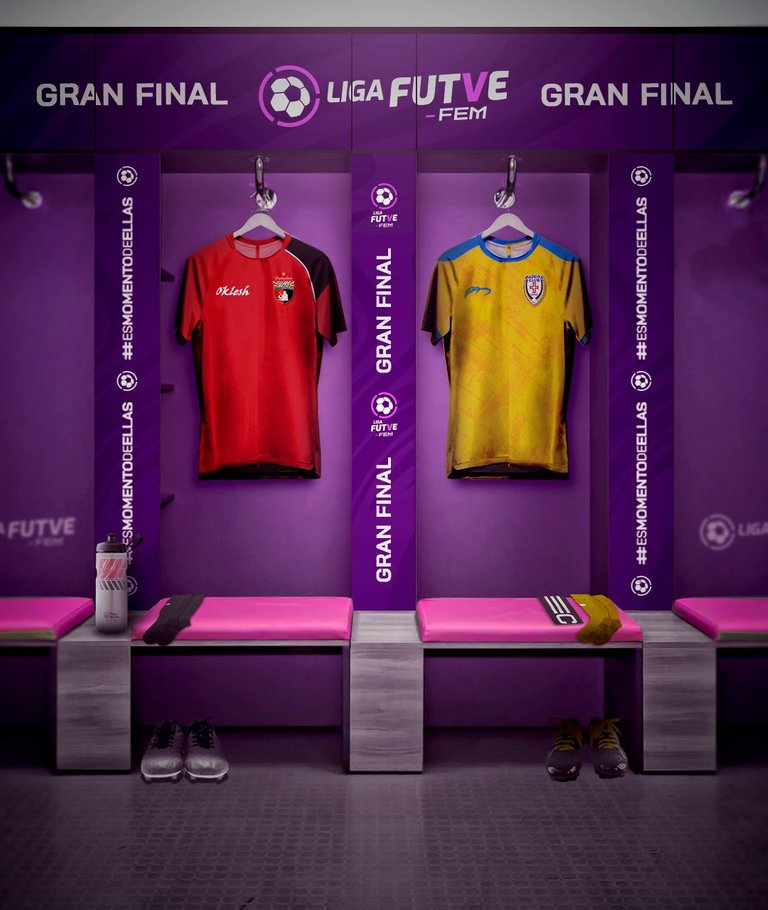 Fuente | Source
Na' Guara, tenemos finalistas en la Liga Futve Fem, son 2 equipos de la misma región, como lo son Madeira Club Lara y el Deportivo Lara, estos equipos han quedaron 2do y 1ero en el grupo occidental respectivamente, estos equipos se enfrentaron 2 veces en la ronda eliminatoria, con resultados favorables para las rojinegras de Deportivo Lara con marcadores de 3-2 y 0-1 respectivamente, pero el pasado quedo atrás ya son 2 partidos completamente diferentes, que estarán cerrados y muy disputados. Sin dudas ambos equipos darán lo mejor de sí para llevarse esta edición de la Liga Futve Fem, porque el campeón de este torneo representara a Venezuela en la Copa Libertadores Femenina, la balanza se inclina un poco por las rojinegras pero los partidos y las finales hay que jugarlas, que gane la mejor.
Na' Guara, we have finalists in the Liga Futve Fem, are 2 teams from the same region, as are Madeira Club Lara and Deportivo Lara, these teams have been 2nd and 1st in the western group respectively, these teams faced 2 times in the knockout round, with favorable results for the red and black of Deportivo Lara with scores of 3-2 and 0-1 respectively, but the past is behind and are 2 completely different matches, which will be closed and very disputed. Undoubtedly both teams will give their best to win this edition of the Liga Futve Fem, because the champion of this tournament will represent Venezuela in the Copa Libertadores Femenina, the balance leans a little for the red and blacks but the matches and finals have to be played, may the best team win.

Muchas gracias por tomar parte de tu tiempo en leer esto en verdad que estoy muy contento, si te gusto déjame un comentario y ayúdame a compartirlo para que llegue a más personas que a ti no te cuesta nada y a mí me ayudaría muchísimo.
Thank you very much for taking part of your time to read this, I am very happy, if you like it, leave me a comment and help me to share it so that it reaches more people, it doesn't cost you anything and it would help me a lot.
Traducido con www.DeepL.com/Translator (versión gratuita).
Translated with www.DeepL.com/Translator (free version).
Dios los bendiga a todos. | God bless you all.

---
---